The Hountalas family has been part of the Ocean Beach community since 1906. In 1919 Michael Hountalas leased a candy and tobacco stand inside the Car Barn, the terminus for the street cars. In 1949 the Car Barn was destroyed by fire and in 1952 Mike acquired the Golden Gate View Coffee Shop next to the Sutro Baths.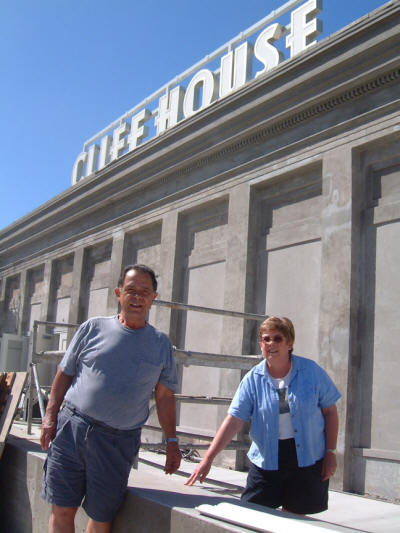 In 1941, when Dan was six years old, he started his own business selling peanuts outside of his fatherís shop. In 1958 Dan opened the Cliff Chalet and in 1965 it was extensively remodeled and renamed Dannyís Cliff Chalet. In June of 1966 it burned down in the blaze that destroyed the Sutro Baths.

Following the fire, and armed with a degree in business administration from San Francisco State University, Dan made a career switch to become national sales manager for Consolidated Foods. In 1970, he met Mary, regional food service supervisor for Mannings Foodservice Co., a client of Consolidated Foods. They were married in 1972, and with financial aid from their parents in 1973, they leased the unused banquet room and turned it into Upstairs at the Cliff House. It soon became a popular breakfast and lunch spot renowned for its huge selection of omelets.

In 1974 Dan and Mary purchased a liquor license and opened the Ben Butler Bar on the main floor. The following year, armed with a $500,000 loan, Dan and Mary assumed operation of the bar to be renamed Phineas T. Barnacle and reopened the main dining room naming it The Seafood and Beverage Company. Mary, a trained dietitian, created the menus and ensured that everything was made on the premises from fresh ingredients. Dan was a wine aficionado, and made the Cliff House the first restaurant in San Francisco to feature boutique California wines.

Over the years, Dan and Mary restored the interior to the Victorian style of the early 1900s, when the last incarnation of the Cliff House was built. They decorated with hand-painted valances, silver-leaf and hand-pressed copper ceilings, Bradbury & Bradbury wall coverings, antique furnishings, and historic photographs to create an elegant, comfortable setting that transported visitors to a bygone era.

In 1977 the Cliff House and surrounding properties were purchased by the National Park Service to become part of the Golden Gate National Recreation Area. Beginning in the early 1980s, the Hountalas family began collaborating with the National Park Service on launching a much-needed restoration of the Cliff House. The decision was made to restore the historic Cliff House to its 1909 neoclassical style. Construction began in 2002 and was completed in September of 2004.