Frank Mitchell Collection
Note: Images on this page are available to use. Please credit as "Courtesy of Frank Mitchell". More on the use of images here.
Page 1 Page 2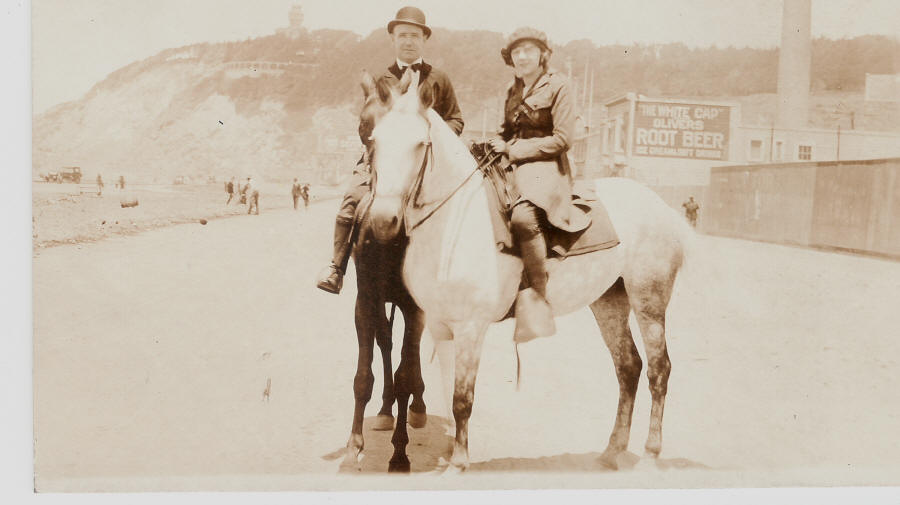 "THE WHITE CAP", OLIVERS ROOT BEER, ICE CREAM & SOFT DRINKS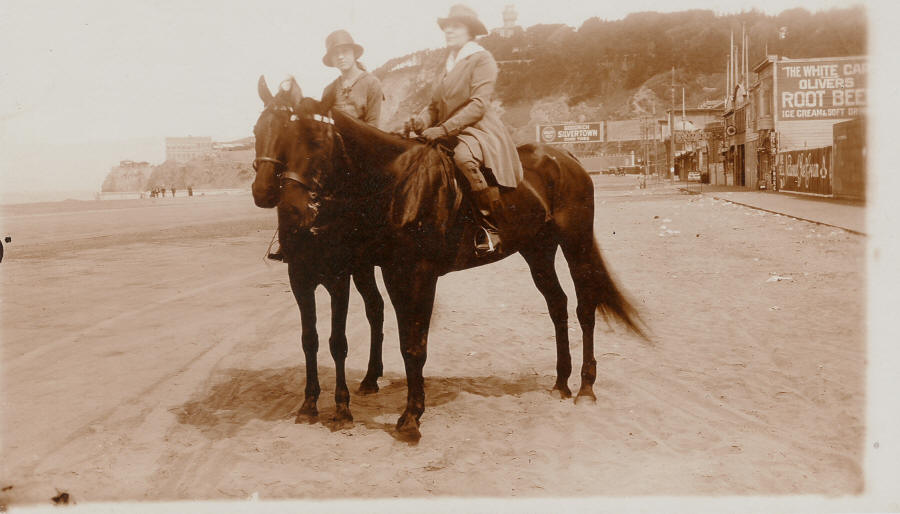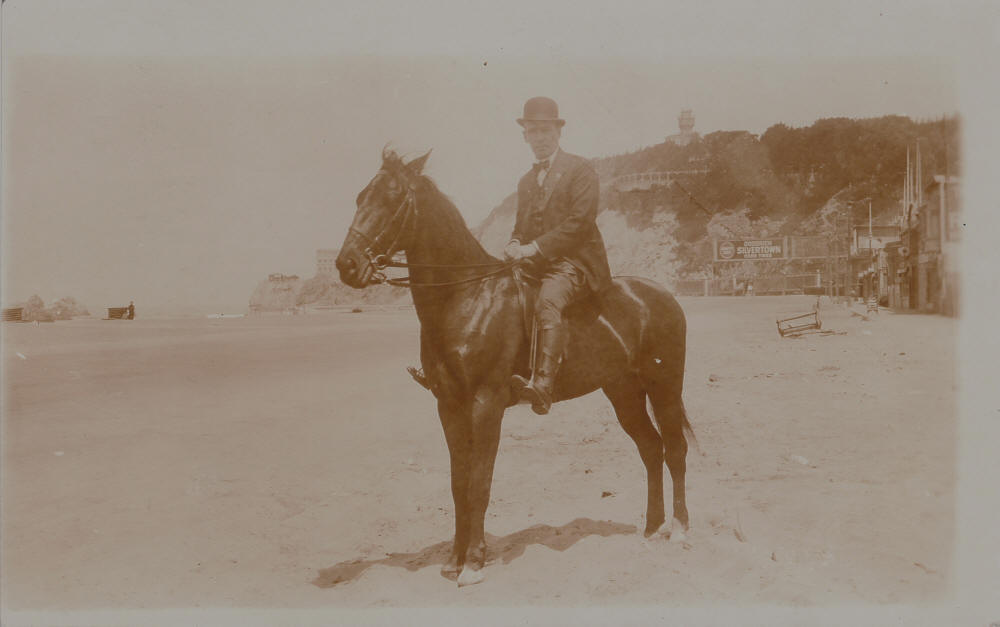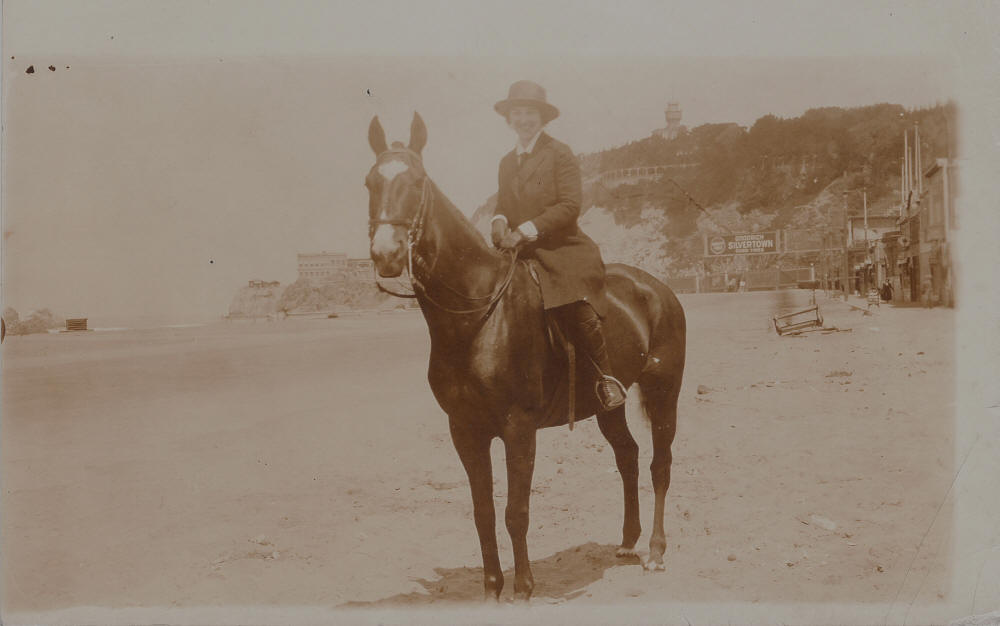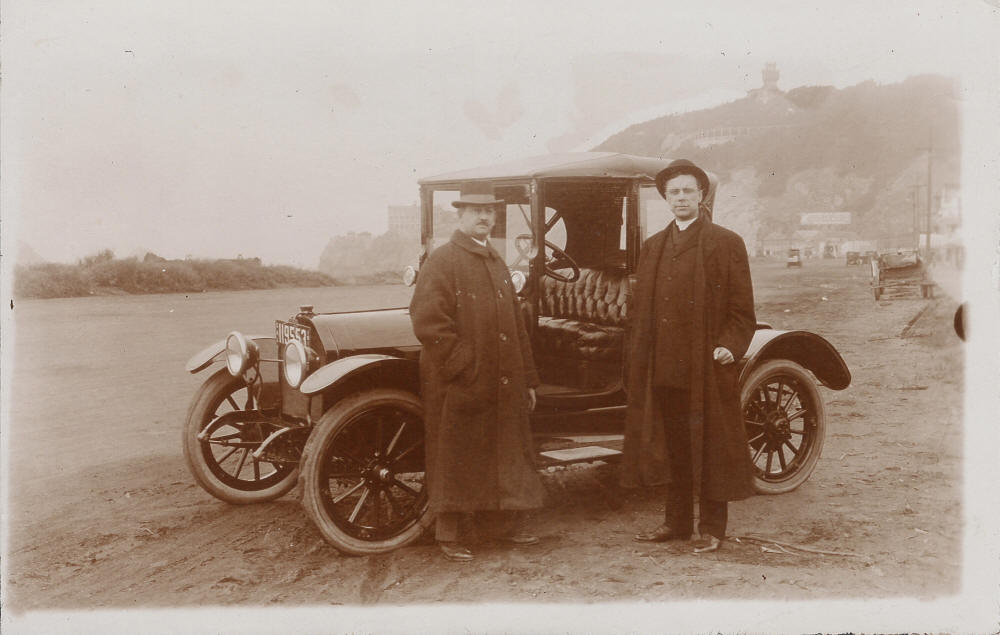 Based on the license plate, this is the Studebaker Landau Coupe, Model SC-Four, of Andrew L. Benson who was living in Stockton, California at the time the photo was taken in 1914. This information and the research below was furnished by automotive historian Ace Zenek (10/2/2016).
Using a copy of "Registered Automobiles, November 1914," published by the State of California in 1914, the following entry can be found for license plate number 119553:

119553 -- A. L. Benson, 329 S. Sutter St., Stockton, Studebaker: roadster; model 4; factory number 4B4691; Horsepower: 19 3/5; Fee paid: $2.50
Unfortunately, the Stockton City Directories for 1913 - 1915 do not shed any light on who A.L. Benson was because the 329 S. Sutter Street address was owned by Joe M. Gall. The February, 1915 version of "Registered Automobiles" shows this same car, but the 1915 license plate number is 94818. The name of the registered owner is fully shown and is Andrew L. Benson still at the same Stockton address. Tracing this car beyond 1915 is difficult because Studebaker reused engine serial numbers (ESN) in succeeding years. Note that ESNs were used as the vehicle identification number at this time by most states including California. Because both the ESN and the year of manufacture is not shown in most California registration books before 1918, other Studebaker cars with the same ESN could be a different car (erring on the side of caution).
For instance I can easily find a 1919 Studebaker with ESN 4691 and a 1921 Studebaker with ESN 4691 both published in a 1921 California registration book. It can be very hard to accurately trace a vehicle without keeping this information in mind. I found the same ESN for Benson's car in both 1916 and 1917, each year had a different owner, but I cannot be sure it is the same automobile.
The Studebaker was, correctly, a Landau Roadster which cost $1,200 (FOB Indianapolis). The car could be instantly transformed into a convertible by lowering the top and thus become an open vehicle. The side windows built into the doors were plate glass and lowered into the doors; however, the smaller windows behind the doors were made of celluloid, and they folded with the top. You can see the "X" shaped landau irons on the right hand side of the automobile, but the gentleman in the photo is hiding almost all of the "X" brace on the left hand side.
Photos of similar Studebaker Landau Couples can be found at the following links:
http://www.artvalue.com/image.aspx?PHOTO_ID=3214715
http://www.artvalue.com/image.aspx?PHOTO_ID=2260940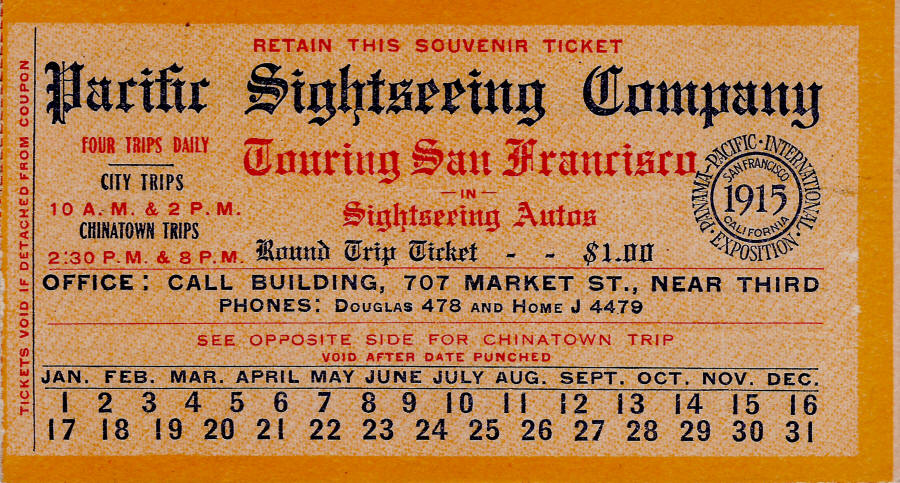 PACIFIC SIGHTSEEING COMPANY, 1915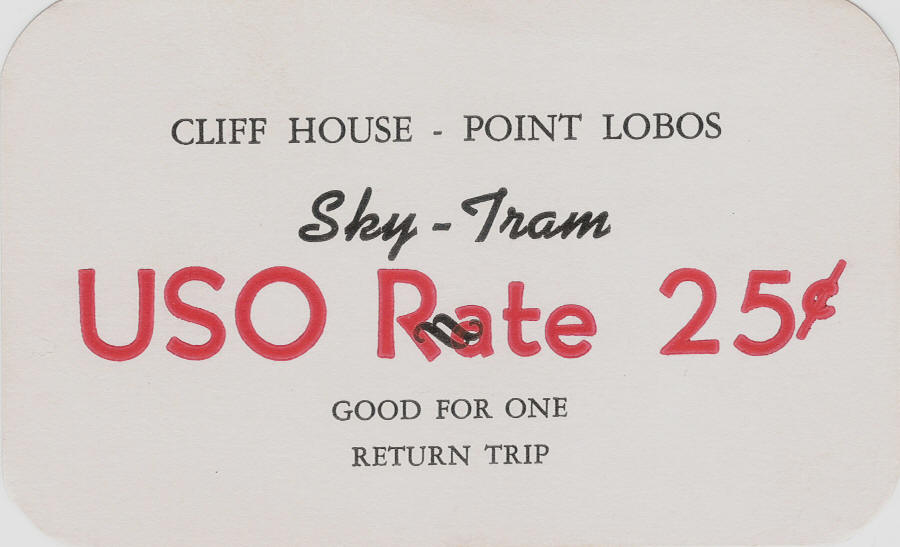 Sky-Tram ticket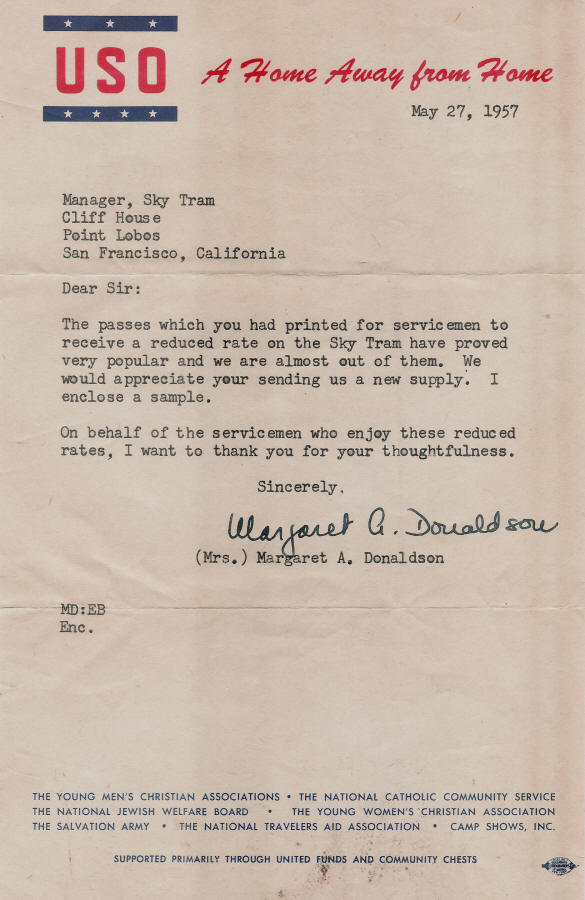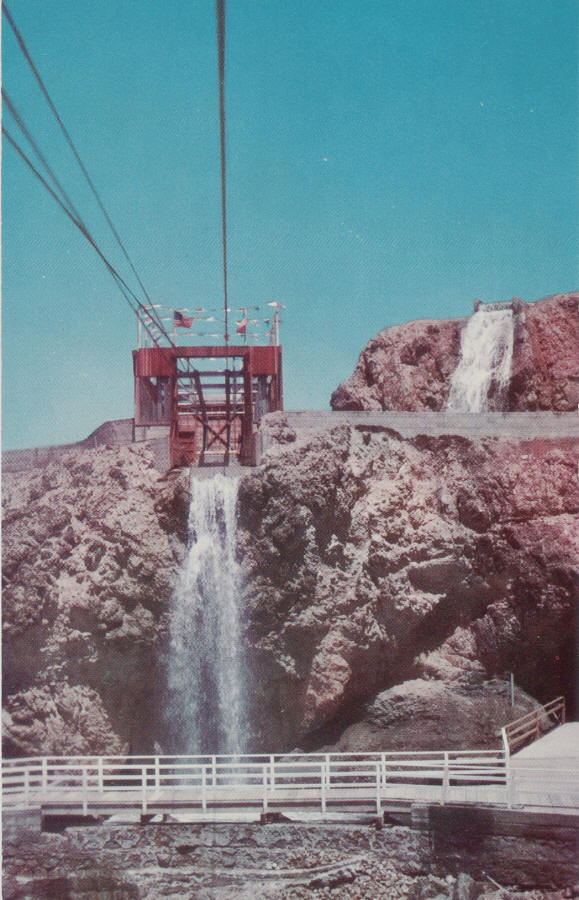 Sky Tram


Sutro Baths ticket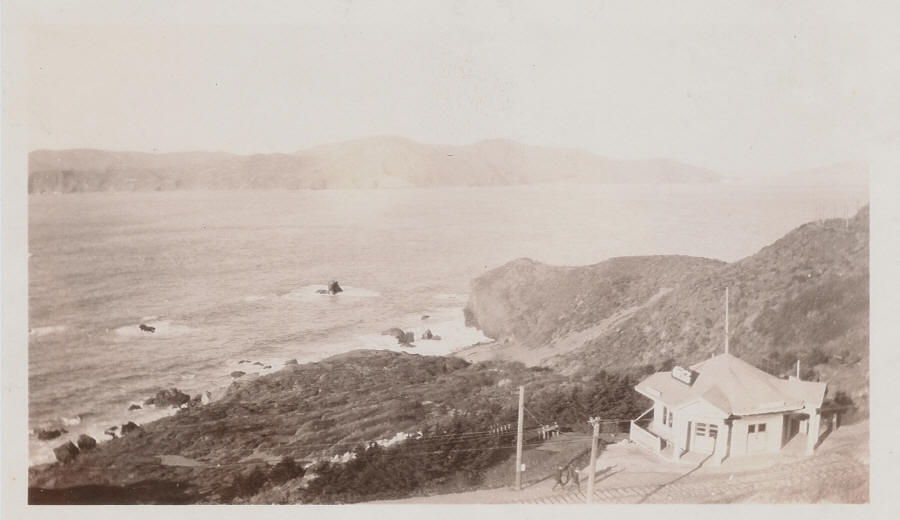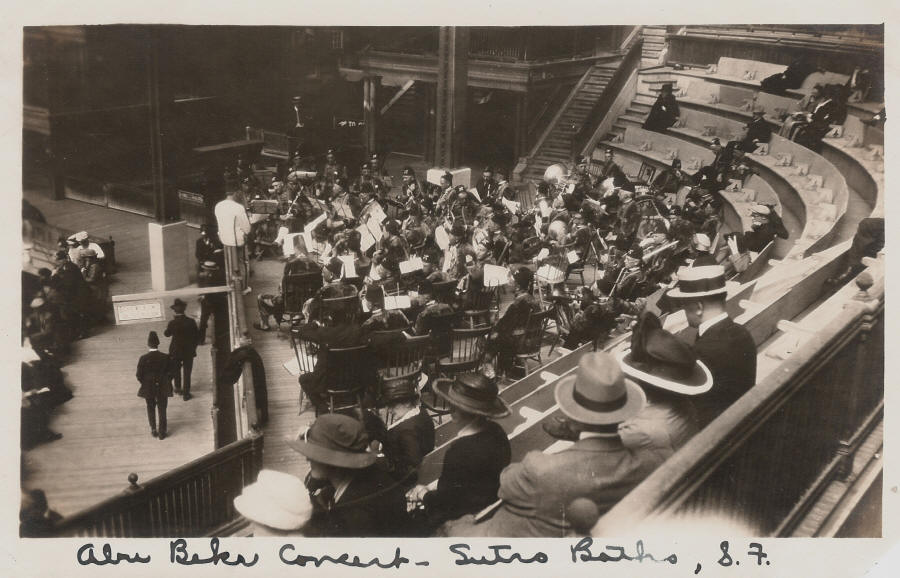 Sutro Baths, SF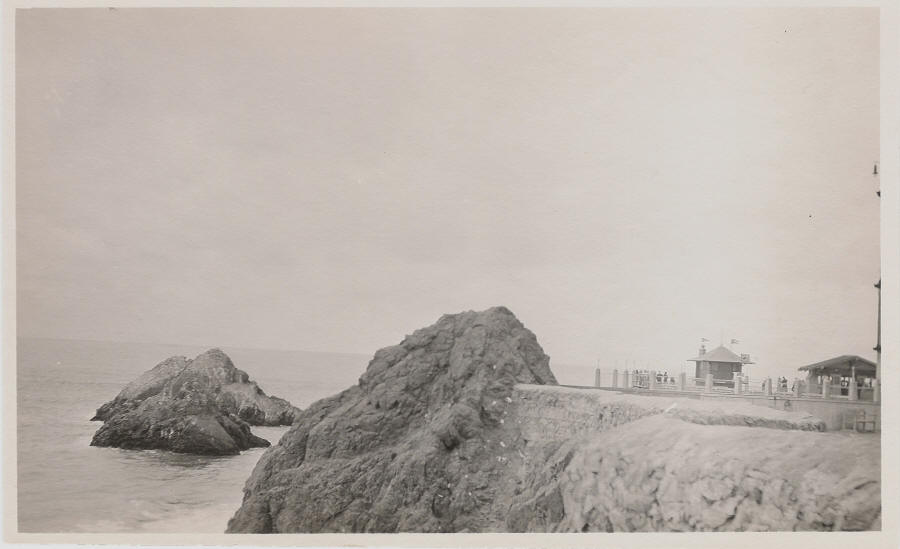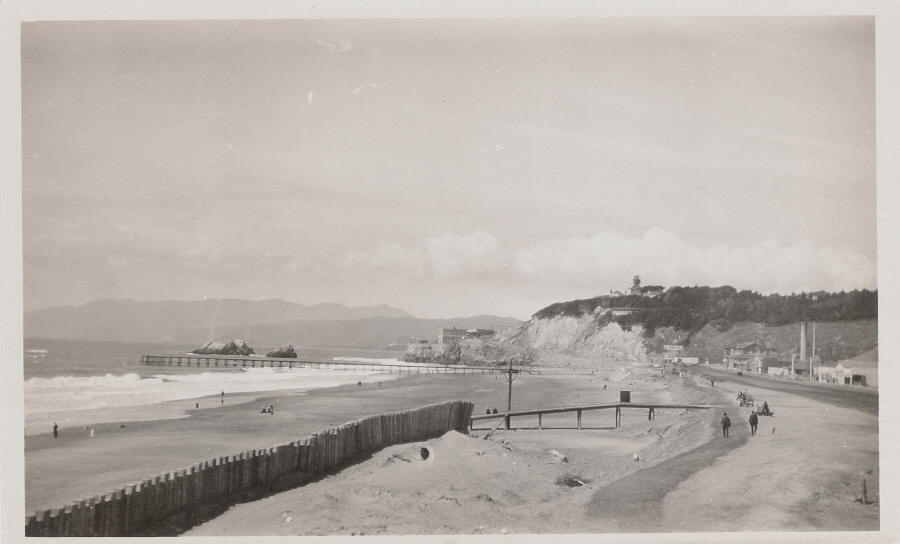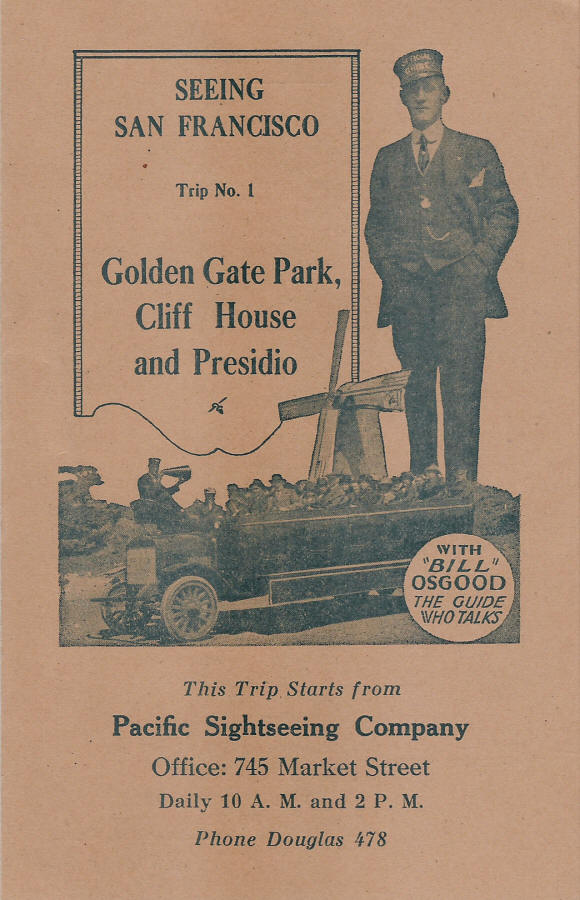 Pacific Sightseeing Company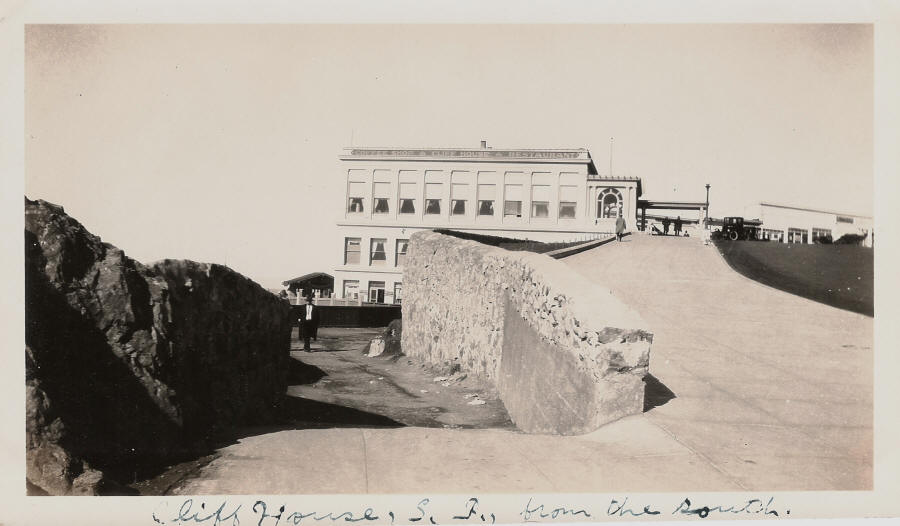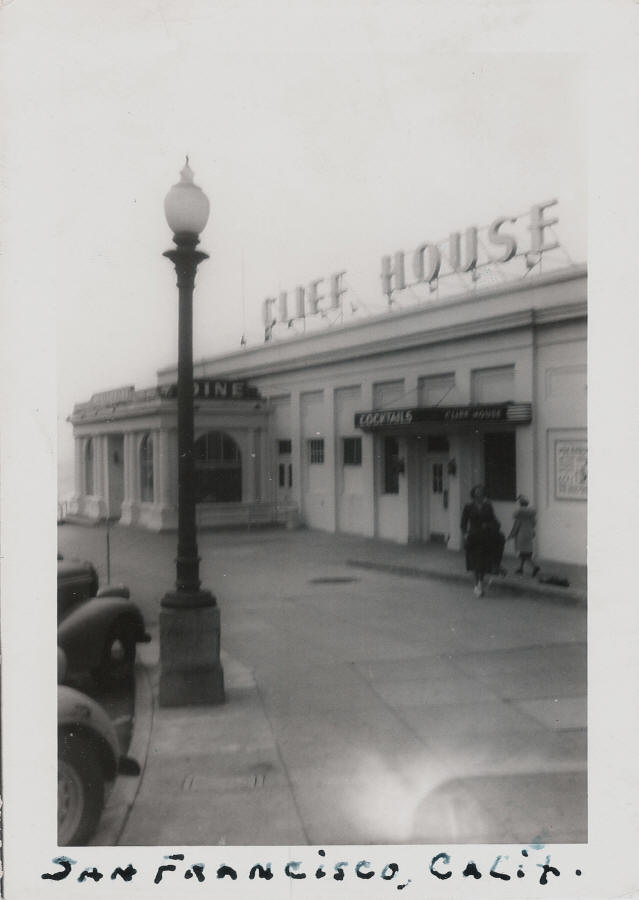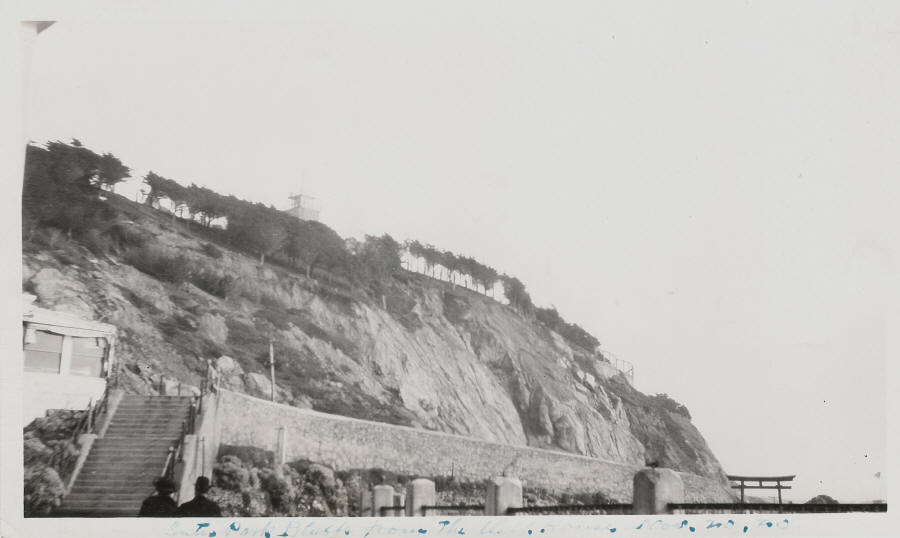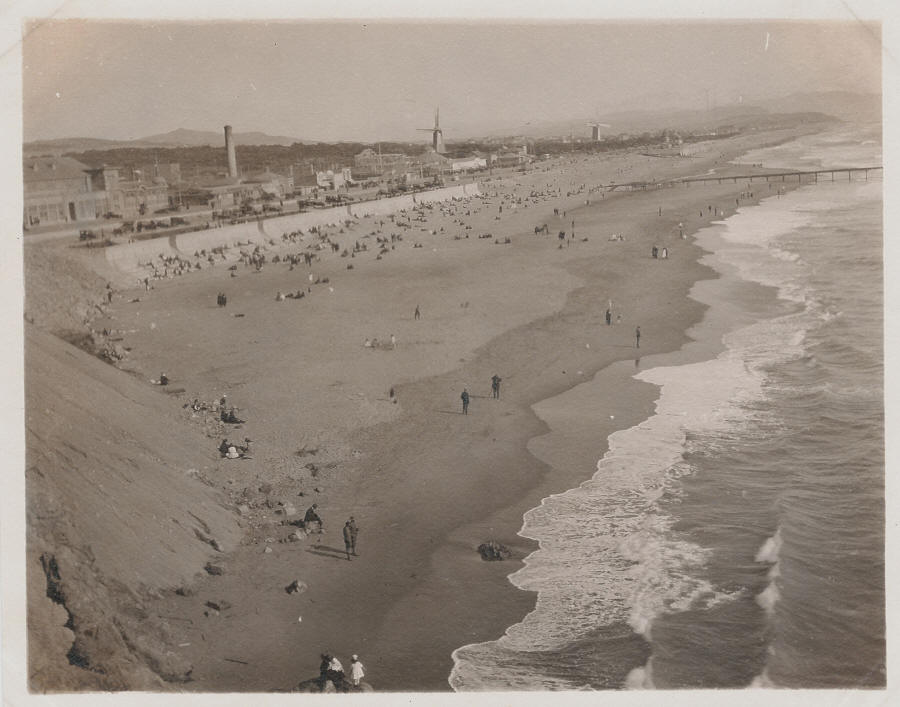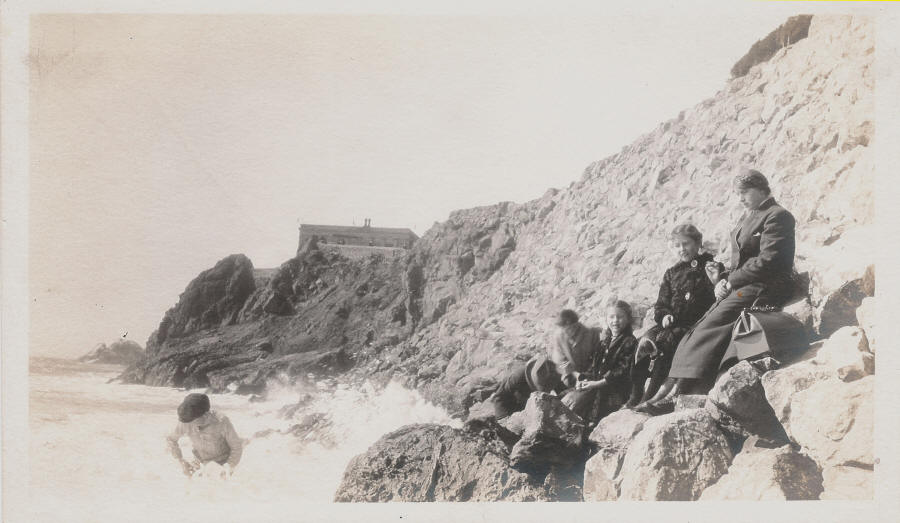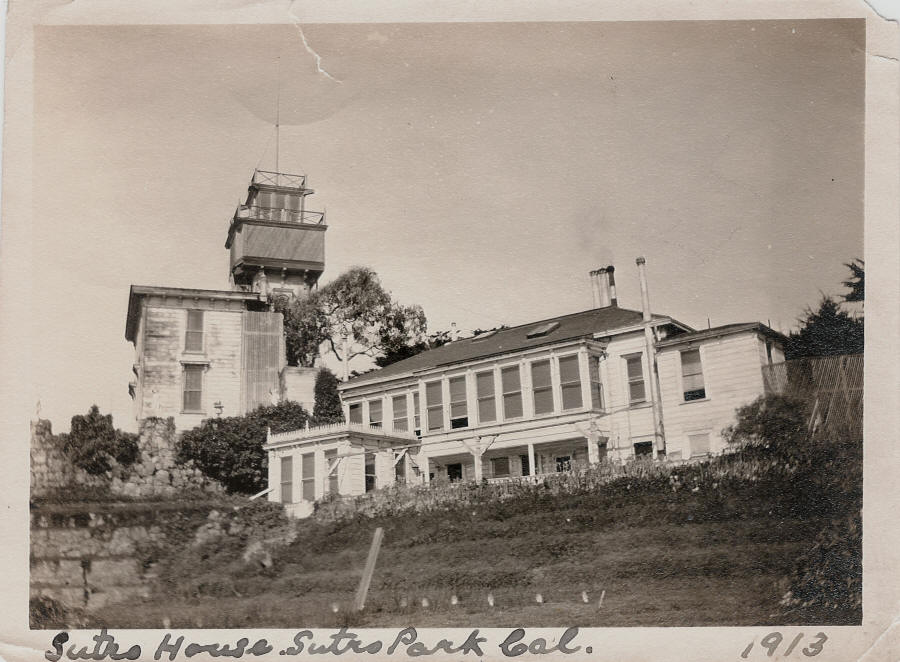 "Sutros House, Sutro Park Cal. 1913"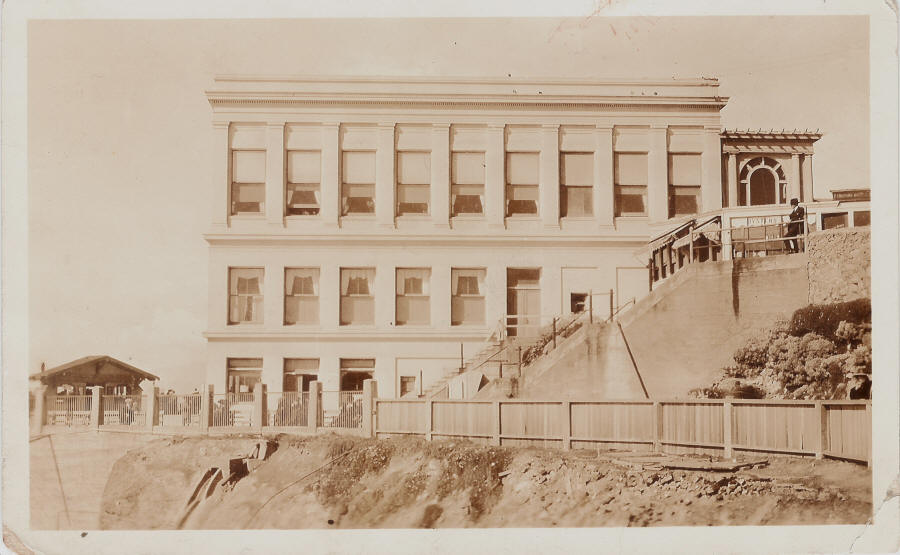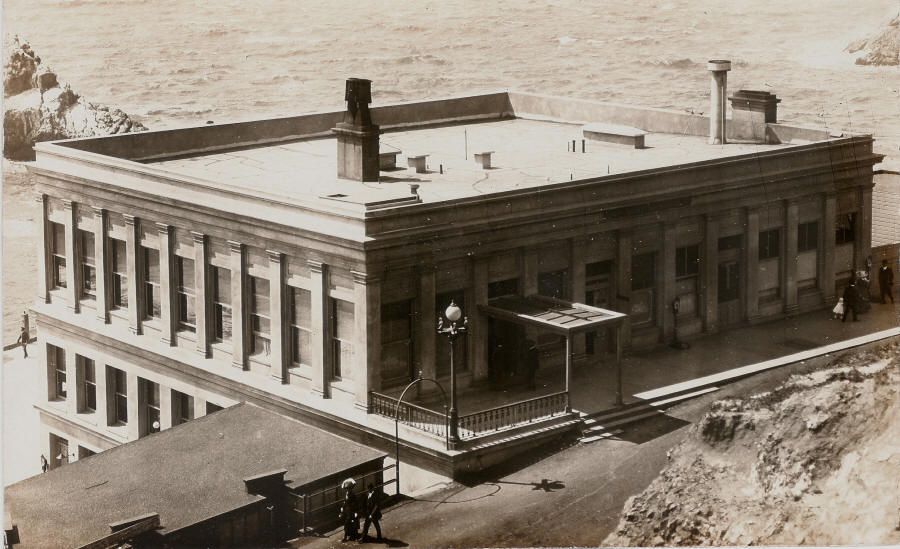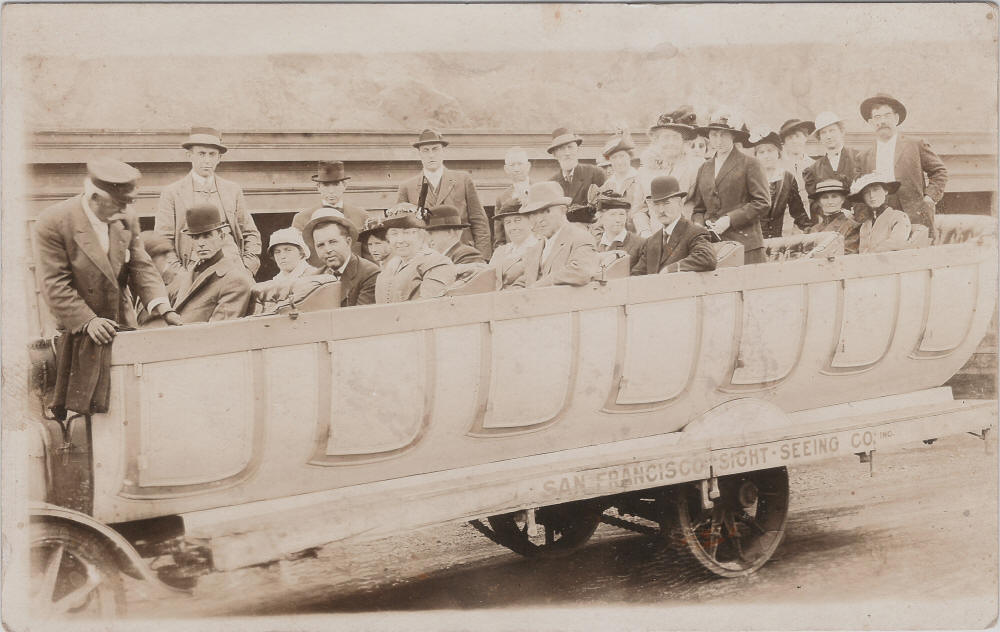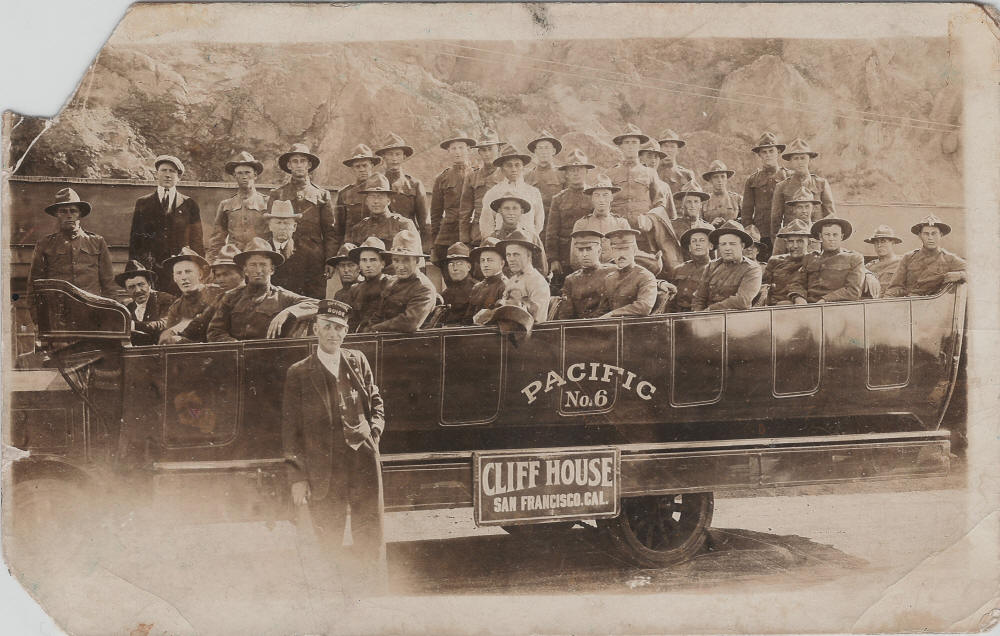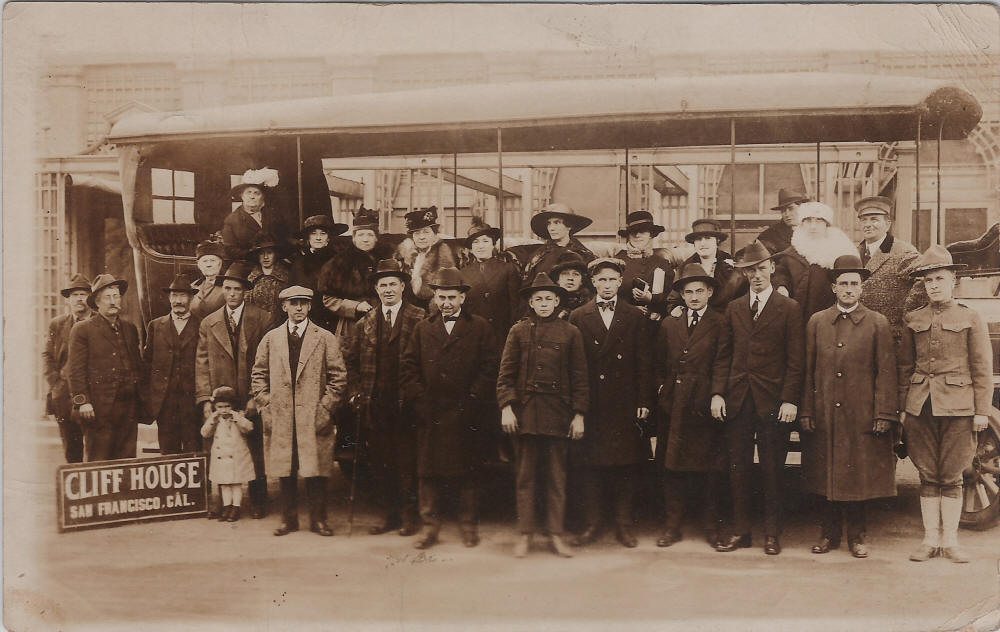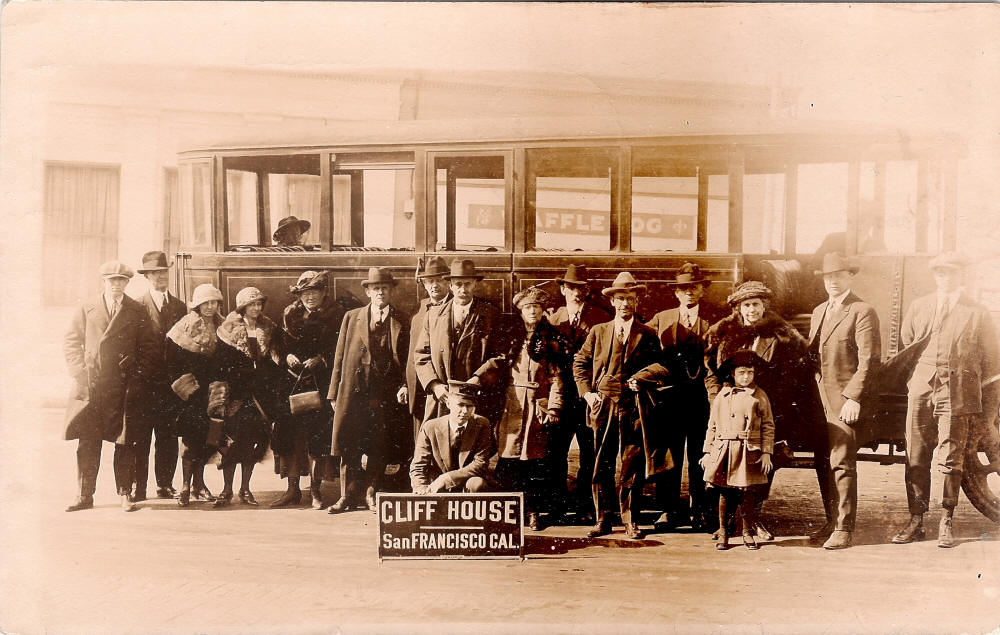 "WAFFLE DOG"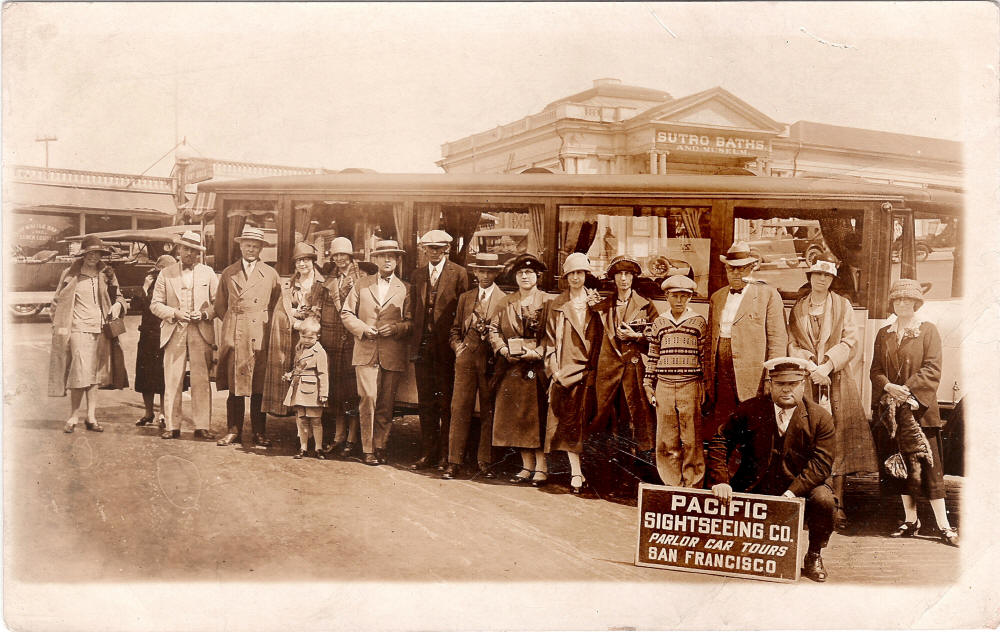 Reverse includes a note concerning $2.50 per person cost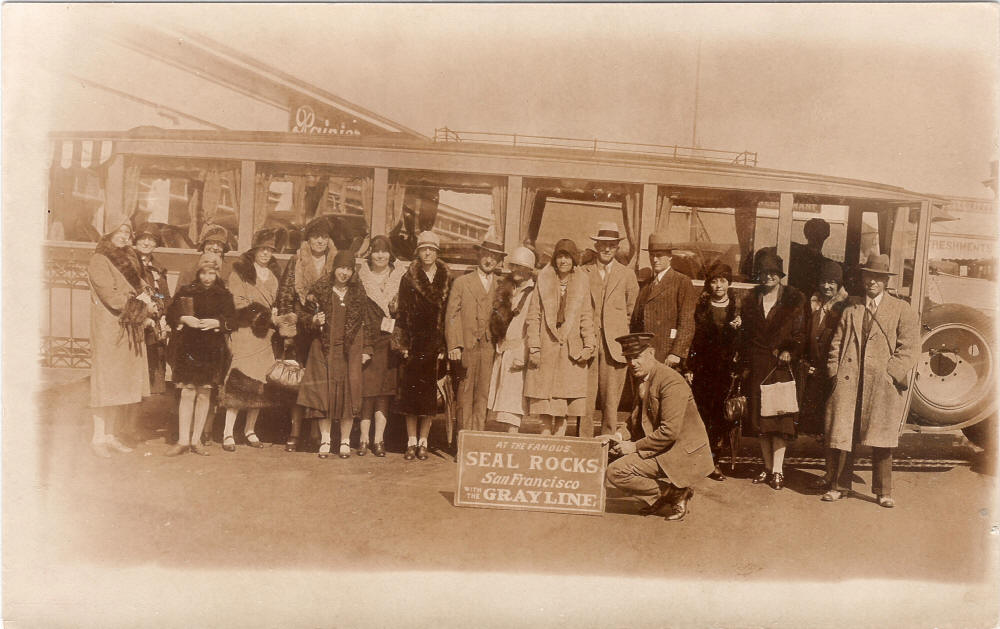 "Rainier Beer"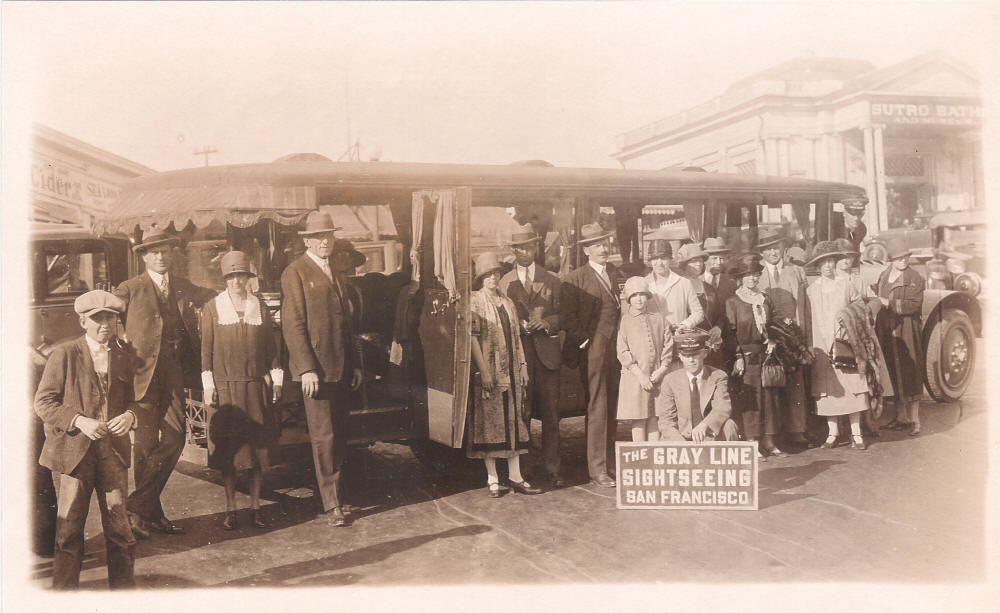 "Cider"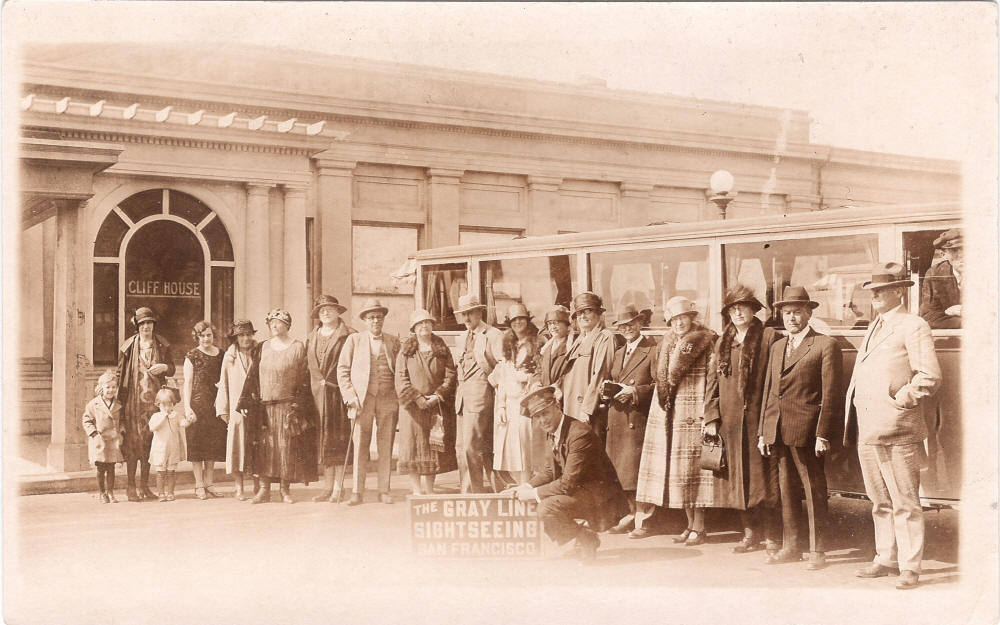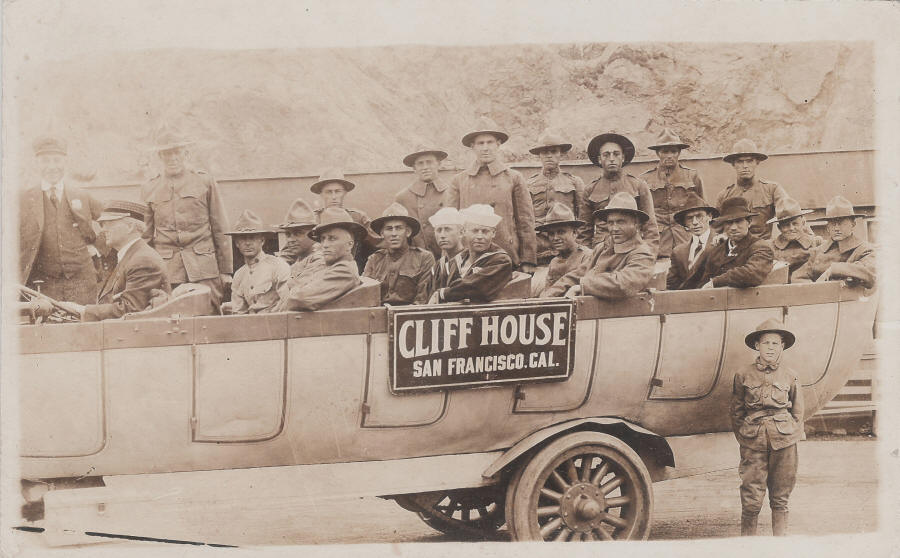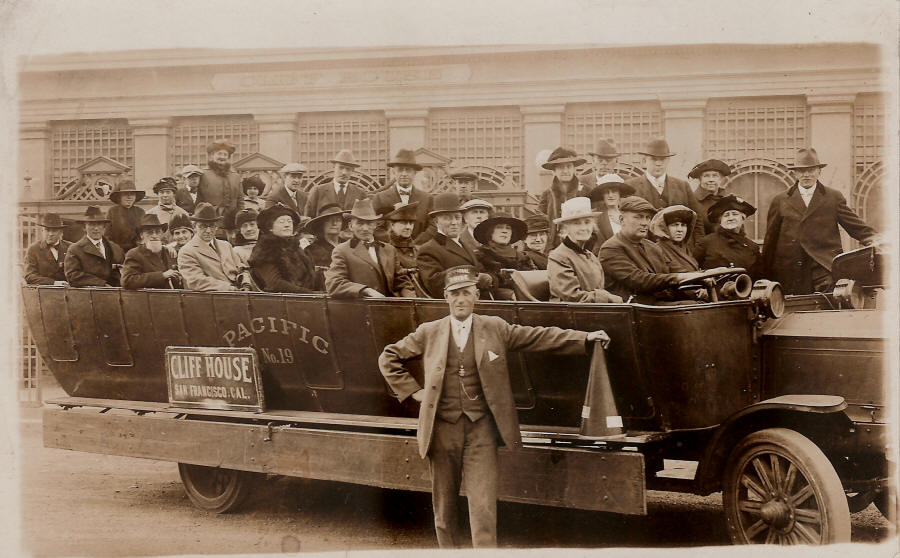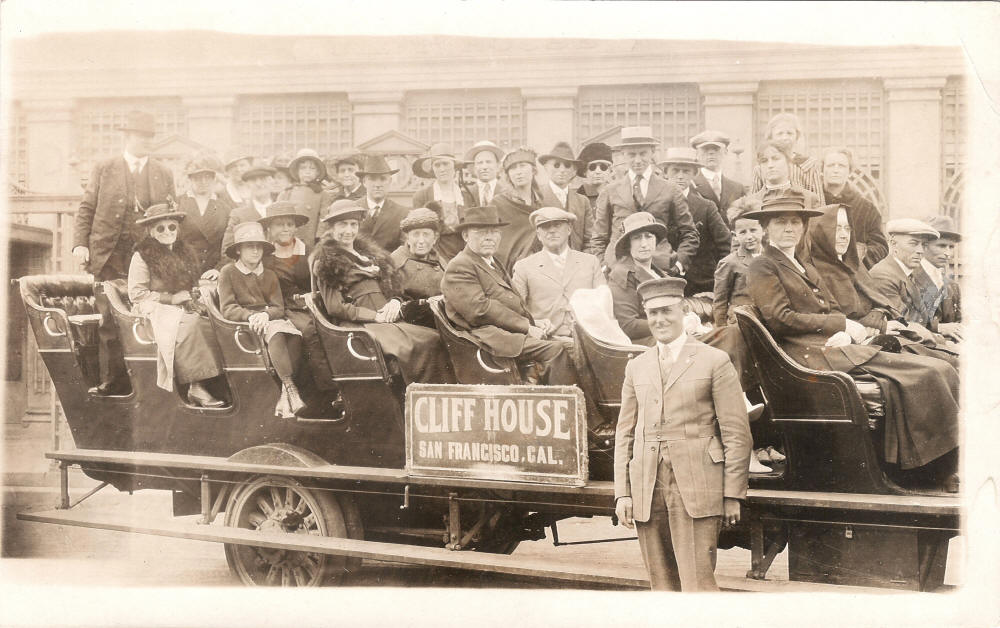 reverse: Billington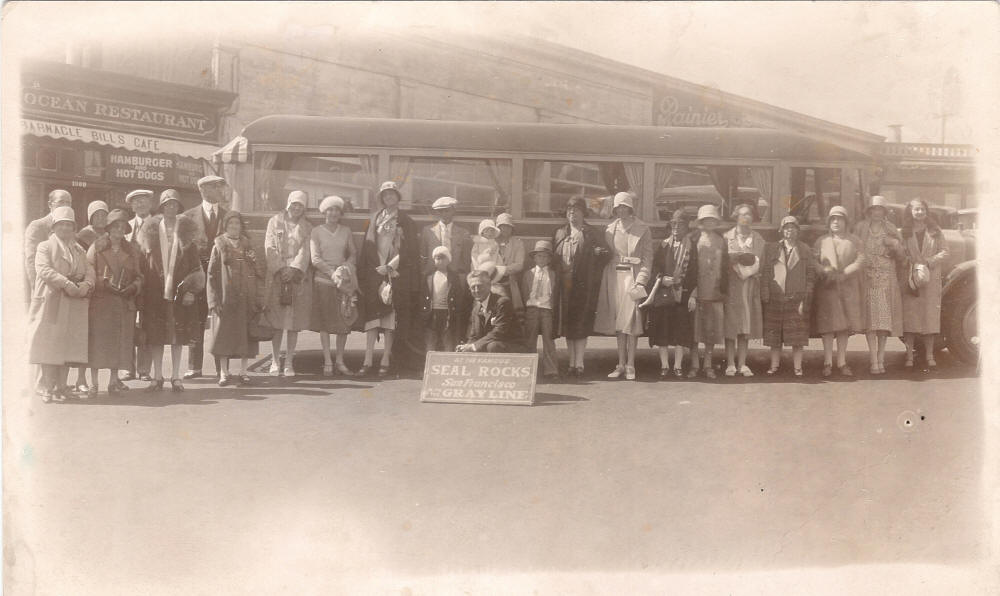 "BARNACLE BILLS CAFE"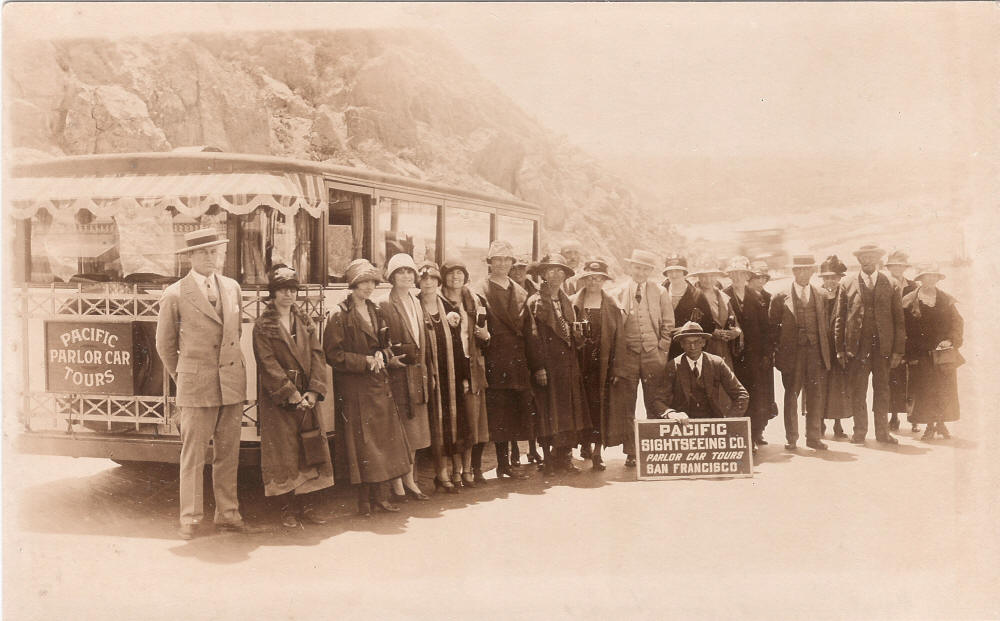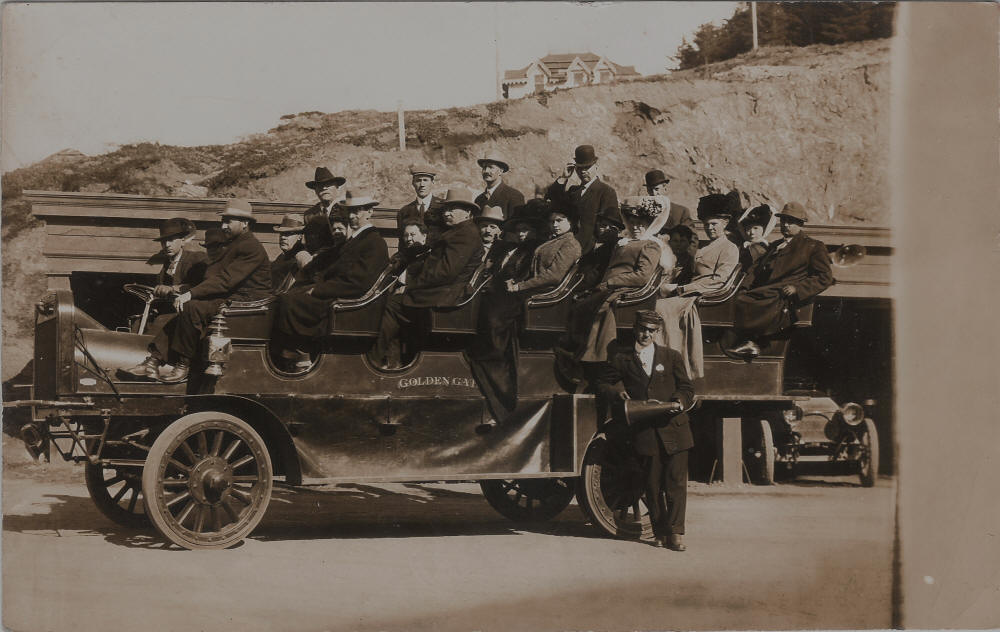 1911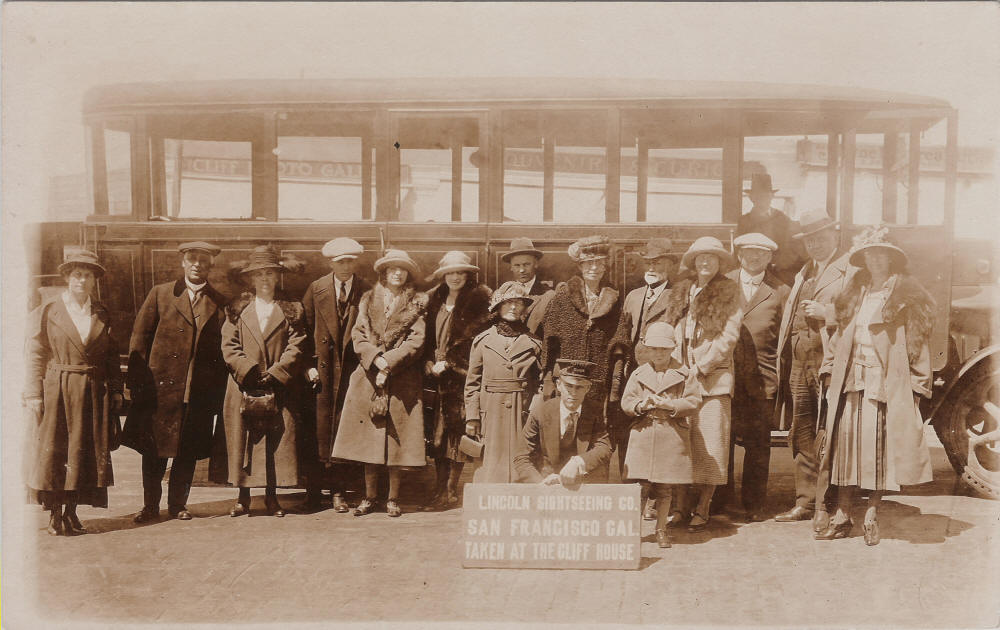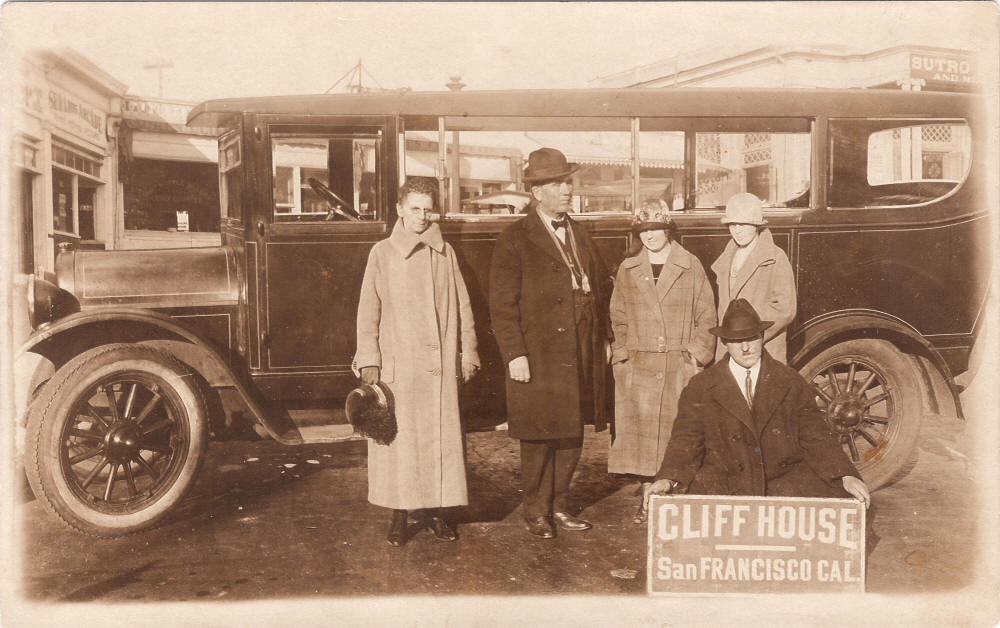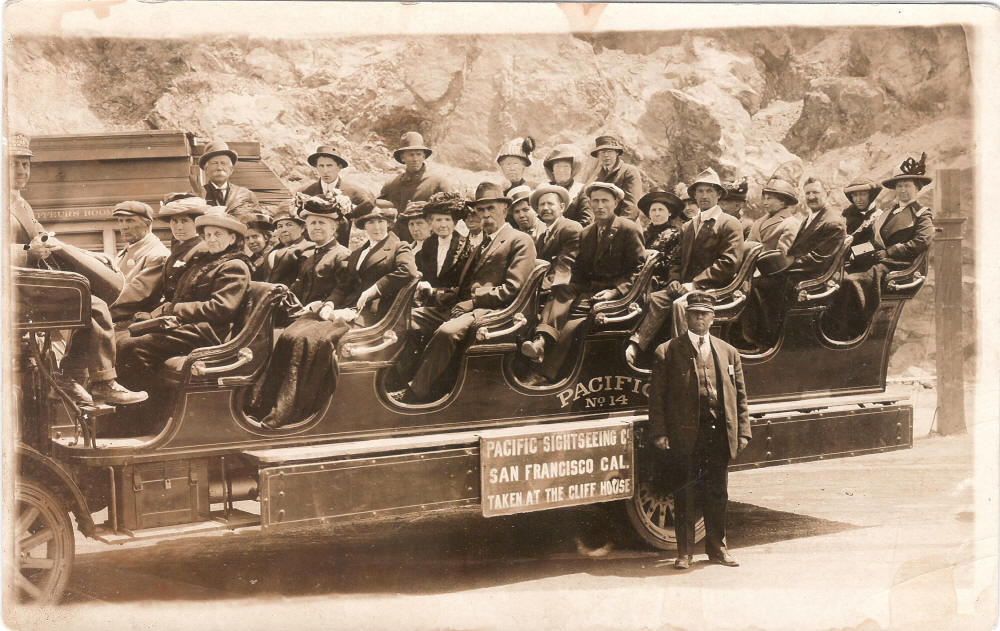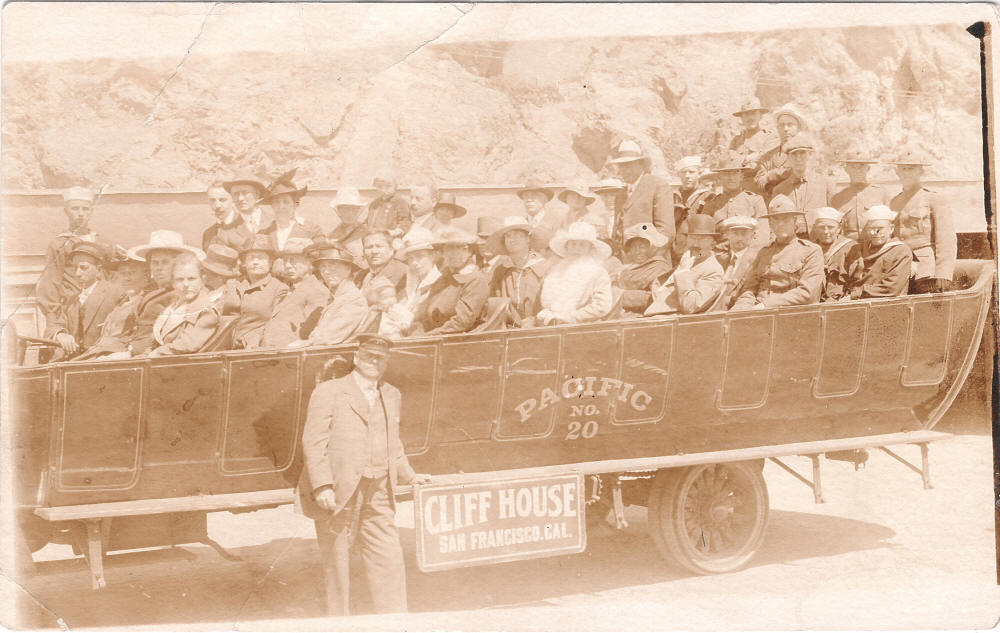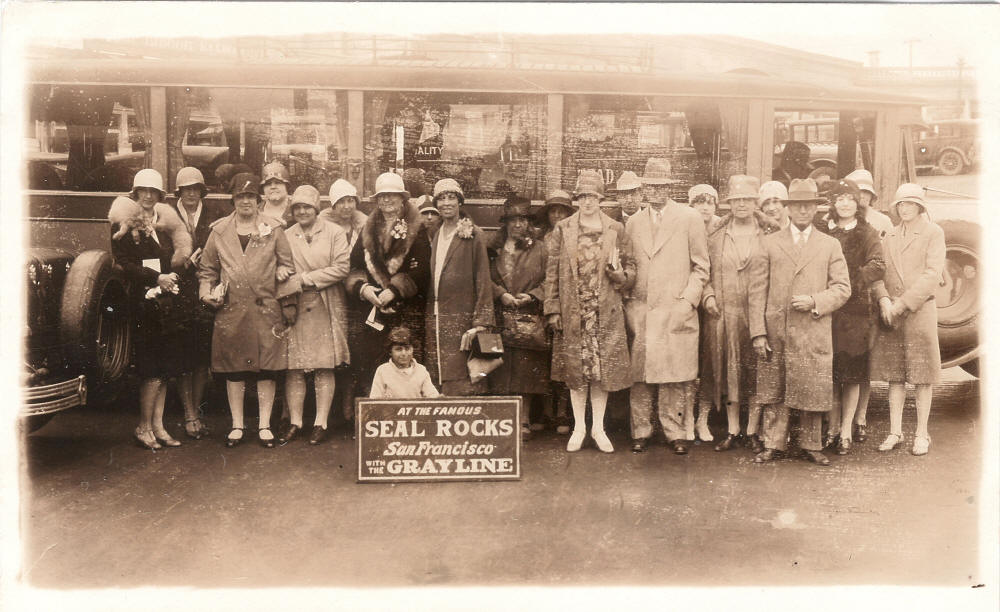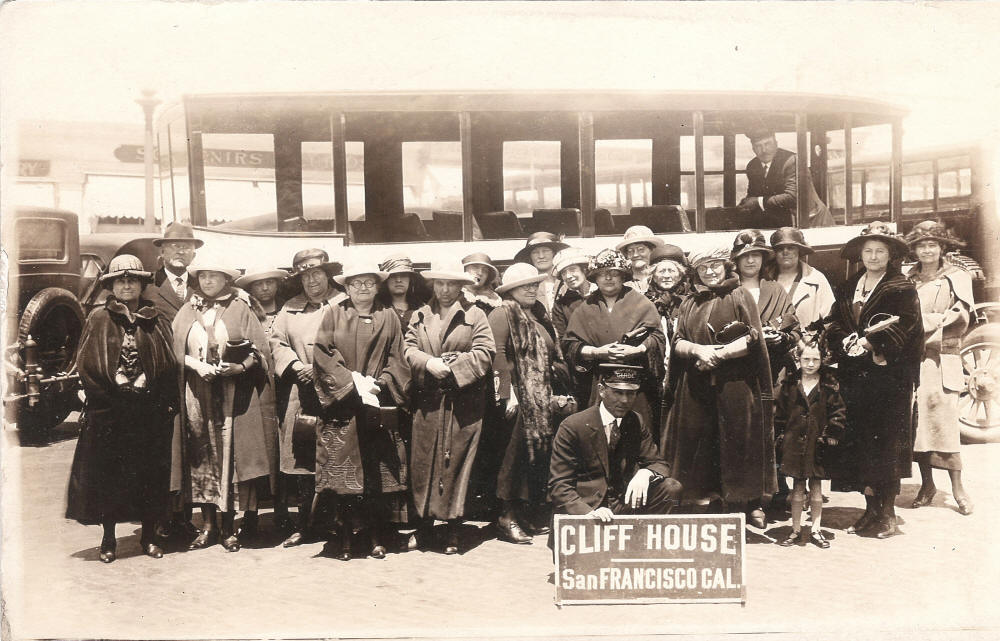 reverse denotes this group as the Macabees - Jewish woman's group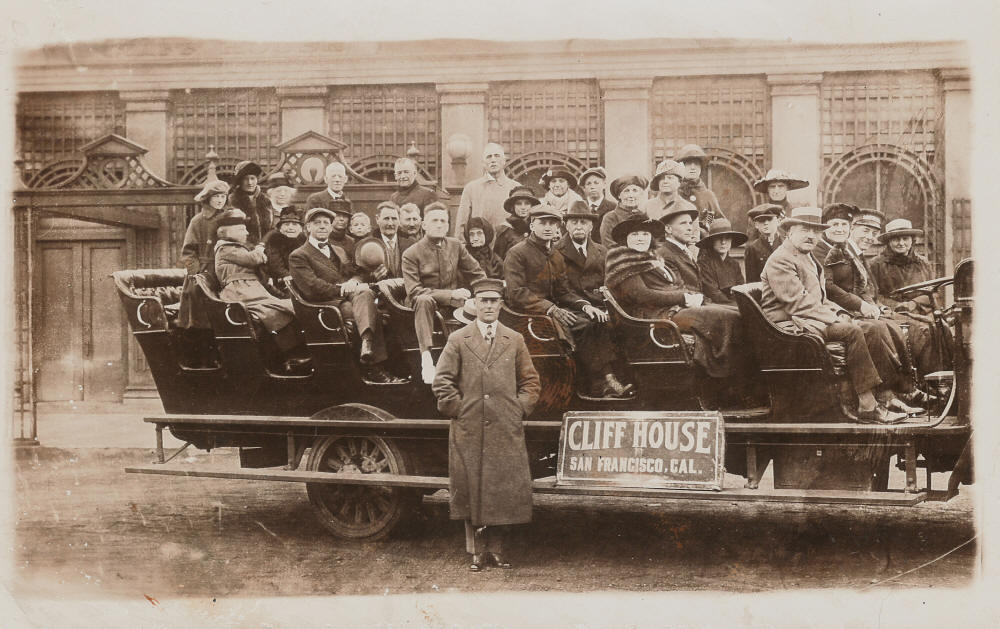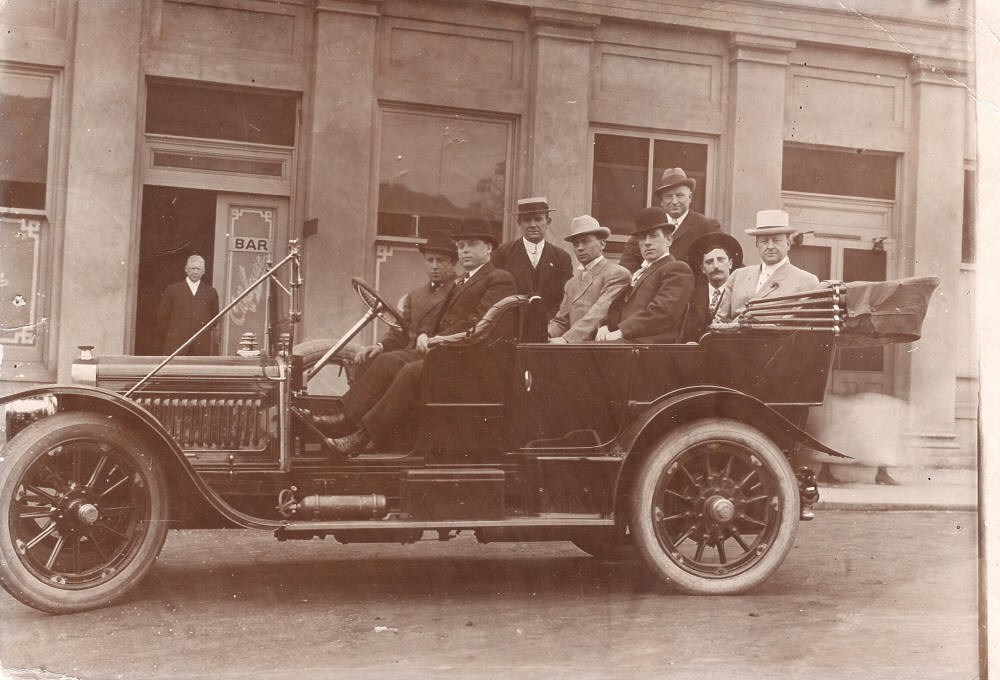 "BAR"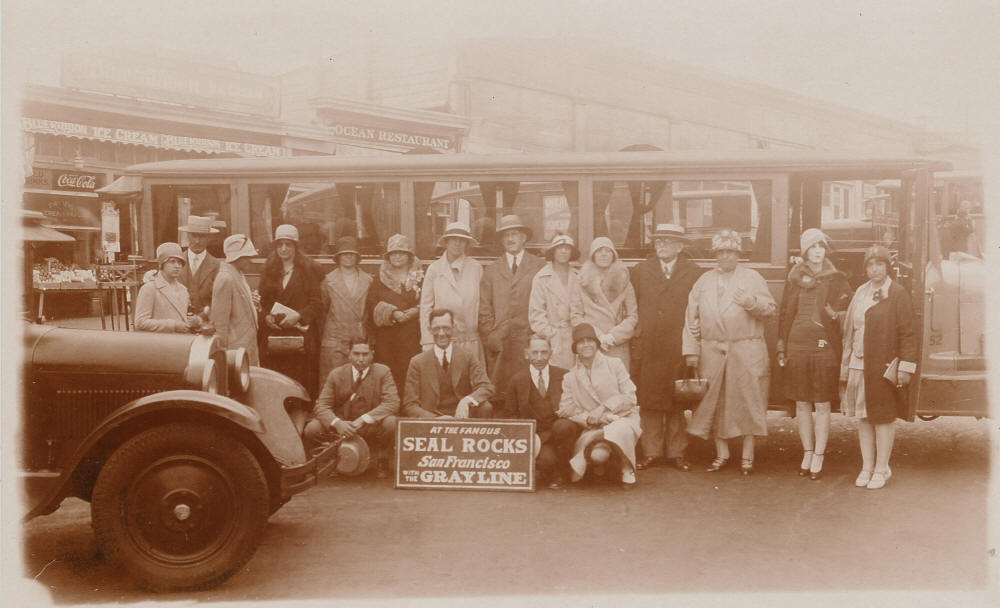 "Coca Cola, Blue Ribbon Ice Cream, Ocean Restraunt"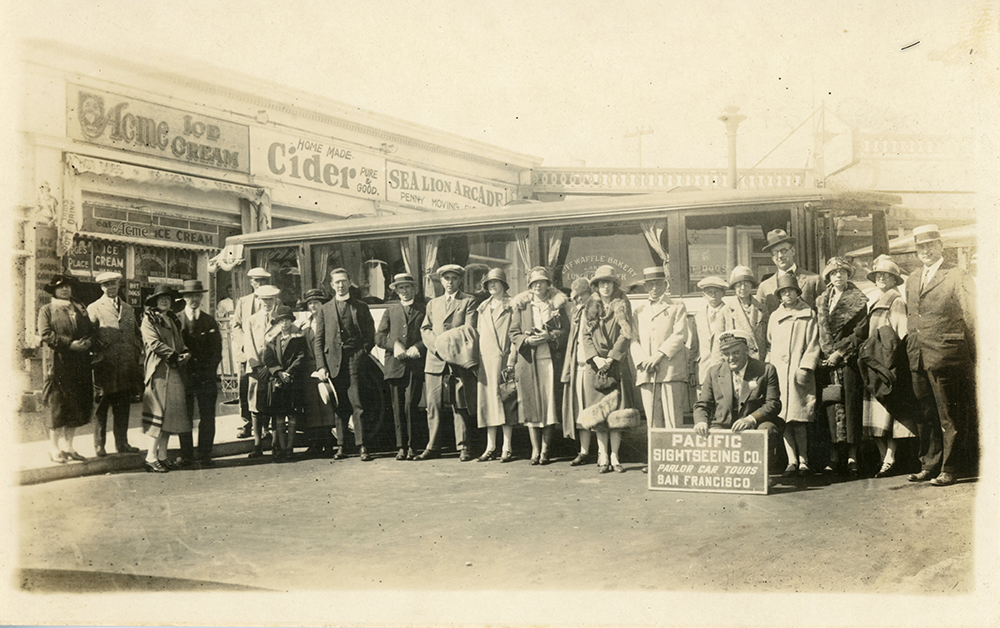 John Martini: "You donít see many views of that line of storefronts between the Cliff House and the Cliff Cafe."
"Acme Ice Cream", "Home Made Cider, Pure & Good", "Sea Lion Arcade", "Cliff Waffle Bakery", "Pacific Sightseeing Co., Parlor Car Tours, San Francisco"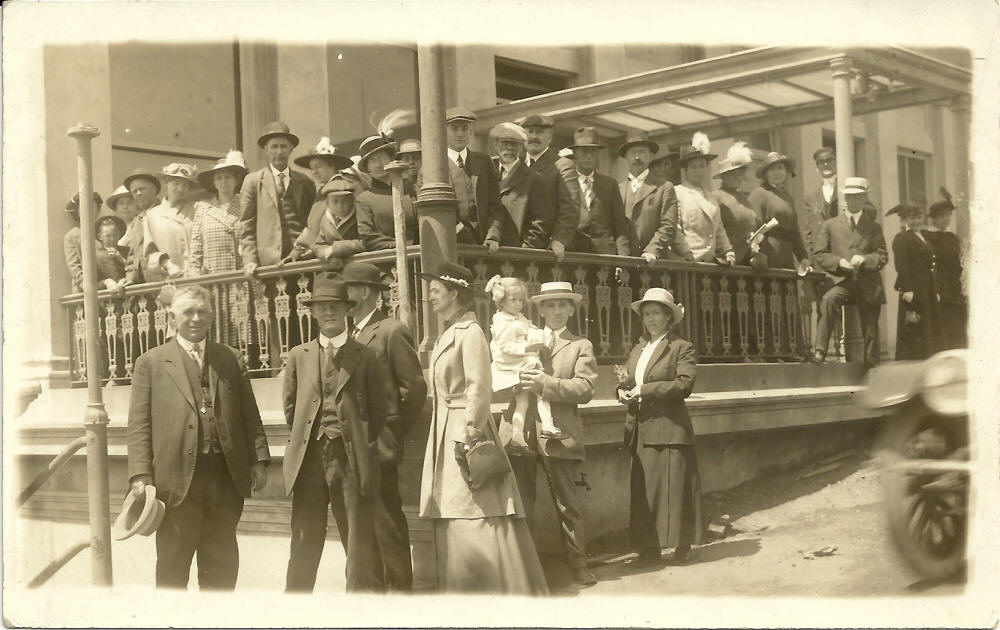 This photo shows a unique view of the Cliff House porch. The reverse contains not just the exact date, but also time of day.
Reverse: "Cliff House San Francisco, 12 oclock noon, Wednesday August 11th 1915" (scan of reverse)
"While surfing the web, on a Facebook site called Memories of Playland, I came across an image of a group of people in front of the Cliff House. It had been posted by a member of the site, and it took me by surprise. She had borrowed it from Frank Mitchell's contributions on the Cliff house Project site, dated August 11th,1915. I knew right away I was looking at the image of my late Grandfather Frank Shanahan, he being the man at the bottom, second from the left. My Grandfather had immigrated here in 1907 from Ireland. He lived on 21st and California at that time. I immediately messaged my family separately, asking them if they recognized anyone in the group. They all responded affirmative for Frank Shanahan. The group image had been placed on the back of a postcard. There is at least one other person, in the group picture, that we are sure is a relative. In research I found that about that time the Whitney Bros. had started doing photography for people traveling to the beach. It's popularity caught on fast as they could take it or send it home right away." -- Ray Shanahan 7/14/2014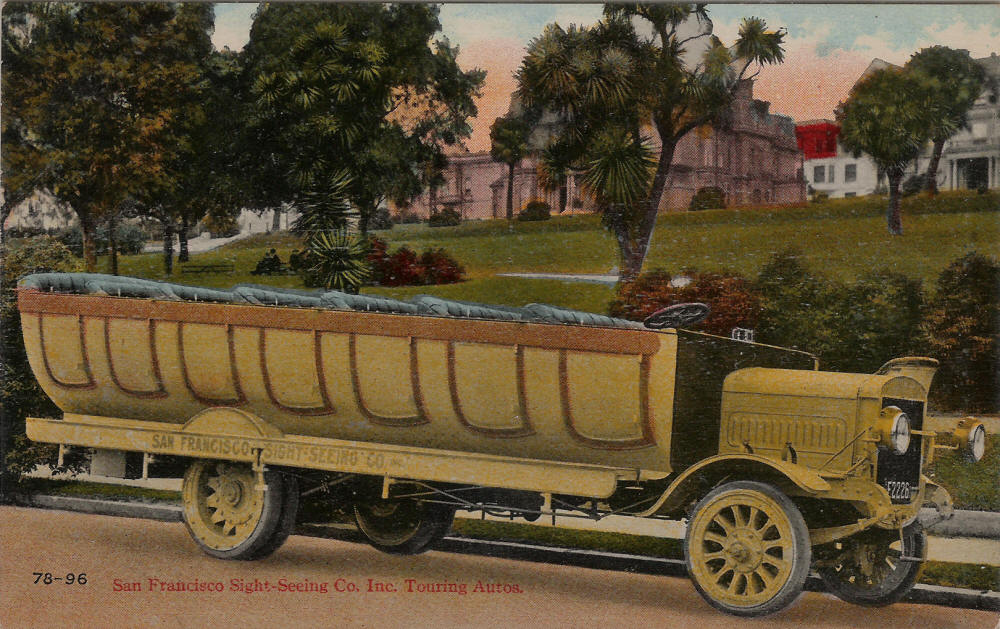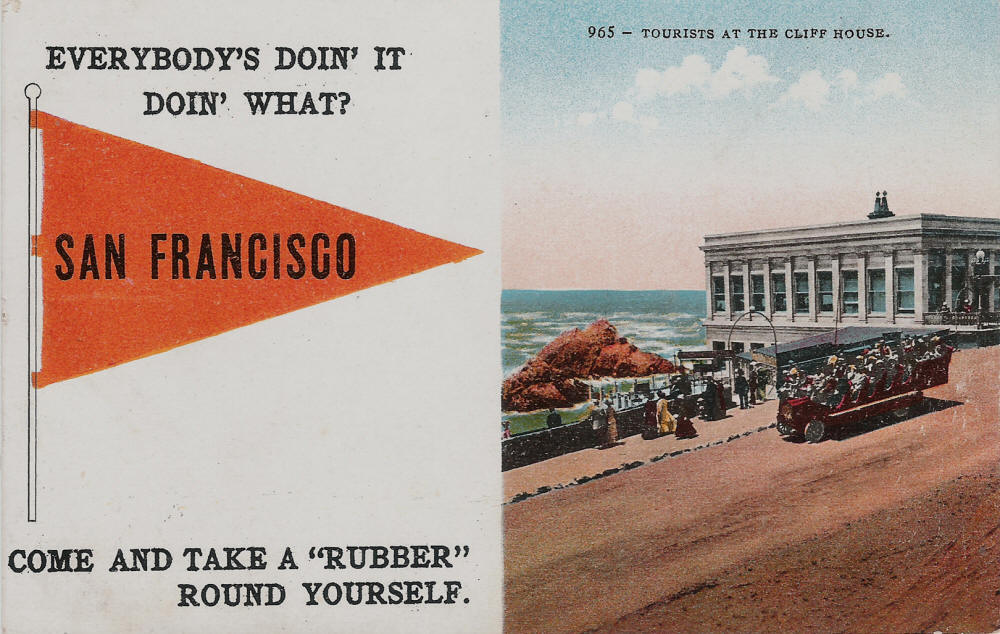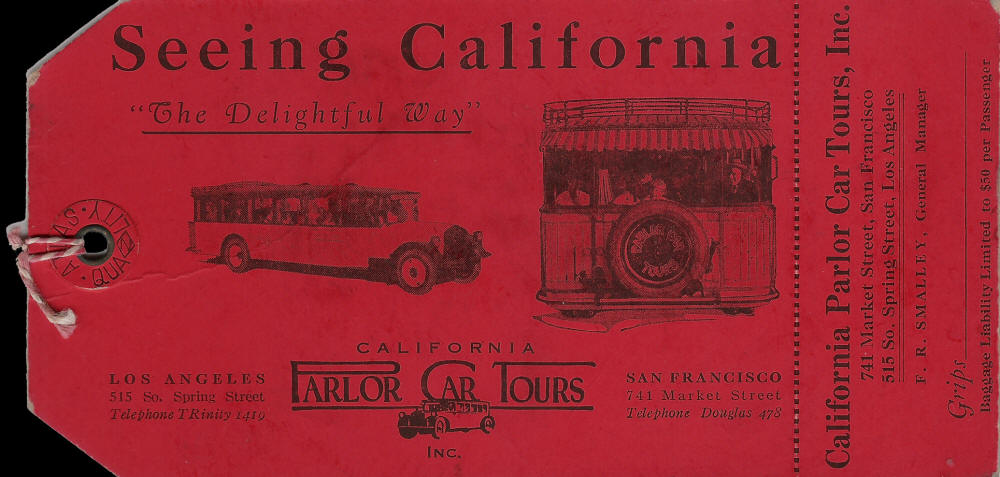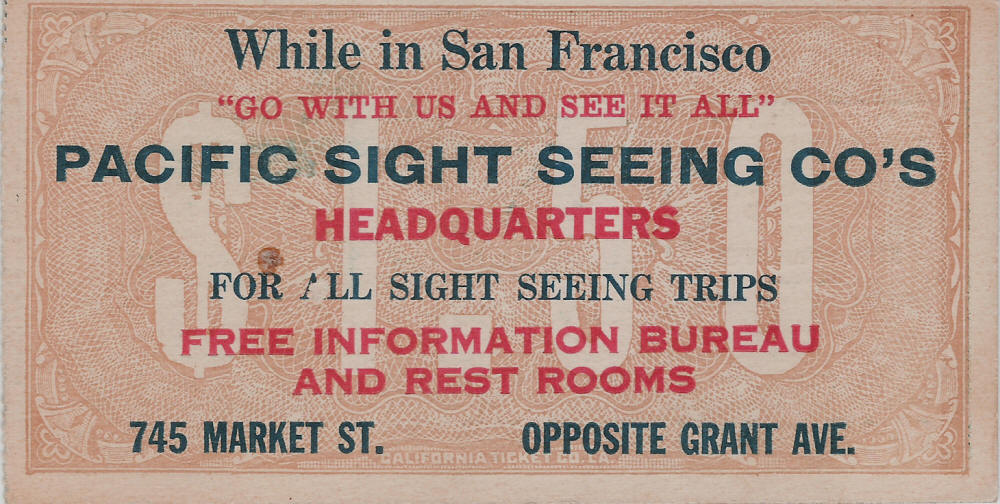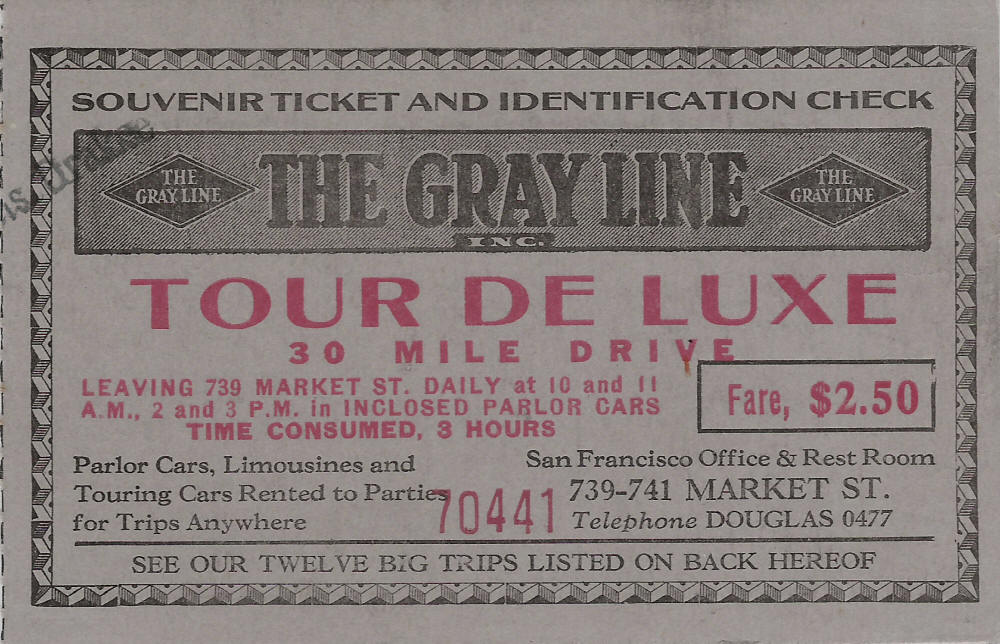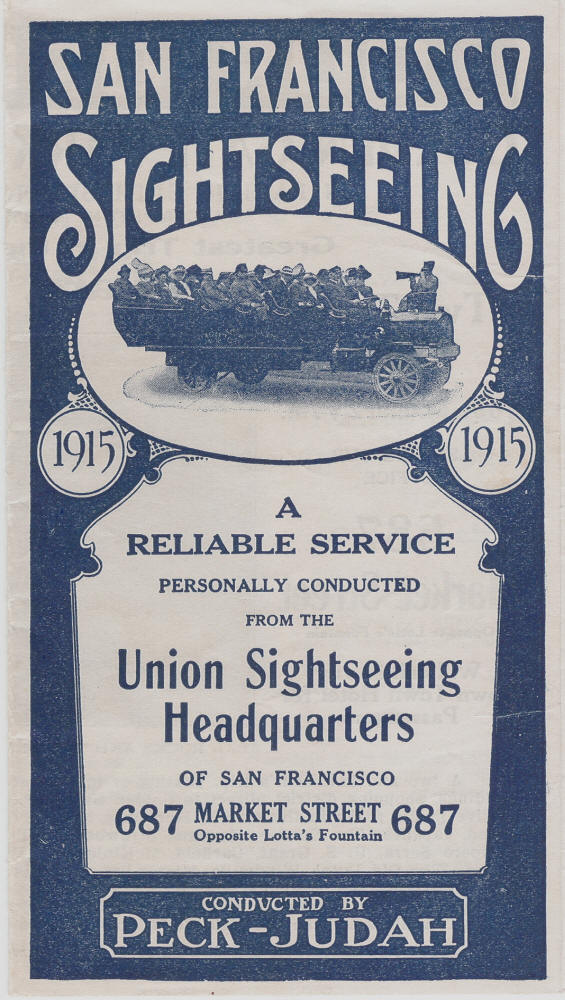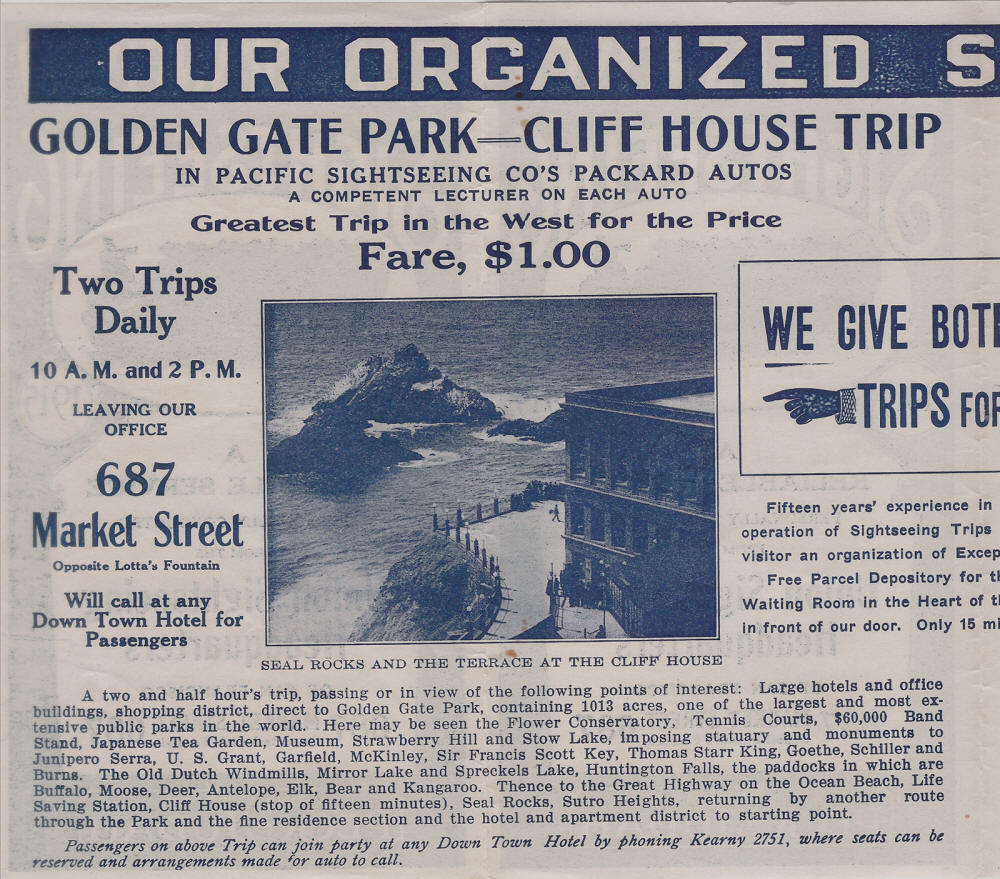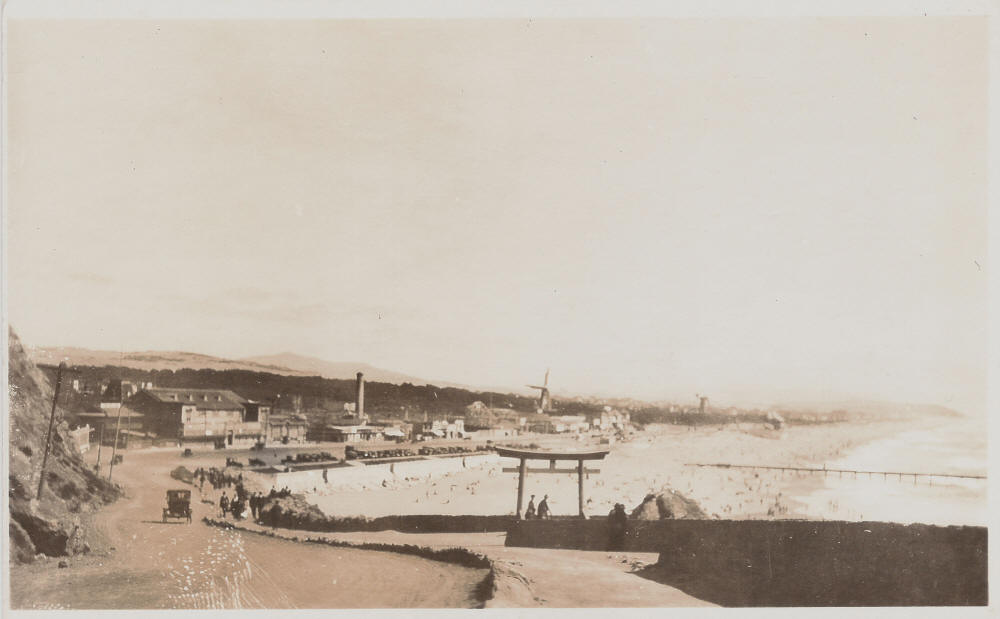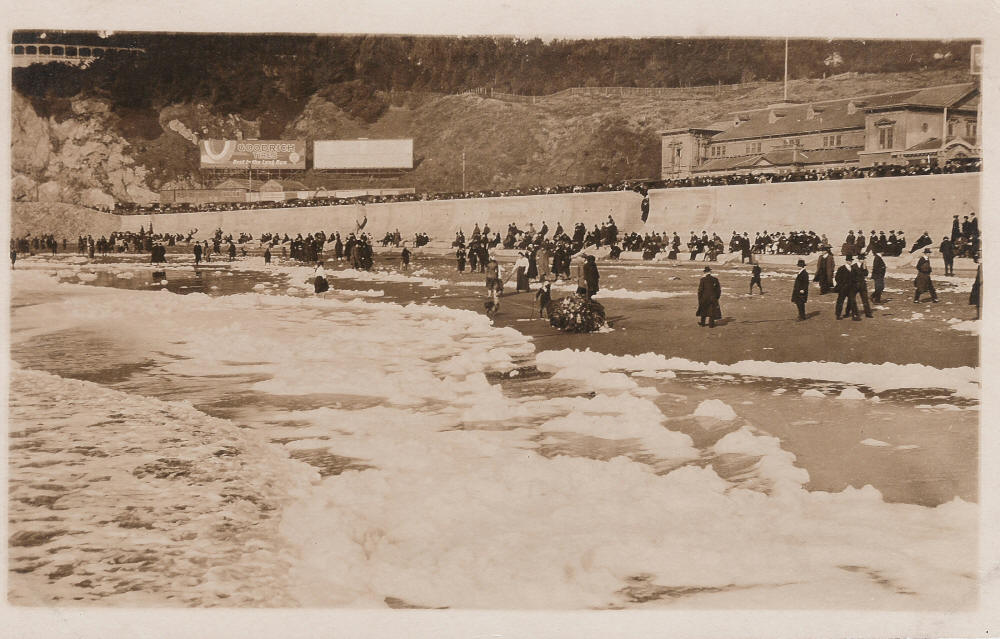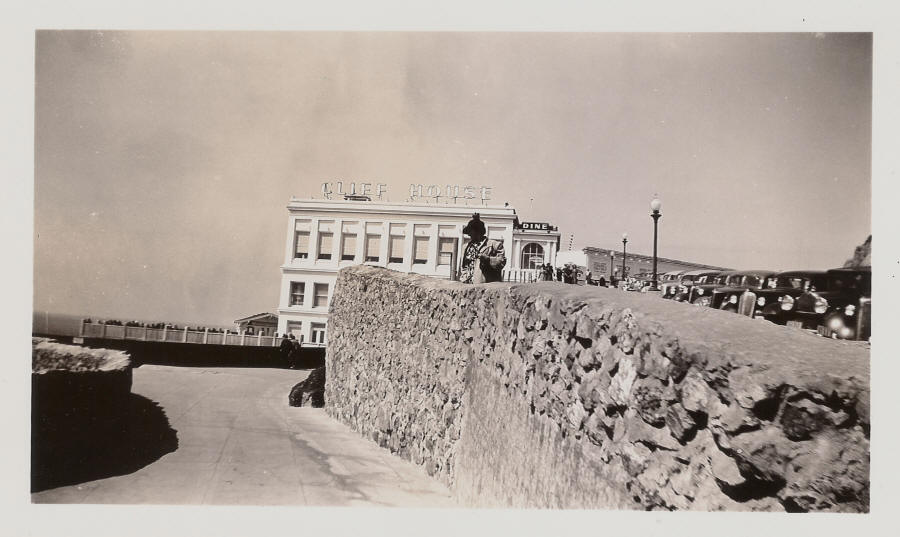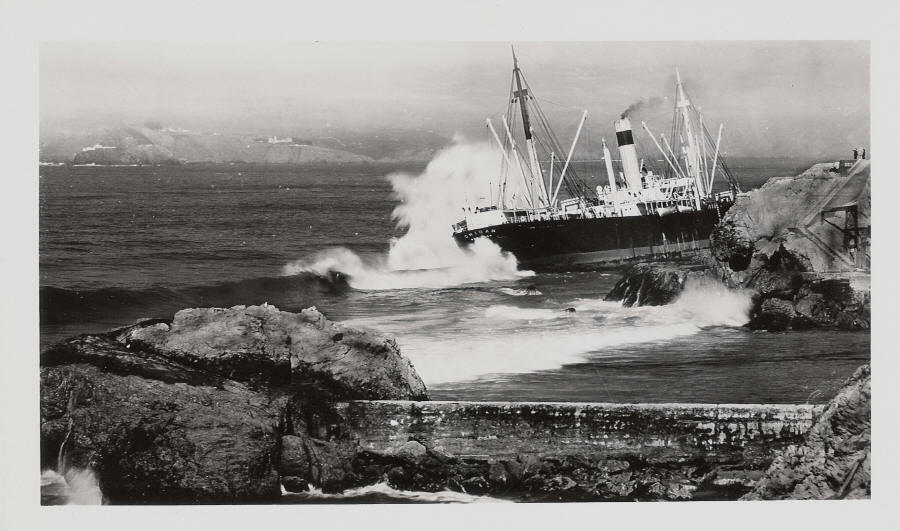 Ohioan shipwreck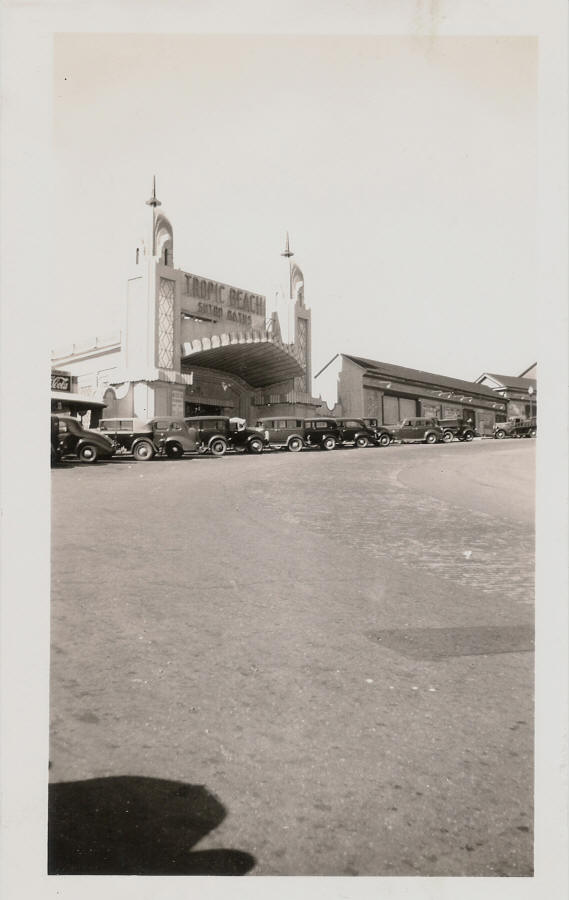 TROPIC BEACH, SUTRO BATHS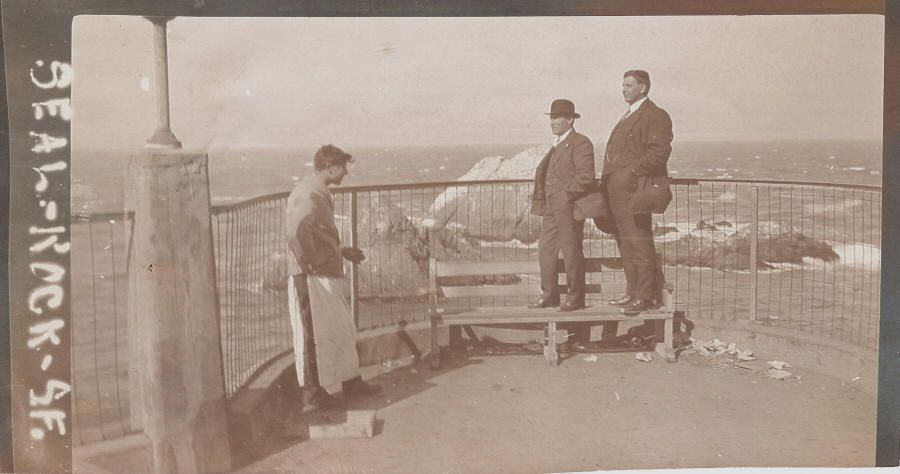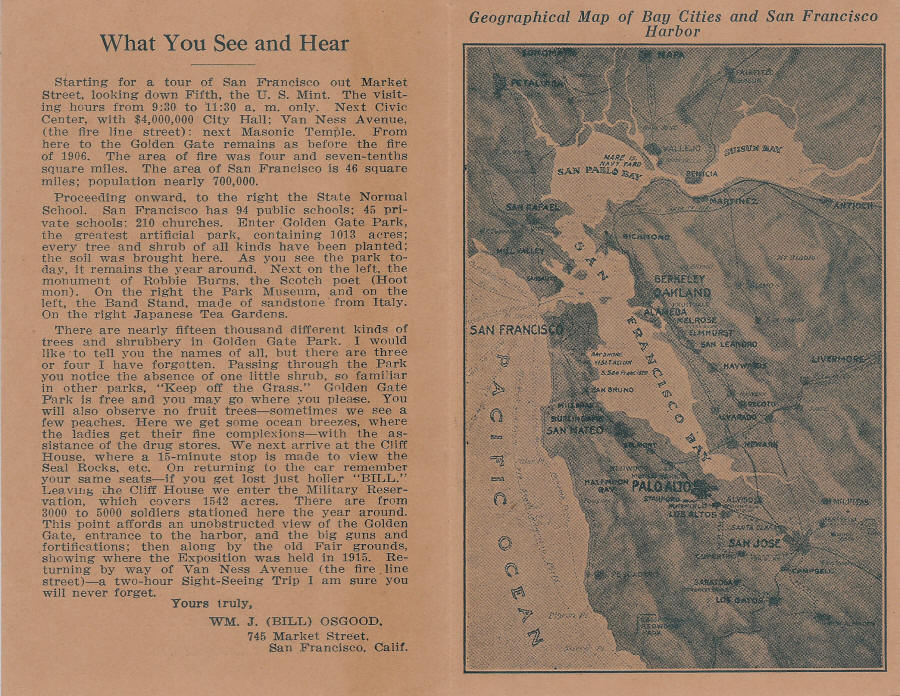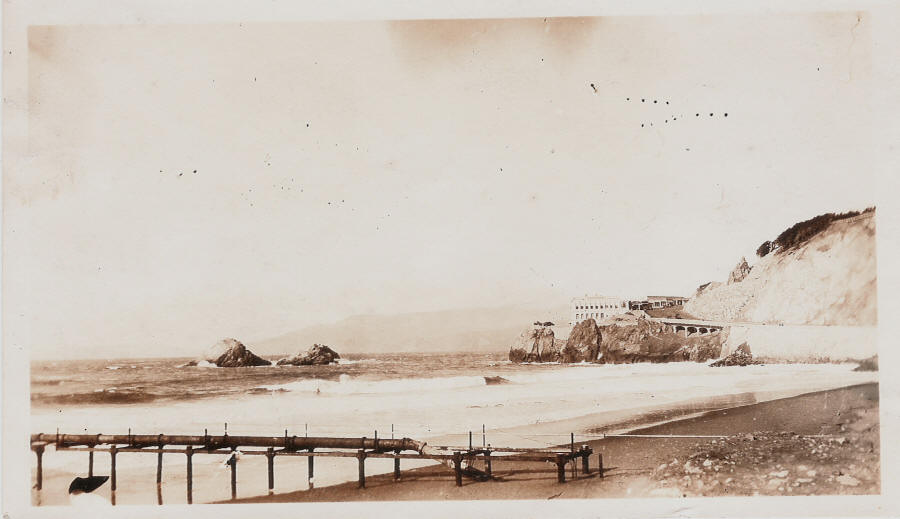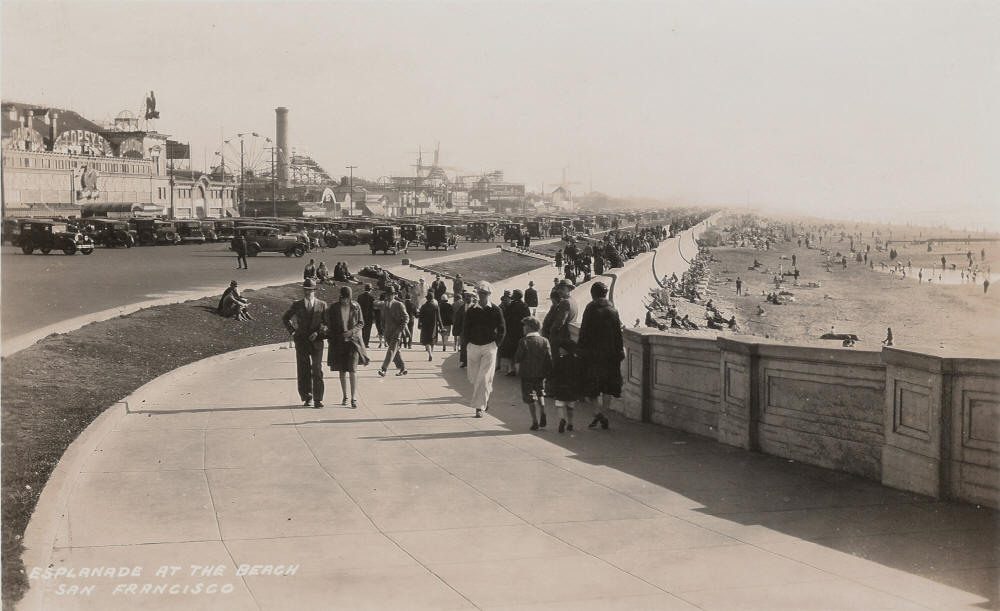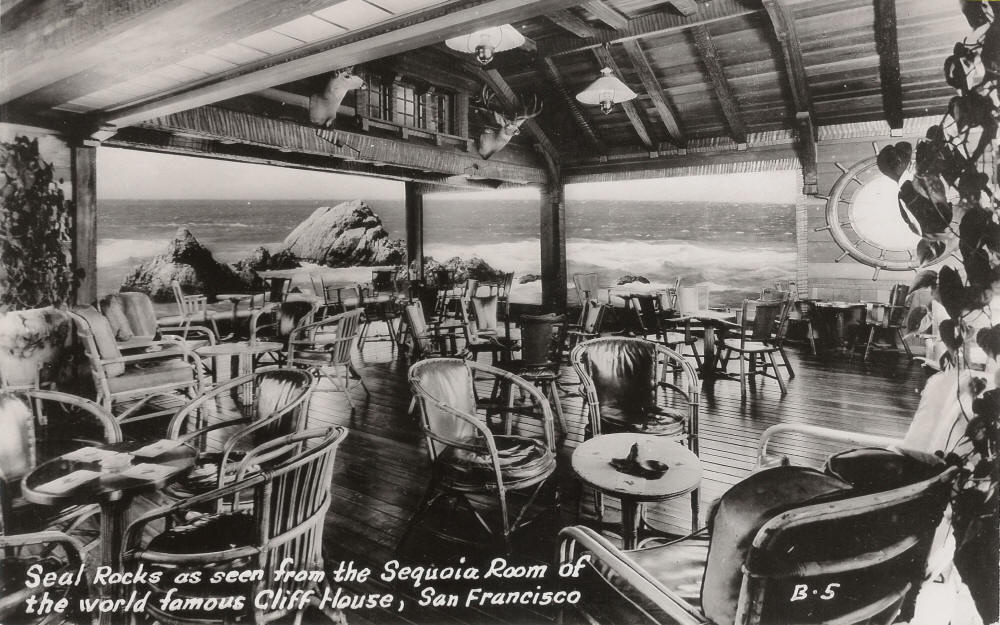 "Seal Rocks as seen from the Sequoia Room of the world famous Cliff House, San Francisco"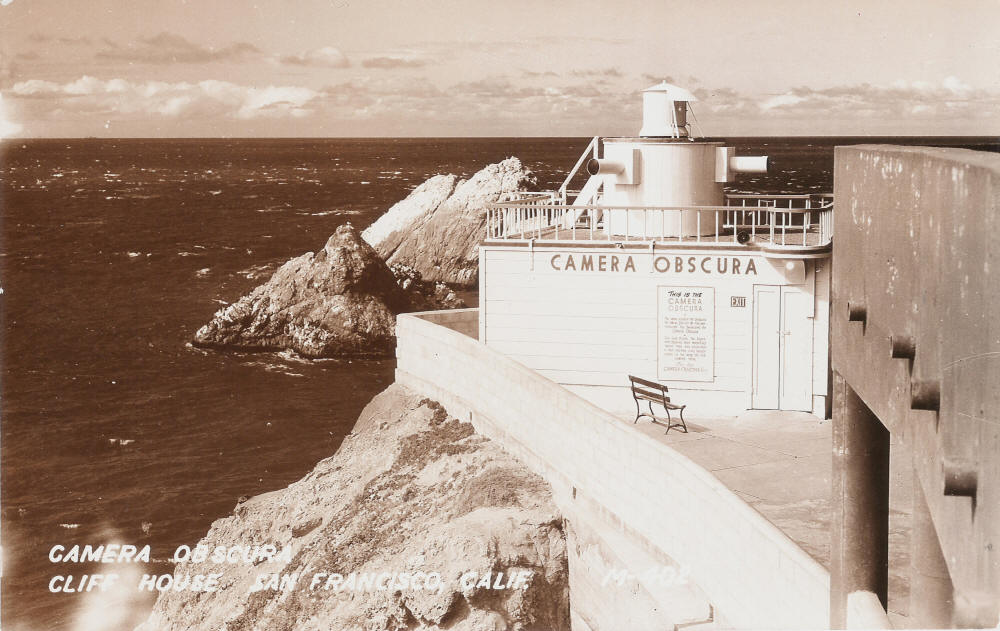 "CAMERA OBSCURA"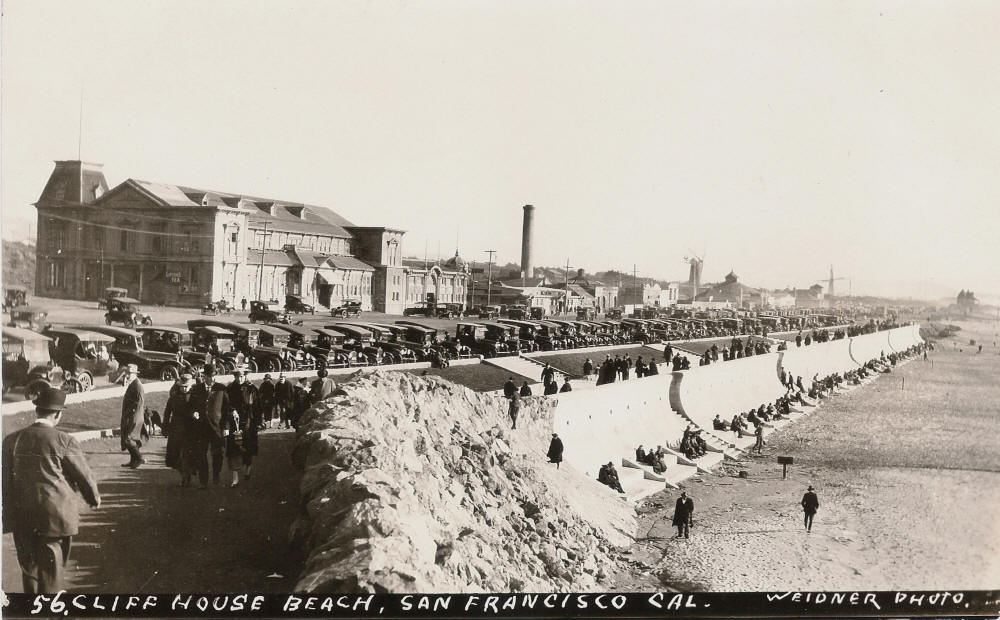 Ocean Beach Pavilion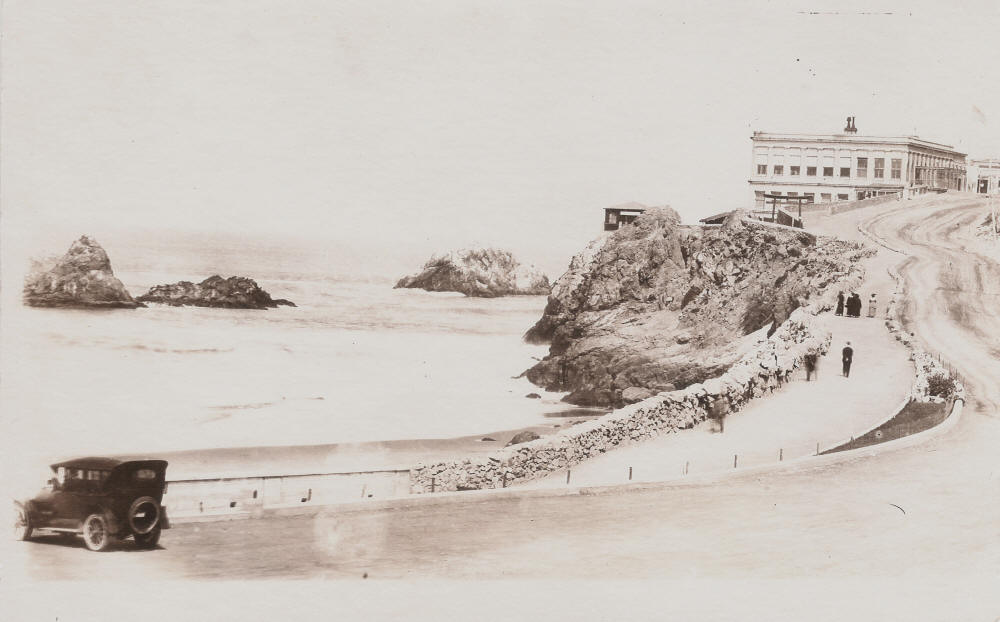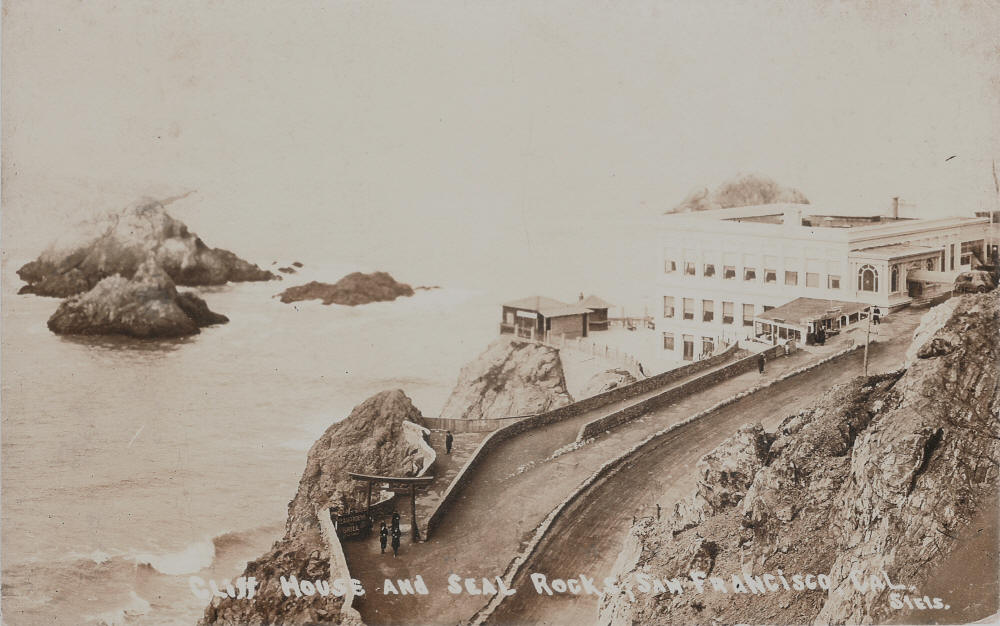 Sign near arch: "TEA GARDEN", "GRILL"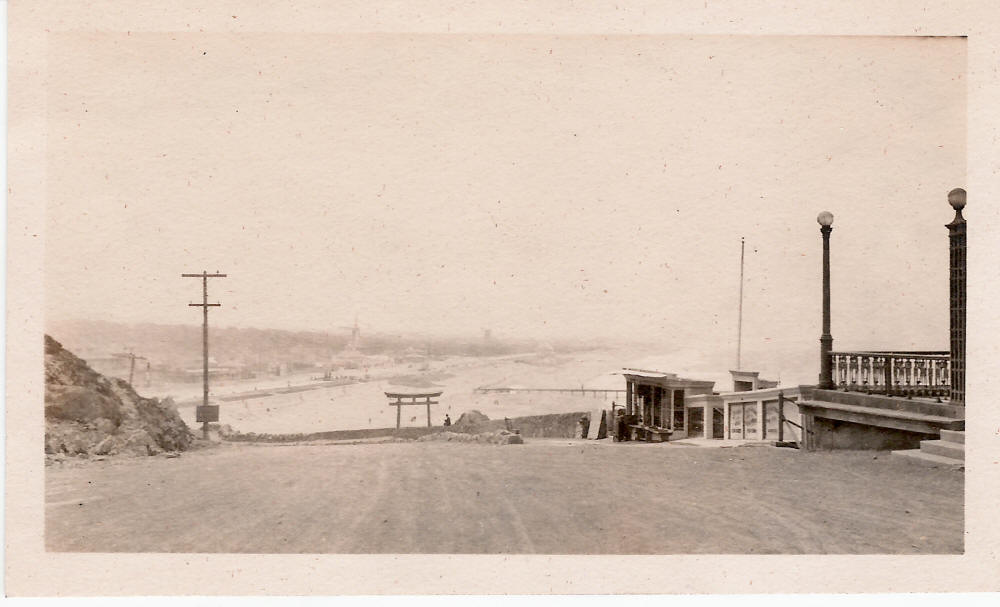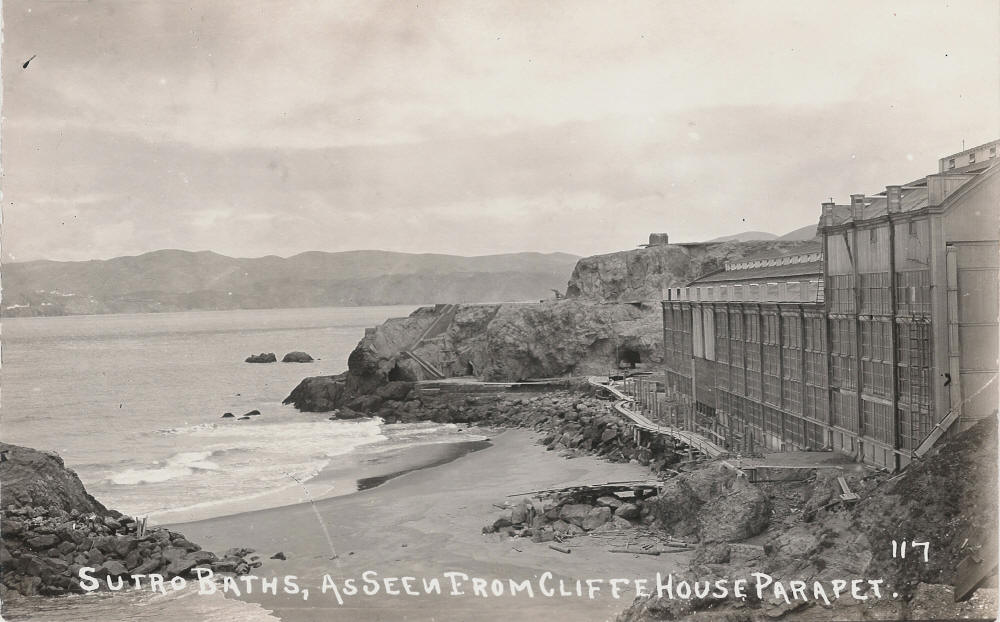 "SUTRO BATHS, AS SEEN FROM CLIFFE HOUSE PARAPET"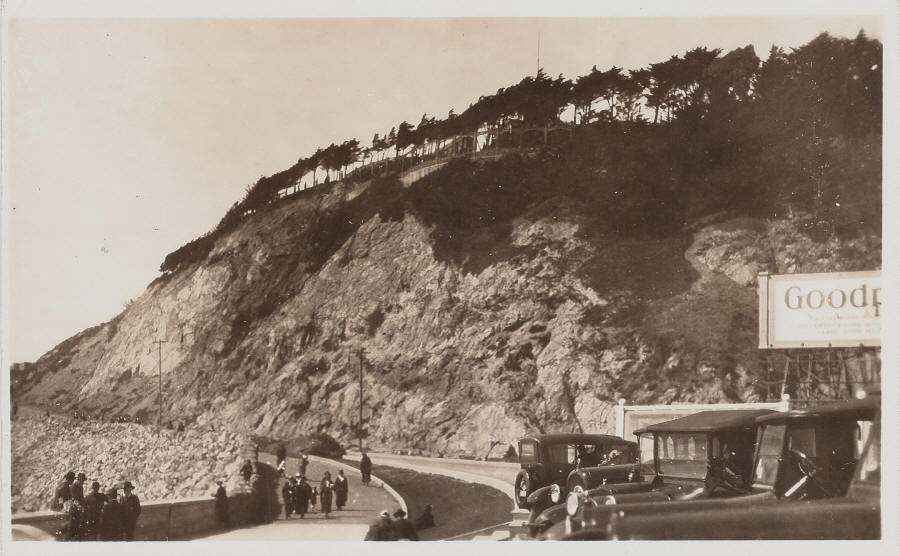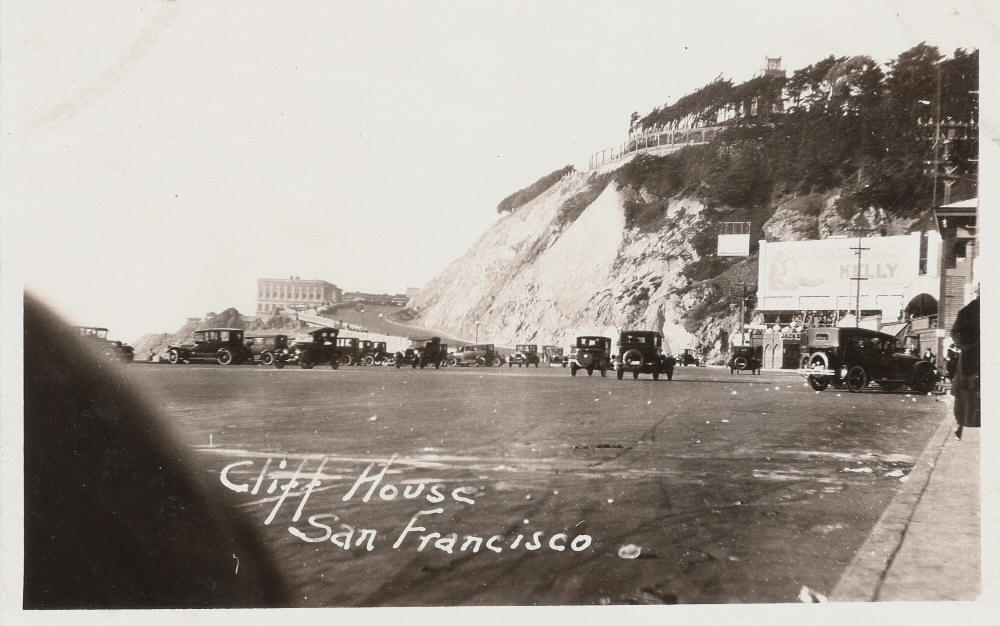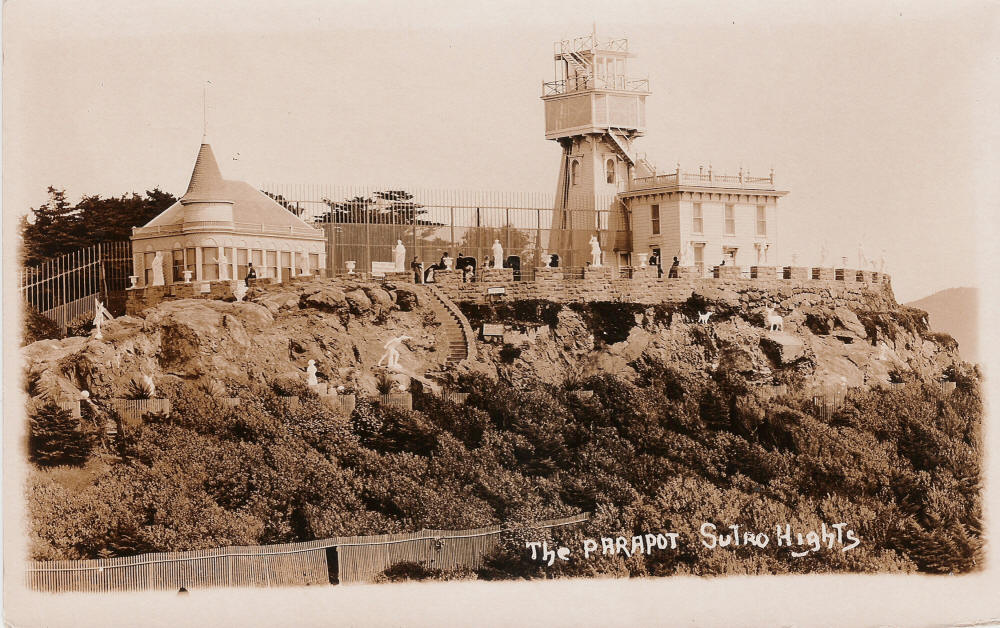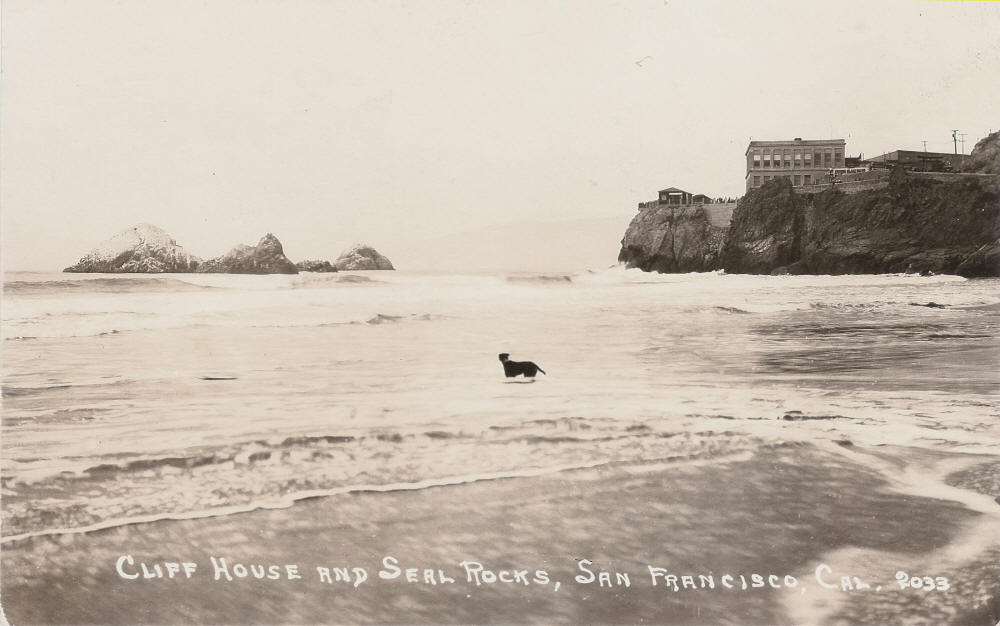 sand sculptures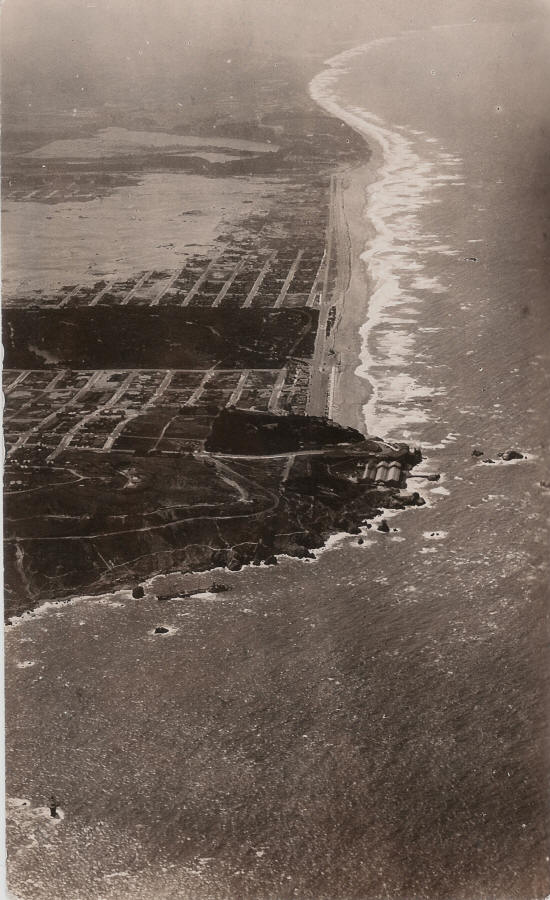 \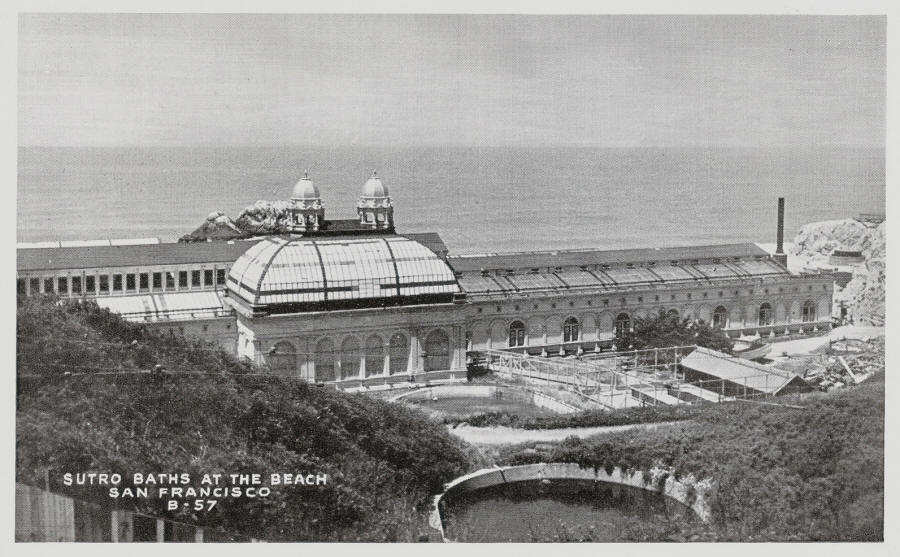 SUTRO BATHS AT THE BEACH, SAN FRANCISCO, B-57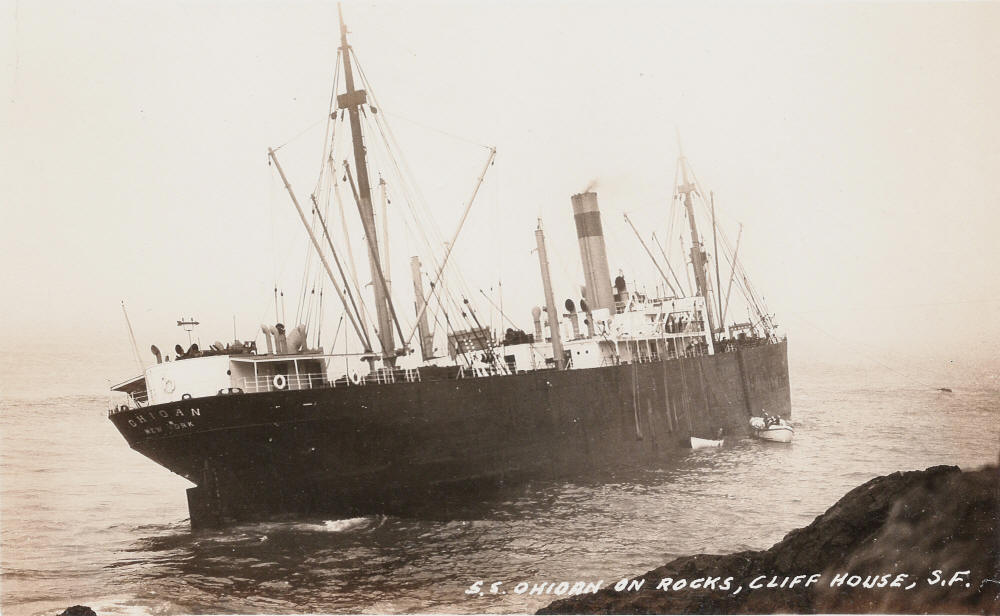 "S.S. OHIOAN ON THE ROCKS, CLIFF HOUSE, S.F."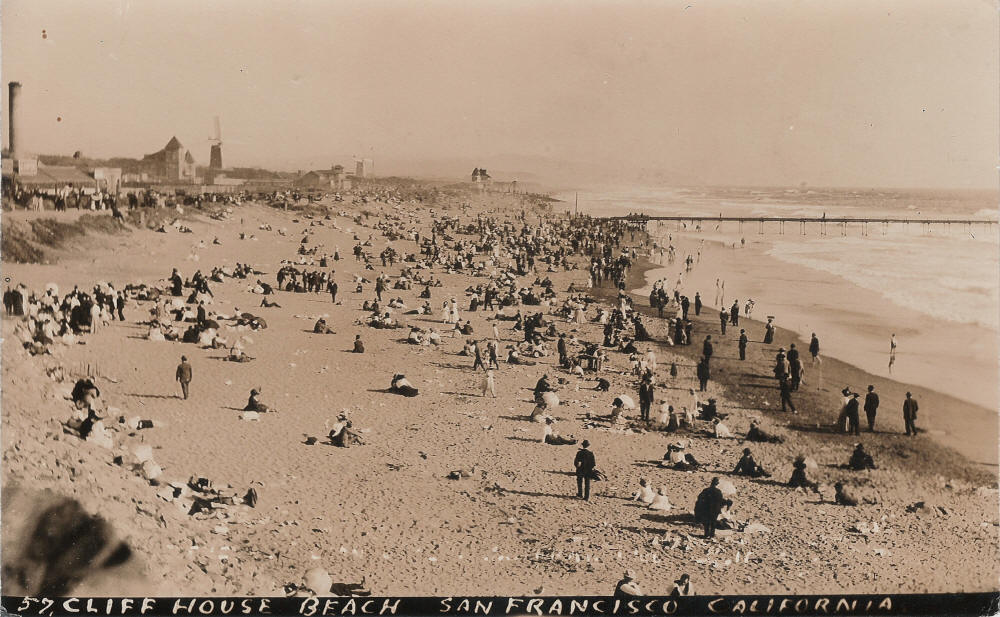 "SUTRO HEIGHTS, SAN FRANCISCO, CAL. WEIDNER PHOTO"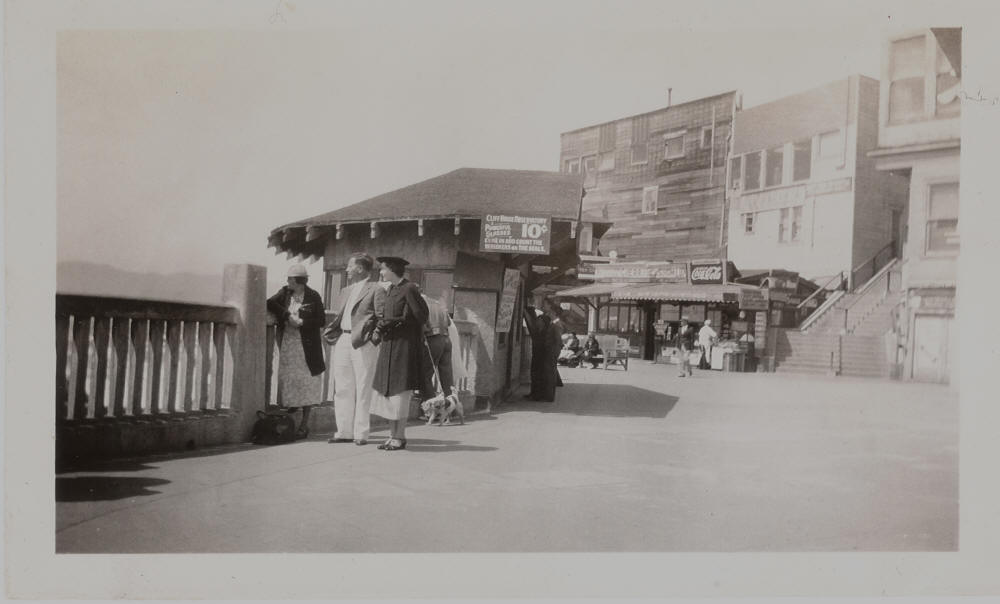 CLIFF HOUSE OBSERVATORY
POWERFUL GLASSES, 10Ę
COME IN AND COUNT THE WHISKERS ON THE SEALS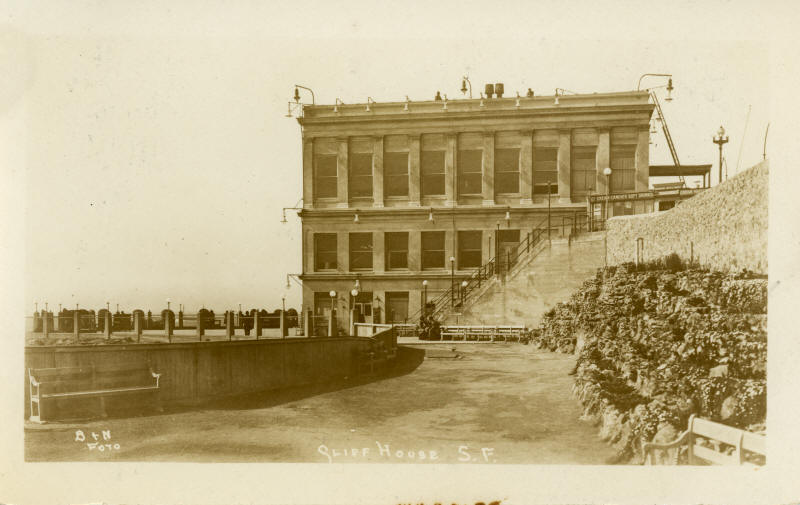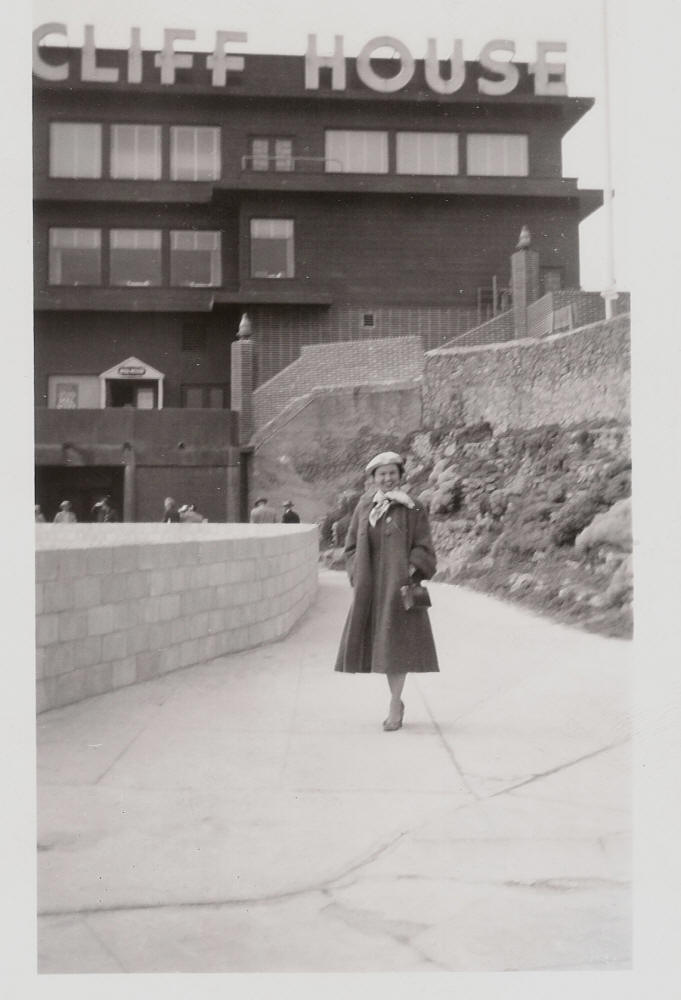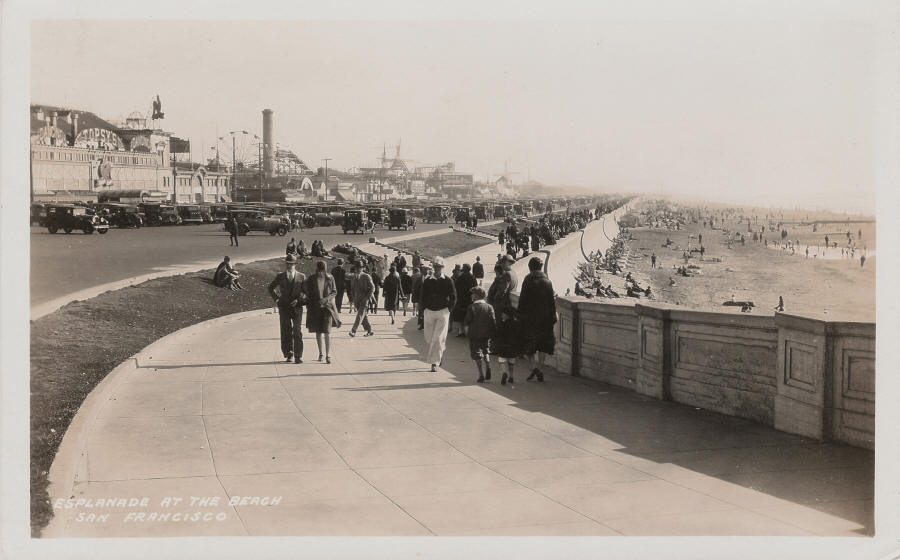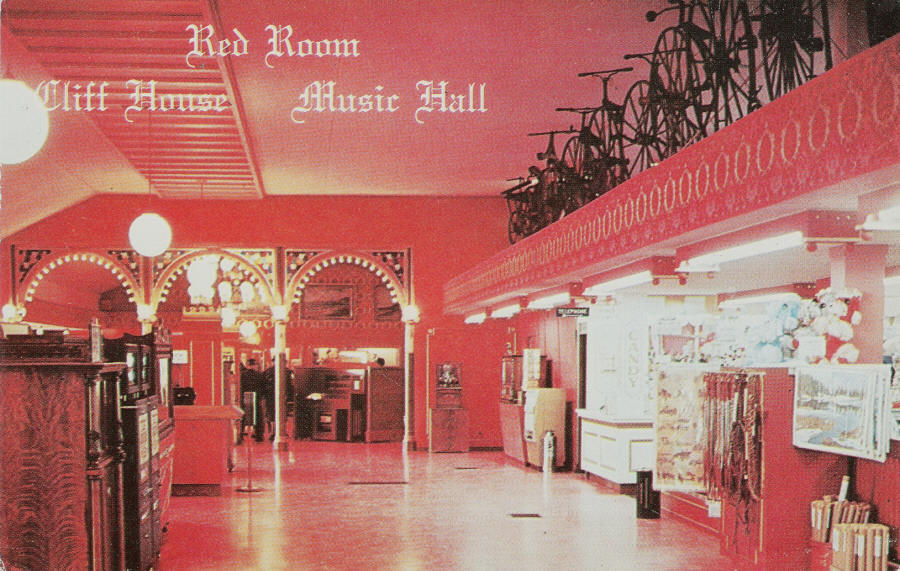 Red Room, Cliff House, Music Hall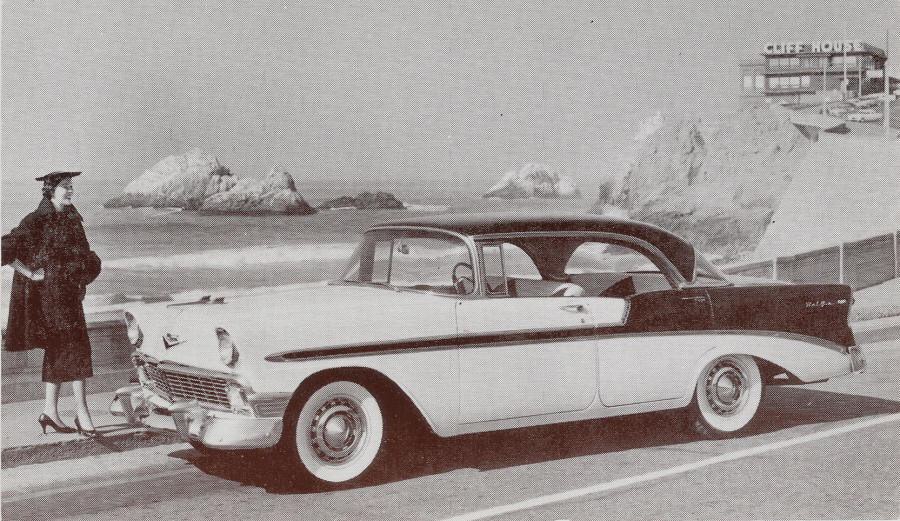 Chevy Bel Air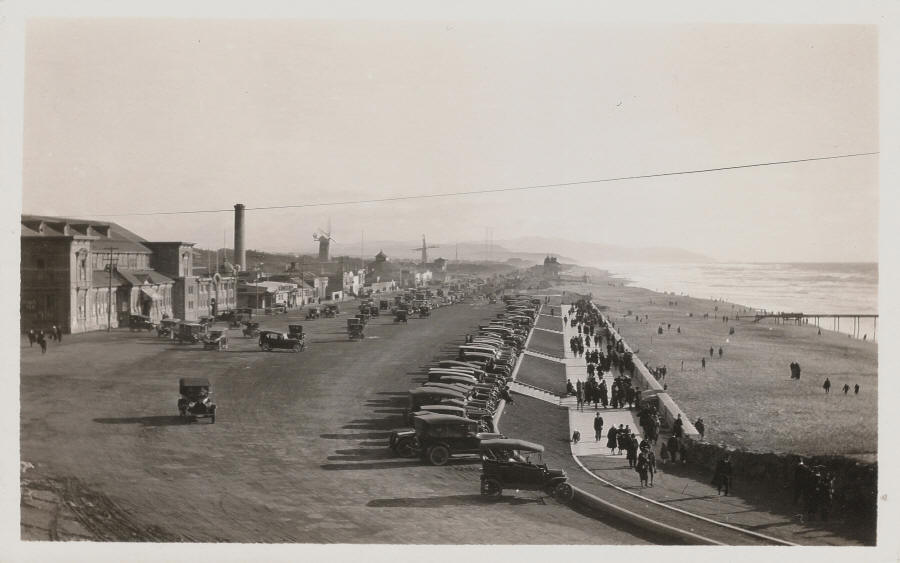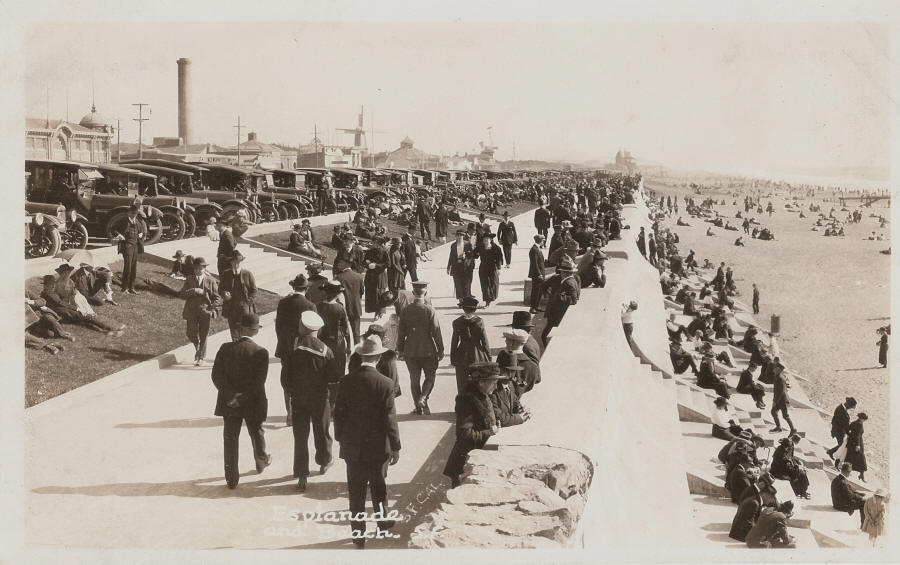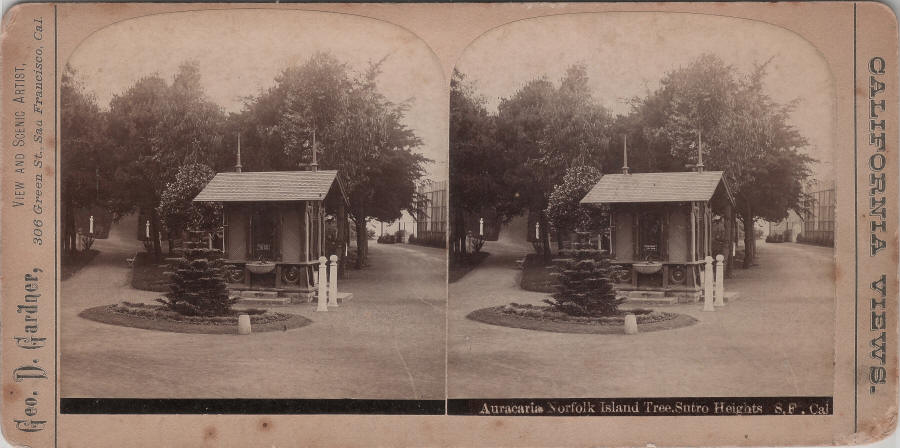 Auracaria Norfolk Island Tree, Sutro Heights, S.F. Cal
Geo. D. Gardner, California Views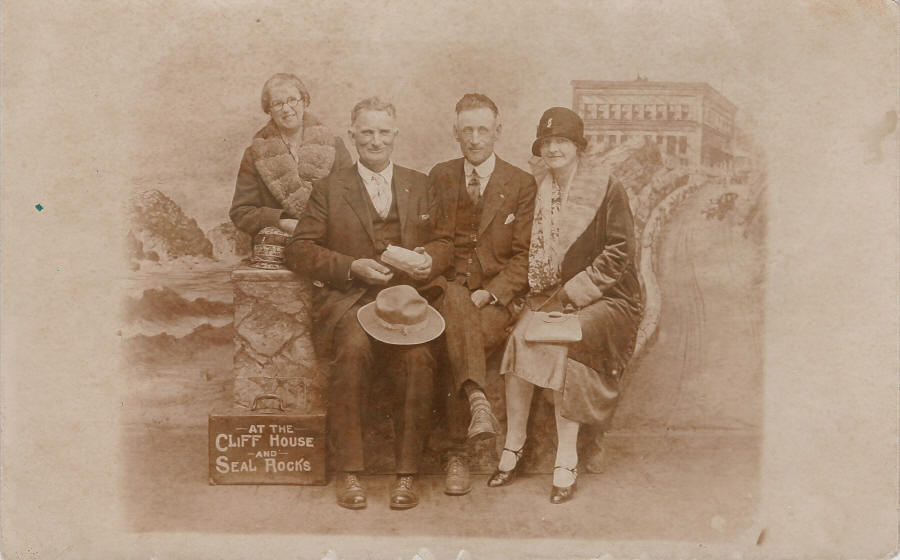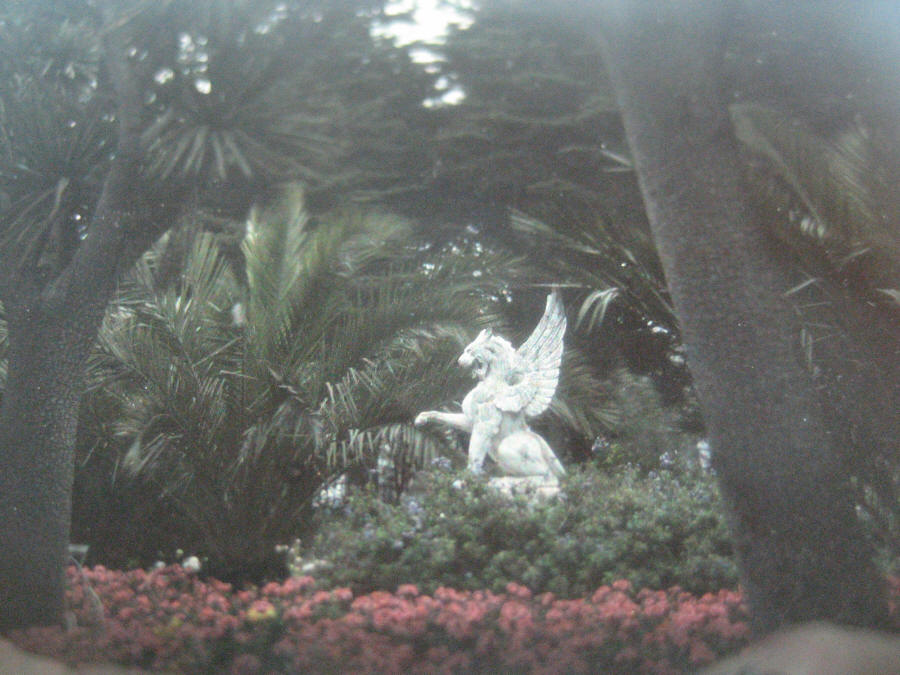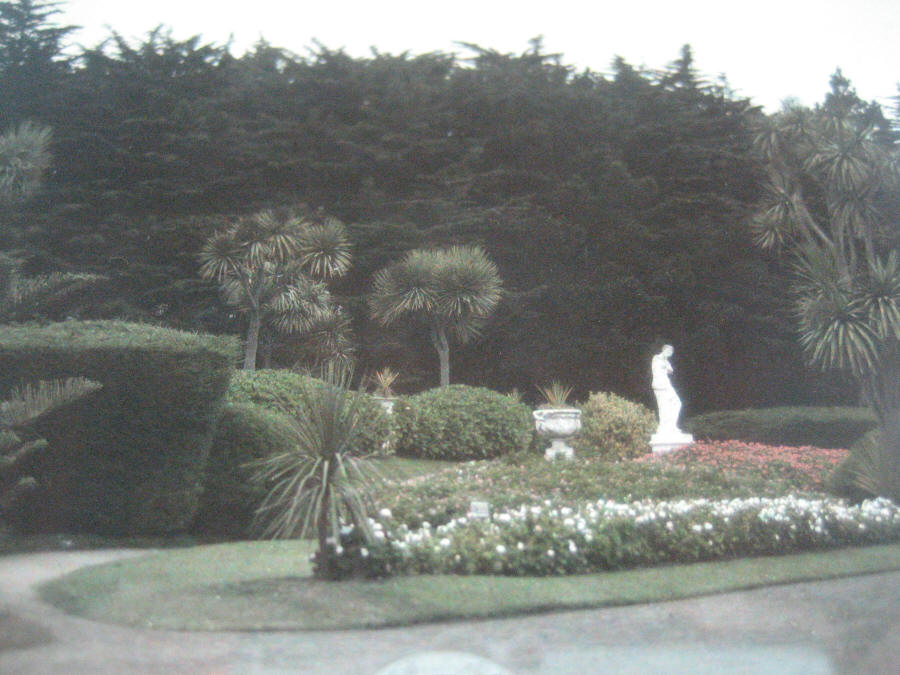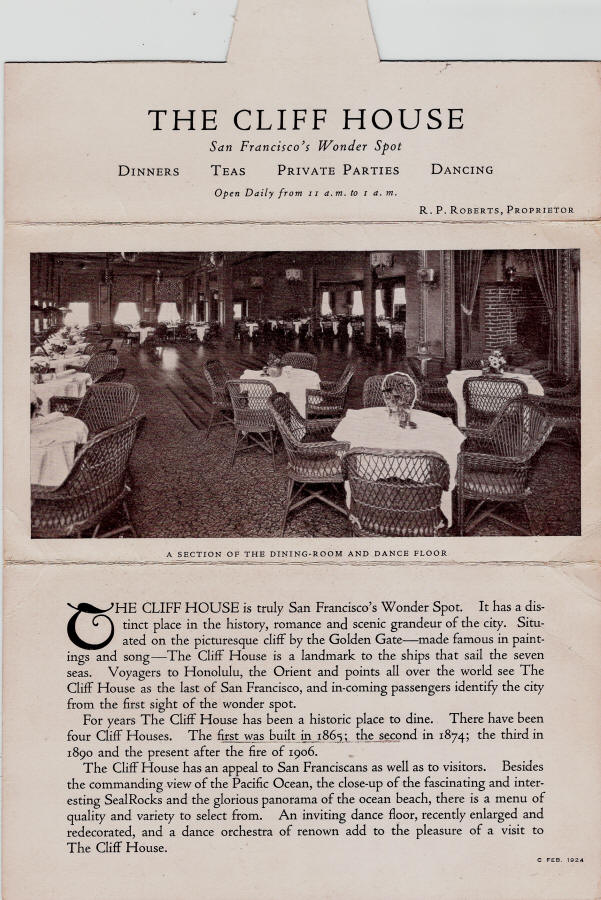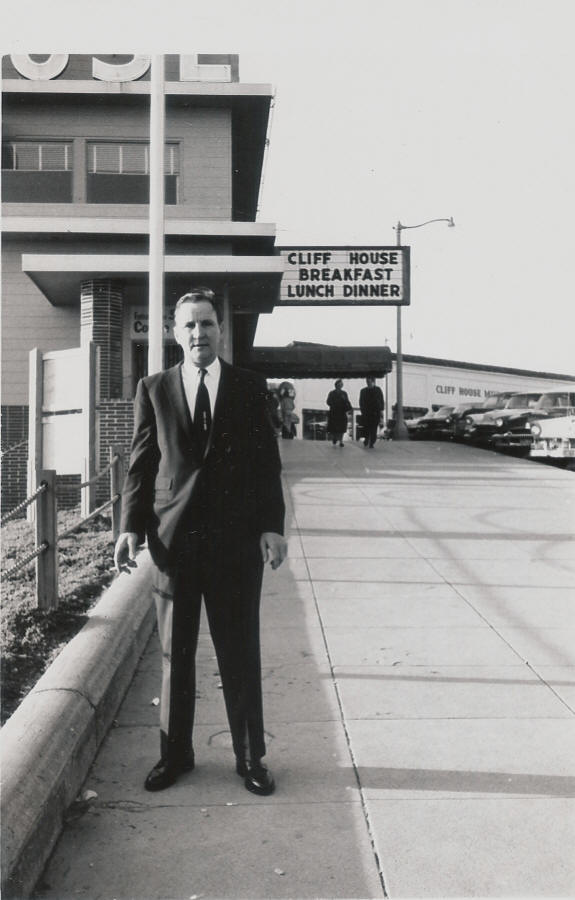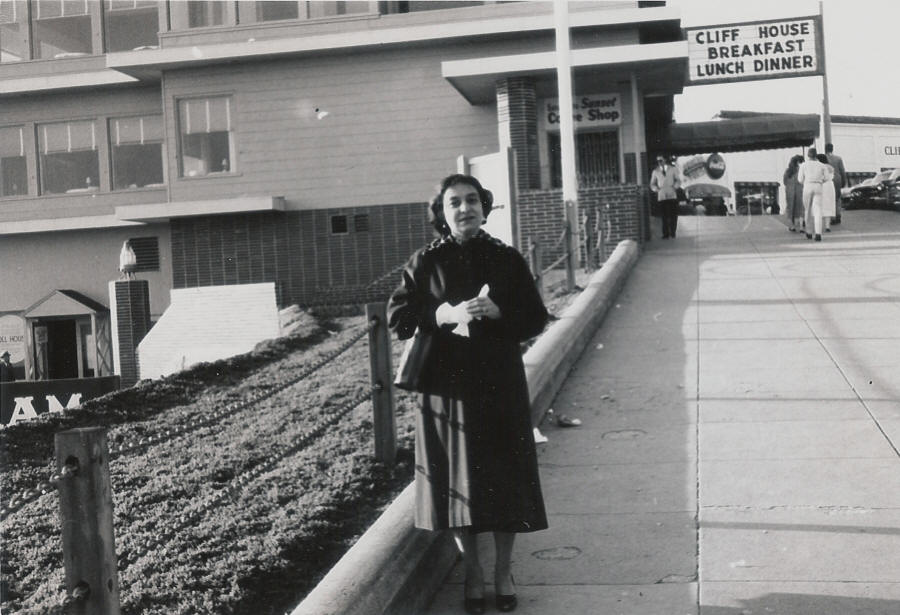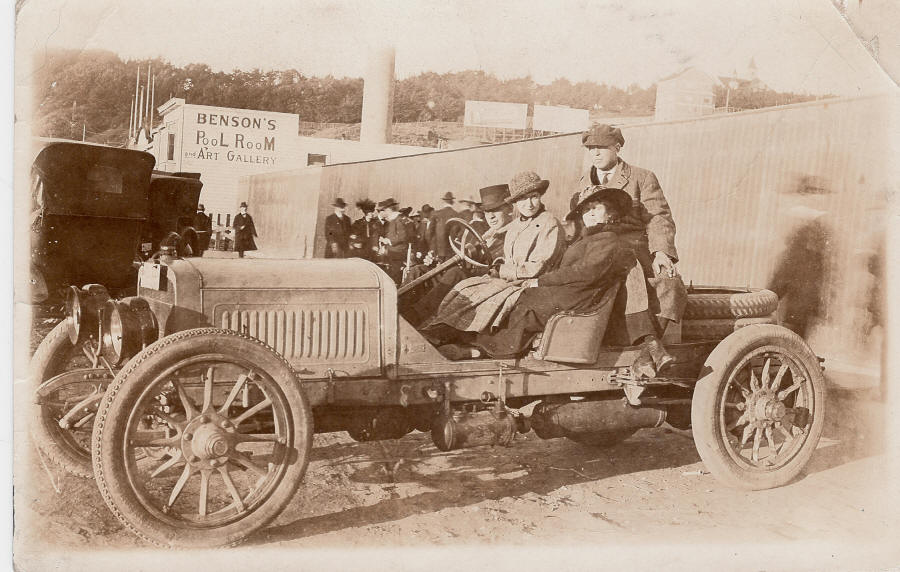 Billboard: "BENSON'S POOL ROOM and ART GALLERY"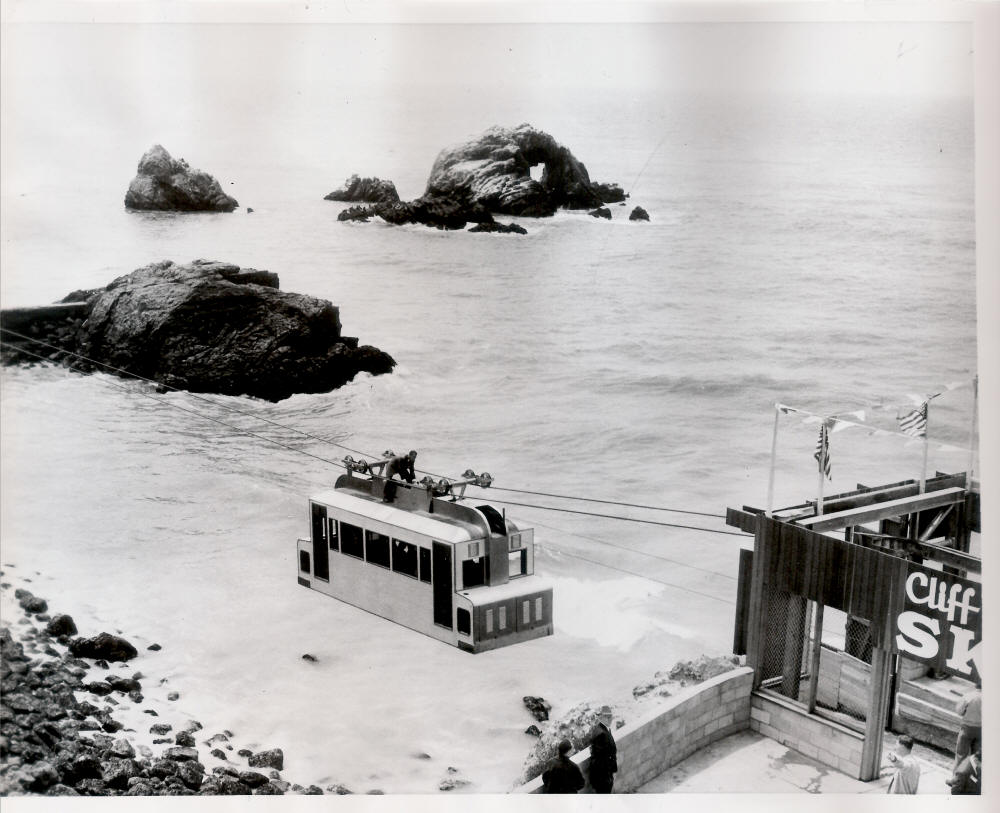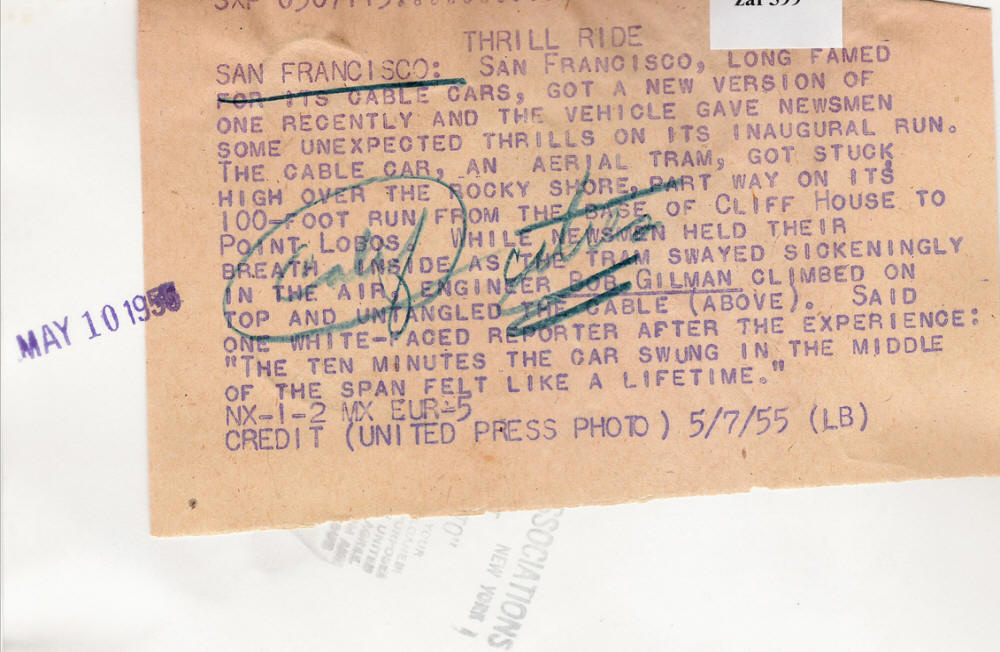 Page 1 Page 2