Album purchased on ebay, 12/20/2011, seller description:

"Album Scenes mainly CA, Taken by Frank G. Brown, C. 1900. It contains 42 pgs., with 233 photos, every one described by Mr. Brown, some showing him, one in a hot air Balloon. He starts in Montreal, Canada, moves west, most photos are CA, but he also goes to Pikes Peak, Salt Lake City. etc. There are many early photos, one of a "Firth Wheel, before being called Ferris Wheel. Several photos were taken from a Hot Air Balloon over Los Angeles, even one taken of Brown in the balloon and a few of the balloon in flight from the ground. Early photos of Baseball Game, Bicycle Racing on Banked Track, Bull Fighting, & La Fiesta de la Flores, which I believe became the present day Rose Parade held on New Year's Day. There are 17 photos on this parade. Number of photos on military ships, Japanese & American, several Steam Ships, including Empress of China. Many famous Hotels, Palace in San Francisco, Cliff House, Hotel Green Pasadena, Hotel Coronado, etc. Lots of trains, some at the top of Pike's Peak. One of an "Indian Parade", and inside "Chinese Theatre". Scenes of Mormon buildings in Salt Lake City. Garden of Gods, inside Cave of Winds, etc."

Based on the Firth Wheel photo (posted later) and the existence of the Ferry Building these photos were likely taken between 1898 and 1900. (Contributed by John Martini)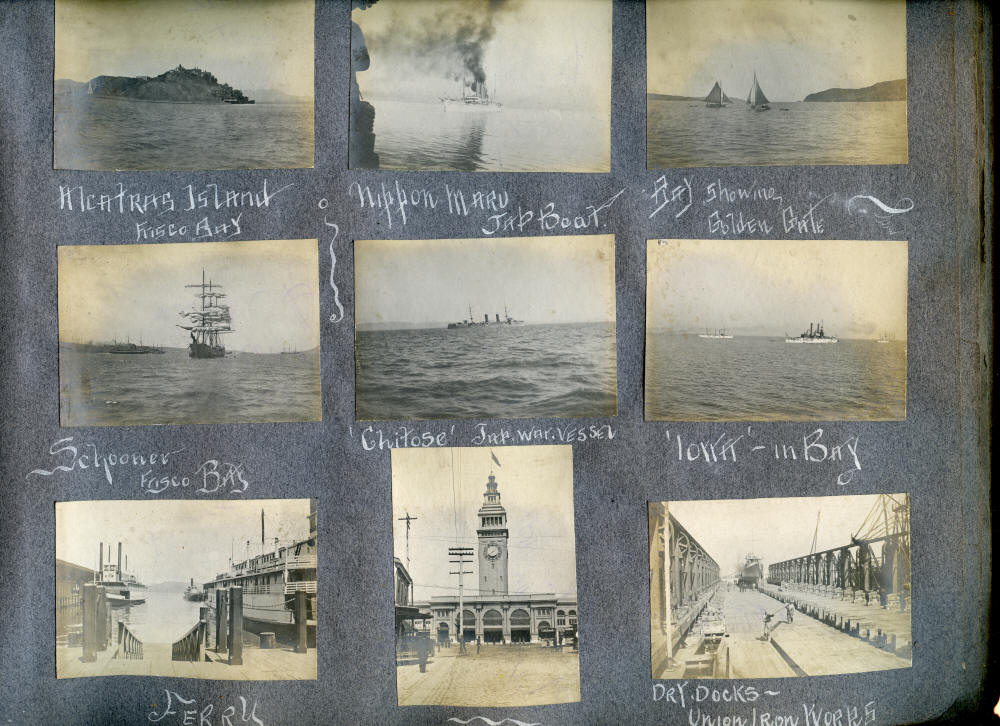 "Alcatraz Island", "Nippon Maru", "Schooner Frisco Bay", "Chitose", "Iowa", Pier One, "Dry Docks, Union Iron Works"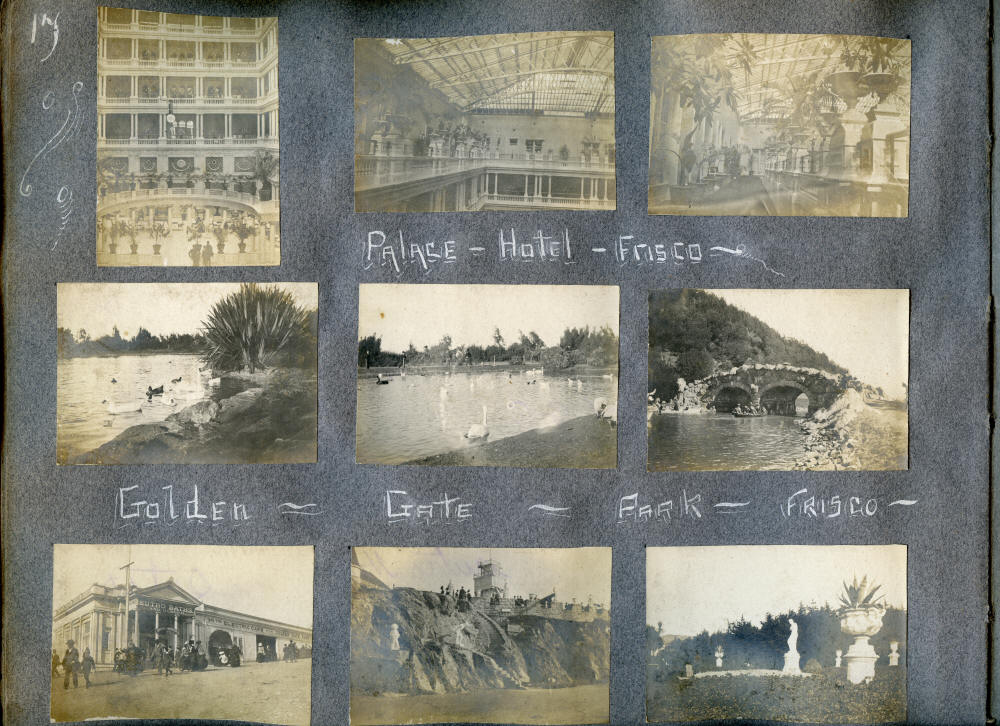 Palace Hotel, Golden Gate Park, Sutro Baths, Sutro Heights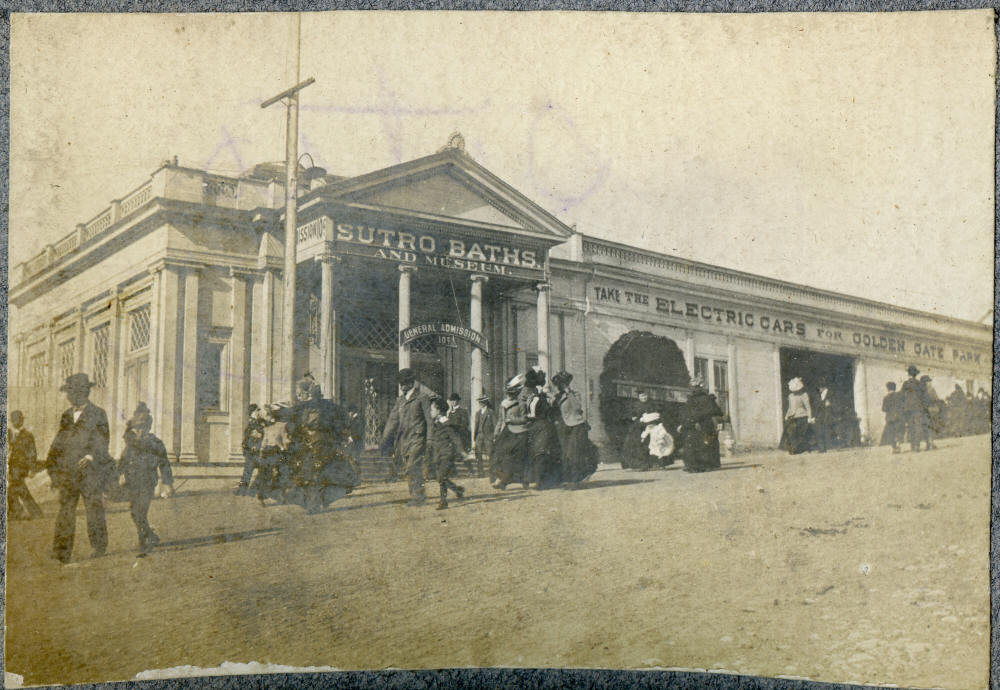 Sutro Baths and Museum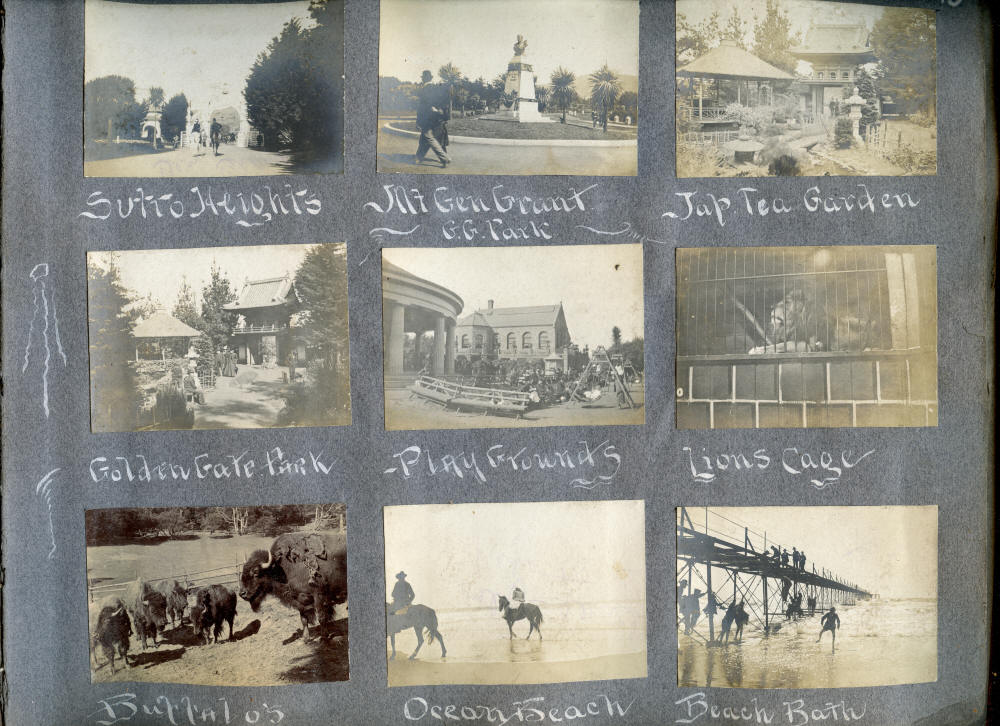 "Sutro Heights", Japanese Tea Garden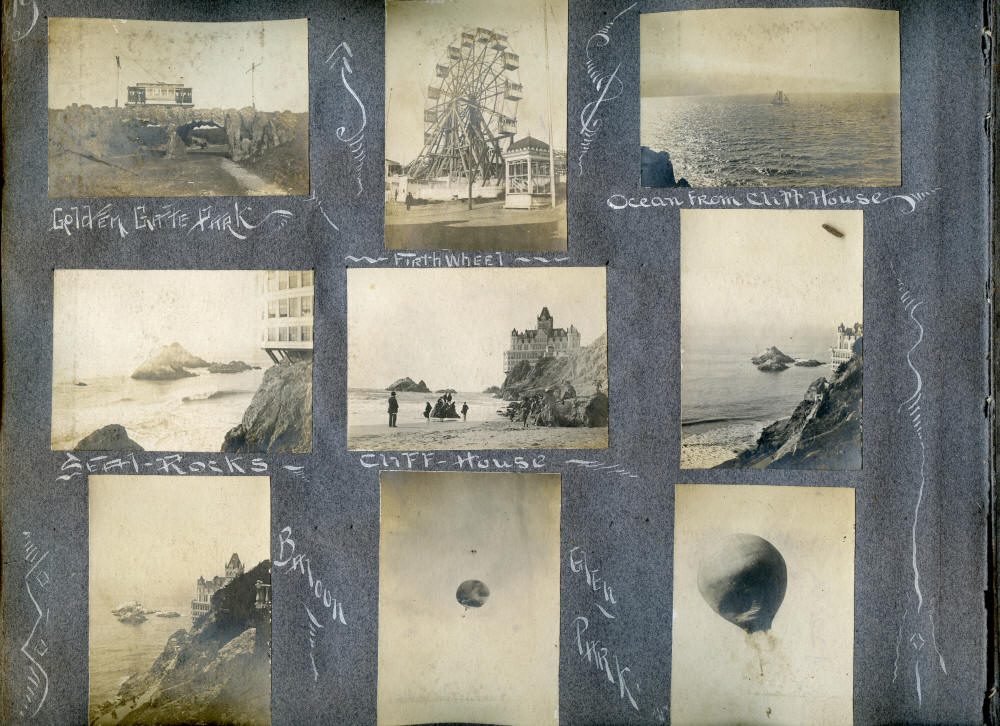 Golden Gate Park, Firth Wheel, Cliff House, Glen Park
(the Glen Park balloon is likely a reference to this)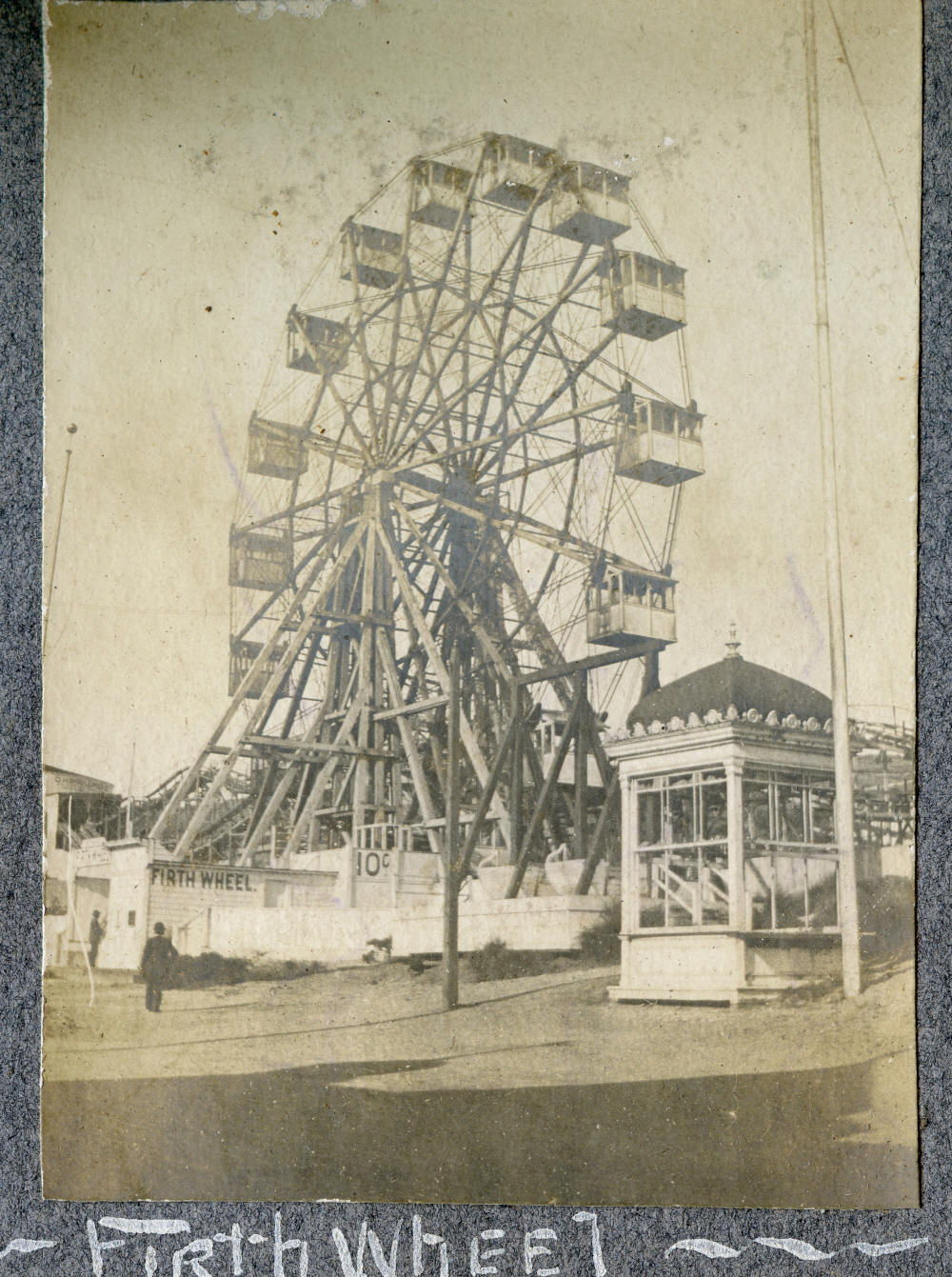 Firth Wheel
(location of booth as seen on Sanborn map)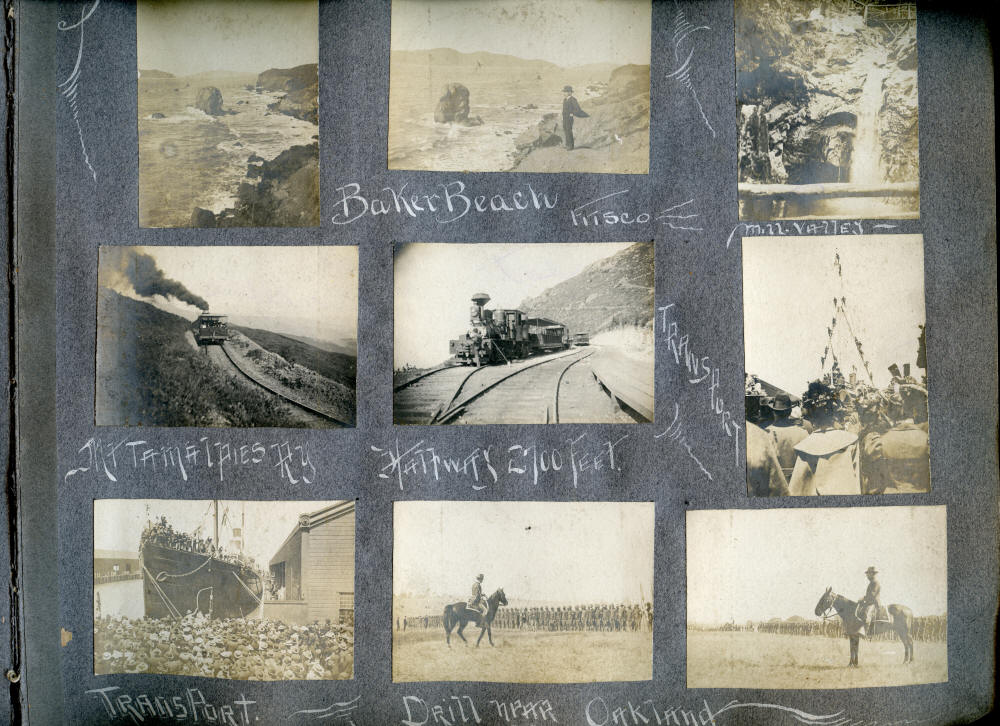 "Baker Beach", "Mt Tamalpias"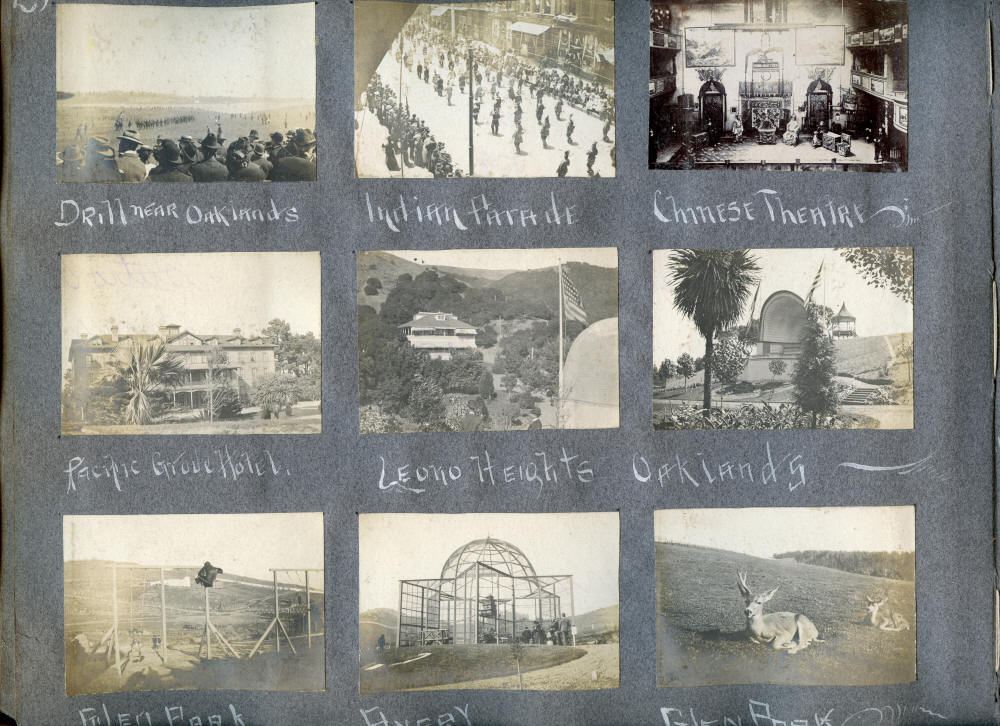 "Indian Parade", "Chinese Theatre", "Pacific Grove Hotel", "Leona Heights"
"Glen Park and the Mission Zoo was established through the efforts of A. S. Baldwin of the Baldwin & Howell real estate firm as an enticement to view available home lots. During its heyday (1898-1900), the pleasuring grounds attracted thousands of visitors every weekend. Many came to see the wild animals and vaudeville shows, others to view sporting events and daring tightrope walkers and aeronauts. The deer paddock and aviary shown here were located on the block bordered by Chenery Street (then called Glen Avenue), Surrey Street, and Lippard Avenue. In the background is Morro Castle, constructed to honor the memory of those lost on the USS Maine in Havana Harbor in February 1888. Read the 6-part history of Glen Park and the Mission Zoo at Tramps of San Francisco, beginning with Part I, and how Glen Park got its name." - Evelyn Rose (7/6/2020)
While not San Francisco photos, the following three pages are included here because they show the album's owner, Frank G. Brown...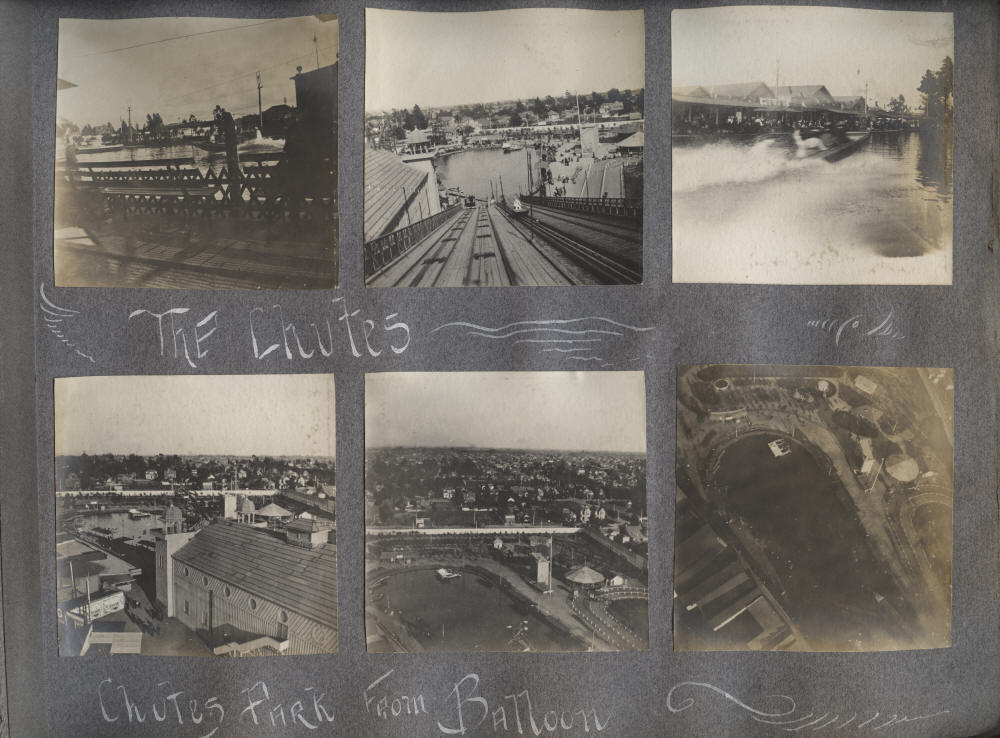 "Chutes Park from Balloon"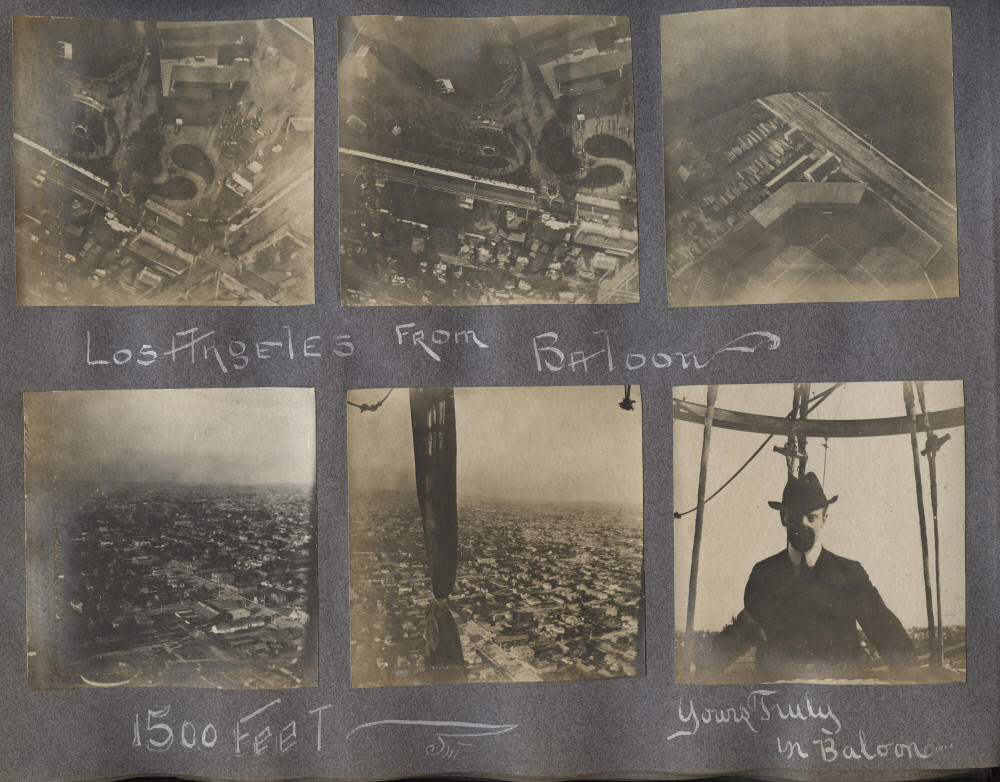 "Los Angeles from Balloon"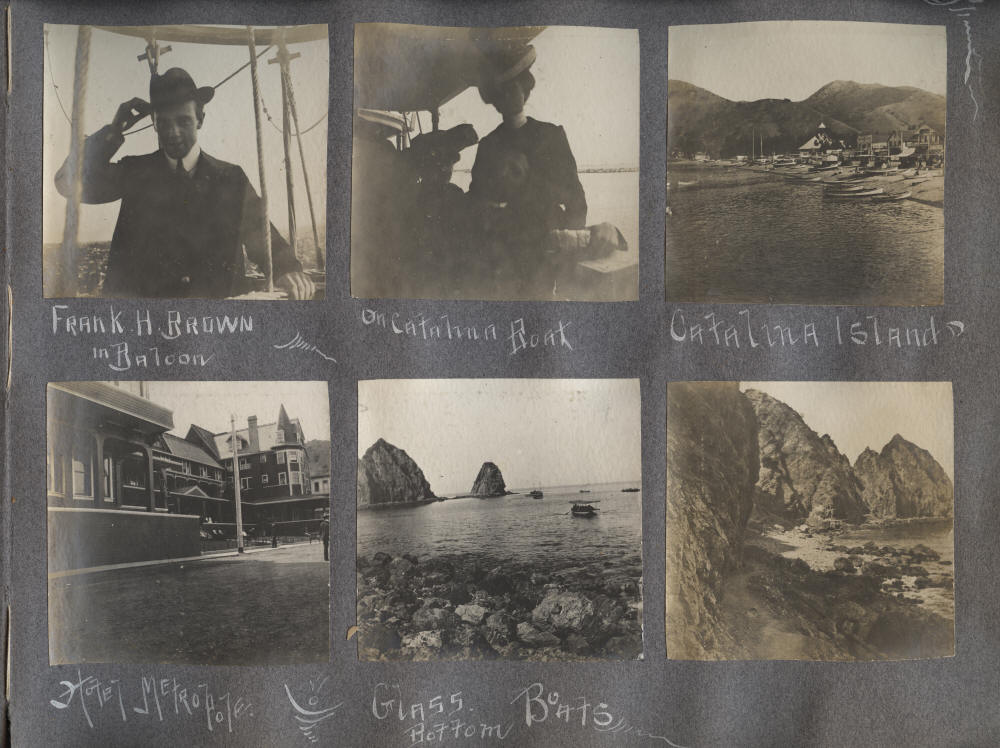 "Frank H. Brown in Balloon", "Catalina Island", "Hotel Metropole", "Glass Bottom Boats"