Lands End Station
(1893 - 1937)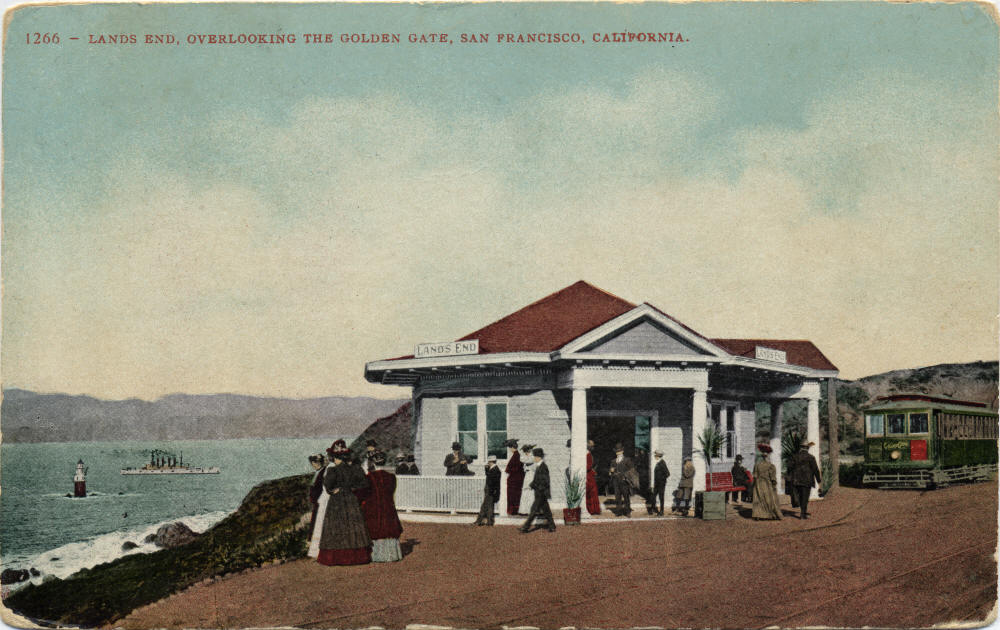 "LANDS END, OVERLOOKING THE GOLDEN GATE, SAN FRANCISCO, CALIFORNIA"
Image courtesy of Dennis O'Rorke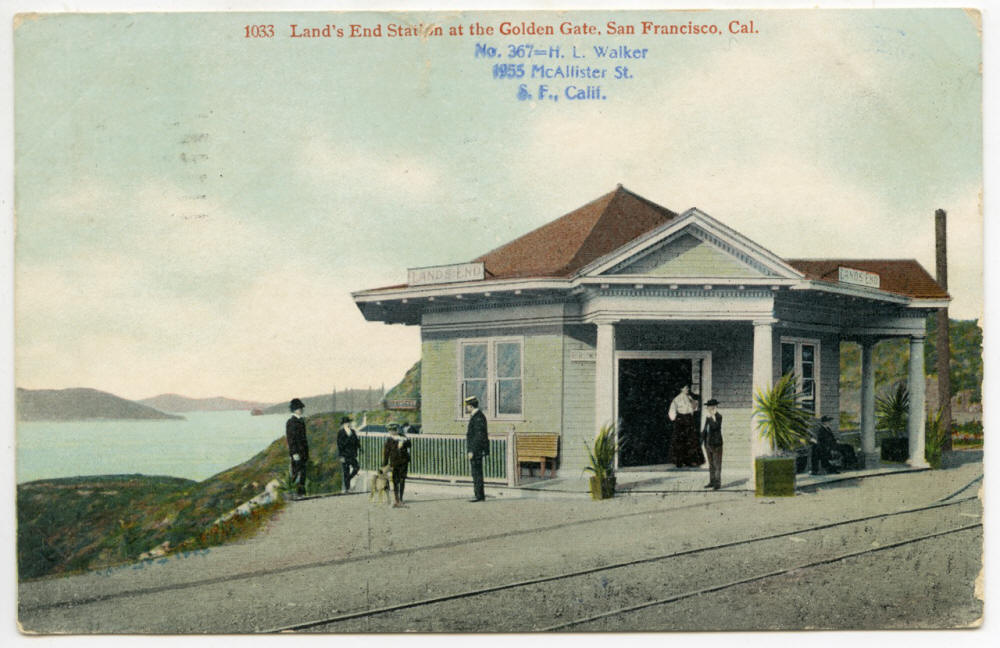 "Land's End Station at the Golden Gate, San Francisco, Cal."
Image courtesy of Dennis O'Rorke
First Structure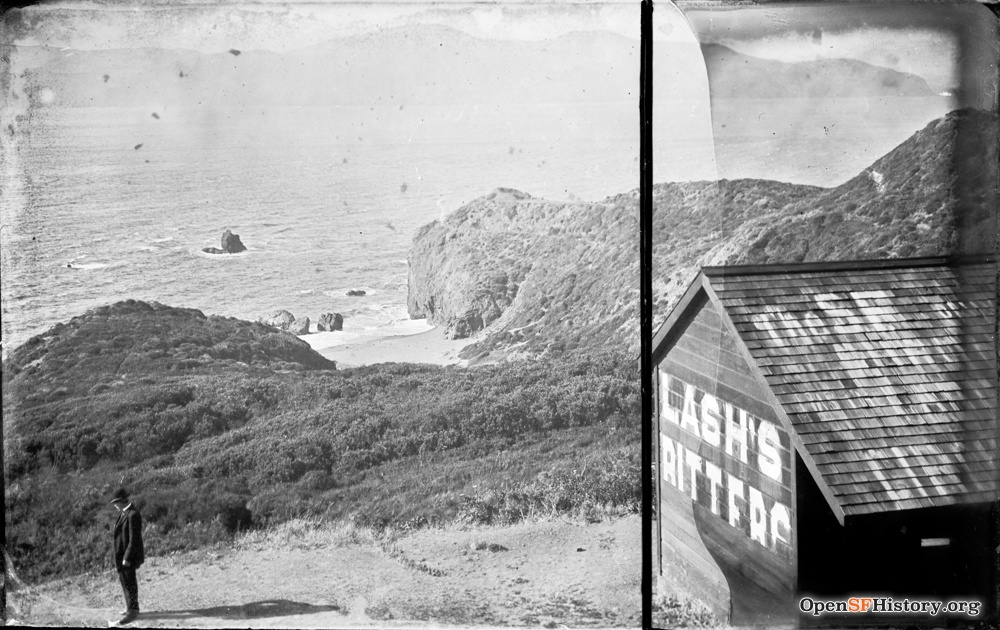 Source: OpenSFHistory.org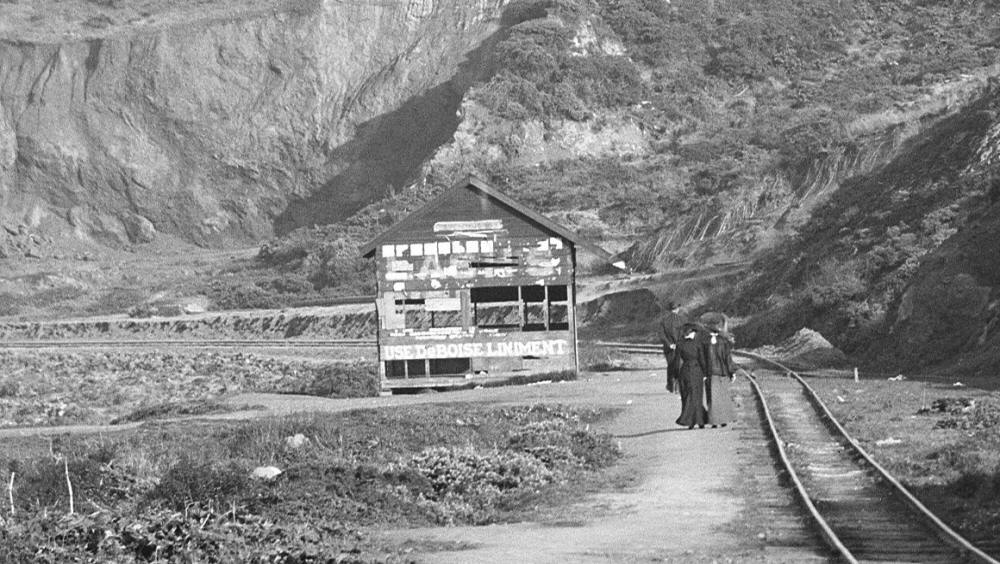 Image from SF Municipal Transit Agency (SFMTA) collection
Second Structure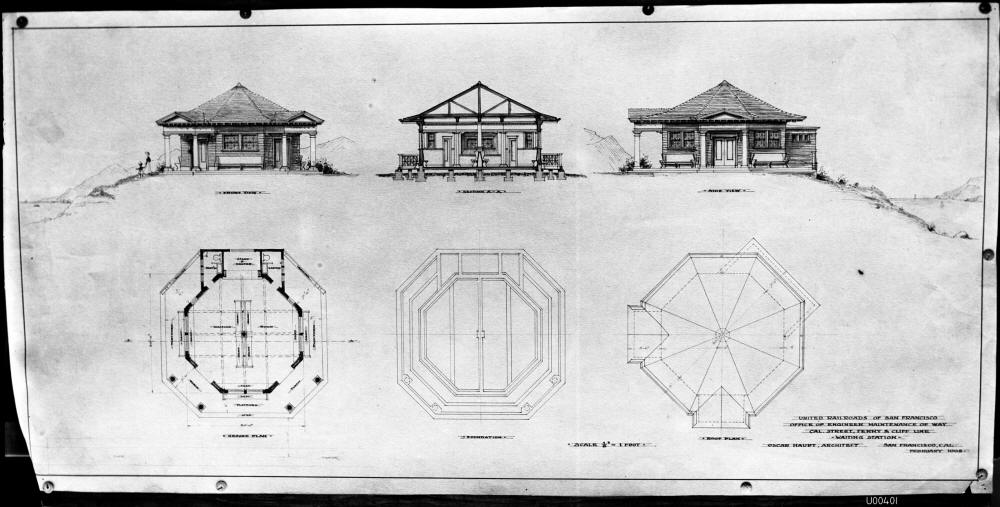 Lands End Station architectural drawing
Image from SF Municipal Transit Agency (SFMTA) collection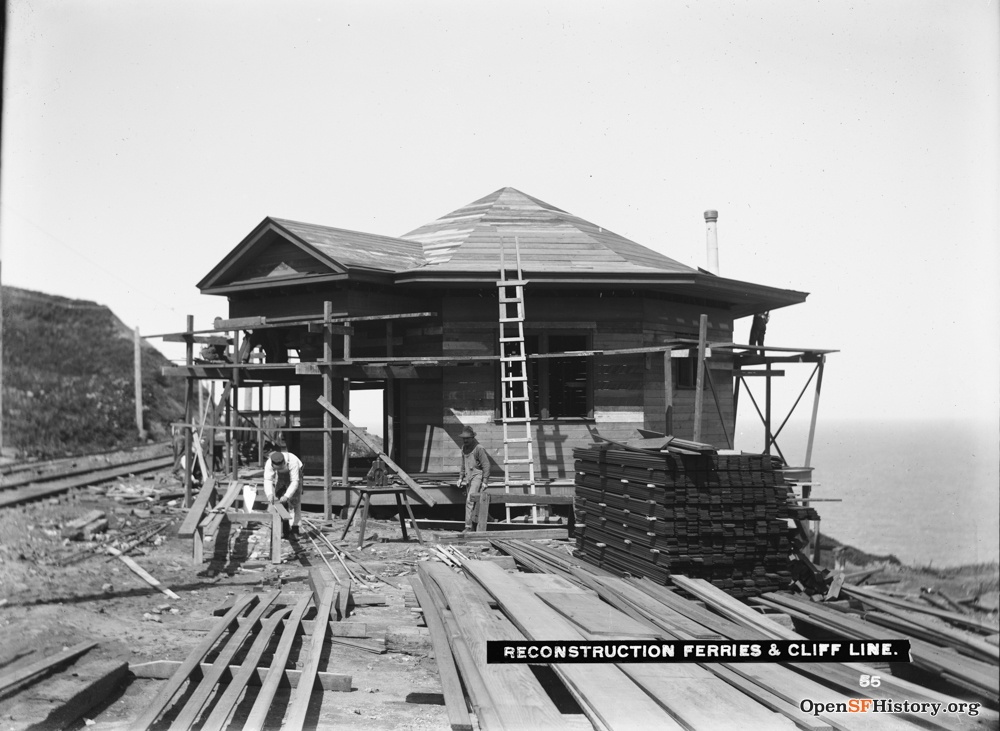 "RECONSTRUCTION FERRIES & CLIFF LINE"
Source: OpenSFHistory.org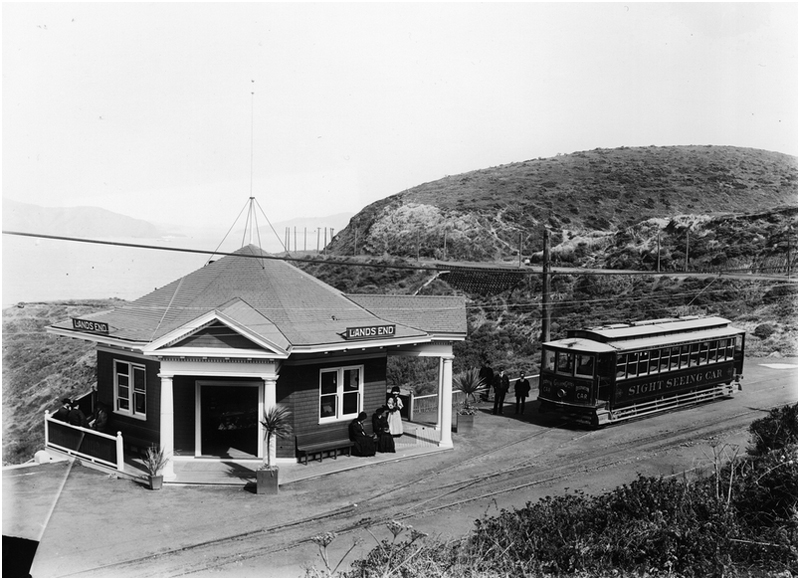 This photo was taken in 1908 at the Lands End station along the cliff portion of the #1 California Street line. The station building was a combination restroom and car depot, and also held a gift store and snack concession run by a family named Harris. Besides the regular sightseeing streetcars that visited the area, there were two Private Party Cars, the Sierra and Hermosa (later renamed Golden Gate). These cars could hold up to 40 passengers and could be hired for day-time picnics or evening theater dates, sometimes including a trip with friends to the Cliff House area. The automobile's popularity eclipsed the Private Party Cars and United Railroad phased out the operation by 1915.

Contributed by John Martini & John Freeman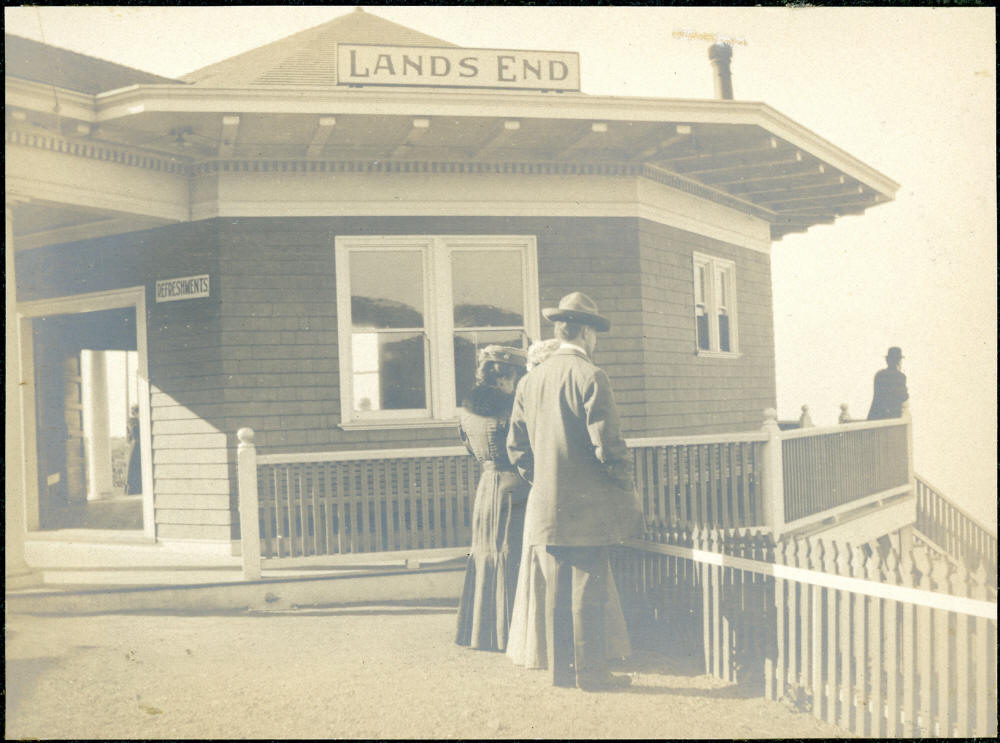 Image courtesy of John Hall Collection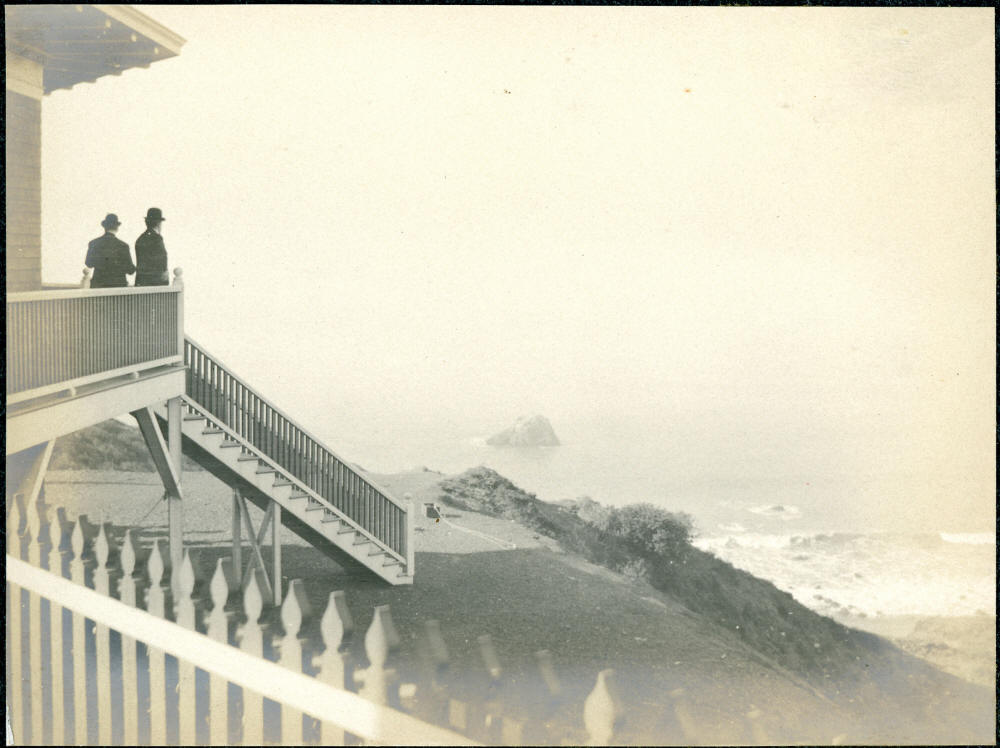 Image courtesy of John Hall Collection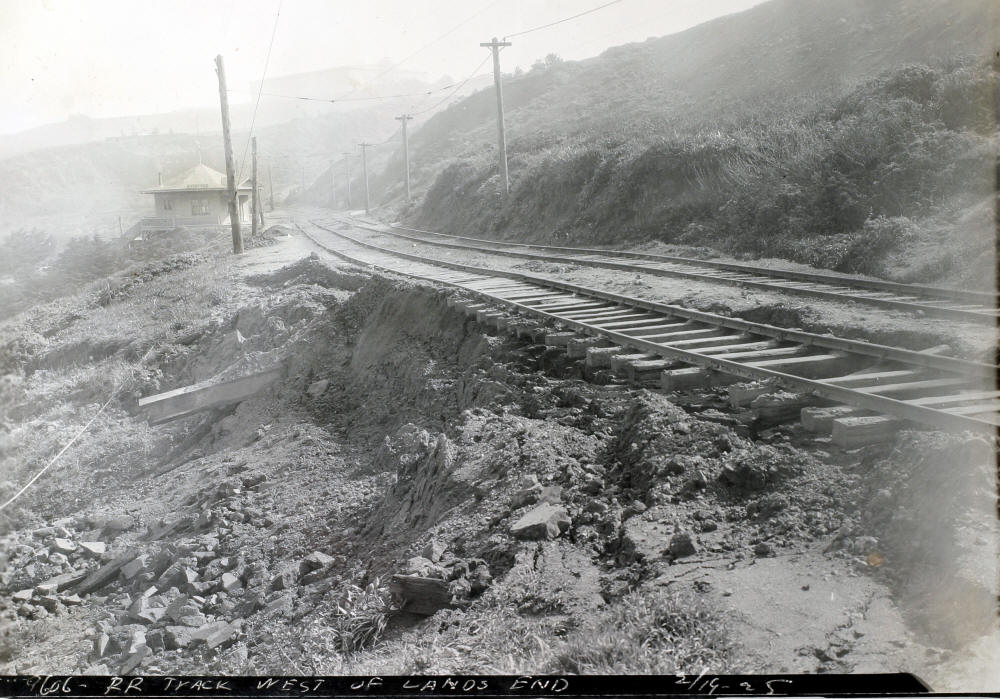 Image from SF Municipal Transit Agency (SFMTA) collection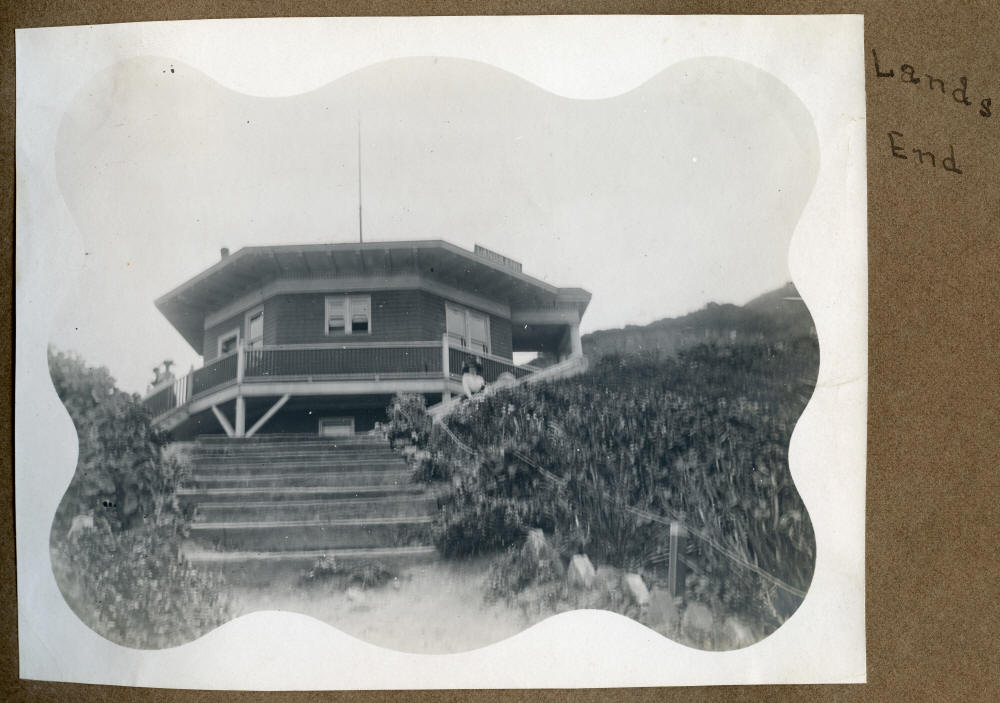 Image from album, date 1910 (here)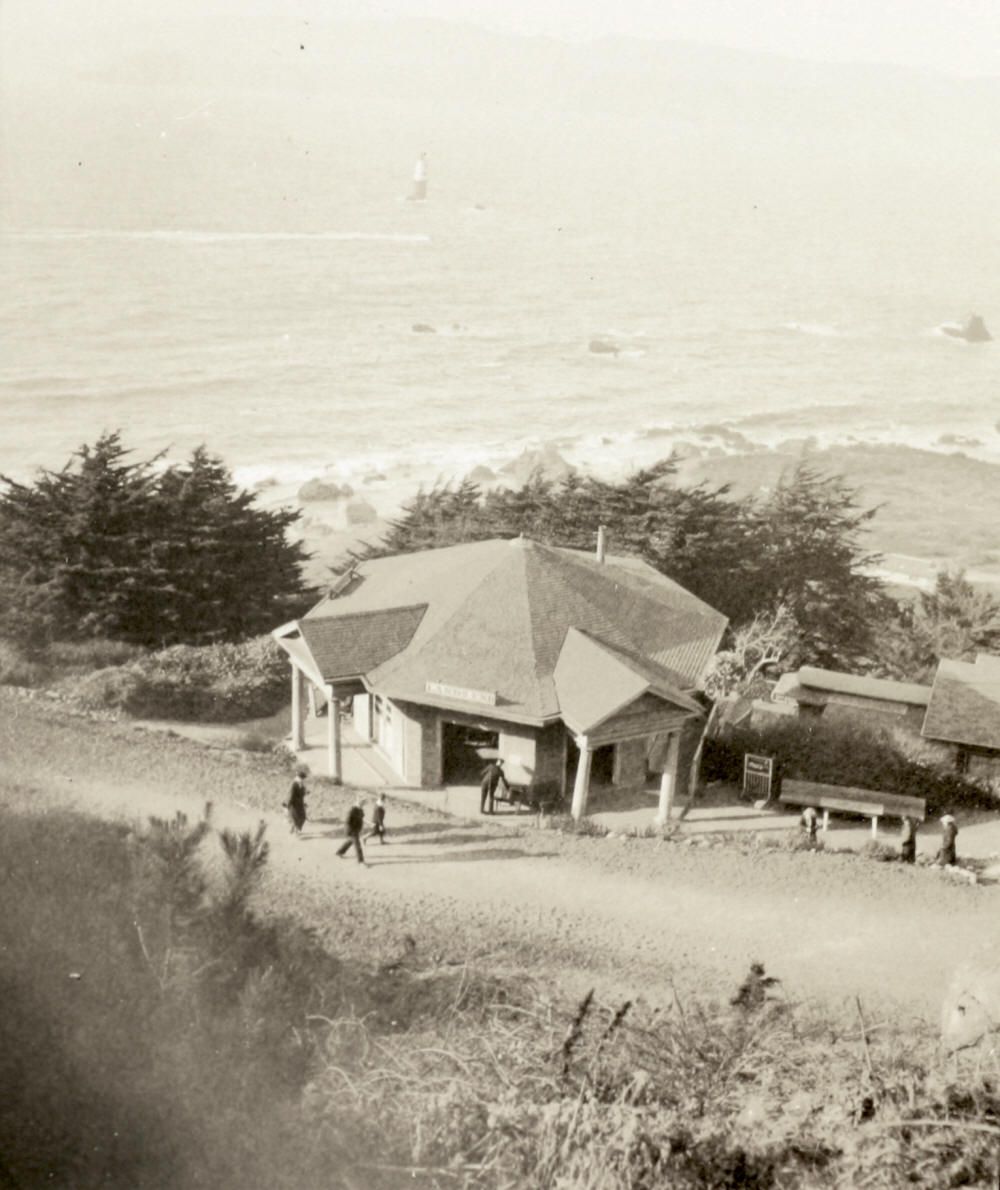 Source: California Historical Society
John Martini (11/29/2019): "This photo shows the station in 1936 as it was in the slow process of sliding down hill. The Harris' family home in the
converted streetcar body is visible at lower right."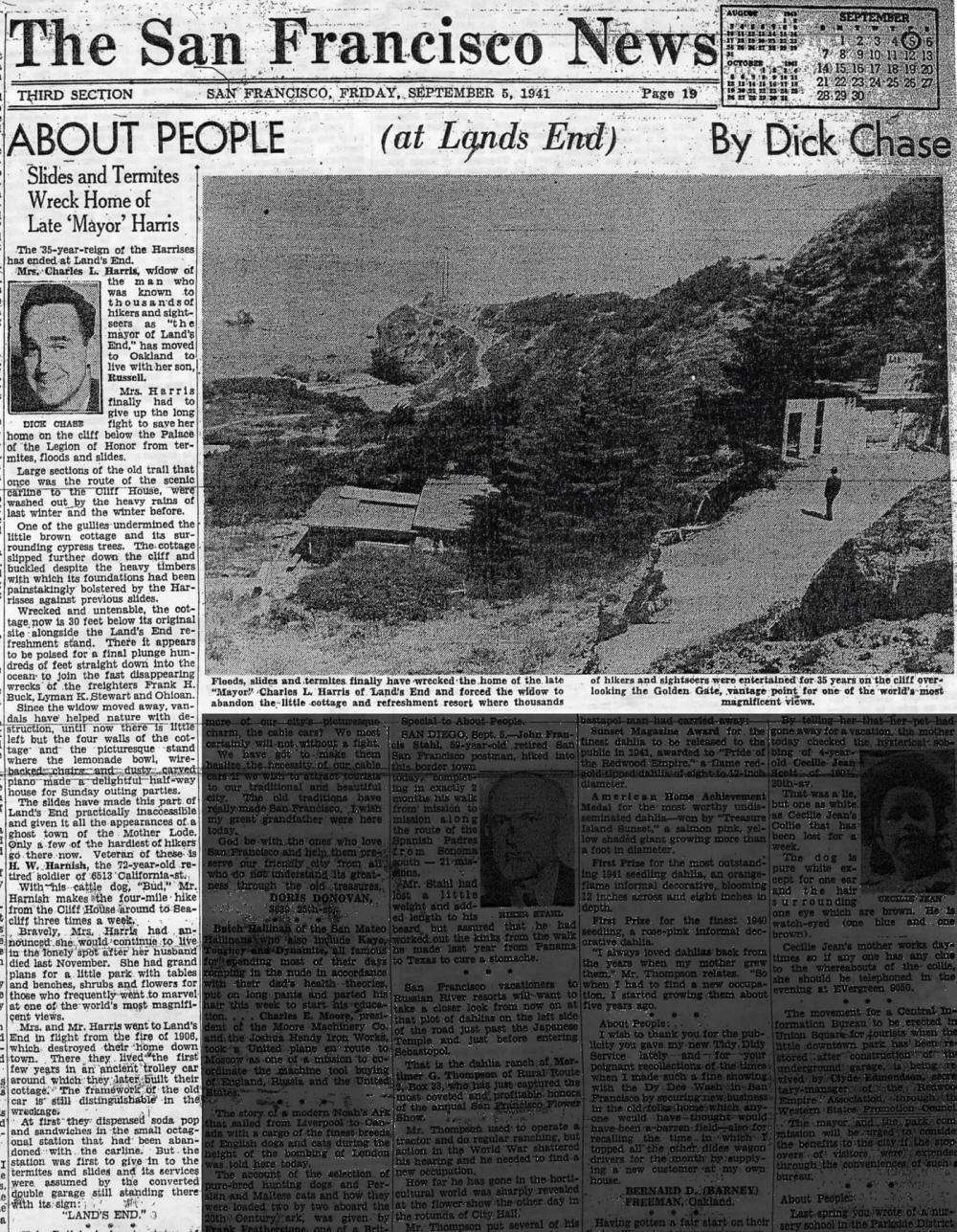 "ABOUT PEOPLE at Lands End"
SF News - 5 Sept 1941
John Martini (11/27/2019): The Harrises kept running the concession at the Lands End Station long after the streetcars stopped running in 1925, serving as a tourist-hiker destination (sort of like the West Point Inn on Mt. Tam.) Eventually both the station building and Harris residence slid downhill, and the station was the first to be demolished. The house remained standing until the city ordered its demolition as described in this story.
| | |
| --- | --- |
| date | event |
| 1893 | "Lands End Station" established on the Cliff Line—a small waiting room along the steam train line used by visitors headed to Mile Rocks Beach. |
| 1905 | Original "Lands End Station" shed replaced with substantial, hexagonal-shaped station and concession operated by Harris family, who live in an old streetcar adjacent to Station. |
| 1937 | Harris family demolishes former Lands End Station depot building. |
| Sept 1941 | Harris family finally evicted from Lands End and their residence (an old streetcar) is demolished |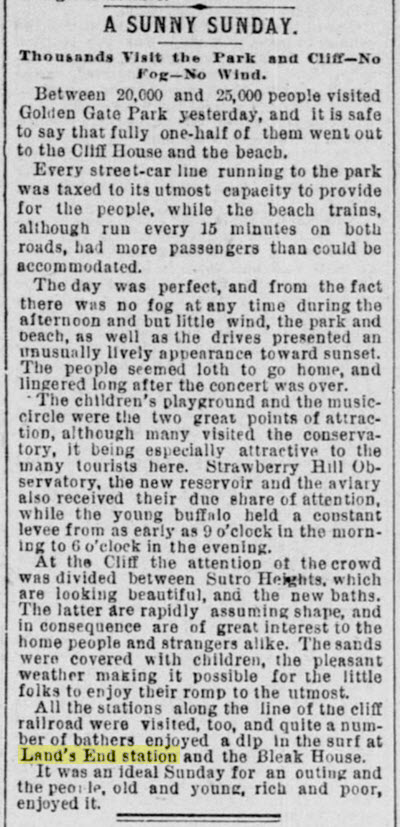 The Morning Call - May 09, 1892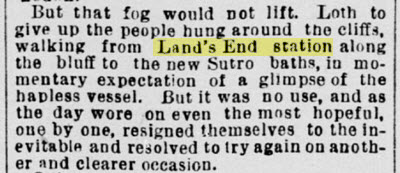 The Morning Call - Oct 28, 1893


"candy stand"
San Francisco Call - 23 June 1906
For additional information on the Lands End Station visit:
http://www.outsidelands.org/lands-end-station.php