- Viewed from Outside -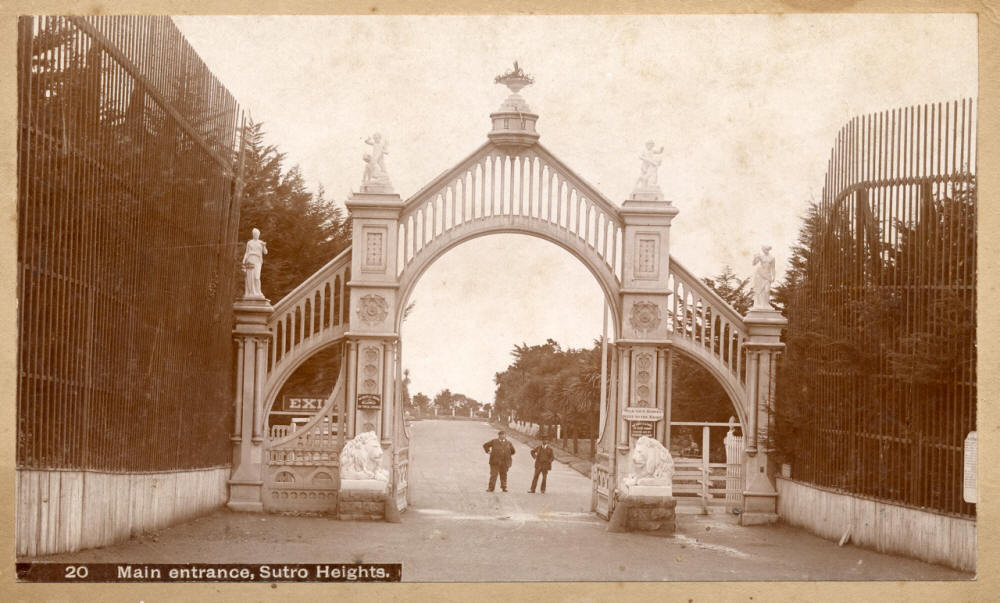 "20 Main entrance, Sutro Heights"
"NO BICYCLE RIDING ALLOWED ON THESE GROUNDS"
"WALK YOUR HORSES, KEEP TO THE RIGHT"
Man on left: Hermann Louis "Baby" Schmidt (more info)
Courtesy of Dennis O'Rorke


|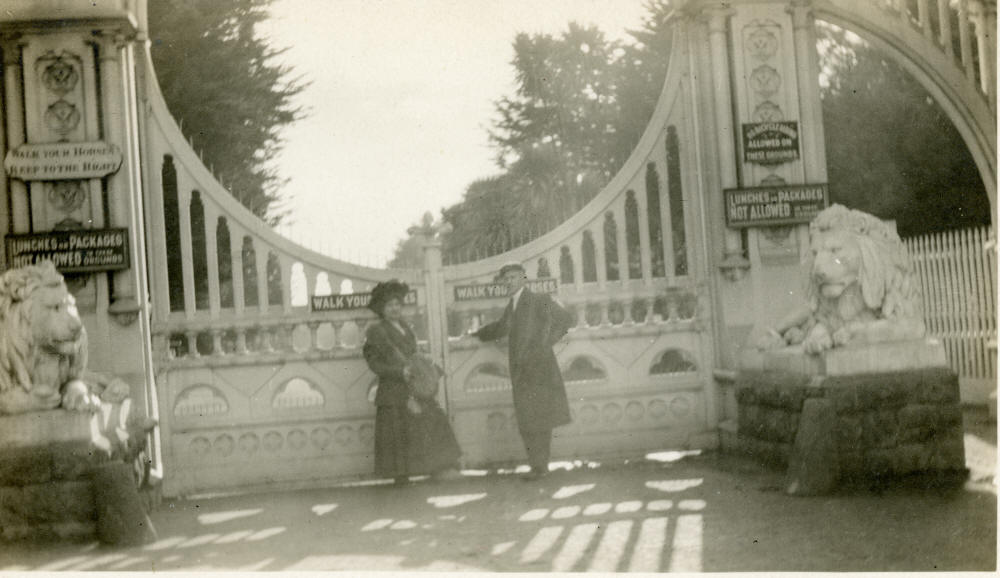 "WALK YOUR HORSES"
"LUNCHES OR PACKAGES NOT ALLOWED ON THESE GROUNDS"
"NO BICYCLE RIDING ALLOWED ON THESE GROUNDS"
Courtesy of Frank Mitchell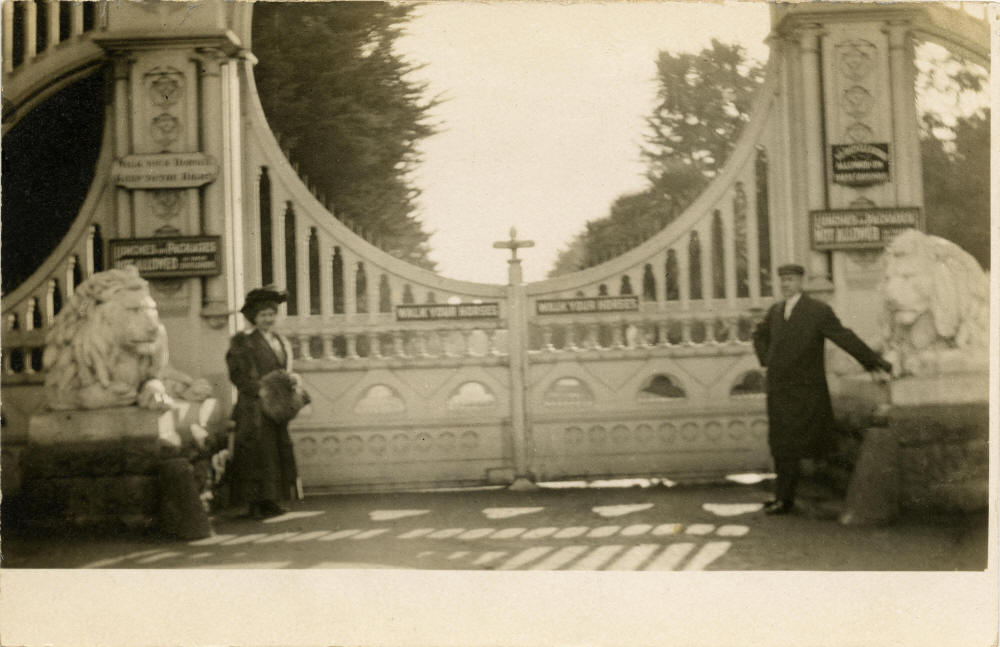 Courtesy of Dennis O'Rorke

(This couple was also photographed inside the Sutro Baths: link)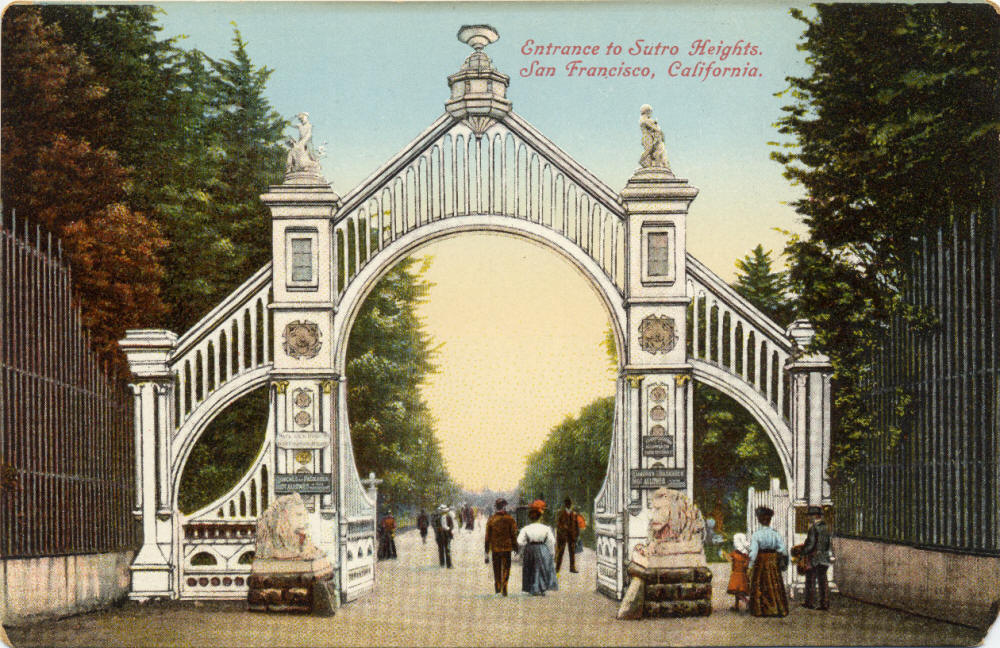 "Entrance to Sutro Heights. San Francisco, California"
Image courtesy of Dennis O'Rorke


"Main Gate."
"No. 81, Sutro Heights, San Francisco, Cal., 1886, Taber Photo"
Source: OAC (link)
"Lion at Main Gate by Geefs."
"No. 14, Sutro Heights, San Francisco, Cal., 1886, Taber Photo"
Source: OAC (link)

Oct 21st 1906 (click here for flipped image)
Image courtesy of Dennis O'Rorke


ebay image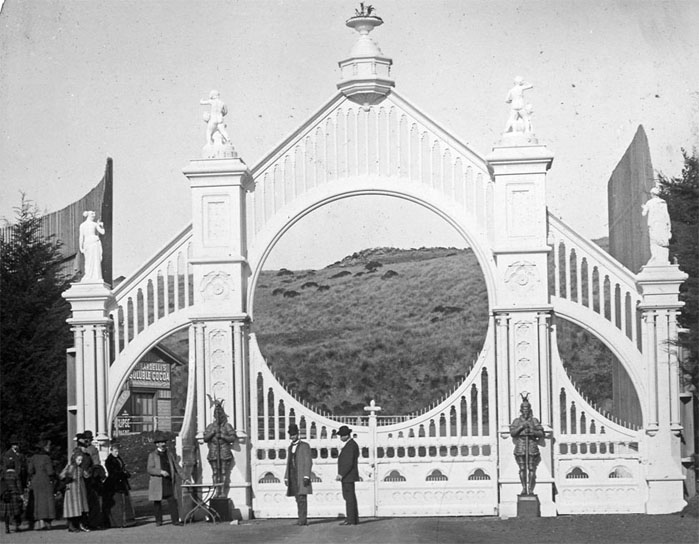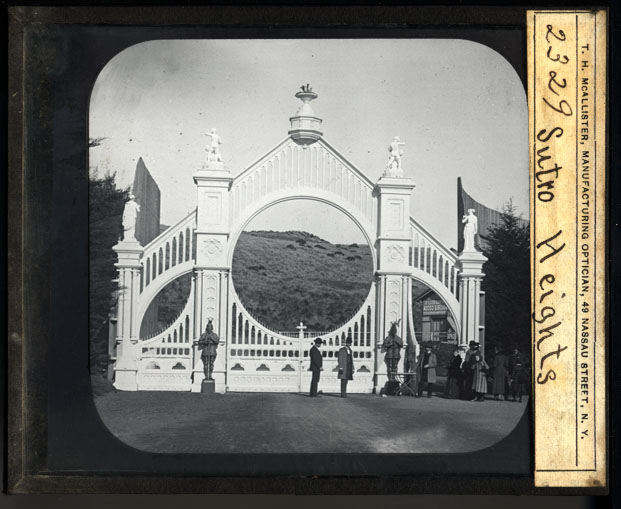 ebay image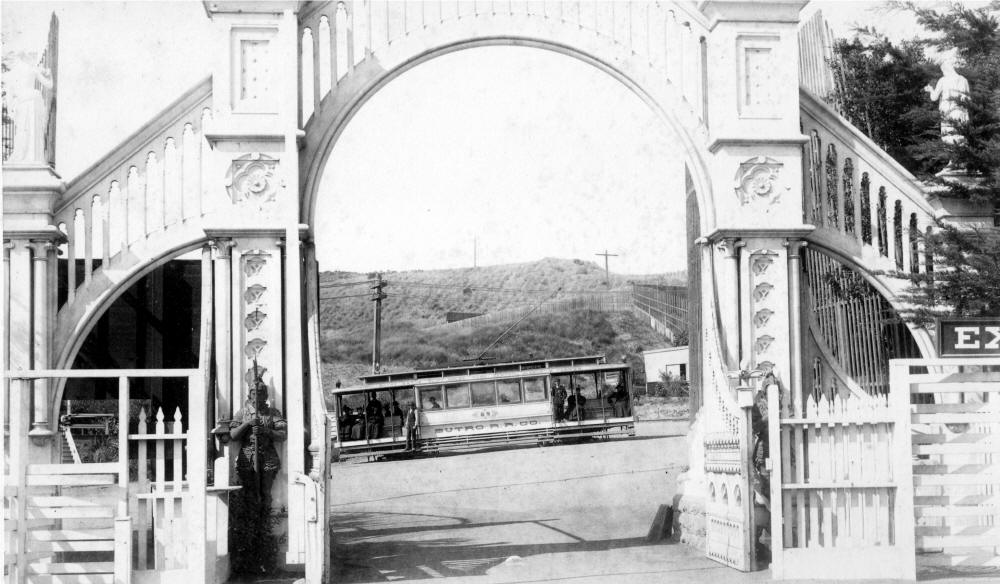 1896c Sutro Heights main gate & Sutro RR car, 1896c (Blaisdell)
Note the two "iron knight" statues on each side of the gate

John Martini on the statues (12/4/2020): There were six identical statues. I've seen them referred to as 'iron knights.' The two flanking the main gate appear around 1896 and were there through at least 1939. Interestingly, another pair of statues flanked the main entrance to Sutro Baths, also appearing around 1896. You can just see them in this color postcard. Sometime around 1915, another pair appears flanking the entrance as seen here. For awhile I thought someone juggled the knights between the Heights and Baths, but then I found some 1920s photos showing four at the Baths and two at the Heights; hence, six statues.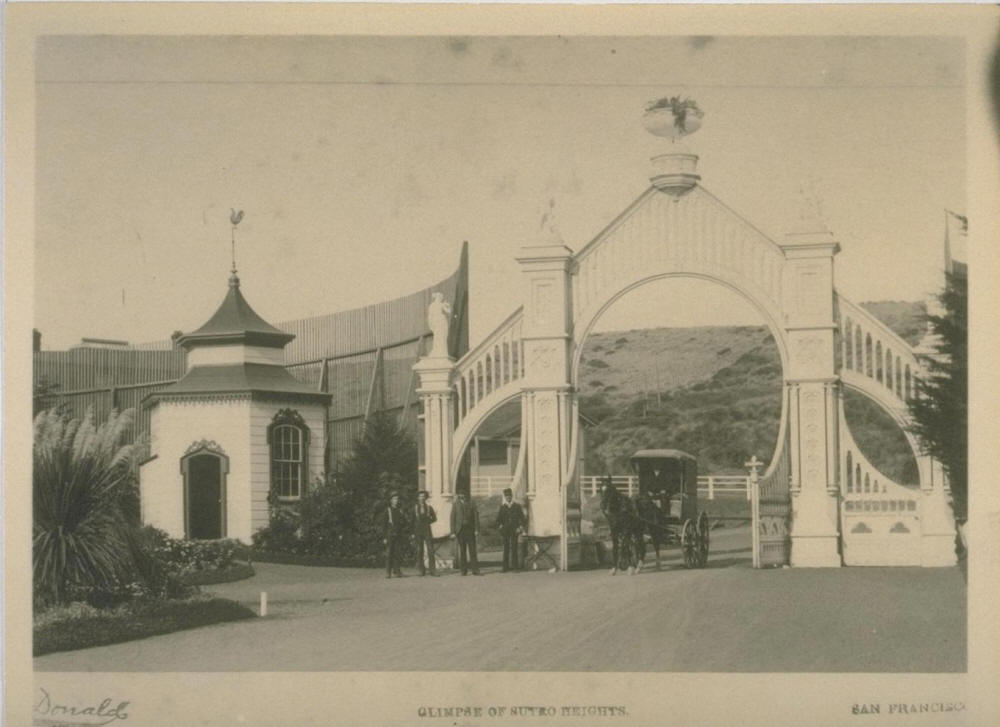 ebay image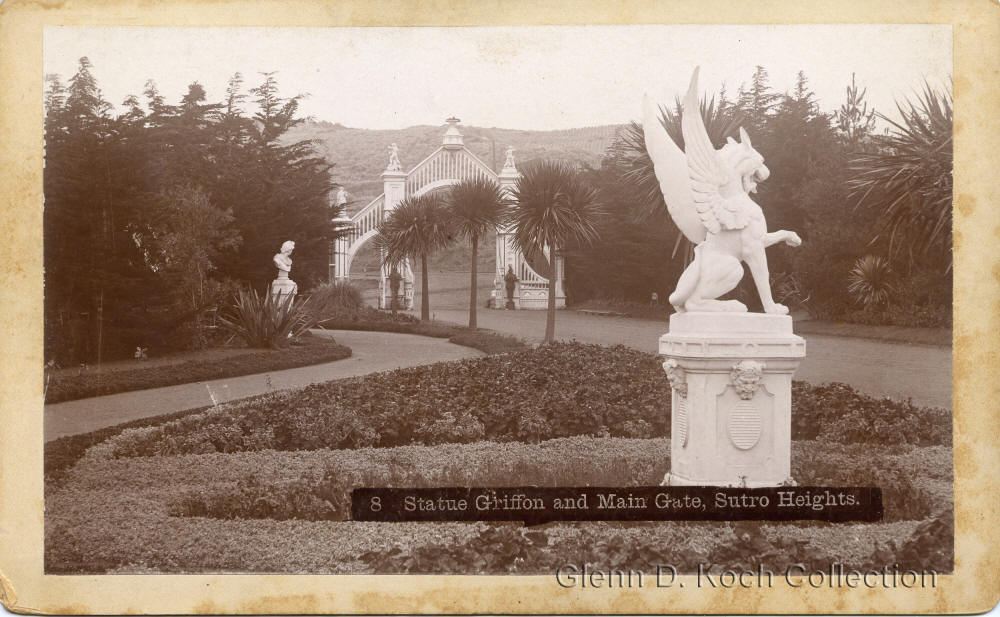 "Statue Griffon and Main Gate, Sutro Heights"
Courtesy of Glenn D Koch Collection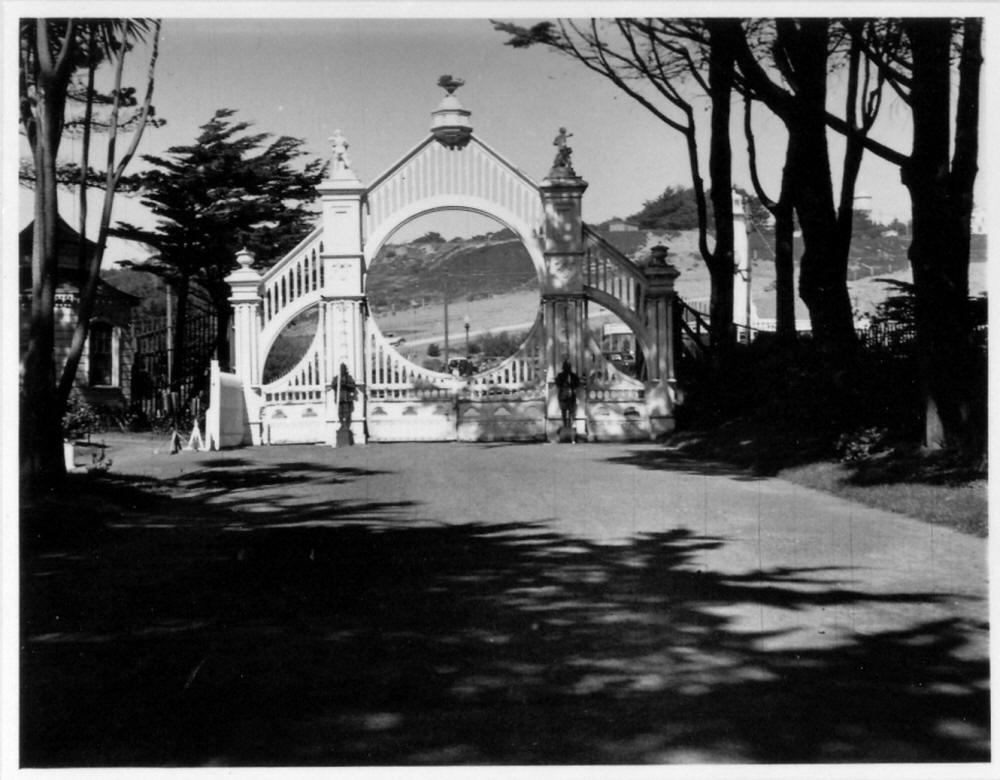 1940c Sutro Heights Grecian dancers 1940c (Blaisdell)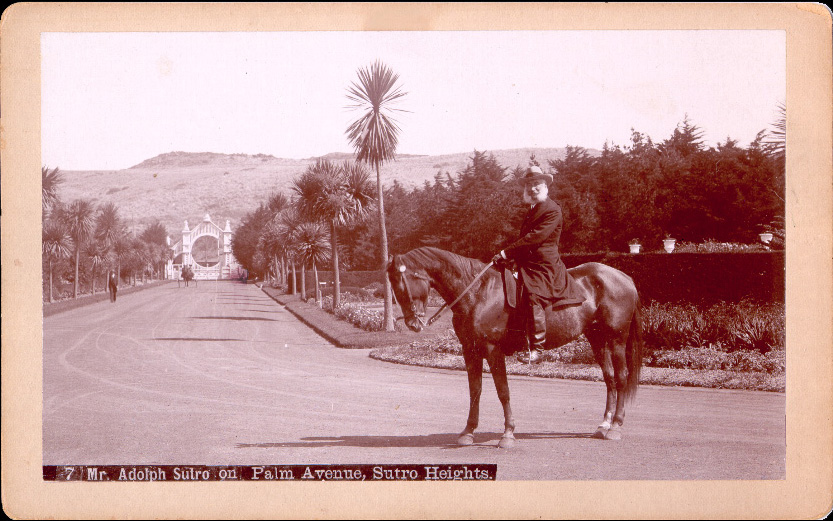 "Mr. Adolph Sutro on Palm Avenue, Sutro Heights"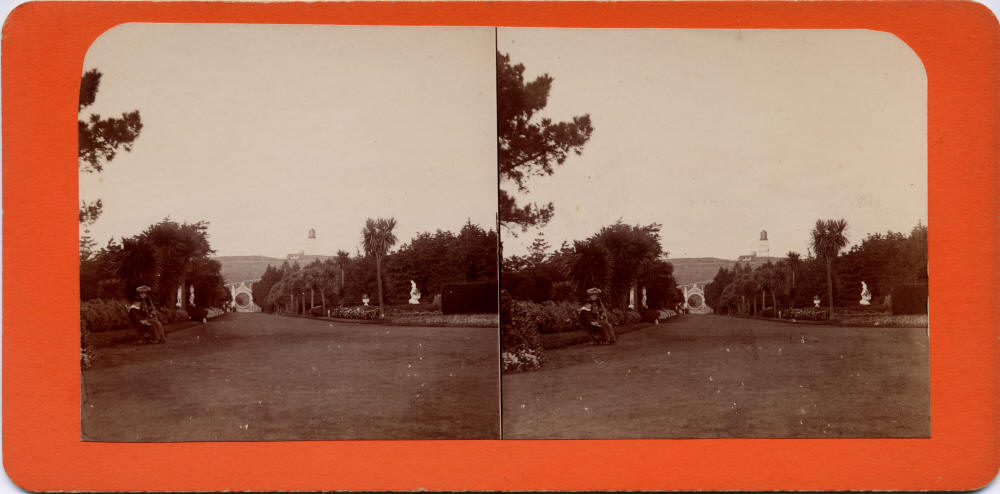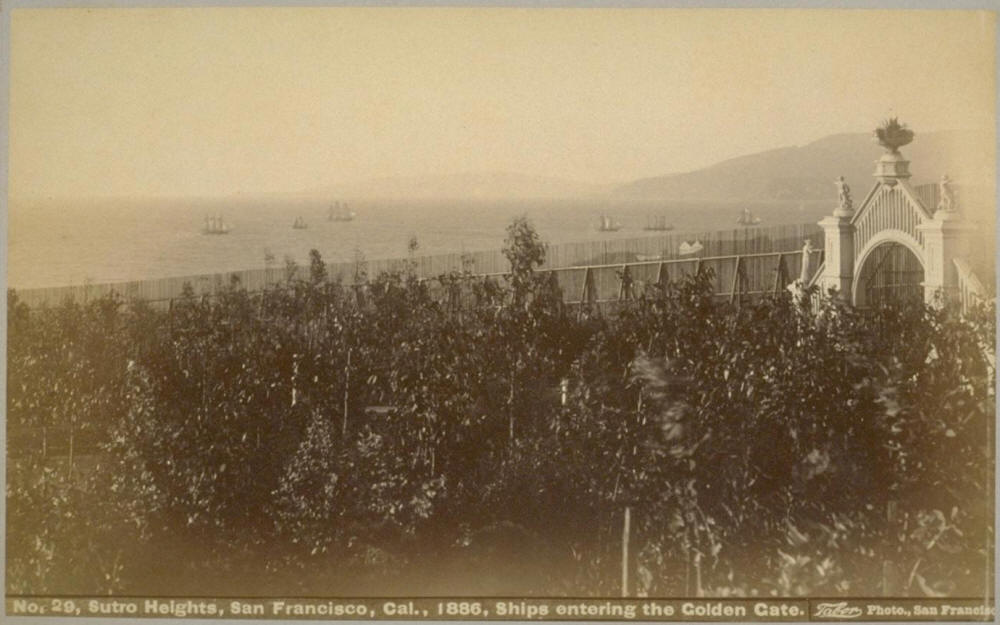 "No. 29, Sutro Heights, San Francisco, Cal., 1886, Ships entering the Golden Gate. Taber Photo"
Source: OAC (link)
- Present Day Gate Location -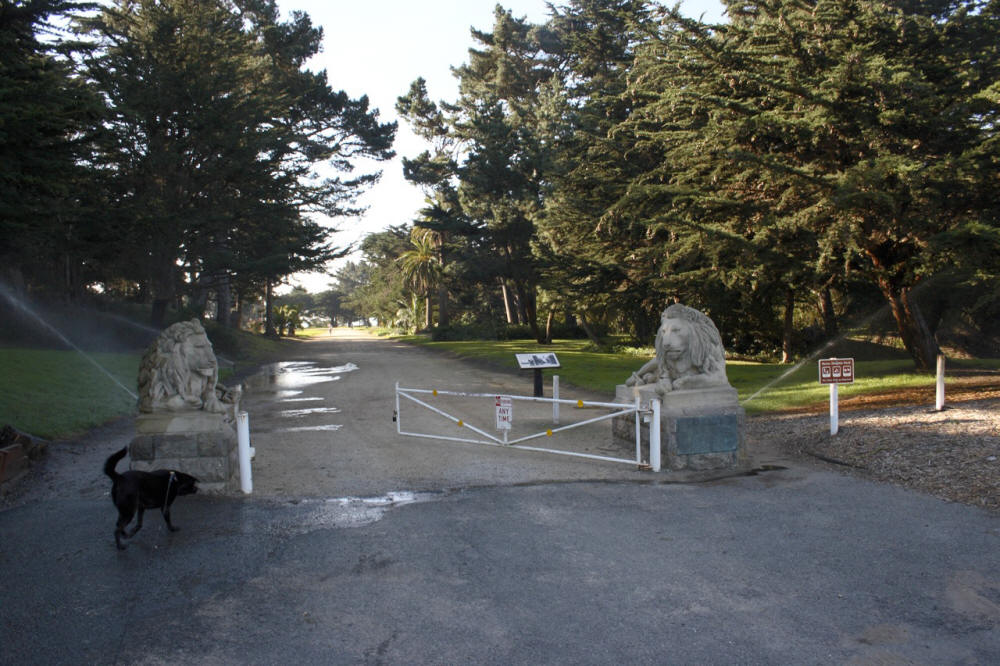 Image courtesy of Dennis O'Rorke
Lower Gate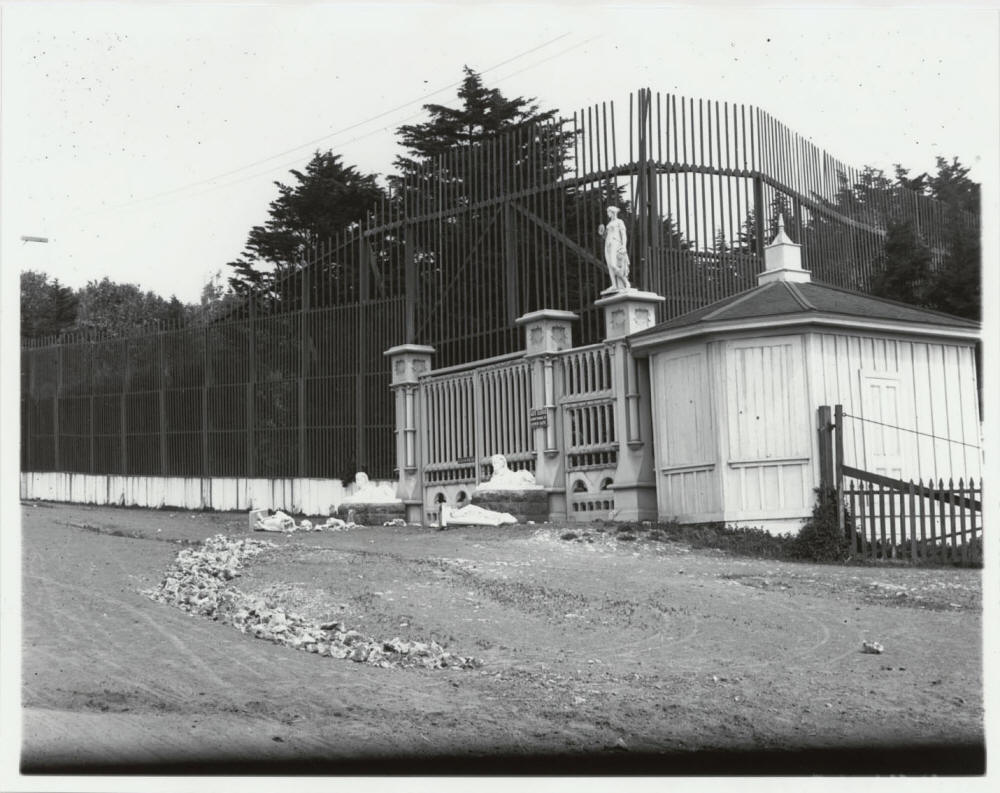 1906 Lower Gate to Sutro Heights (BANC PIC 1957.007)
Identified here as "North Tower Gate"


- Newspaper Clippings -

New York Times - 20 Sep 1885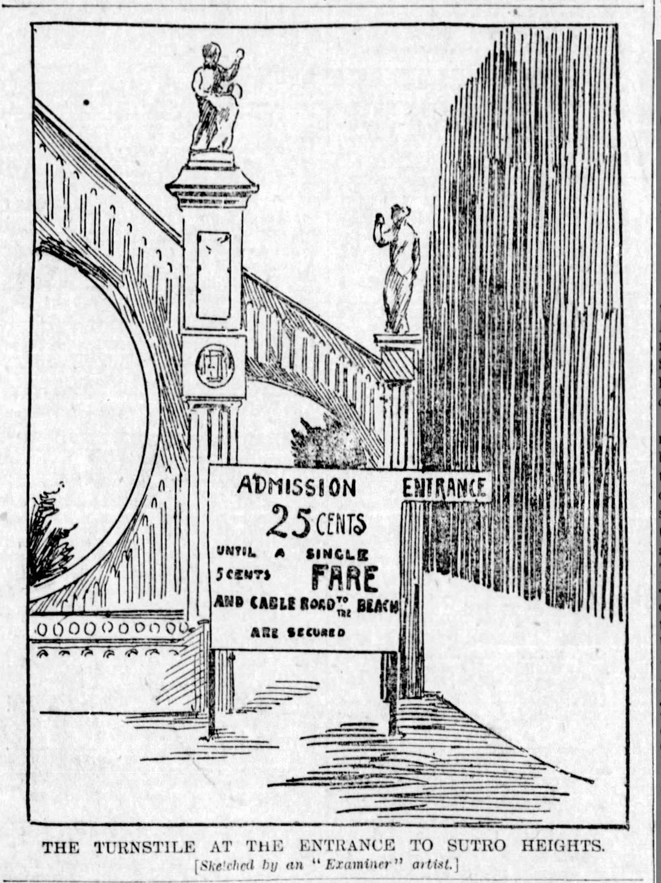 The San Francisco Examiner - May 29 1894