Studio Photos
The Cliff House has always been a popular tourist attraction.
Here are a few studio pictures purchased as souvenirs...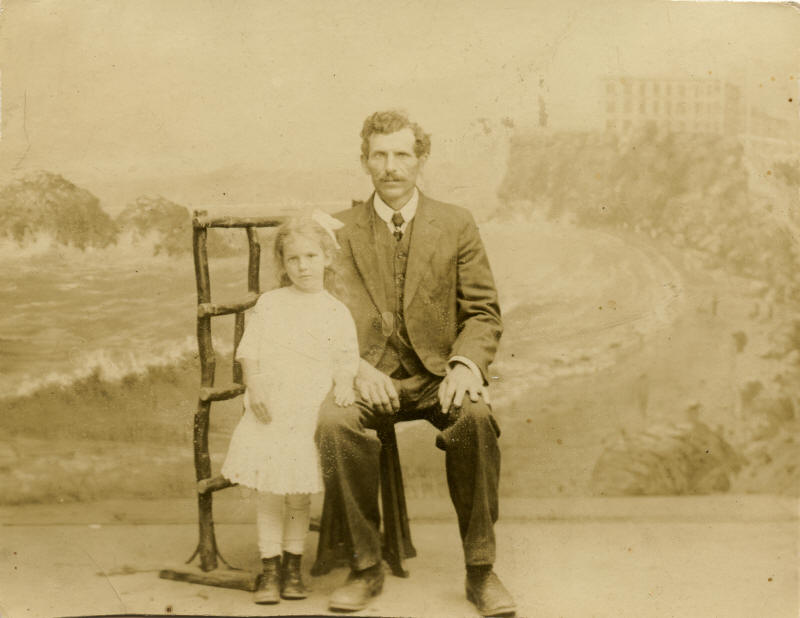 "Elenore Rahnn, 1915" (rev)
Note: although entirely speculative there is an individual named Elenore Rahnn in the Ancestry.com database who could be a match:
SSDI: born 29 Sept 1910 Cal, died July 4, 2001, buried in Cypress Lawn, Colma along with husband Benton Porter Price.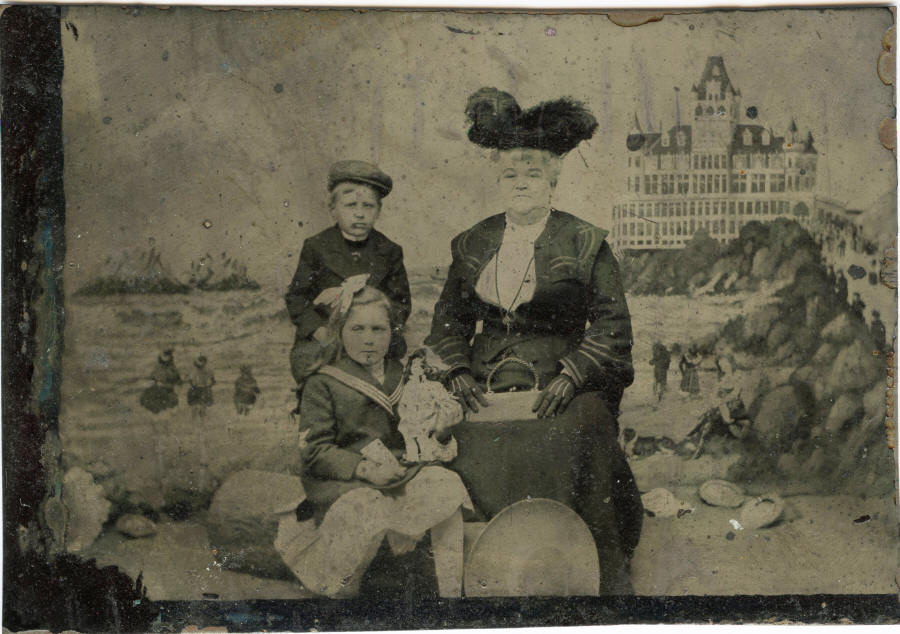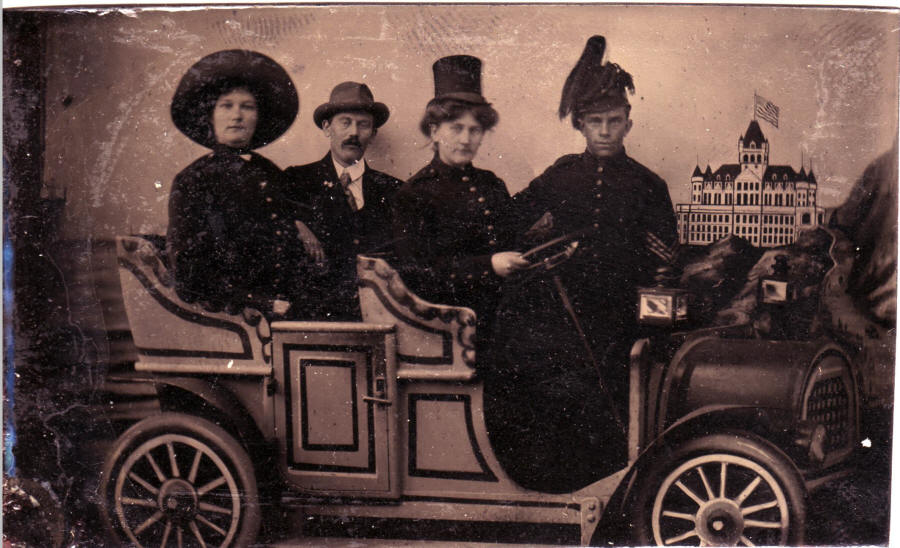 Courtesy of Josh Phillipson
(seated in front seat: Nellie & Carl G. Johnson)
http://www.flickr.com/photos/jphillipson/3463647733/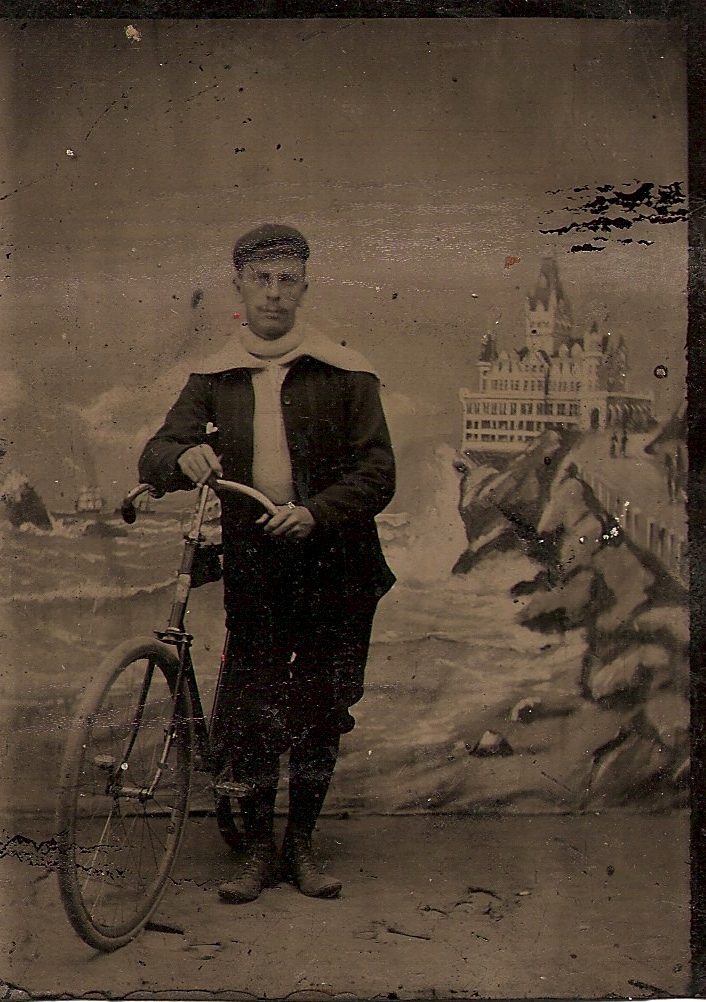 tintype, man on bicycle
Courtesy of the Bob Holloway Collection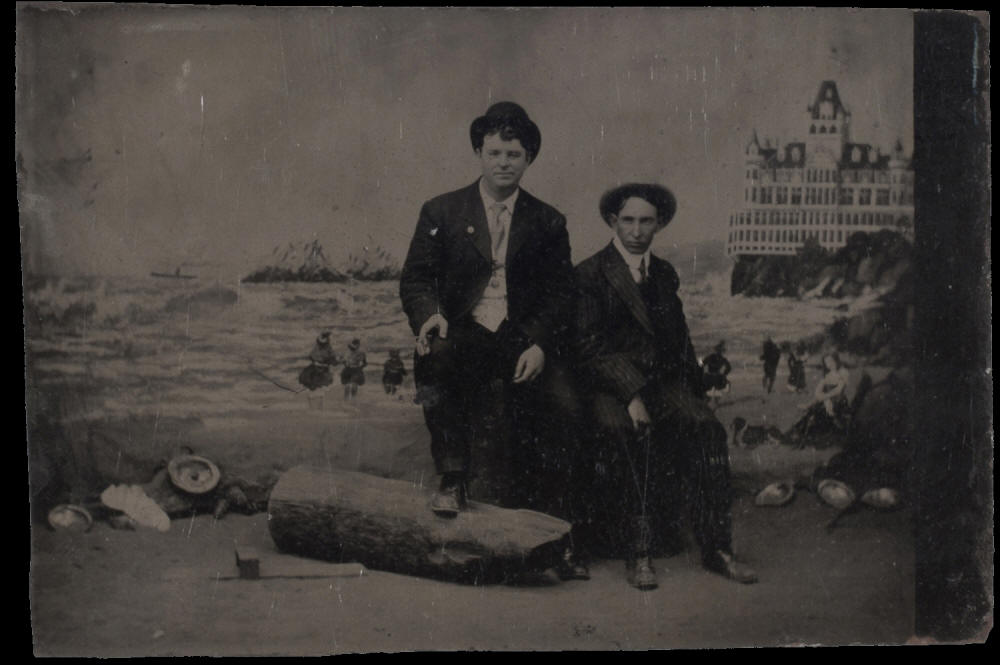 Scan courtesy of International Center of Photography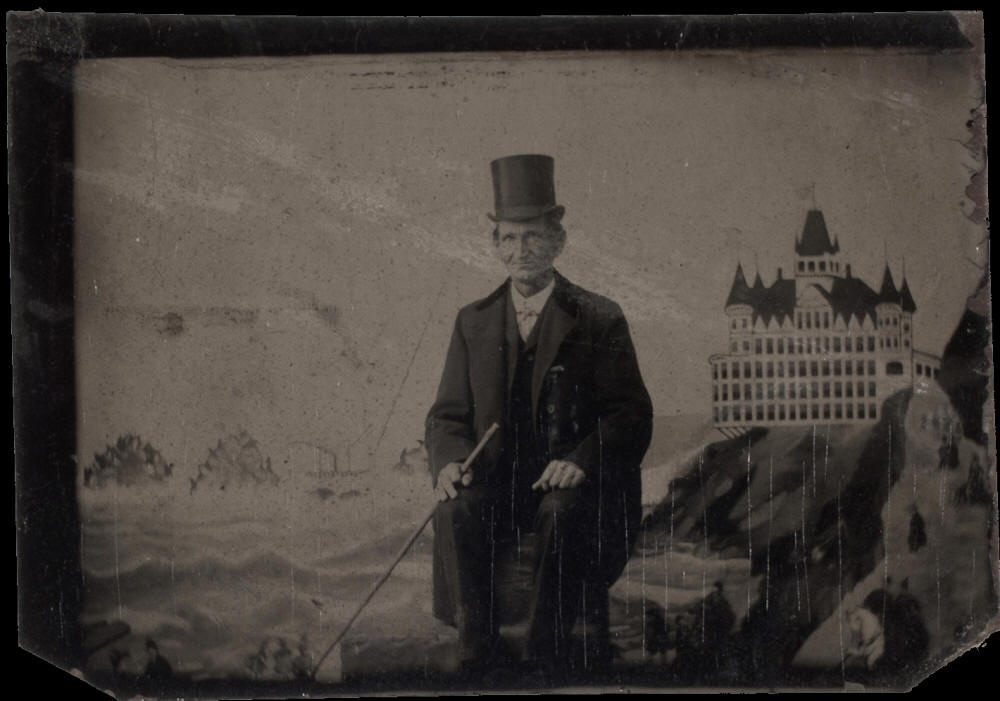 Scan courtesy of International Center of Photography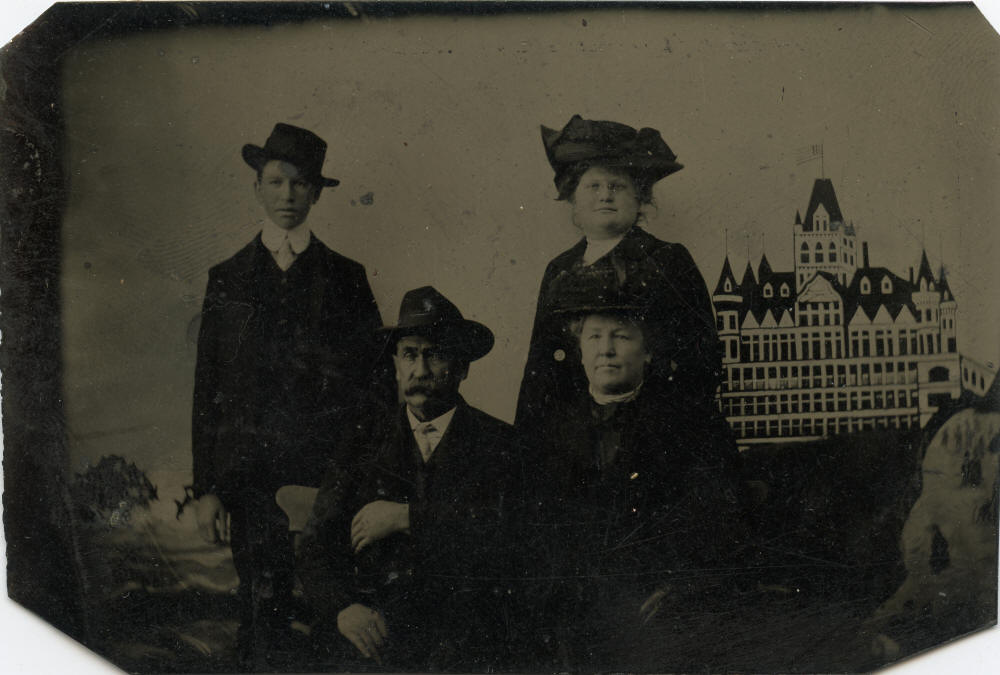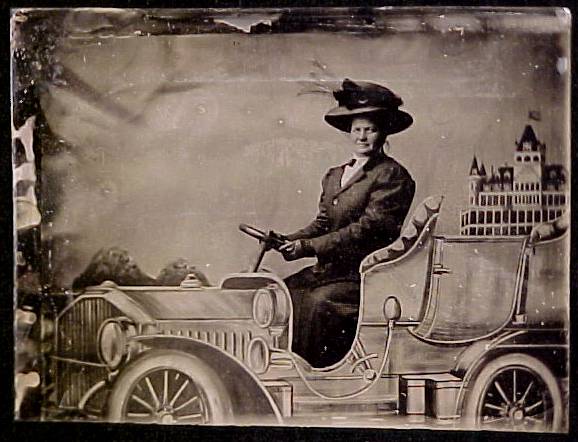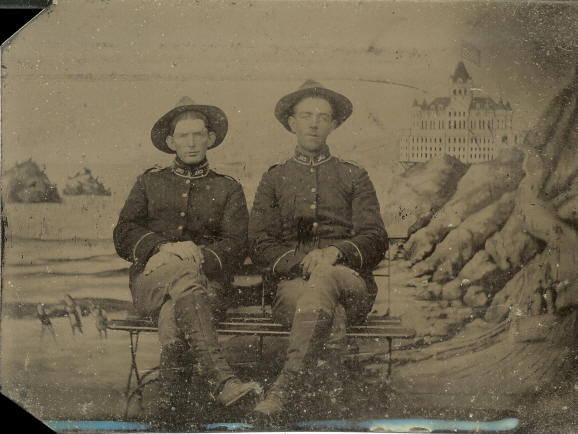 Image courtesy of Cathy Rogala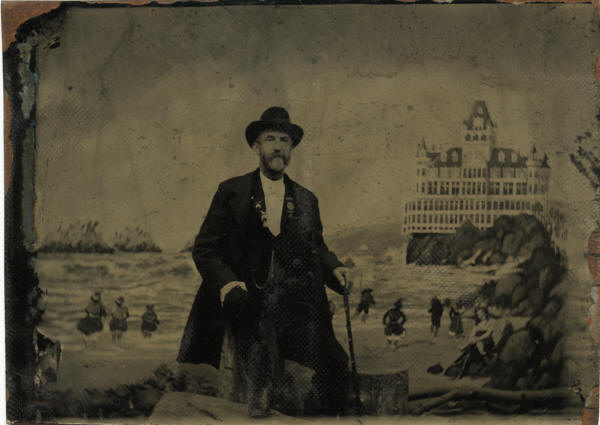 Image courtesy of D. Bass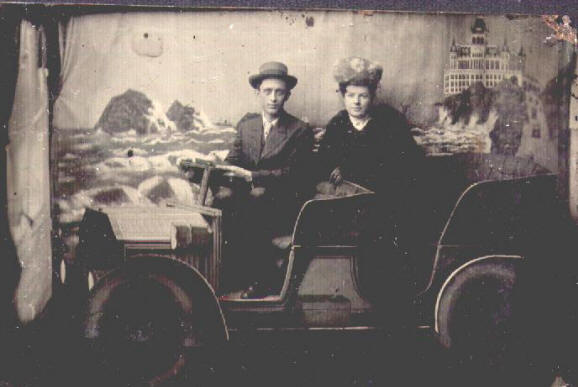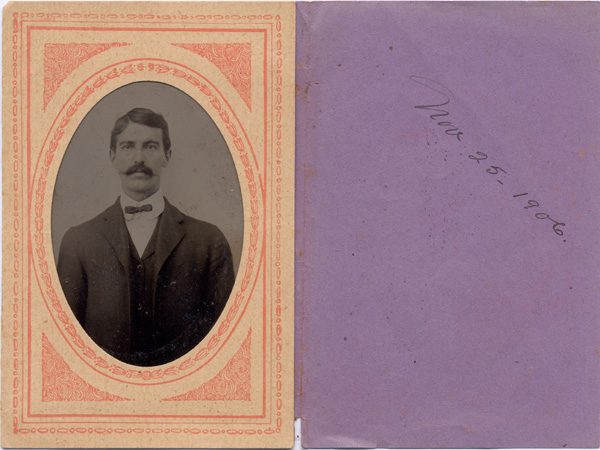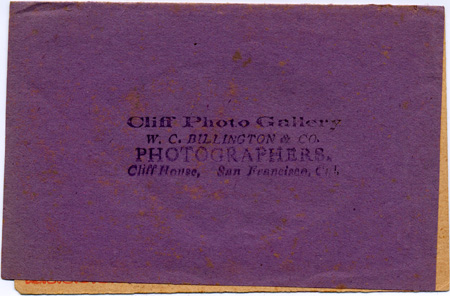 "Cliff Photo Gallery, W.C. BILLINGTON & CO., PHOTOGRAPHERS, Cliff House, San Francisco, Cal."
"Nov 25 - 1906"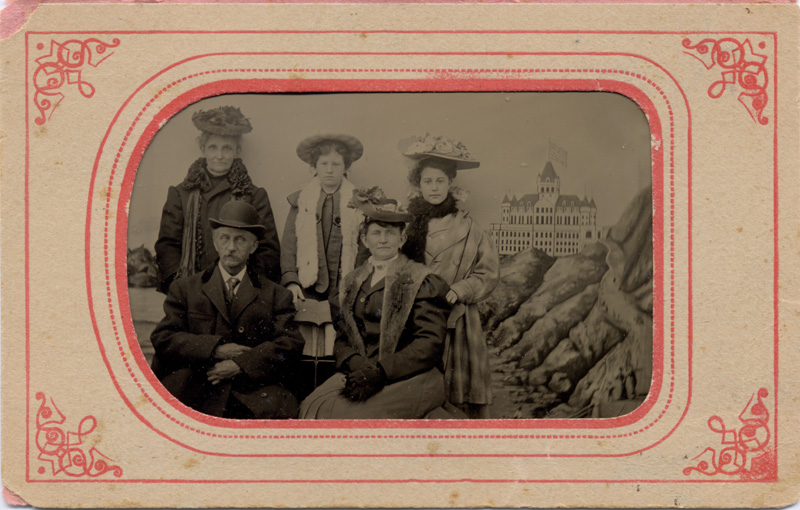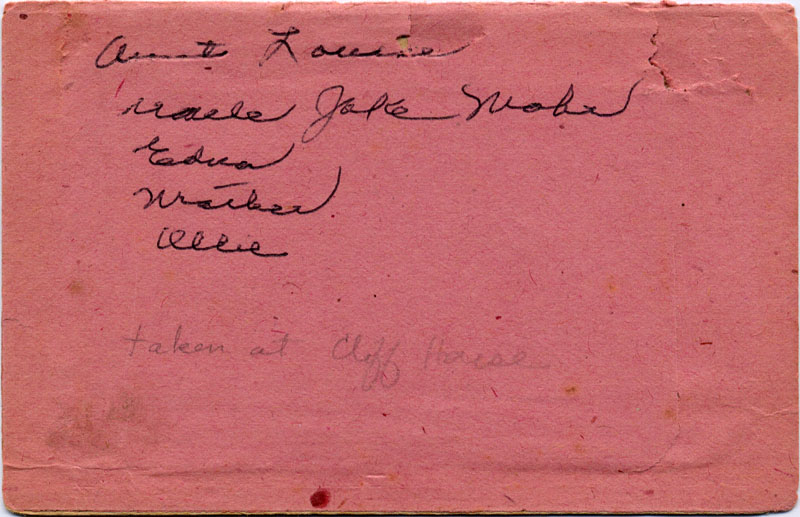 "Aunt Louise, Uncle Jake Nobe, Edna, ???, Allie"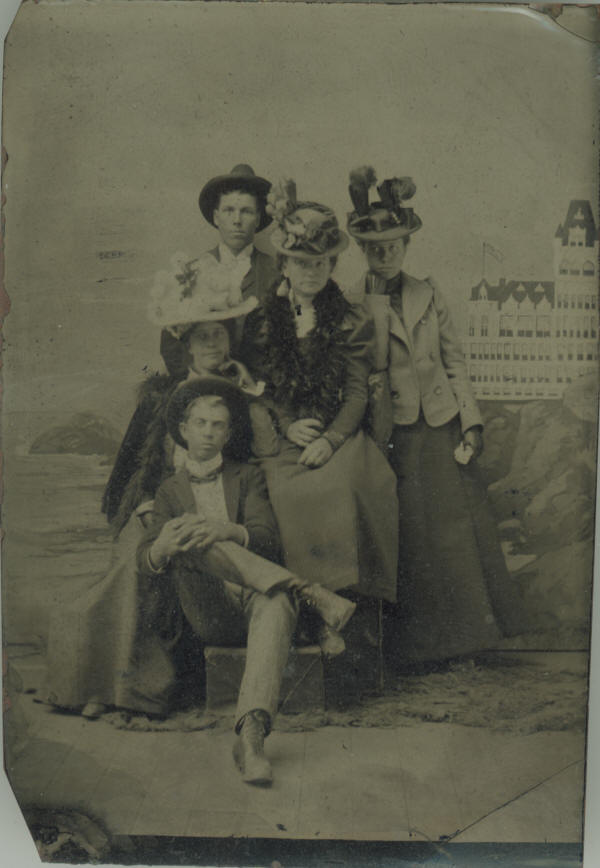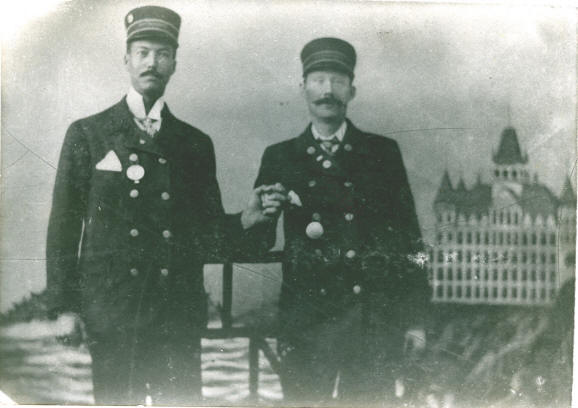 Edwin Leander Alexander (left) & George Craig (right), 1906
Both were cable car conductors. Uncle Ed is dark complected but he was caucasian.
George was a Scottish emigrant.
Contributed by Jerry Dagenhart, Cumberland Virginia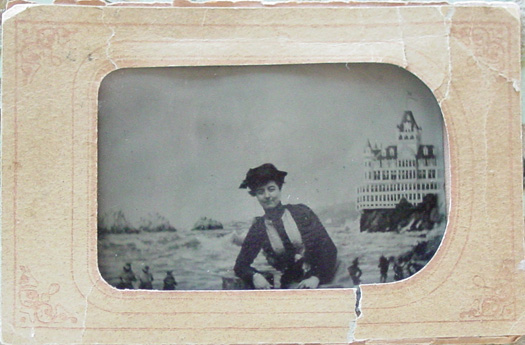 "PACIFIC OCEAN, BEACH GALLERY, CLIFF HOUSE, JONES & KENNETT,
Proprietors, SAN FRANCISCO, CAL"
(J&K was in business from >1899 to 1900 at three places: The Chutes and 2 at Ocean Terrace)
Source: J Caddick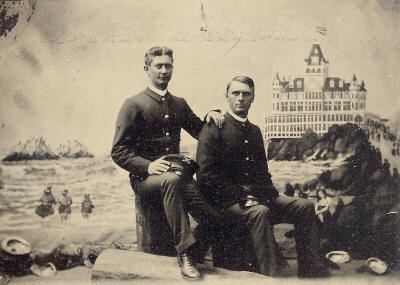 Coast Artillery soldiers - courtesy of the John Martini Collection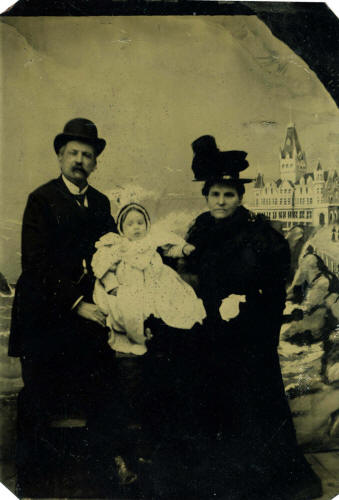 Courtesy of the Eliza Simmons Collection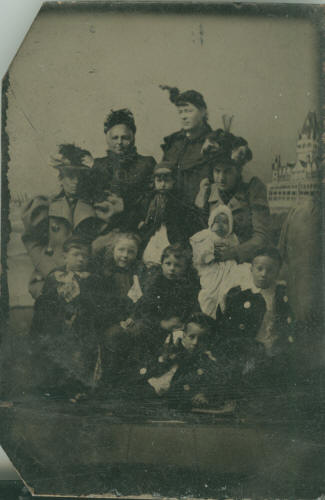 lots of kids!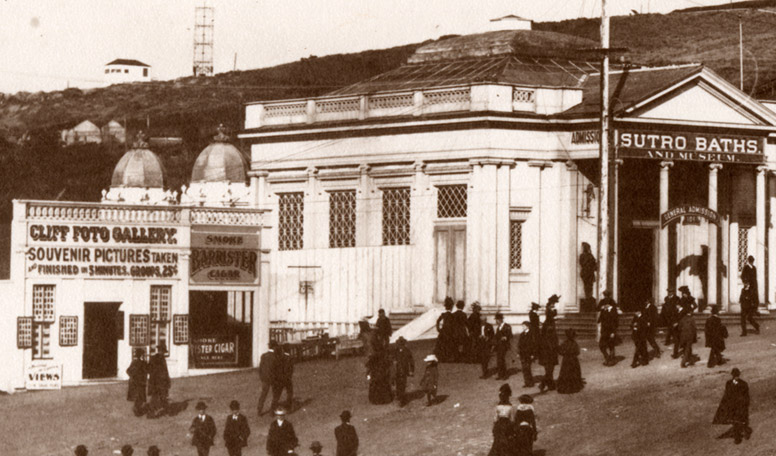 I suspect many of the studio tintypes above came from CLIFF FOTO GALLERY, between the Cliff House and Sutro Baths.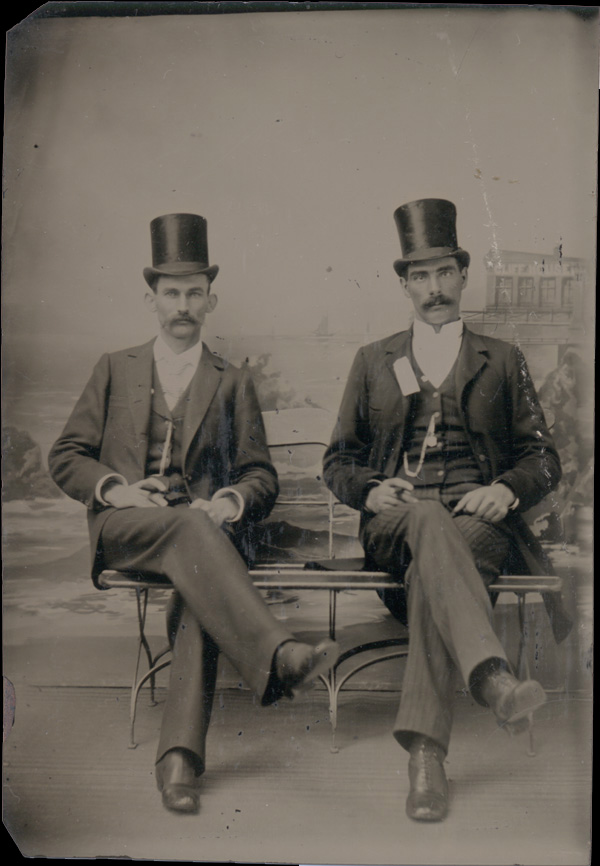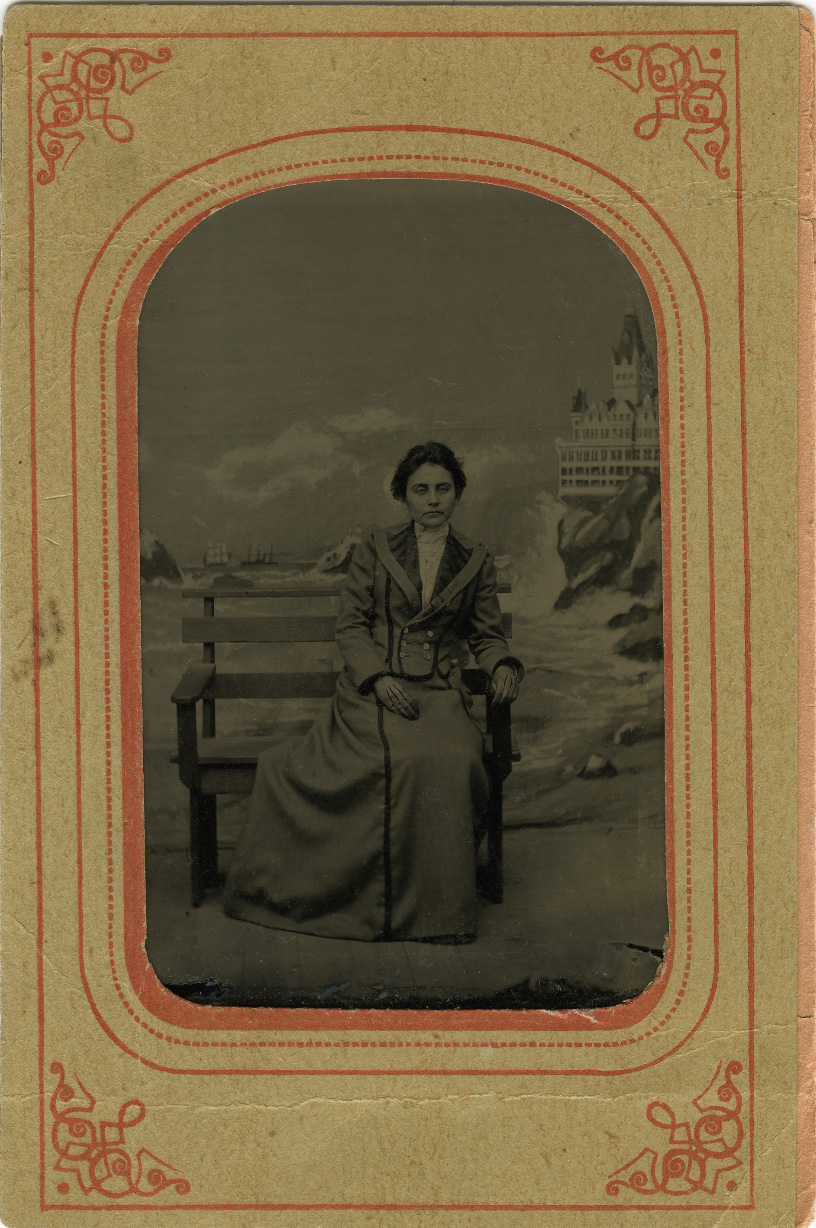 Reverse: "PACIFIC OCEAN BEACH GALLERY, CLIFF HOUSE, JONES & KENNETT PROPRIETORS, SAN FRANCISCO, CAL."
(click here for reverse)
Courtesy of Dennis O'Rorke

The below photos are courtesy of the John Freeman Collection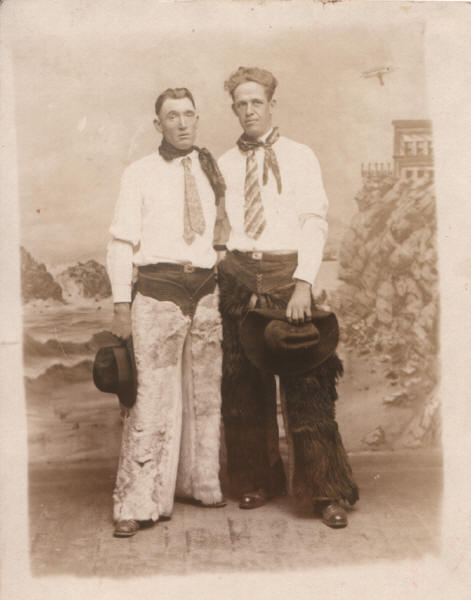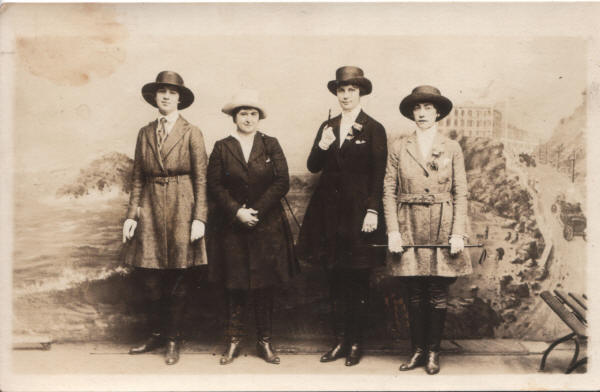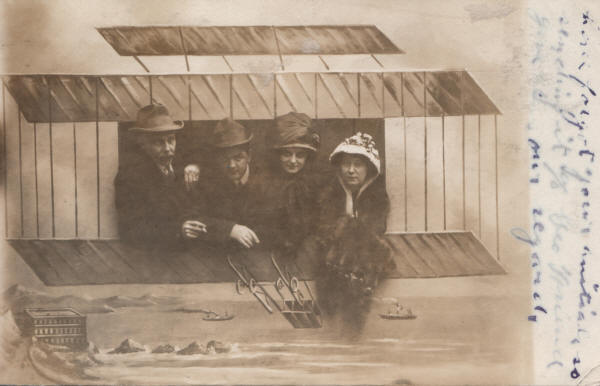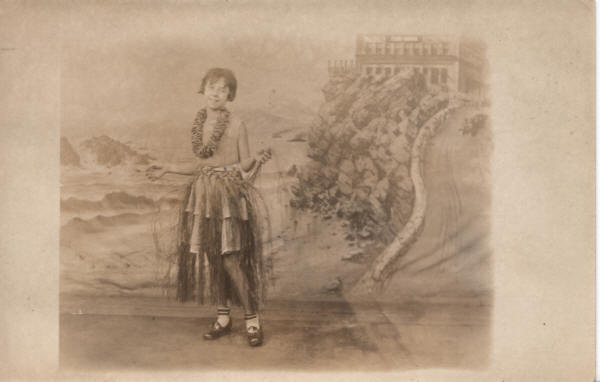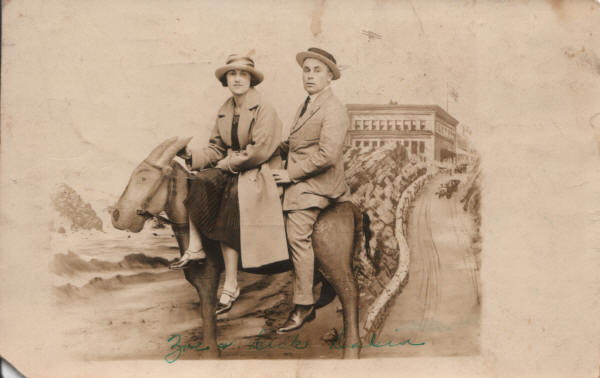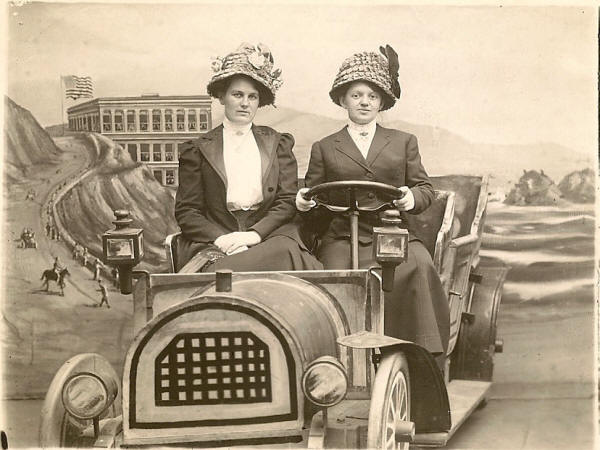 Laurette (Hallum) Noble (L) & friend (R)
Scan courtesy of Devin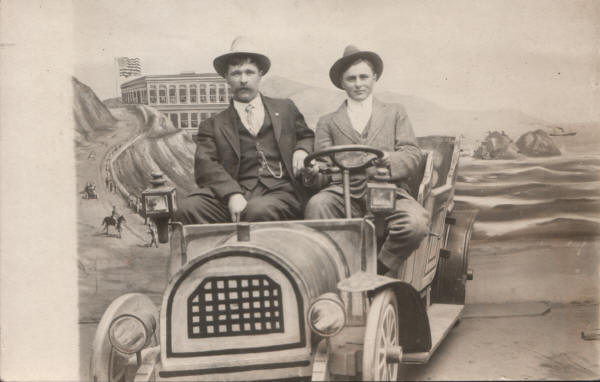 Billington's Studio Car License Plate
The license plate on the prop car shown in the below photographs belonged to John R. Billington, who was a photographer near Cliff House. The June, 1913 list of California Registered Motor Vehicles proves that this license plate number was assigned to him. Not only that, but we also know from the 1914 list that the car it was attached to was a 1913 Kissel Kar. Furthermore, we know that he was the first person ever assigned California license plate number 108986 because this number was never issued until June, 1913.
The year 1913 was the last year that California citizens had to supply their own license plates. They were given a small disc with a number on it, and they then took it to someone and they made up the license plates. This led to a variety of license plate styles being seen on California cars. A simple Internet search will show plates made of leather, porcelain, metal, wood, and occasionally another material. Many states had similar systems in place.
The year 1914 would see California issue their first standardized license plate. This resulted in Billington being assigned a new license plate number for 1914, and it made the 1913 license plate available to be attached to the studio car. Therefore any photos with the 108986 license plate must have been taken in 1914 or later.
Ace Zenek, automobile historian (10/5/2016).


California Registered Motor Vehicles, June 1913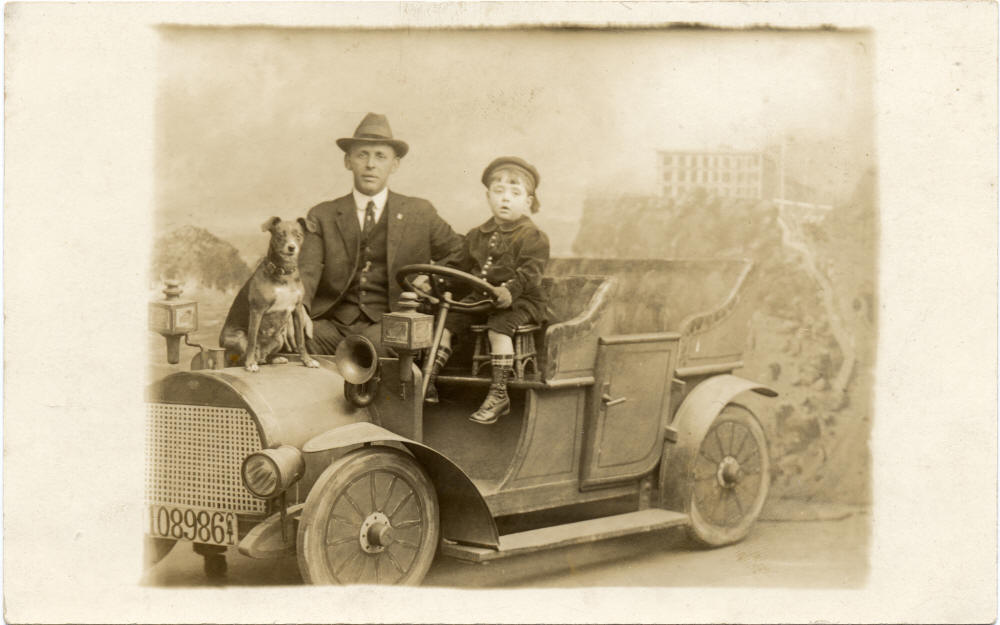 Courtesy of Dennis O'Rorke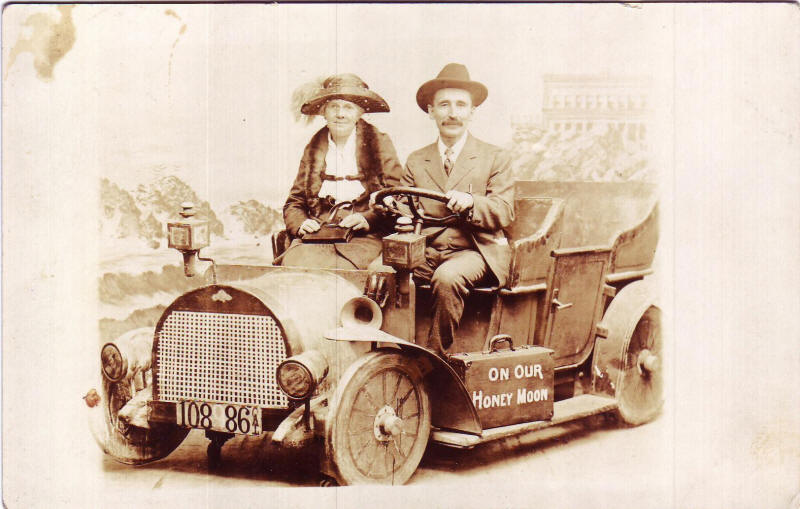 Courtesy of John Freeman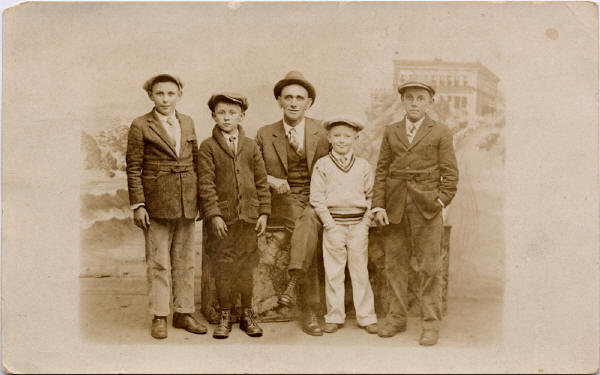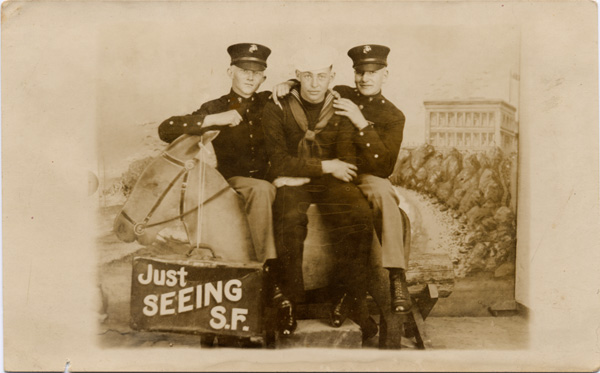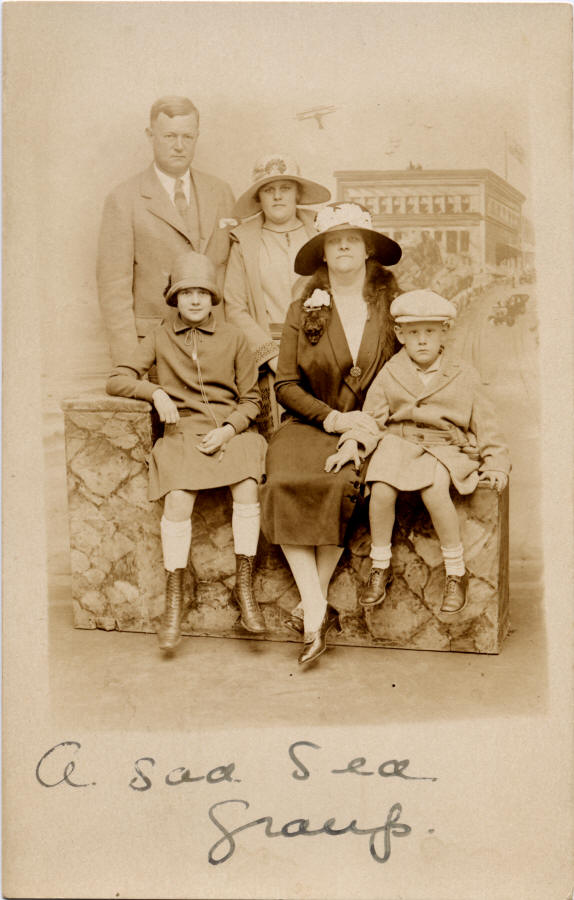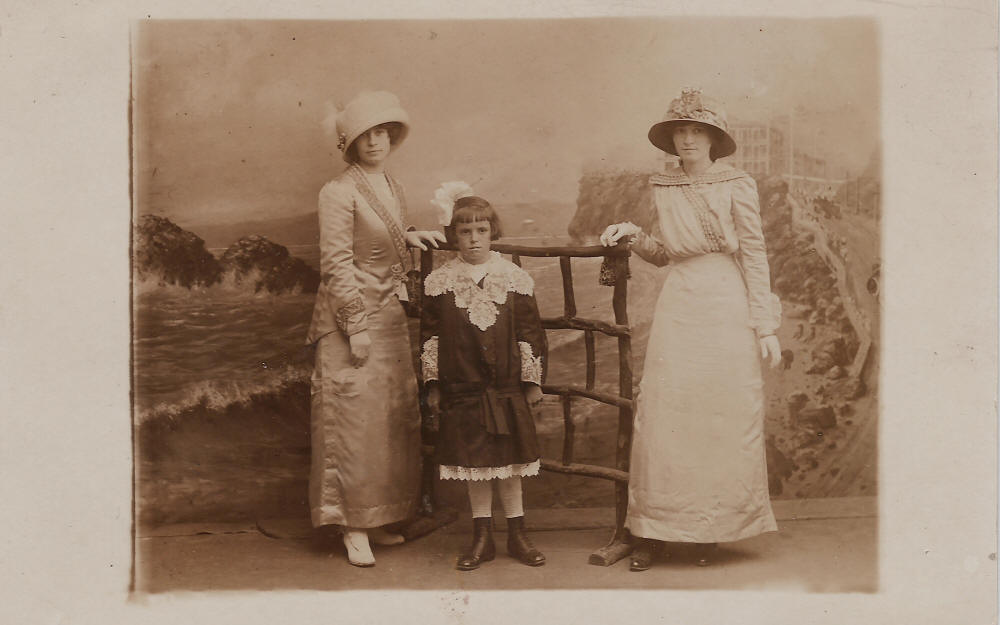 Ella Cruise, Florence Cruise, and Aileen Cruise. (They are sisters.)
Courtesy of Thomas J. Brugge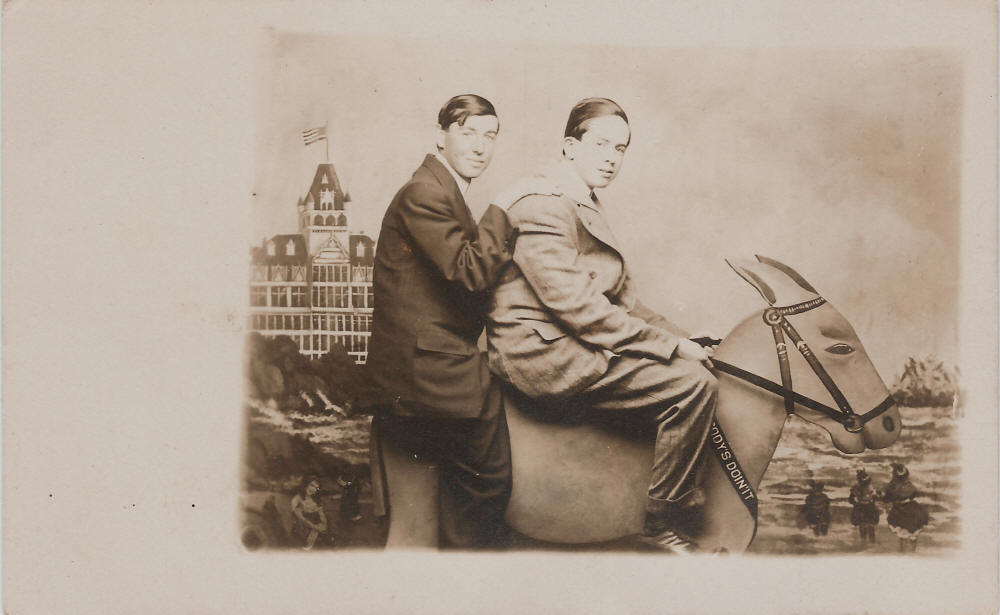 Harold Waters and John O'donnell
Courtesy of Thomas J. Brugge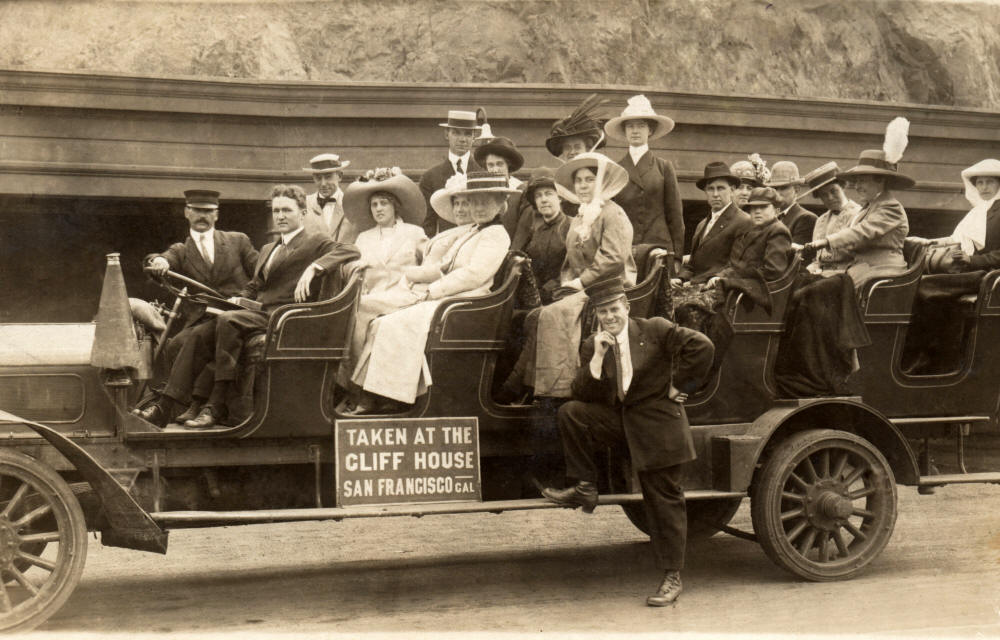 "The lady standing just to the right of center (white hat, white collar) is my wife's great grand-aunt, Euda McShan Silvey. Just to her right is her husband, Renny. They were from Brownwood, TX. The picture is undated, but this couple married in 1912, so I think that is when the picture was made (likely on their honeymoon)." Image courtesy of Randy Atkins, Lubbock TX 10/21/2014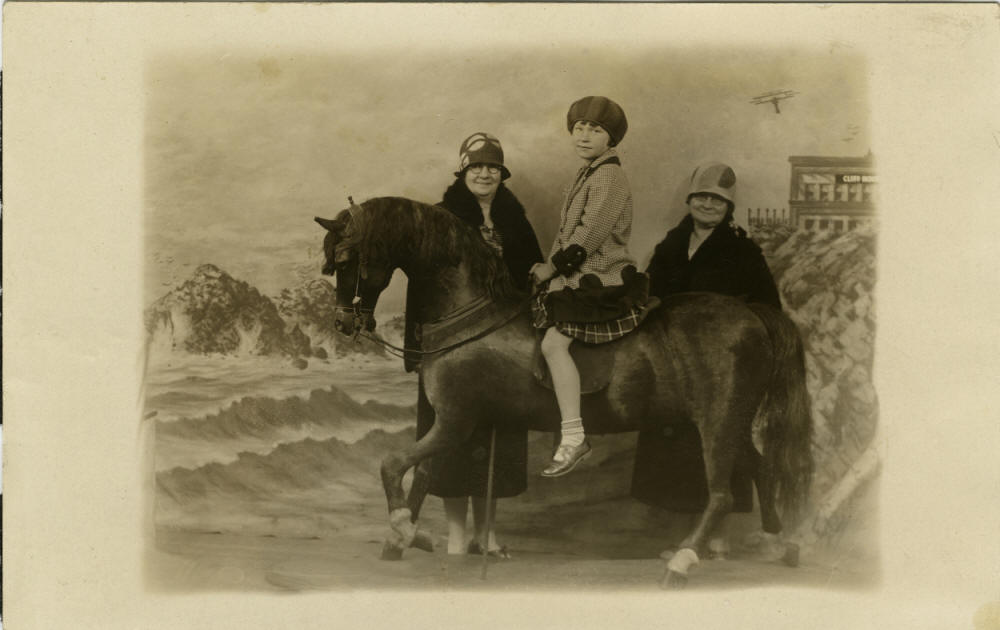 Courtesy of Dennis O'Rorke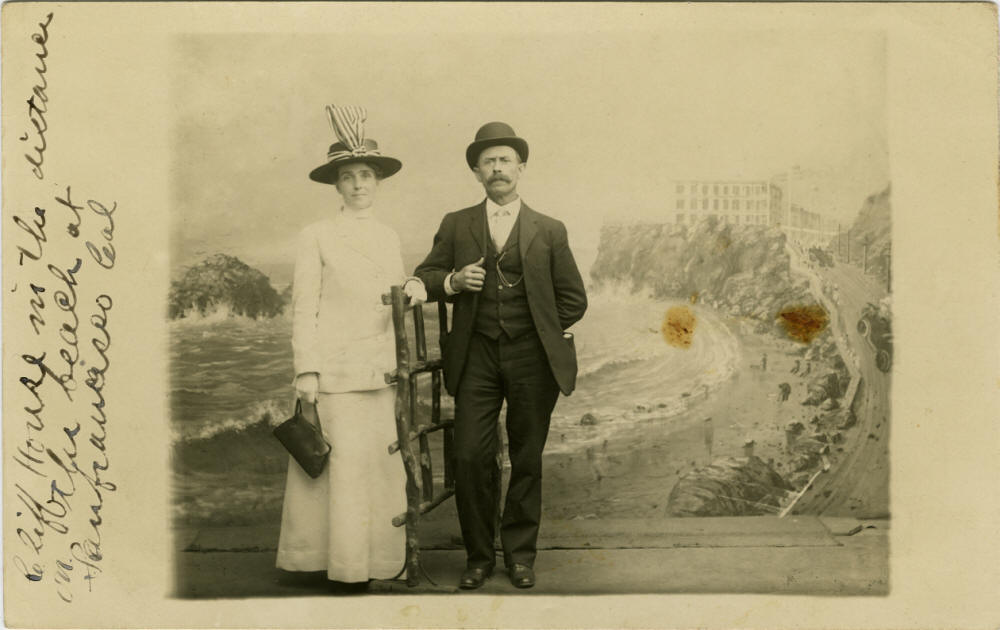 Courtesy of Dennis O'Rorke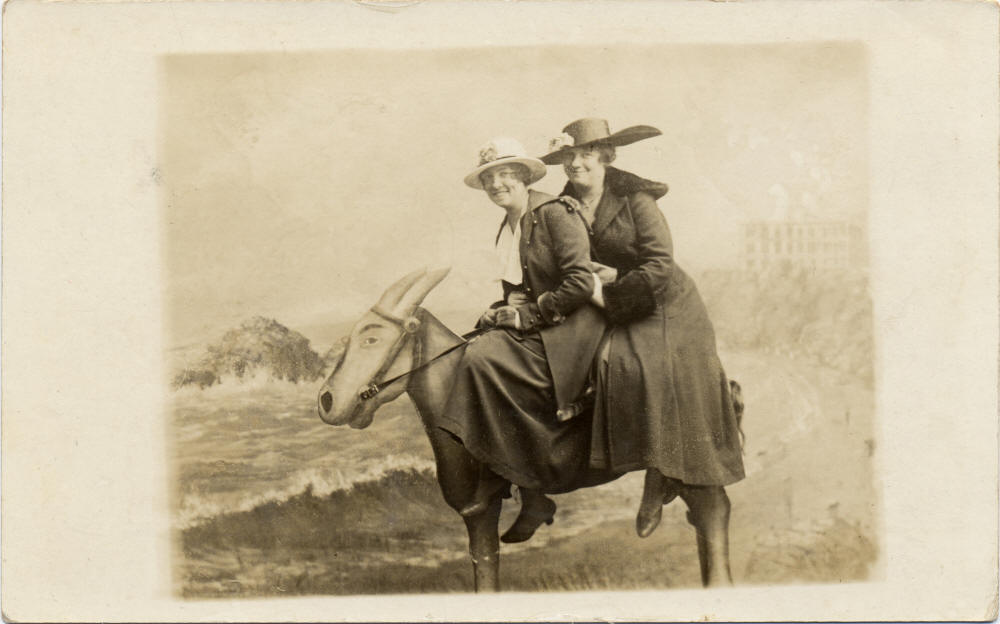 Courtesy of Dennis O'Rorke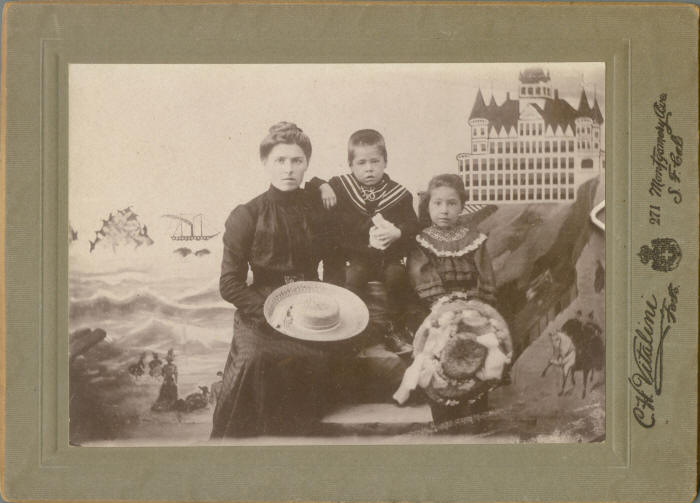 CH Vitalini Foto, 271 Montgomery Ave, SF Cal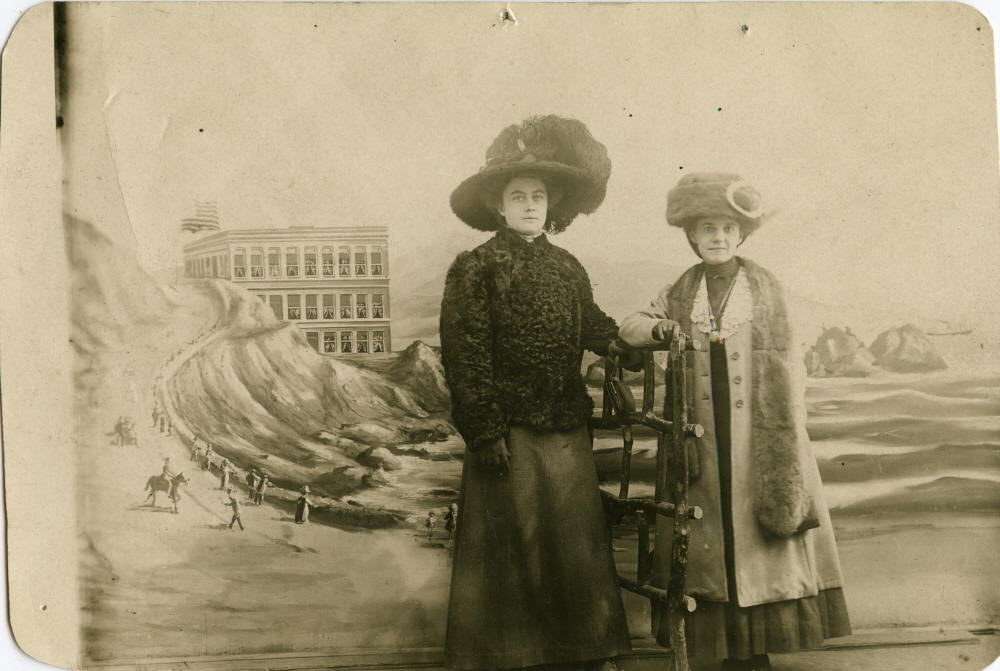 Note the mirrored background image. It is assumed that the paintings were intentionally mirrored to compensate for tintypes, which reverse the image (example).
Later photographic processes did not mirror the image, leaving the painting mirrored instead.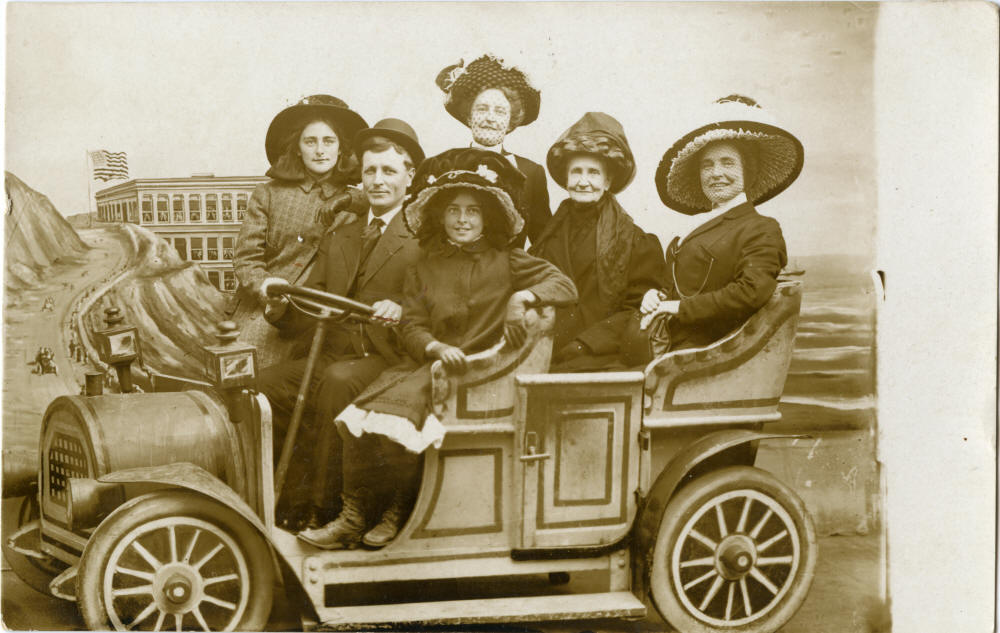 Reverse: "TAKEN AT THE CLIFF HOUSE, SAN FRANCISCO CAL, BY J. R. BILLINGTON" (image)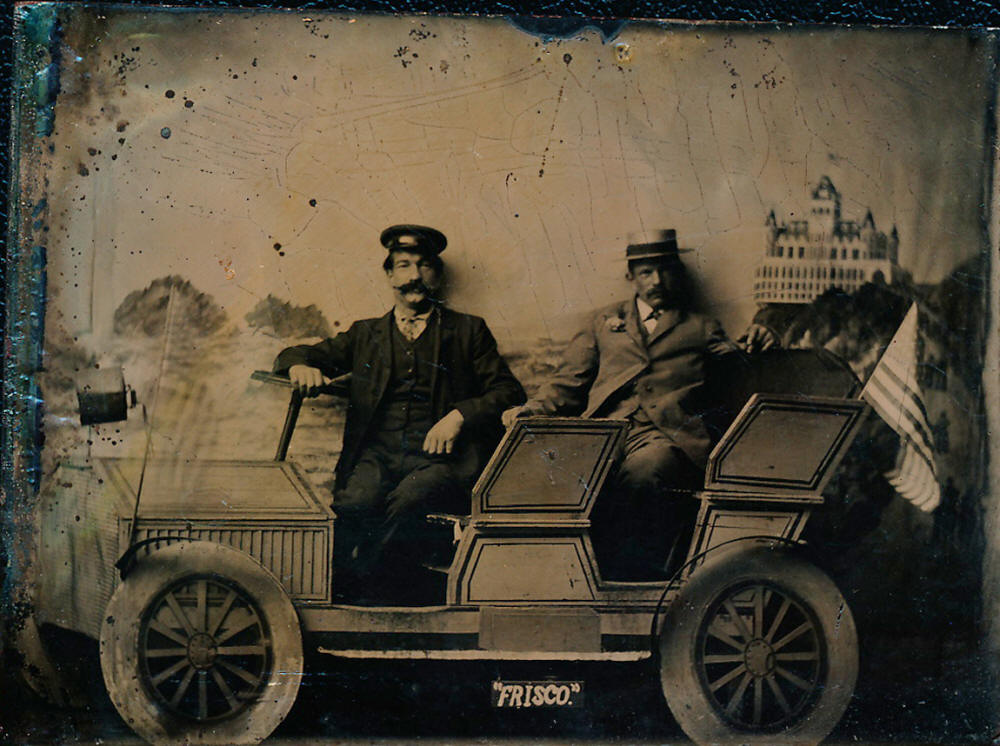 "FRISCO"
Image courtesy of Nick Vaccaro
thesilvercanvas.com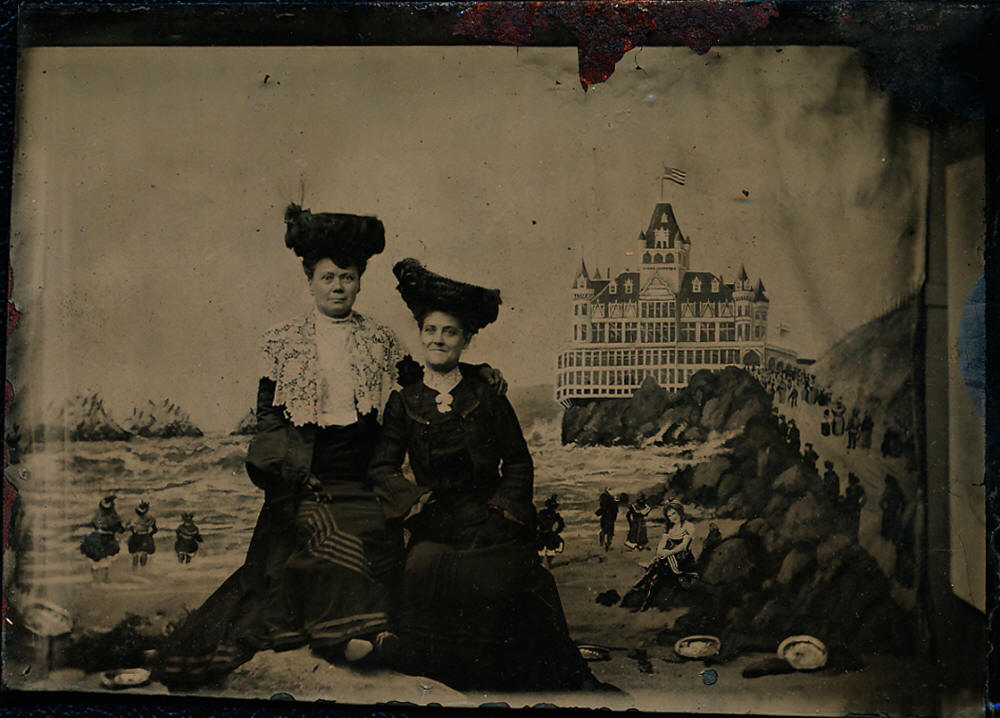 Image courtesy of Nick Vaccaro
thesilvercanvas.com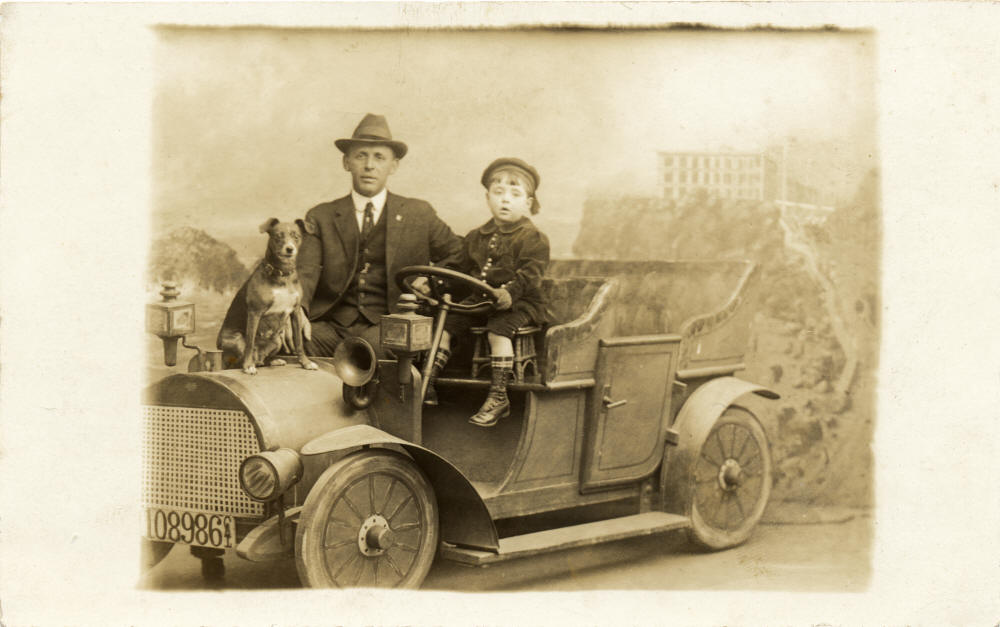 Image courtesy of Dennis O'Rorke

Image courtesy of Sean William Nolan


ebay image


"BEN BUTLER ON CLIFF HOUSE SEAL ROCKS"
(click here for more information on Ben Butler)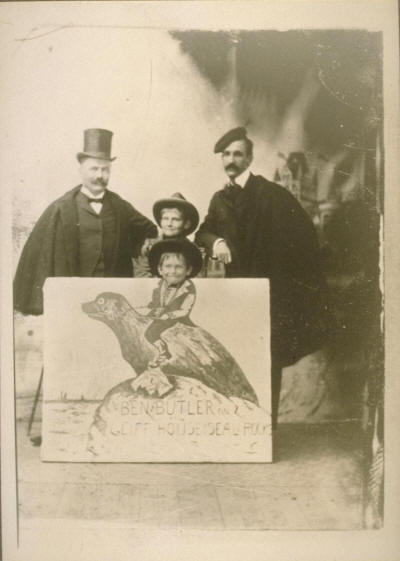 Online Archive of California (link)

For an extensive collection of Cliff House studio photographs:
http://www.sanfranciscomemories.com/cliff/studiophotos/