Thomas Scott Baldwin?
Parachute Jump, 1887
(Note: this event is still being researched. Although initially assumed to be
a photo of Baldwin's balloon, that is unproven, possibly untrue. GS 3/3/2016)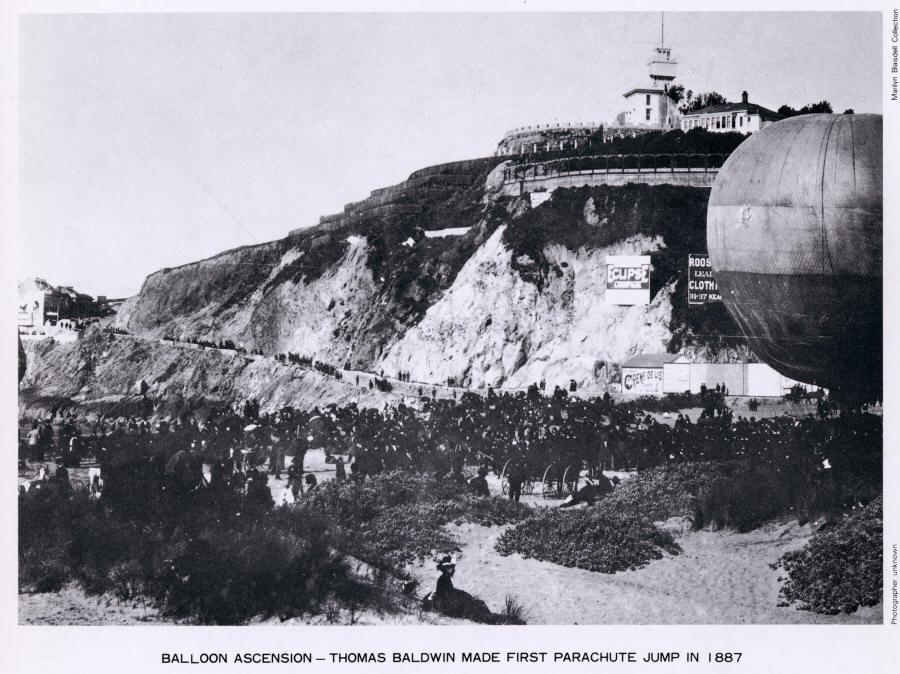 "BALLOON ASCENSION - THOMAS BALDWIN MADE FIRST PARACHUTE JUMP IN 1887"
Marilyn Blaisdell Collection
NOTE: This is a later identification which is not yet verified by period evidence.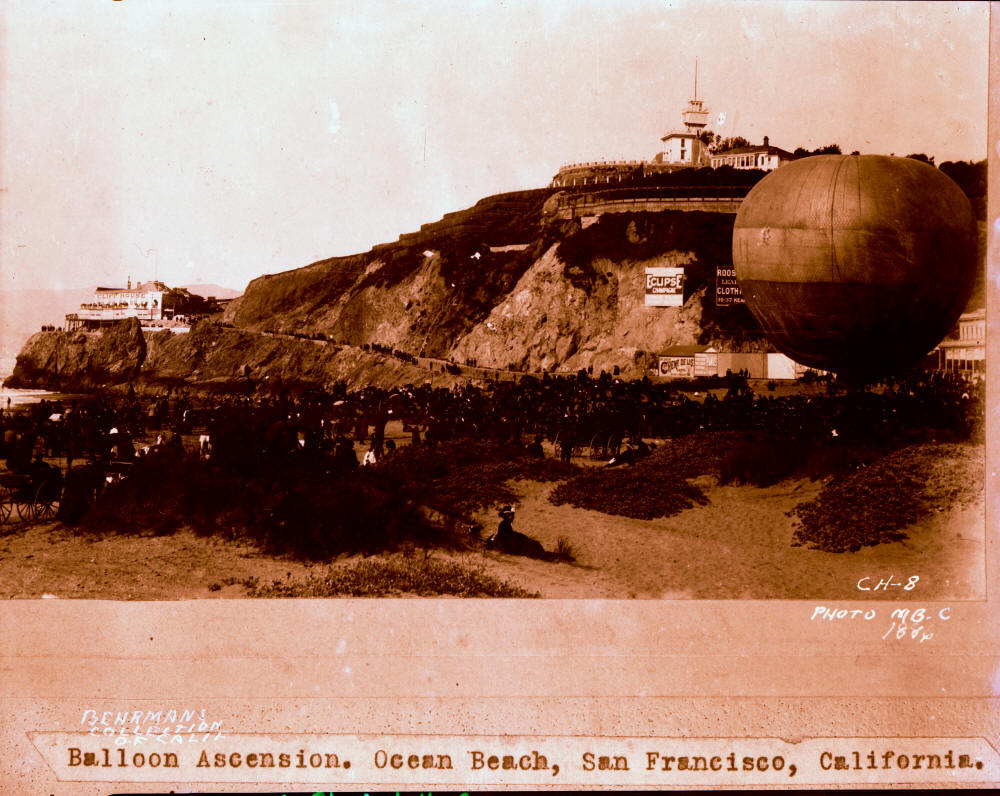 "Balloon Ascention. Ocean Beach, San Francisco, California."
"BEHRMAN COLLECTION" "CH-8" "PHOTO MB.C 1886"
Copy negative
2400 dpi
Description from Seller
8" x 10" Large Format Antique Copy Film Negative
Description: Marvelous detail in this c.1886 image of a massive crowd gathered on Ocean Beach awaiting a hot air balloon ascension. The historic San Francisco 2nd Cliff House (1864-1894) and Sutro Heights are both visible in the background.
Negative Photographer: Martin Behrman (1862-1945)
Provenance: Image derives from the Martin Behrman Collection of historical memorabilia which included thousands of photographs and antique negatives. The entire collection was purchased by Marilyn Blaisdell in the late 1970s.
This is an antique 80+ year old copy negative, not a recently produced negative.
Size: 8" x 10" +/-
Image Age: Dated 1886.
Negative Creation: c.1920s-1930s.
Analysis per John Martini (2/20/2016):
"This photo seems to have a complicated history. Once upon a time, an original print of this balloon ascension existed but is now lost to history. Sometime after 1900, local photographer Martin Behrman shot a copy neg of the print and put his name and code numbers on the neg. The typed caption must have already been affixed to the print when the copy neg was made, since "Behrman Collection" is written over the label at lower left. Behrman copied lots of old views of San Francisco, frequently adding his own guesstimate dates. Because these dates are written on the negs, many folks just assume they're authentic. You can identify Behrman copies by the legend "Photo by M.B." and a code like "CH-8" on this view, for Cliff House #8. (Other abbreviations included SU for Sutro, NB for North Beach, FP for Fort Point.) Sometimes Behrman shot film, sometimes he shot glass negs. After Marilyn Blaisdell purchased the Behrman Collection from George Whitney, Jr., she had a young photographer make copy negatives of many of the original copy negs, probably to protect Behrman's aging negs from overuse. So, the above print either came from a first-generation negative shot by Behrman, or from a second-generation copy negative made for Marilyn from Behrman's original copy. Confusing, no?"
Analysis per Dick Brown (2/23/2016):
This photo shows a gas balloon, not a hot air balloon (note the netting and slight top depression where the gas valve is located). A hot air or smoke balloon has no net or basket and often caught fire

Signage close-ups

"ECLIPSE CHAMPAGNE" "ROOS BROS" "31-37 KEARNY"
(Brand of champagne produced starting in 1876 - reference) (Clothing store since 1866 - reference)


"SAPOLIO"
(A brand of soap, advertised starting in 1883 - reference)




"DICKEY'S CREME DE LIS. BEAUTIFIES AND RESTORES COMPLEXION"
(Product advertised at least since 1868)

"PIANOS" "Matthias Gray Co"
(Founded in 1852 and bought out by Sherman and Clay in 1892 - reference)
(moved to Post St "around 1892" - reference)

Balloon Ascensions in Newspaper Archives
Note: Only clippings outlined in RED occurred at the Cliff House
(presented in chronological order)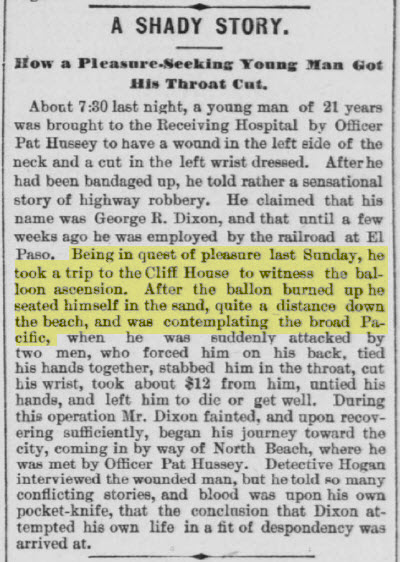 Cliff House balloon ascension, pilot unknown, failed?
Daily Alta California - Aug 5 1884
(presumed event date: Aug 3 1884)

Van Tassel's first use of "Eclipse" Balloon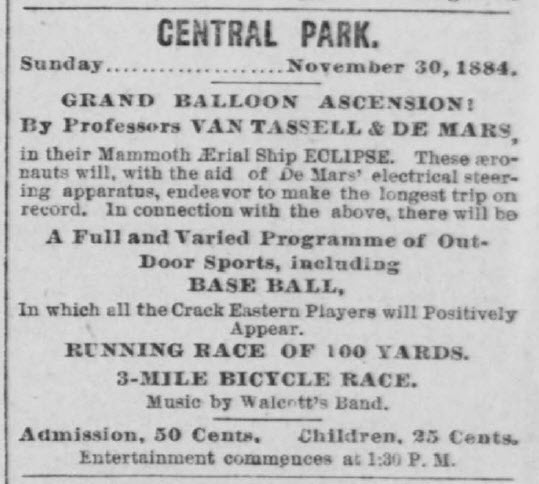 Van Tassel Balloon Ascension
Terminus of the Haight St Cable Line
(can someone identify this on a map?)


Daily Alta California - Feb 21 1886


Daily Alta California - 22 Feb 1886
(presumed event date: Feb 21 1886)
Two simultaneous balloon events


Prof Van Tassel, SF balloon trip
Sacramento Daily Union - 31 Jan 1887
(presumed event date: 30 Jan 1887)


Prof Baldwin balloon parachute,
Baseball grounds, entrance to Golden Gate Park, S.F.
SF Chronicle - Jan 31 1887.jpg
(presumed event date: Jan 30 1887)

Also mentioned in Sacramento Daily Union - 1 Feb 1887 - link
T.S. Baldwin balloon parachute jump
Terminus of Haight St cable line


The Sun (New York) - Feb 10 1887
(presumed event date: Feb 9 1887)


Hackettstown NJ Warren Republican
Van Tassel balloon ascension & parachute drop


Cliff House, but relocated 1/2 mile inland
Daily Alta California - Feb 11 1889
(presumed event date: Feb 10 1889)


Cliff House, but relocated 1/2 mile inland
SF Chronicle - 11 Feb 1889
| | |
| --- | --- |
| San Francisco Chronicle - 11 Feb 1889 | The San Francisco Examiner - Feb 11 1889 |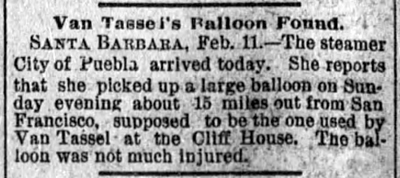 The Los Angeles Times - Feb 12 1889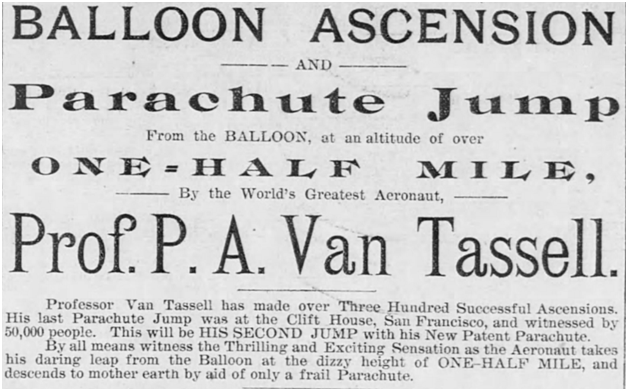 Reference to earlier Van Tassell balloon event at Cliff House
Salt Lake Herald - May 24, 1889


Prof Baldwin Balloon Parachute Jump


Advertisement
The Morning Call, San Francisco - April 11, 1890
(presumed event date: Apr 12 1890)


Balloon Parachute Jump, Bakers Beach
The Morning Call, San Francisco - April 14 1890
(presumed event date: Apr 13 1890 - why different from other clipping?)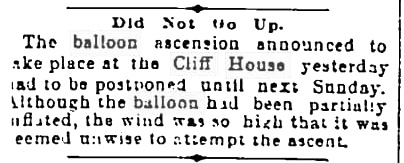 Cliff House Balloon Ascension Postponed
SF Chronicle - 27 Feb 1893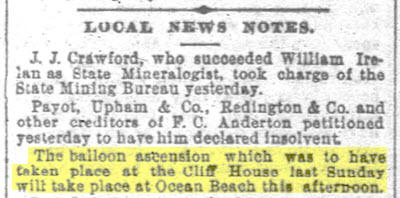 San Francisco Chronicle - Mar 5, 1893


San Francisco Chronicle - Mar 5, 1893


San Francisco Chronicle - Mar 6, 1893


San Francisco Chronicle - Mar 27 1893


Balloon accident, Lillie Hagal
San Francisco Call - Apr 17 1893


Do any of these clippings reference the event in the below photos?


Other Balloon Photos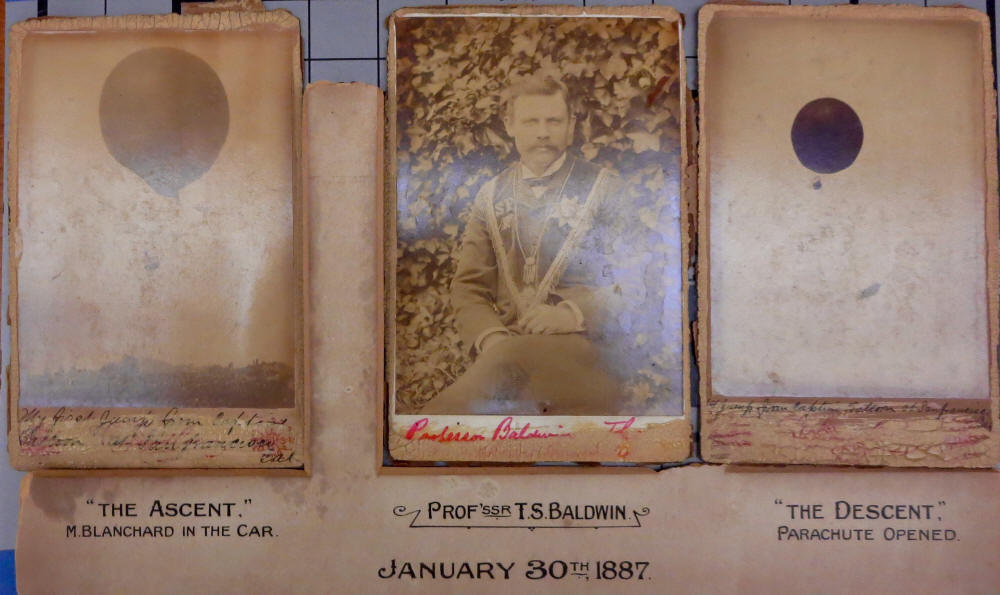 "THE ASCENT, M. BLANCHARD IN THE CAR" "PROF'SSR T.S. BALDWIN" "THE DESCENT, PARACHUTE OPENED"
"JANUARY 30TH 1887"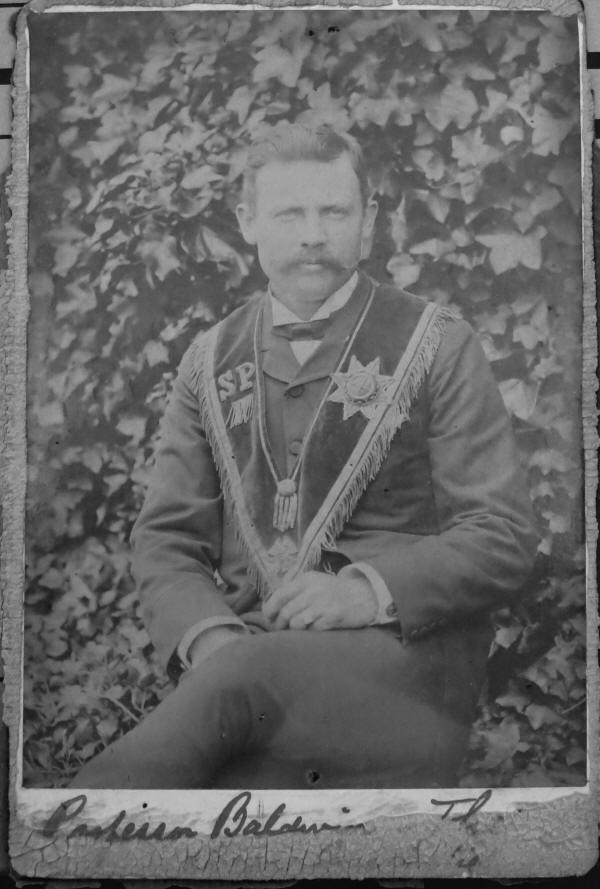 "Professor Baldwin"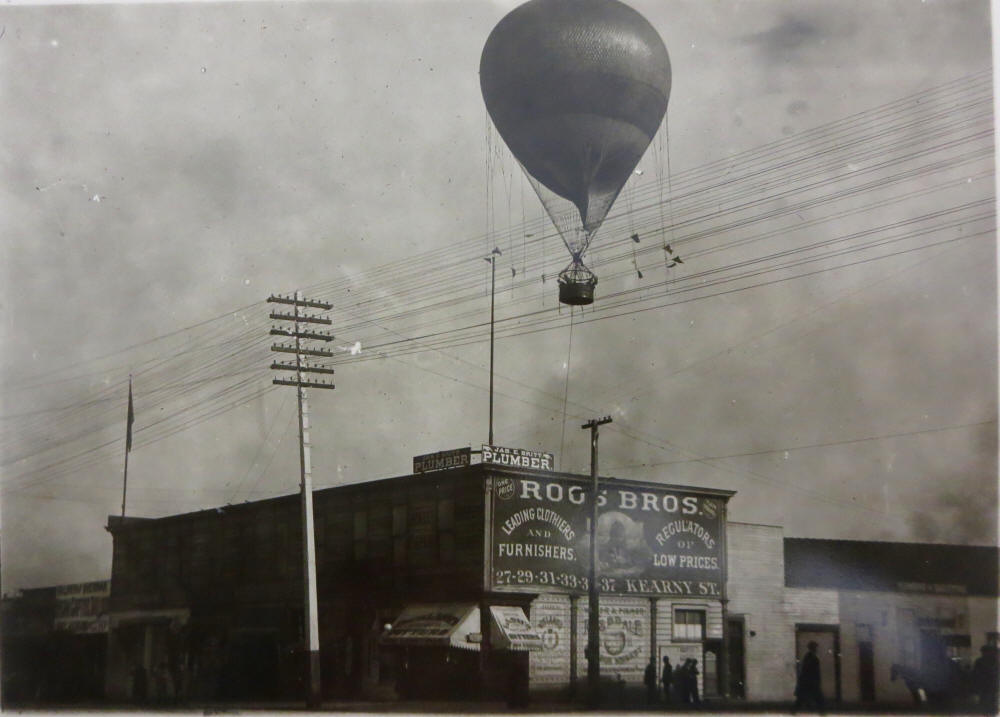 "ROOS BROS."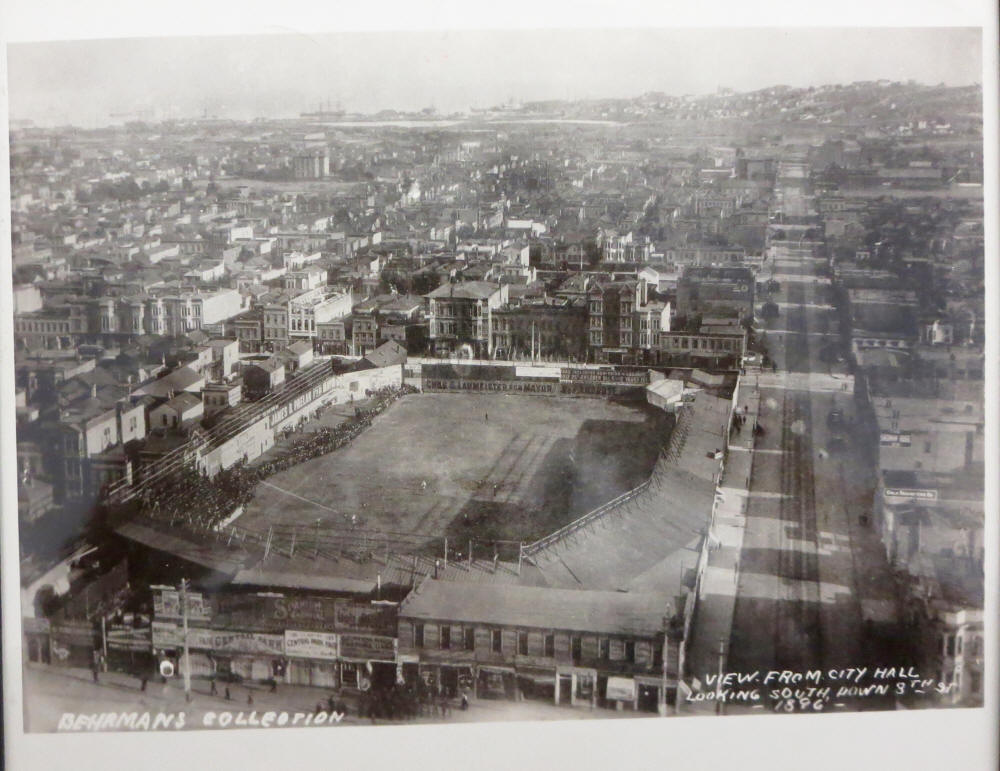 "VIEW FROM CITY HALL, LOOKING SOUTH, DOWN 8TH ST, 1896"
"CHAS S LAUMEISTER FOR MAYOR", "JAMES D PHELAN FOR MAYOR" (reference link)
"BEHRMANS COLLECTION"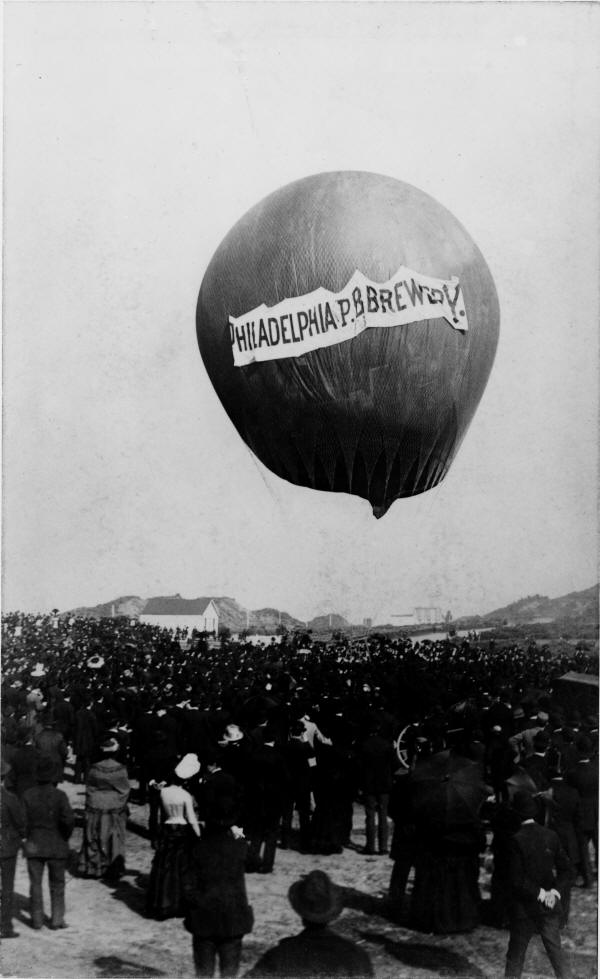 This print came from Marilyn Blaisdell, identified it as:
"BALLOON ASCENSION ON OCEAN BEACH, FEBRUARY 21, 1886"
The location is not recognizable or confirmed as Ocean Beach.
The balloon banner is believed to read "PHILADELPHIA P.B. BREWERY" (SF establishment, 1855-1887)
based on this advertisement.
Note: There is a balloon ascension by Van Tassel in the above newspaper clippings, Terminus of the Haight St Cable Line
Analysis by Dick Brown (3/9/2016:
"This is definitely a netted gas balloon. You can just make out the load ring above the heads of the spectators. Basket is concealed by the crowd. Judging from the size of the load ring compared to the balloon diameter, I estimate the balloon radius as about 22-24 ft. Using the formula for the volume of a sphere, I estimate the capacity between 45,000 and 50,000 cubic feet. Another question is how did they inflate the balloon. It seems a rather open area so there's not likely any municipal gas mains around. They may have generated hydrogen onsite (iron filings & sulphuric acid). The banner attachment is a rather sloppy job and it looks worse because the balloon is not fully inflated. That's typical because you need to allow room for expansion at higher altitudes."
Aeronauts
A later Baldwin account...


San Francisco Chronicle, Sept 8 1918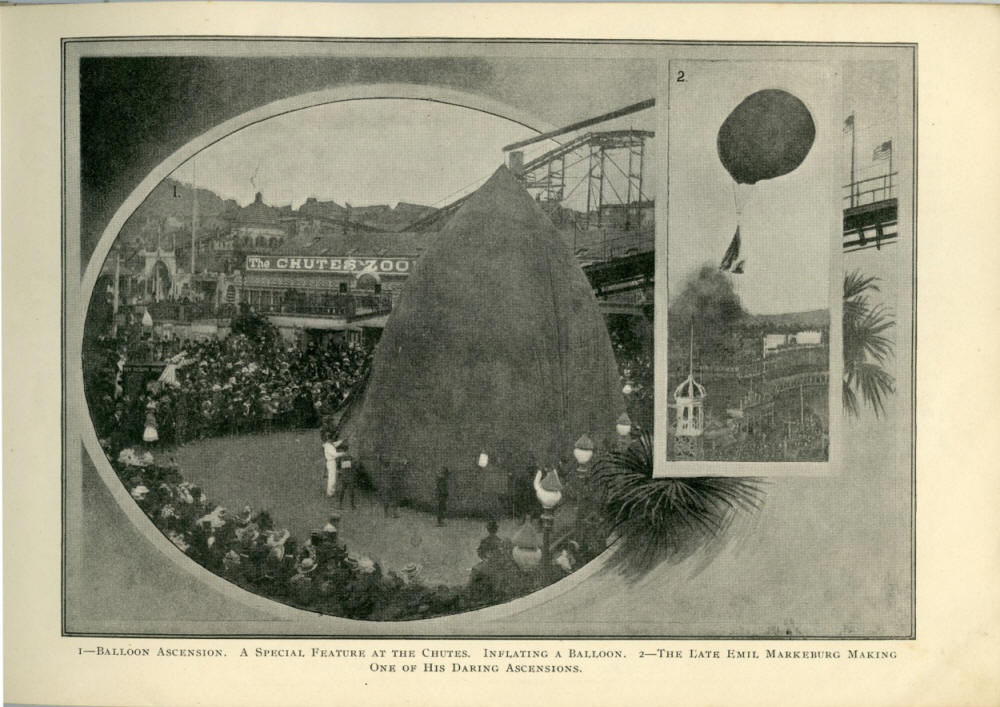 "1- Balloon Ascension, A Special Feature at the Chutes. Inflating a balloon. 2-The Late Emil Markeburg Making One of His Daring Ascensions."
Image courtesy of Dennis O'Rorke