1868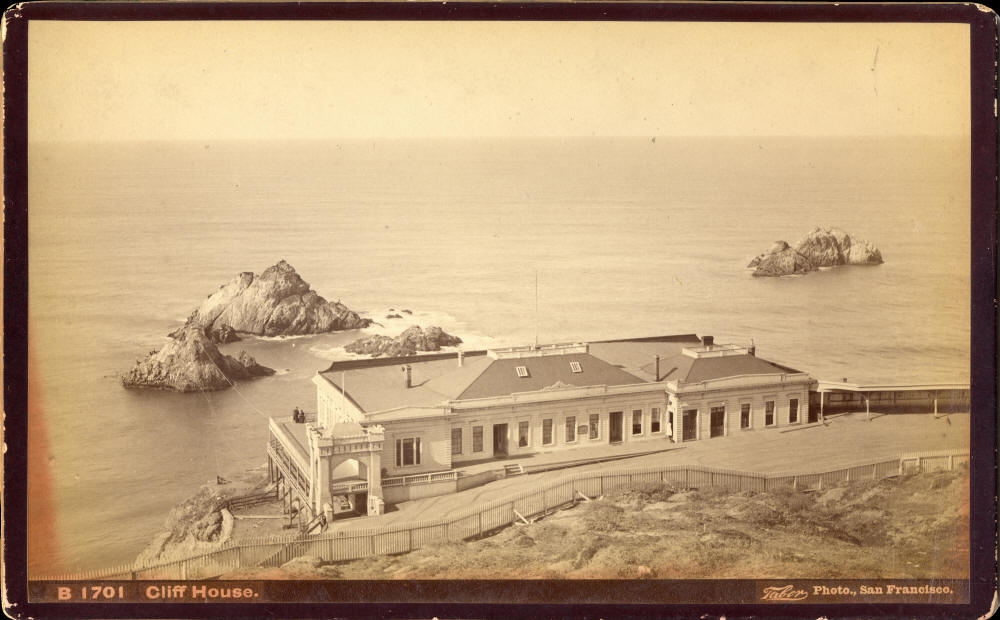 Taber Photo
Note cables between shore and outcrops. Click here for close-up.
Courtesy of Dennis O'Rorke Collection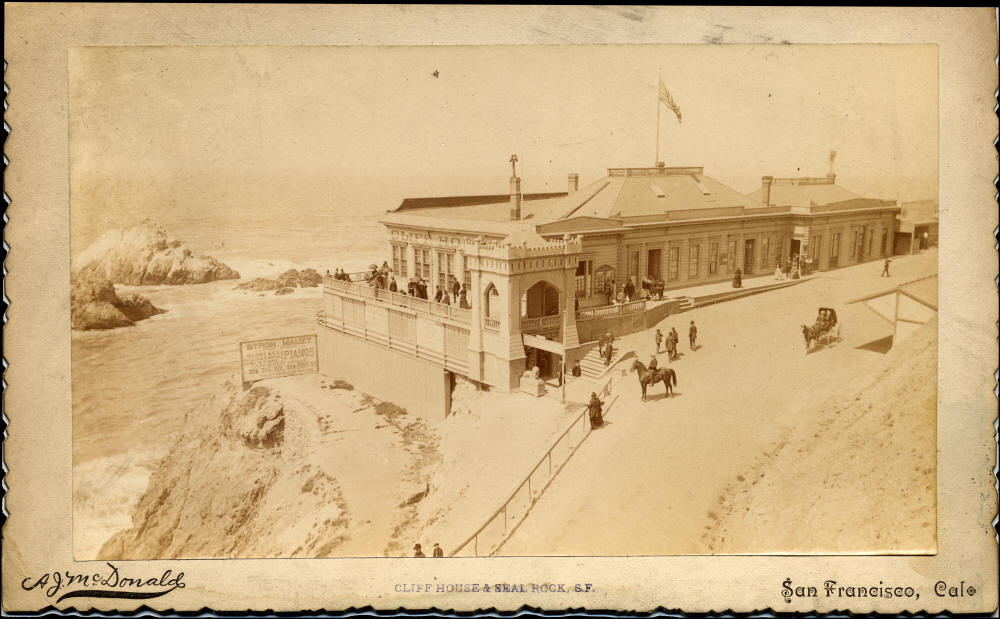 Cliff House ca1890, A.J. McDonald
Courtesy of the John Martini Collection

"CH-35"
Scan from an 8x5"glass negative, likely from the collection of Martin Behrman (based on the CH-35 ID)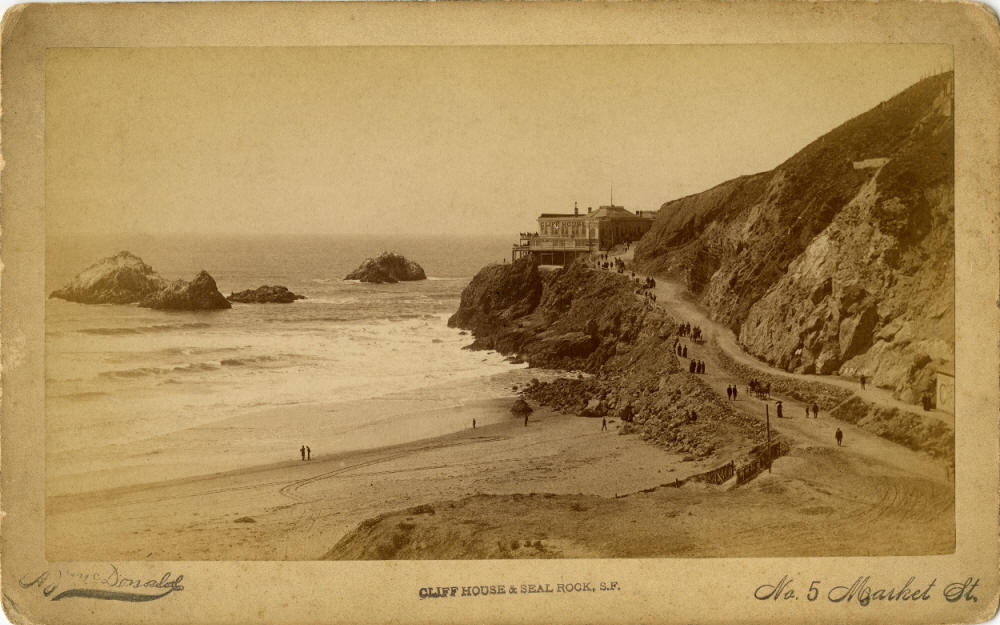 "A J McDonald" "CLIFF HOUSE & SEAL ROCK, S.F." "No. 5 Market St."
Courtesy of Dennis O'Rorke Collection


A J McDonald, Photographer (reverse)

Courtesy of Dennis O'Rorke Collection



"High Tide, Ocean Side", Perkins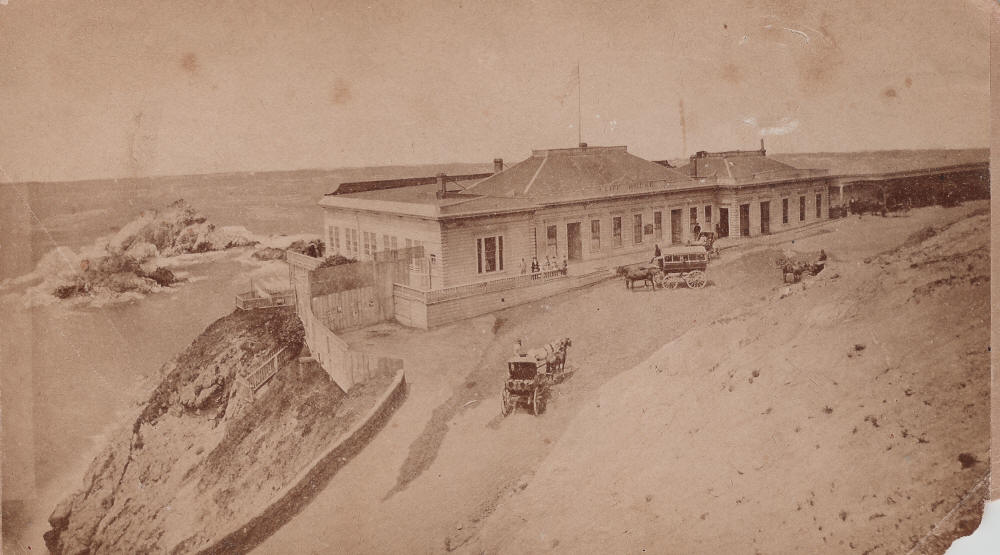 Courtesy of Frank Mitchell


Click here for reverse

Click here for reverse

Note the banner or sign visible above the stables. It wasn't clear what that structure was until this image was discovered.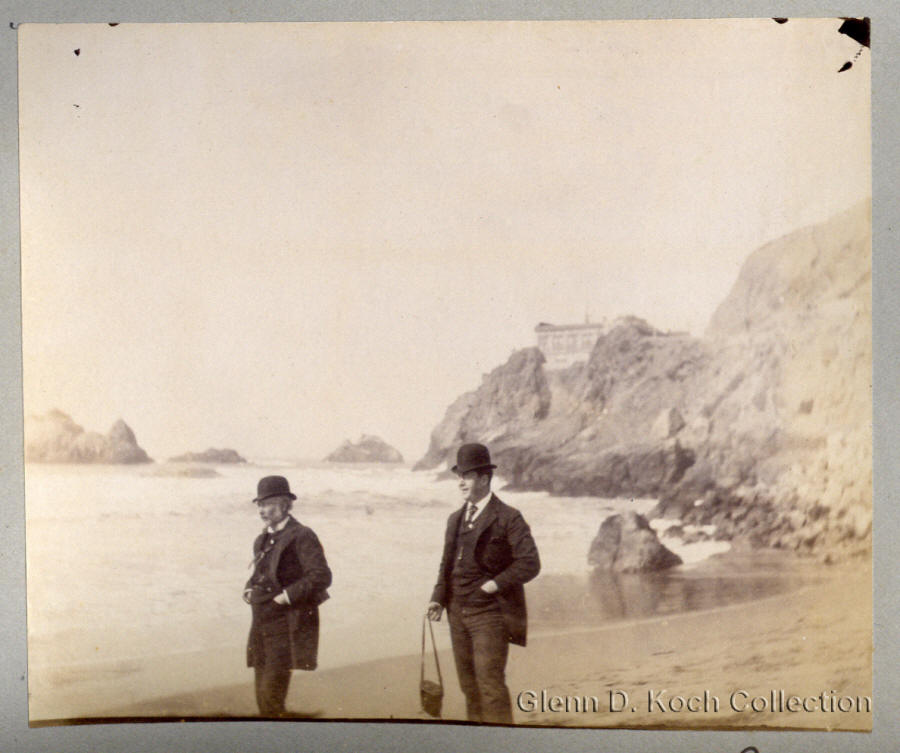 Courtesy of Glenn D Koch Collection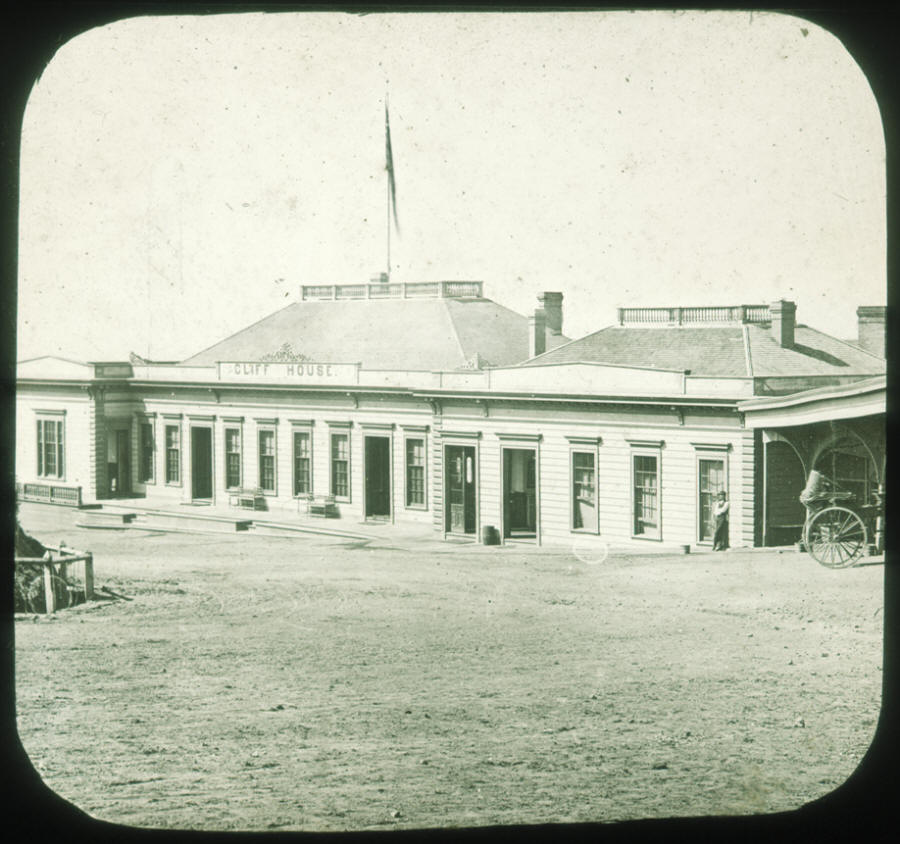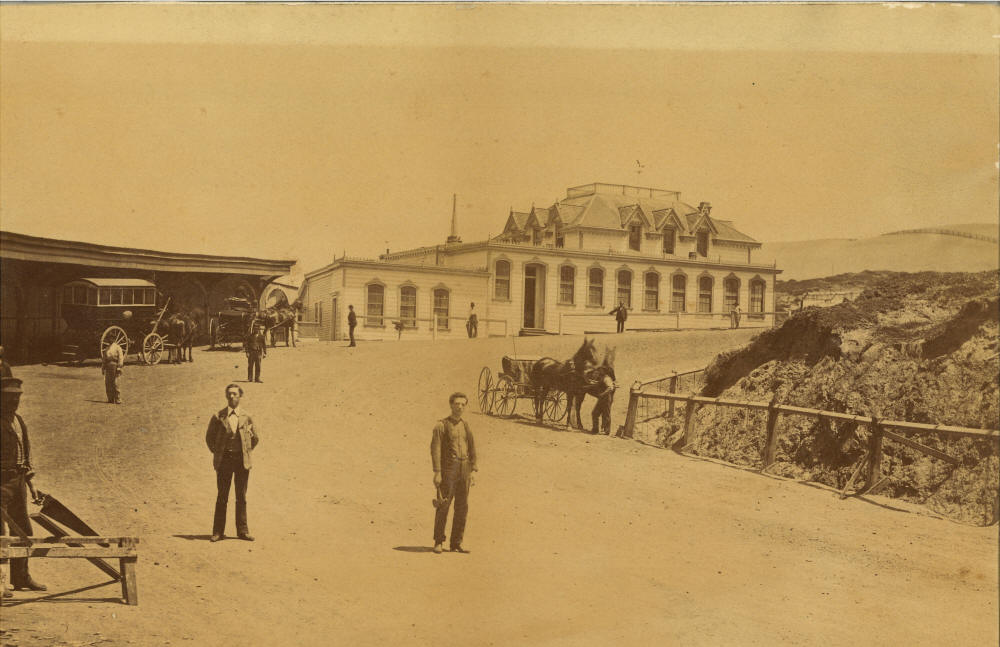 View looking up Cliff Avenue towards "Cliff House Cottage." Carriage sheds for the Cliff House are at left.
Image courtesy of Grace Winterton, click here for additional photos.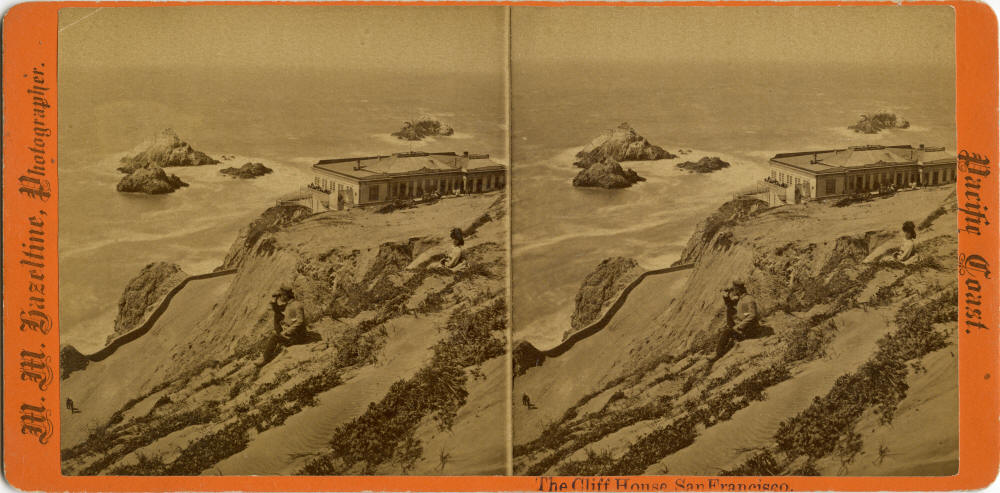 A unique camera angle, as viewed from Flag Rock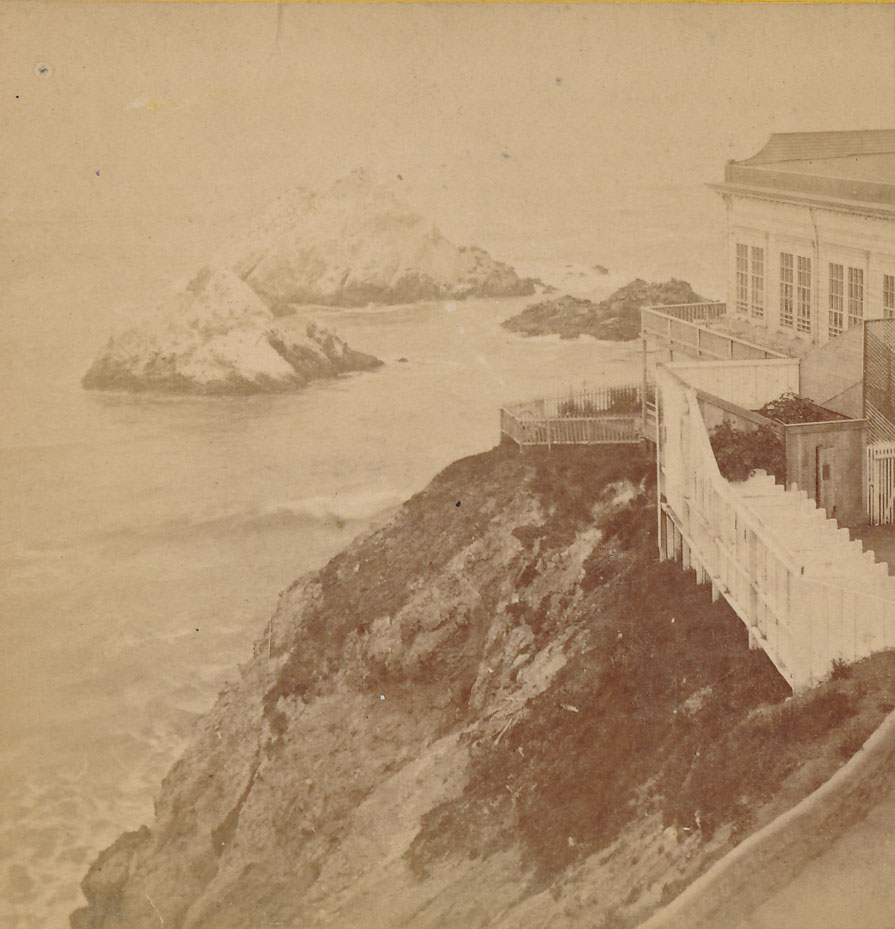 Note the small structure where the road leaves the beach. This is the only photo I've seen that shows it. Possibly a toll booth? See: link link2
Image courtesy of Dennis O'Rorke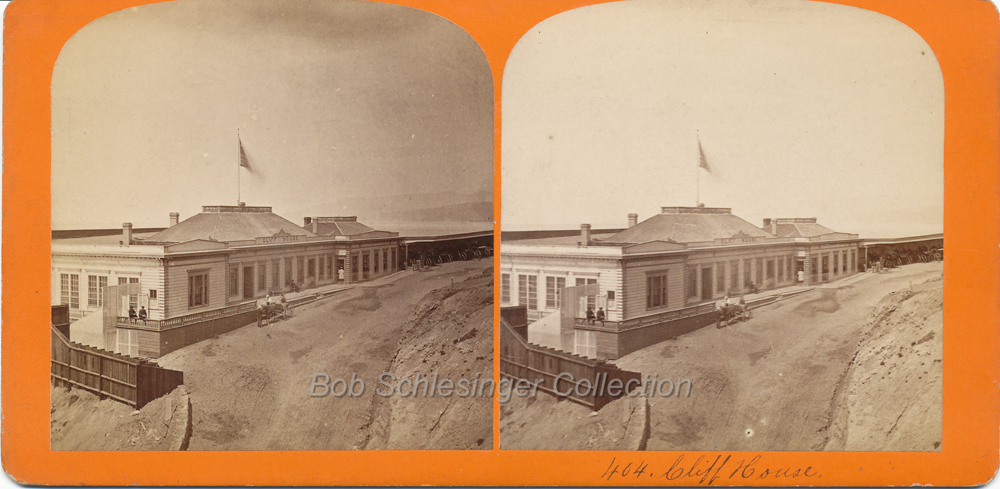 Courtesy of Bob Schlesinger

Photo by Carleton E. Watkins
Courtesy of Bob Schlesinger

"The Merry Little Maiden playing in the Surf, San Francisco, Cal."
Copyright 1895 by B.W. Kilburn

Continent Stereoscopic Company

to anyone who can identify the structure on the beach, foreground left side.

Courtesy of Frank Mitchell

Courtesy of Frank Mitchell

"B 1295 View of Cliff House from the Ocean. Taber, Photo, San Francisco."


Structures identified from above photograph, courtesy of John Martini 10/30/2014
Lower Gate, Stables & Shops, Cliff House Cottage

Harper's New Monthly Magazine, 1872
"CALIFORNIA - How to go There and What to See By The Way, by Charles Nordhoff"