Photo by Carleton E. Watkins
Courtesy of Bob Schlesinger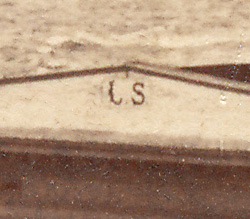 If you zoom in on the left structure, you will see what looks like the letters "LS". John Martini contributes the following... (11/12/2010)
"I came across an 1870s SF newspaper article that explained that "LS" on the front of the Cliff House was a sort of pun. The letters stood for two Latin words (that I now can't remember) that also appeared on the corner of legal documents of the era that translated to "place for the seal" -- referring to the embossed legal seal. The pun, of course, was that the Cliff House was also the 'place for the seal.'"

"New Railroad to the Cliff" - Daily Alta California - July 2, 1888
Zoe Heimdal: "LS" actually stands for "locus sigilli", Latin words meaning. "the place for the seal".
A google search uncovers the following passage from Bret Harte's book "Under the Redwoods" (published 1901), in a story titled "Bohemian Days in San Francisco" (pg 153)...
My Bohemian wanderings were confined to the limits of the city, for the very good reason that there was little elsewhere to go. San Francisco was then bounded on one side by the monotonously restless waters of the bay, and on the other by a stretch of equally restless and monotonously shifting sand dunes as far as the Pacific shore. Two roads penetrated this waste: one to Lone Mountain--the cemetery; the other to the Cliff House--happily described as "an eight-mile drive with a cocktail at the end of it." Nor was the humor entirely confined to this felicitous description. The Cliff House itself, half restaurant, half drinking saloon, fronting the ocean and the Seal Rock, where disporting seals were the chief object of interest, had its own peculiar symbol. The decanters, wine-glasses, and tumblers at the bar were all engraved in old English script with the legal initials "L. S." (Locus Sigilli),-- "the place of the seal."


Daily Alta California - 10 January 1875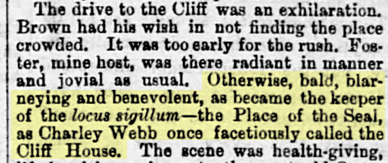 The Record Union - May 19 1882
"locus sigillum - the Place of the Seal, as Charley Webb once facetiously called the Cliff House"
(full article) (page pdf)