"Alarm is also felt for the safety of Mrs. Joseph Schwab, sister-in-law of C. M. Schwab. Mrs. Schwab has been in San Francisco for several weeks. She was staying at the Cliff House, which is said to have slid into the sea."
This is a very curious article as the Cliff House was NOT a hotel according to all other information. So how was she staying there? As a private guest? Unknown at this time.


SF Chronicle - 24 Jun 1906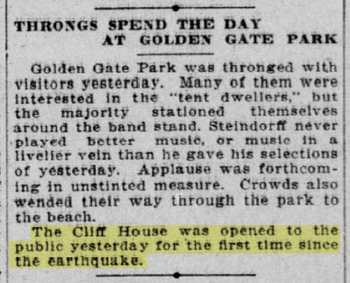 San Francisco Call - 25 June 1906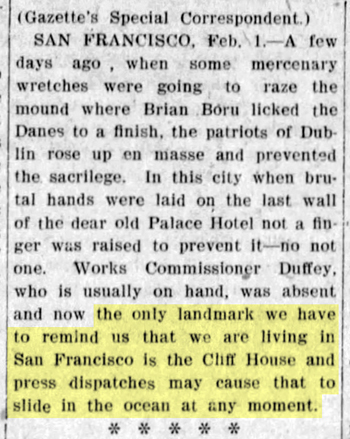 Berkeley Daily Gazette - Feb 2 1907

When the Cliff House burned down a year later, postcards sent to family and friends show very clearly the impact the earthquake had on the people of San Francisco...


Gone but not forgotten. Did not go out to see the ruins as see plenty of that in the city here... - S.S.L. Sept 24, 07

Dear Eddie, The powers that be seem determined to clean out the old town and give us a better and greater one.

- W.H. Ford Oct 2, 07
One of the Cliff House stereoviews has an advertisement "Old Kirk Whisky" in the background.
Click here for an interesting earthquake related story.
---
To firmly understand what San Francisco looked like just days before the earthquake, be sure to watch this...
---
For a great visual reference on the SF Earthquake, I highly recommend David Burkhart's recently published book...
EARTHQUAKE DAYS
The 1906 San Francisco Earthquake & Fire