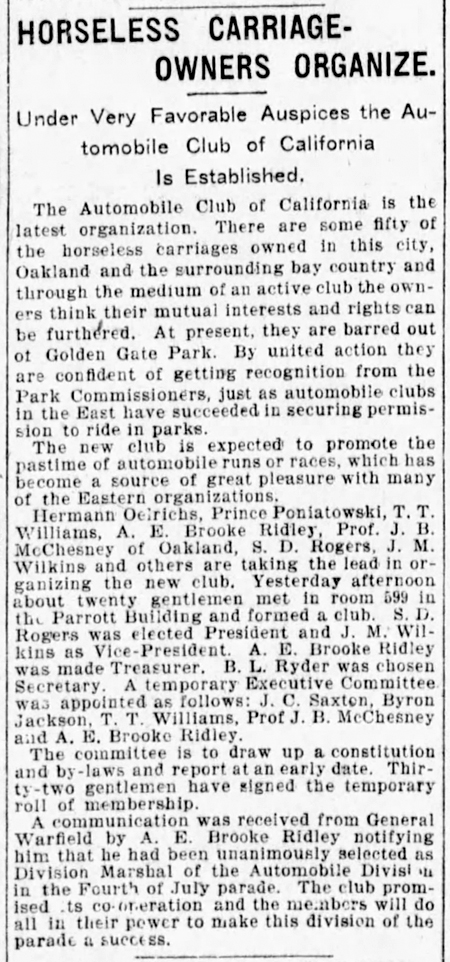 The San Francisco Examiner - Jun 26 1900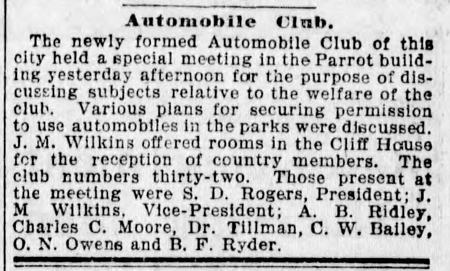 The San Francisco Examiner - Sep 27 1900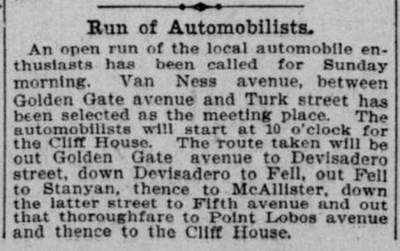 San Francisco Call - 21 February 1901


San Francisco Call - 4 March 1901.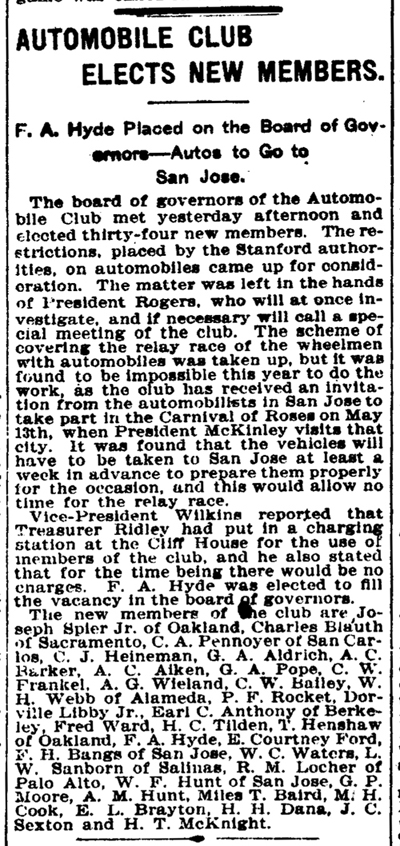 San Francisco Chronicle - 30 Mar 1901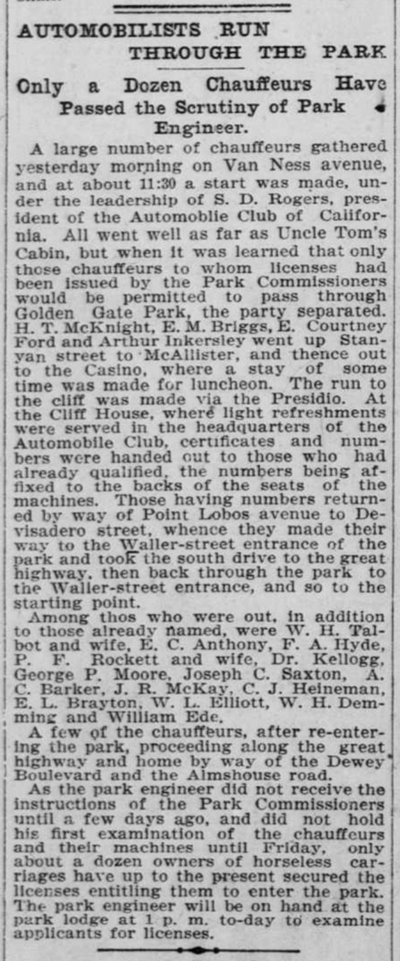 San Francisco Call - 8 April 1901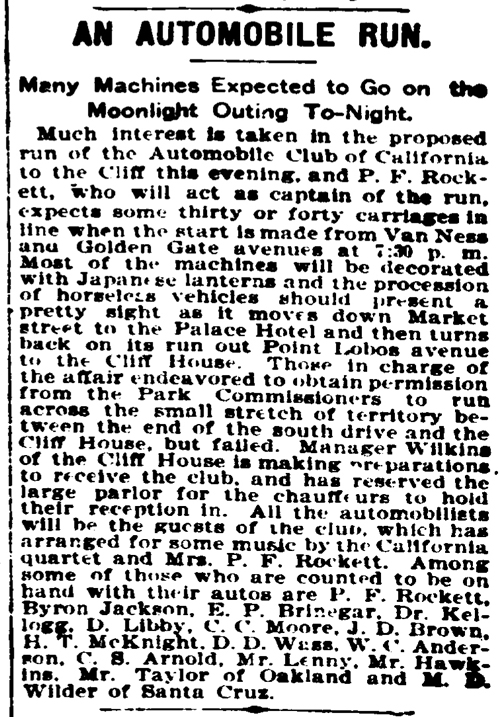 San Francisco Chronicle - 26 Oct 1901


San Francisco Chronicle - 31 Oct 1901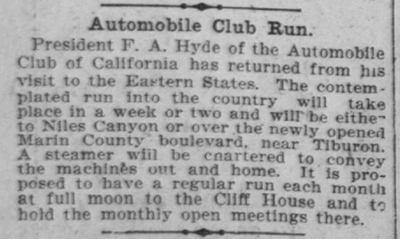 San Francisco Call - 16 Nov 1901


Automobile Club of California
The SF Call, Saturday, November 30, 1901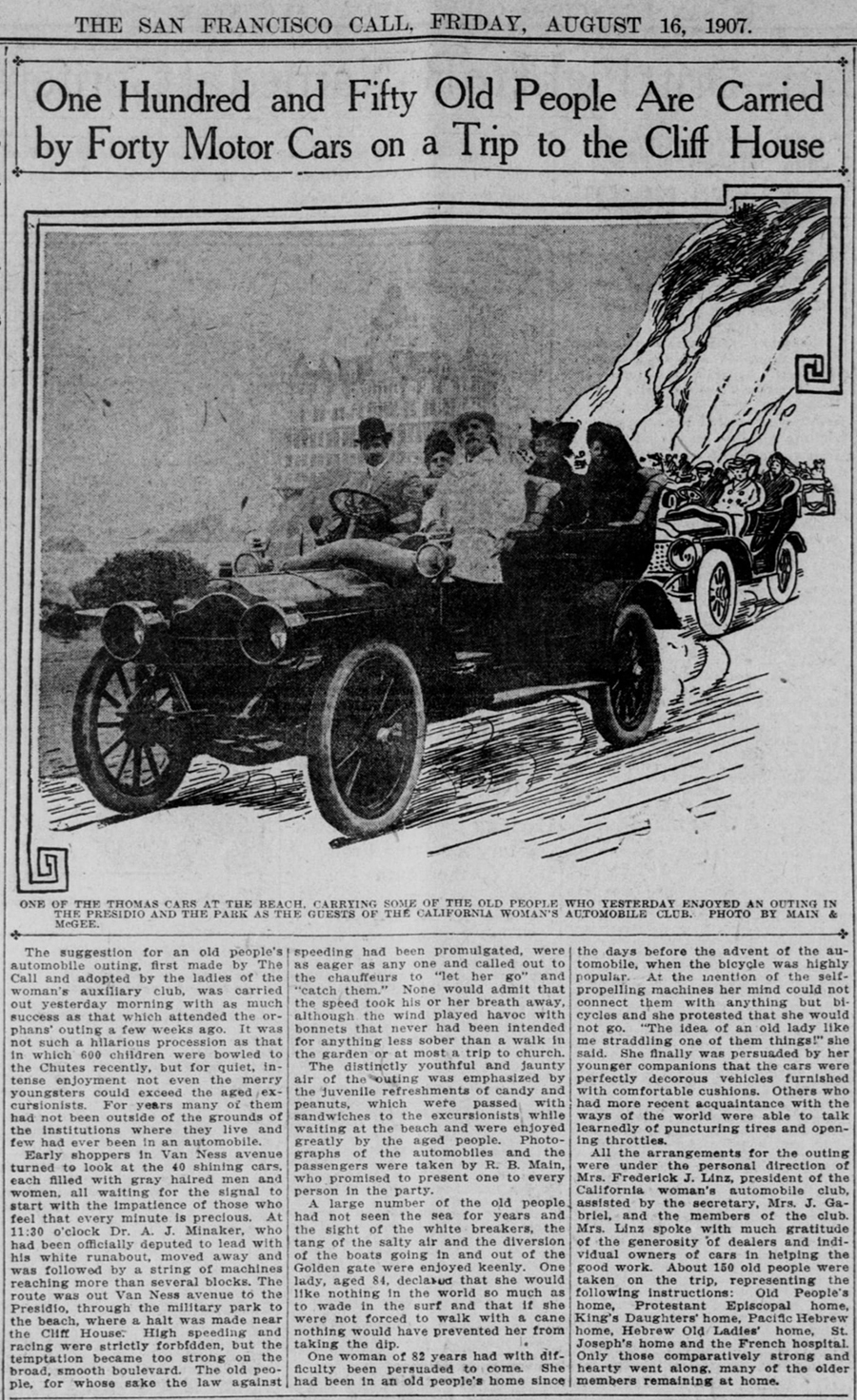 SF Call - 16 August 1907
An interesting footnote to the Cliff House's history is that the CSAA was founded at a meeting held at the Cliff House. Here's a link to the CSAA website that briefly describes the event:
http://www.csaa.com/about-aaa/history/aaa-ncnu-timeline
Additional information was provided by CSAA's archivist Alison Moore:
Mr. Stark,

As far as we know, no photographs exist of the founding of San Francisco's first auto club. We know that the original members of the club met at the Cliff House from an article which appeared in the San Francisco Examiner on March 3, 1900. J.M. Wilkins, the proprietor of the Cliff House, was one of the founding members and offered his facility as a first meeting place. I note the picture of Mr. Wilkins on your website - a similar picture can also be found in the lovely book, "A Day at the Seaside: San Francisco's Sutro Heights, Cliff House and Sutro Baths," (p.44) You're probably already aware of this book - if not, the author is Ariel R. Okamoto and it's published by the Golden Gate Parks Association. Until your website, this was the only picture I'd seen of Mr. Wilkins.

The article in the Examiner is entitled, "Will Introduce the Automobile,"
and appears to be on the front page. The copy that we have is pretty poor
and only shows part of the page. It would not be suitable for reproduction.
The Cliff House is included in the body of the story, but not in the
headline.

I enjoyed your website very much, and thanks for inquiring. I wish I had
more to offer!

Sincerely,

Alison Moore
CSAA Archives & Historical Services
150 Van Ness Ave.
San Francisco, CA. 94102
So to my knowledge no photographs exist of this event. If anyone knows otherwise, I would very
much like to hear from you.
Additional automobile related stories...