July 1, 1909
Adolph Sutro's daughter, Dr. Emma Merritt, rebuilt the Cliff House to a more modest scale, a neo-classical design by the Reid Brothers, architects of the Fairmont Hotel.

July 2 1909



Analysis by John Martini, 8/6/2013

"The above photo was taken shortly after the building was completed -- definitely before the end of 1912. When the third Cliff House opened in 1909 it didn't have any of the exterior light fixtures shown in this photo. Here's a similar view (right) from the April 1910 "Estate of Adolph Sutro" showing the light-less building. Another clue can be seen below in a photo collection titled "Album from 1912-1913," which has dated snapshots of the Cliff House showing the lights in place in November 1912."


Photo: Sutro Estate 1910, Cliff House (GOGA 18443)

Album 1910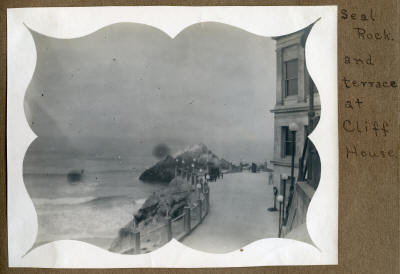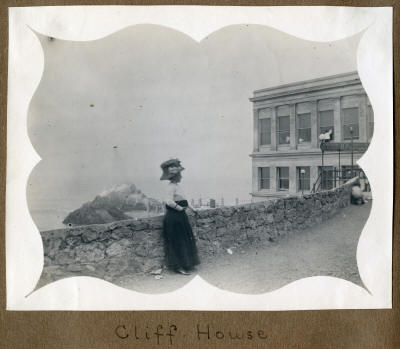 Click here for full album


From ebay seller: "The only info I have in the entire book was one postcard addressed to a man named Junk in Salem Oregon. Also at bottom of one of the photos of the engineer was the name Junk and the dates of album were 1899-1909. The man attended Stanford and Berkeley and went to work as an engineer at the Standard Mine in Quartzburg where he was the main engineer and did the drawings for all the buildings made on the site. It was a cobalt mine in Clark County."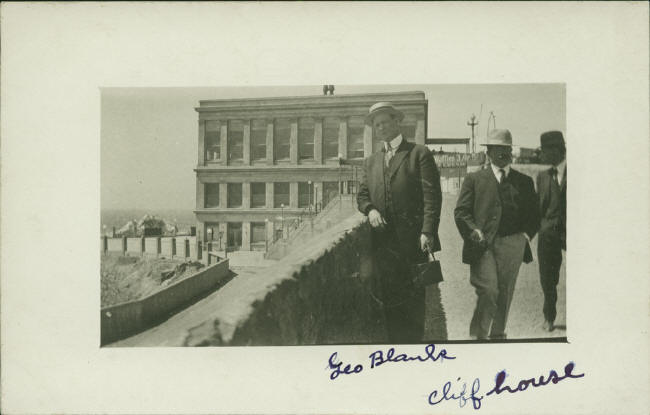 c. 1920

Sand Sculptures, 1911
(glass slide)
click here for more information

Sculptor on the Ocean Beach Makes Artistic Images Out of Wet Sand

A sculptor with an artistic soul and a facile hand astonished visitors to the beach yesterday afternoon by modeling various figures and portraits in the wet sand on the beach just south of the Cliff House. The largest and most remarkable was a heroic sized figure of a woman lying on her back and clasping a chubby infant to her breast. It was labeled "Cast Up By the Waves." The portraits were those of Longfellow, General Grant, President Taft and other notable men.
The boys and girls who delight in making mud pies or sand pies on the beach were speechless with astonishment and asked the man to show them how to make such nice things.
-- SF Chronicle, December 6, 1909, pg 14
Special thanks to Woody LaBounty of outsidelands.org for the above research

Mystery Structure

glass slide
If you zoom in on the above image a "ramp" structure is visible. See below...

close-up

This same structure can also be seen in this photograph...



Courtesy of Frank Mitchell


close-up


What is the structure? It could be a ramp for dumping construction debris, or a ramp for some sort of acrobatic high-wire act to
Seal Rocks, but it could also be a drainage pipe extending over the bluff. Unless we can see it from another vantage point it's hard to
say definitively. It appears to have only existed for a short time as it has only been observed in these two photographs so far.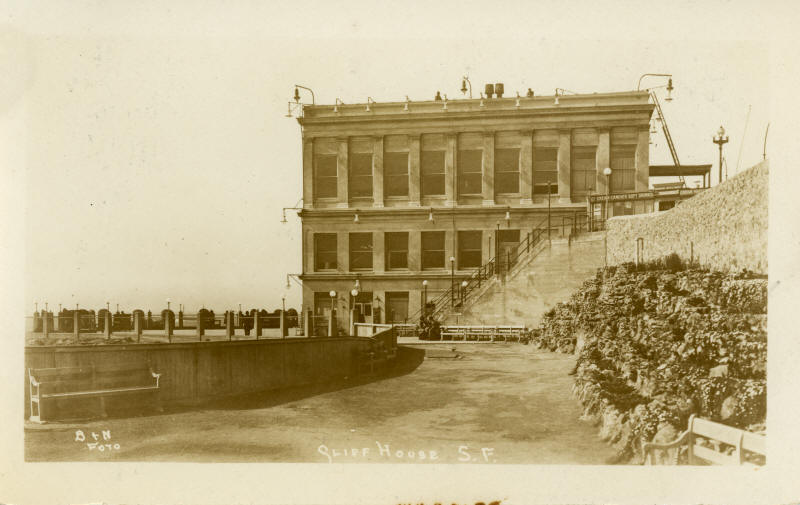 Courtesy of Frank Mitchell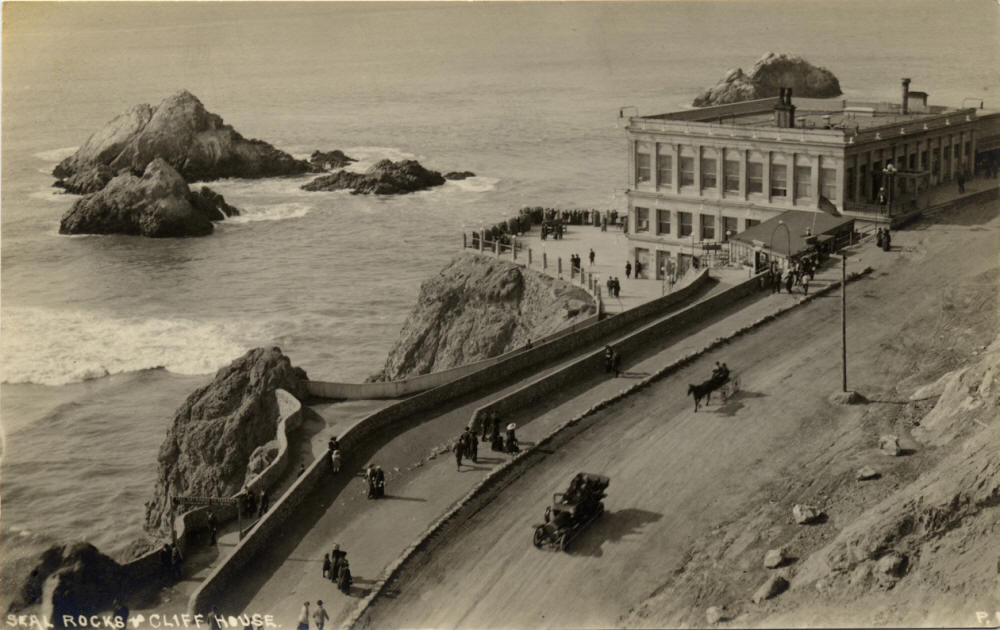 Courtesy of Dennis O'Rorke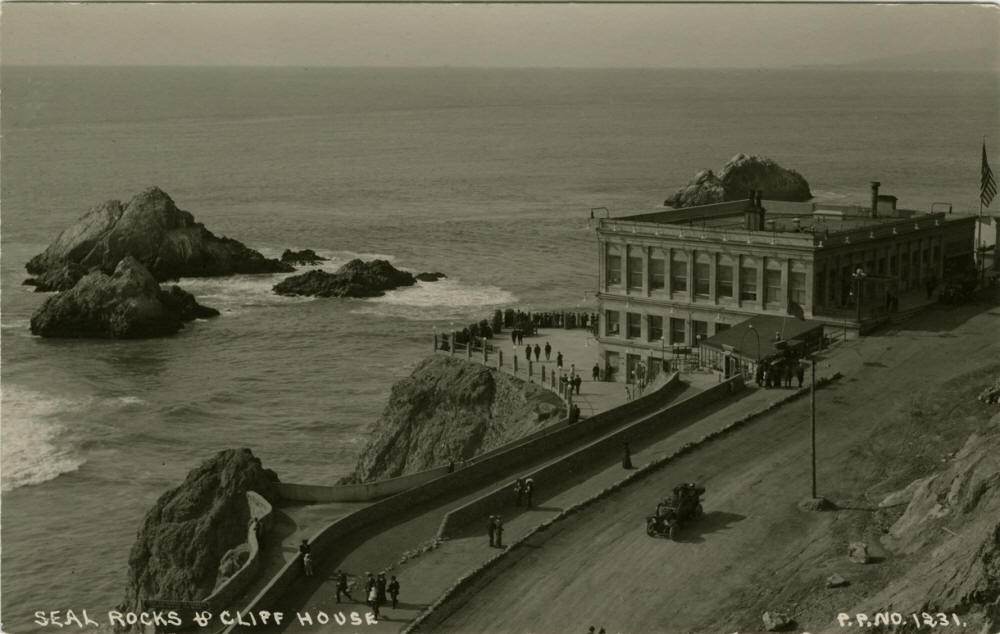 Courtesy of Dennis O'Rorke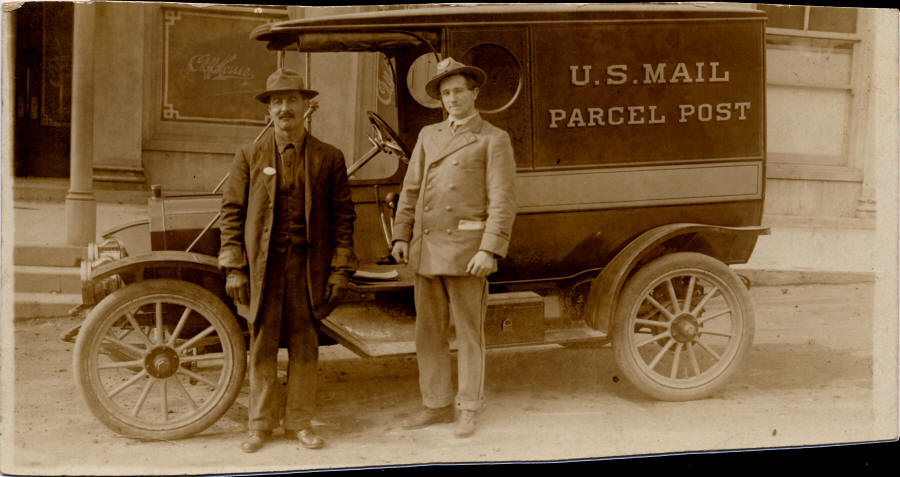 "U.S. MAIL, PARCEL POST"
Taken in front of the Cliff House, Feb 11 1913
(click above image for reverse)
(WNPCHP WNP136.27)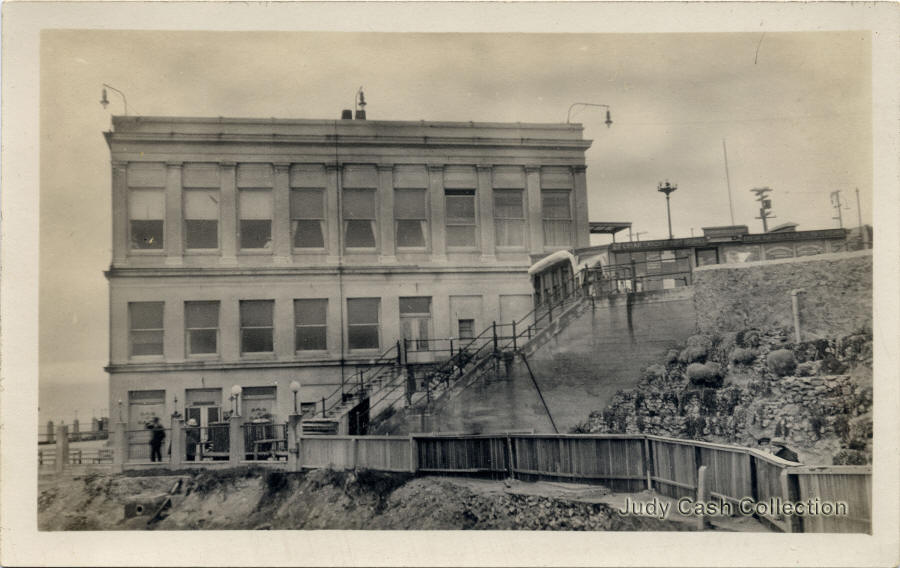 Image courtesy of Judy Cash Collection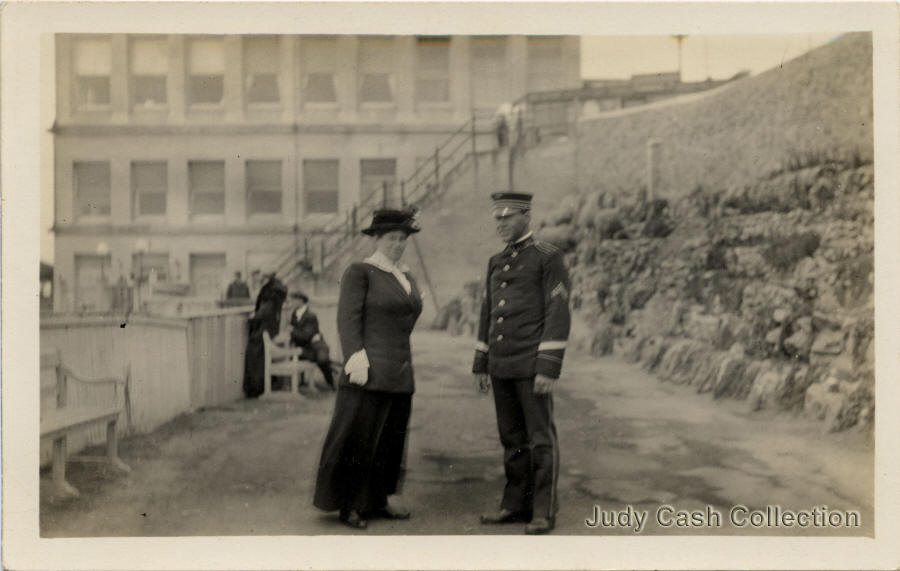 Image courtesy of Judy Cash Collection
"The soldier in the picture does appear to be black. The uniform that he is wearing is a Cavalry Mounted Dress Uniform prescribed for an enlisted man from the period 1913. It is a dress uniform. His rank is that of a SGT. The service stripes are the new 3/8 inch wide type. This is the dress uniform that would have been worn by American Cavalry just prior to WW1. Example can be found in the Horse Soldier Vol. 3, 1776-1943 page 154. As far as him being a Buffalo Soldier, all African-American soldiers who served in segregated units with white officers were considered Buffalo Soldiers."
Wallace Moore Historian, Cowboy poet, Living History Interrupter
www.barkingwaterproductions.com


TEA HOUSE

John Martini analysis (4/14/09): "A U.S. Army soldier in full dress uniform. Probably from the Presidio. It's hard to read the insignia but he appears to be wearing corporal's stripes. Also, the light colored bands on his hat and sleeves might have been yellow, which is the color associated with Cavalry troops. (Artillerymen wore red trim and Infantry soldiers wore blue, both of which would have photographed darker.)"

Judy Cash analysis: There seems to be a special occasion about to start there, as they are decorating the teahouse with American flags. My estimation of date for this photo is February or March 1915 - possibly opening day of ppie?

Image courtesy of Judy Cash Collection

For more on the Tea House click here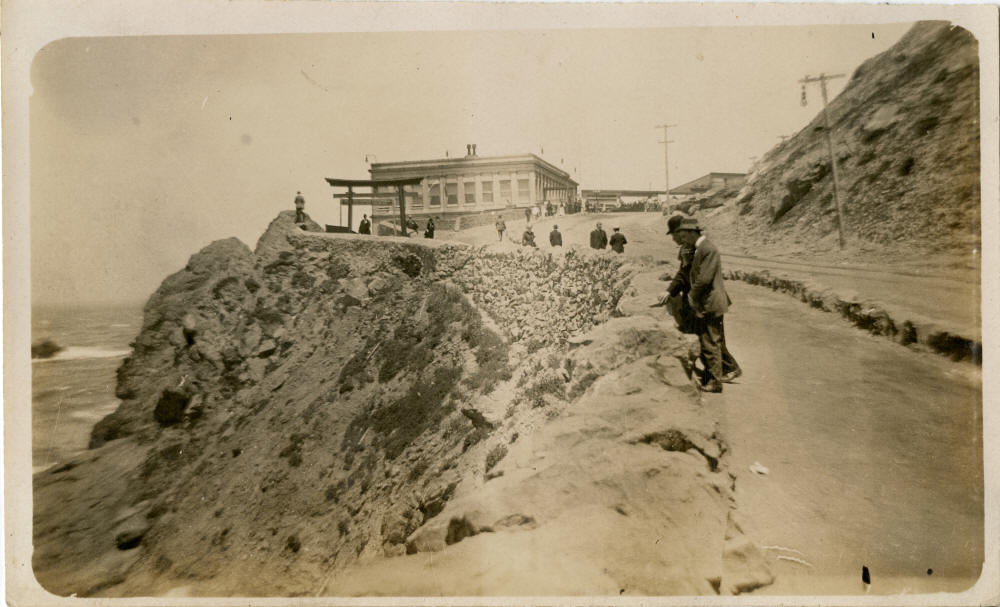 Dated by the seller as "1915"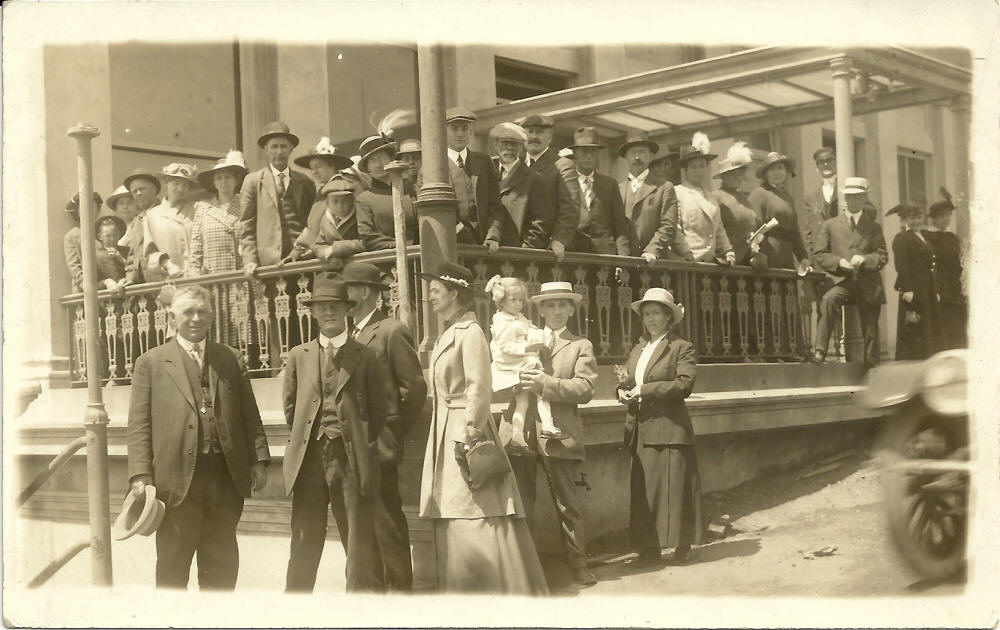 This photo shows a unique view of the Cliff House porch. The reverse contains not just the exact date, but also time of day.
Reverse: "Cliff House San Francisco, 12 oclock noon, Wednesday August 11th 1915" (scan of reverse)
Courtesy of Frank Mitchell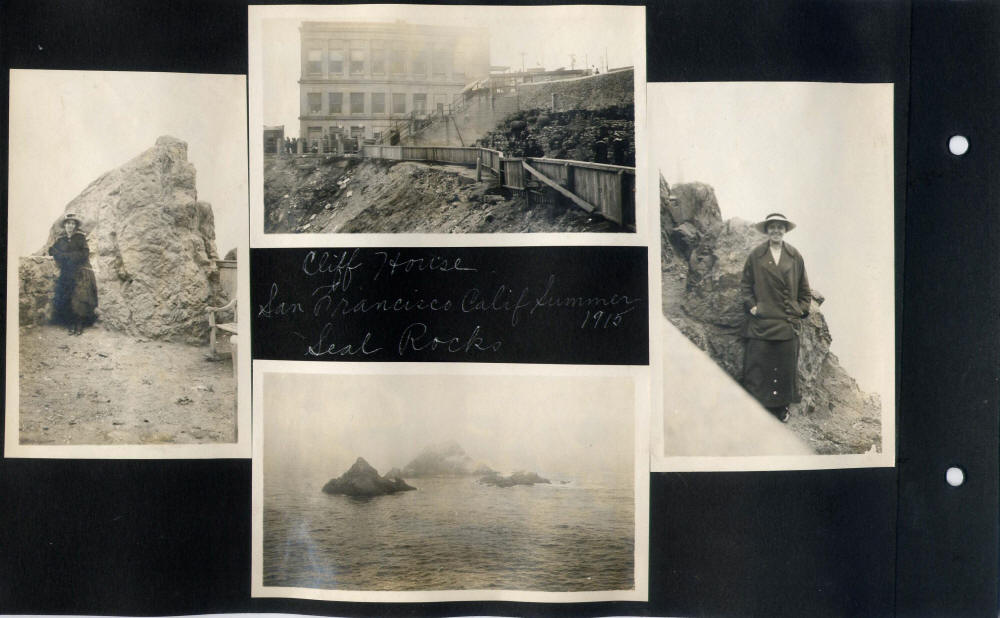 "Cliff House, Seal Rocks, San Francisco Calif, Summer 1915

Postmarked Feb 23 1917
(reverse)

Image courtesy of Dennis O'Rorke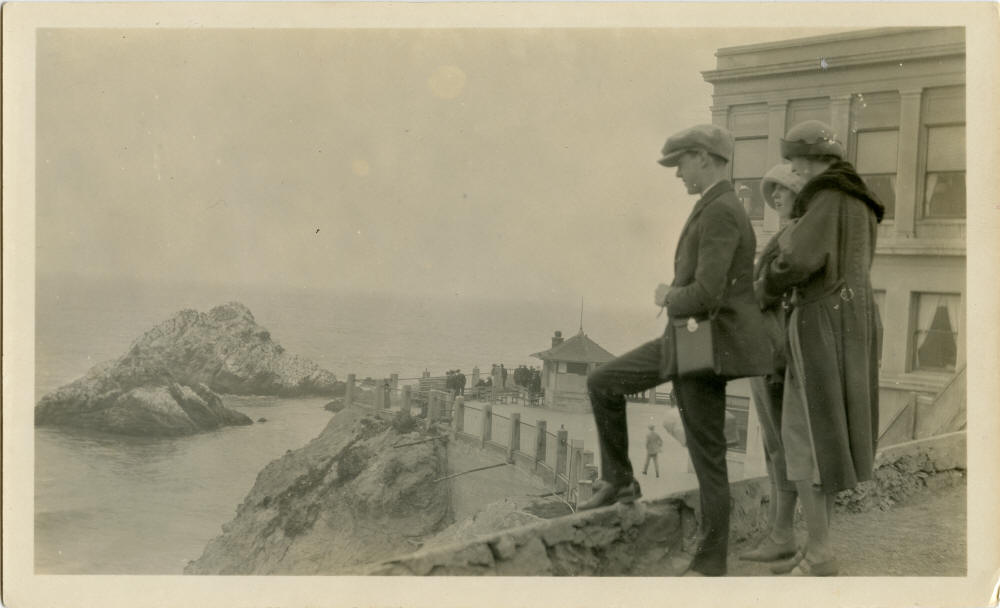 Postmarked April 10, 1927
(reverse)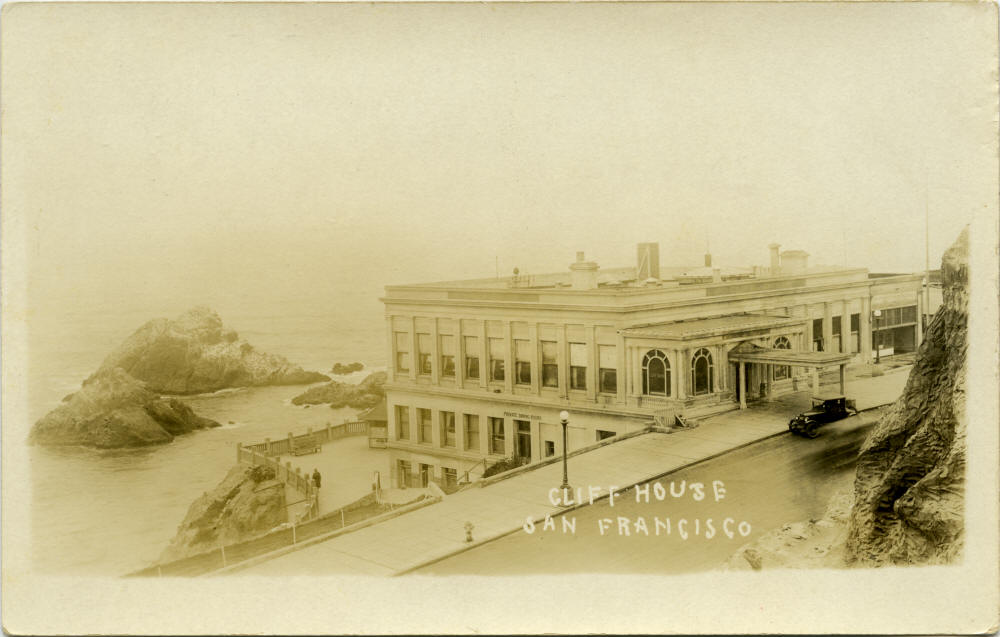 Image courtesy of Dennis O'Rorke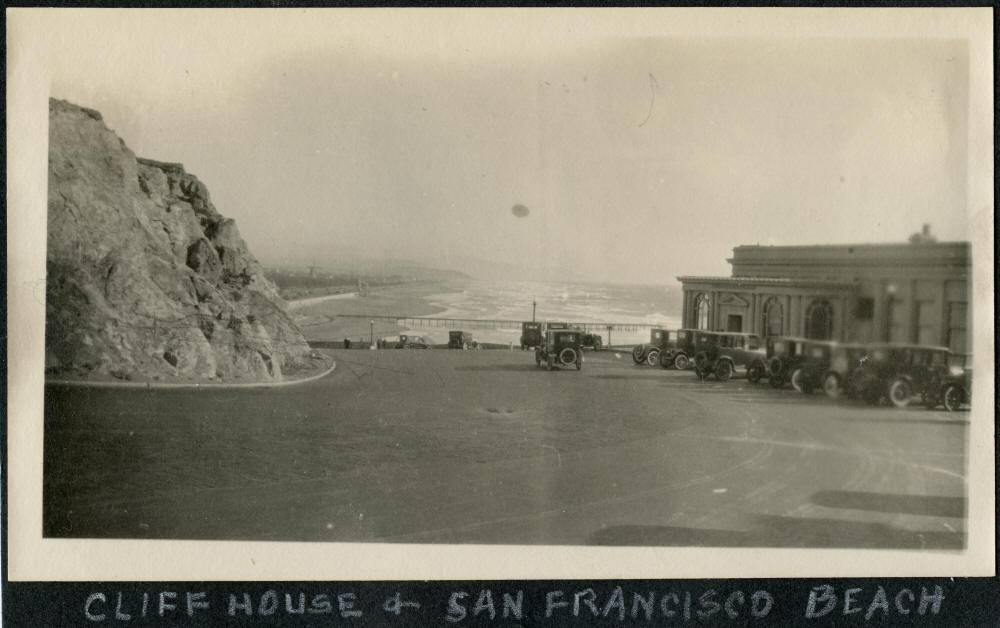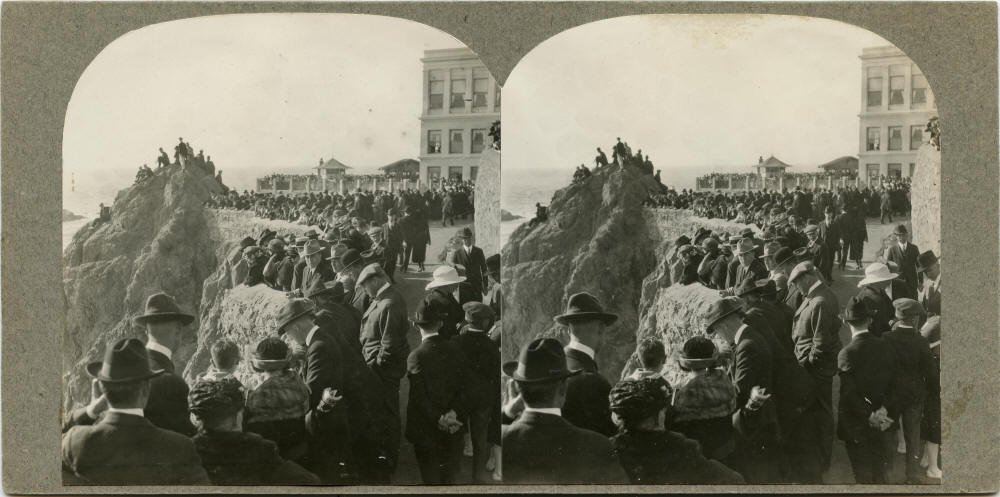 Photogravure from book "San Francisco"
Published and copyright by Cardinell-Vincent Co, 579 Market Street, San Francisco. The Albertype Co, Brooklyn, N.Y.
Courtesy photo collection of Jan Weijers, Holland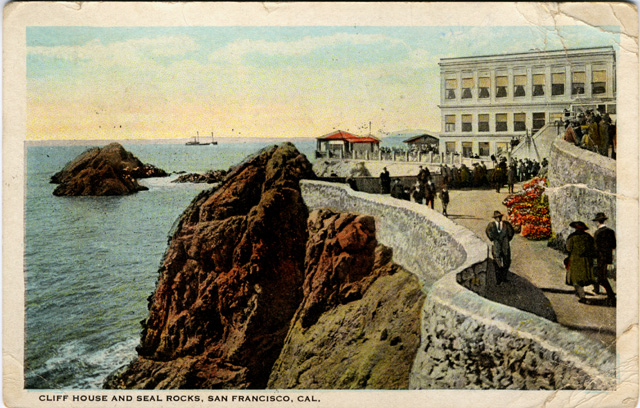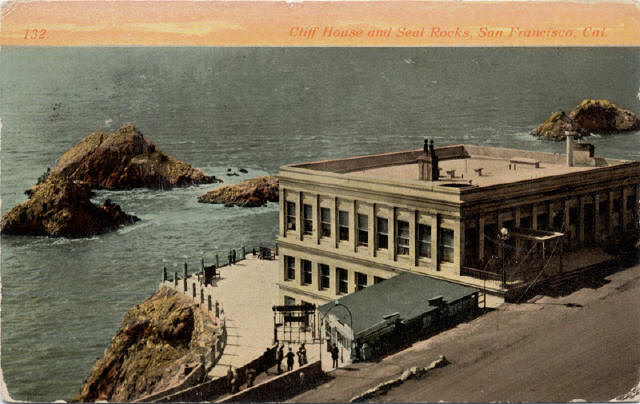 "Artopho Co, 97"
A Day at the Beach, October 1911
Story by Diana (Kirchen) Kelly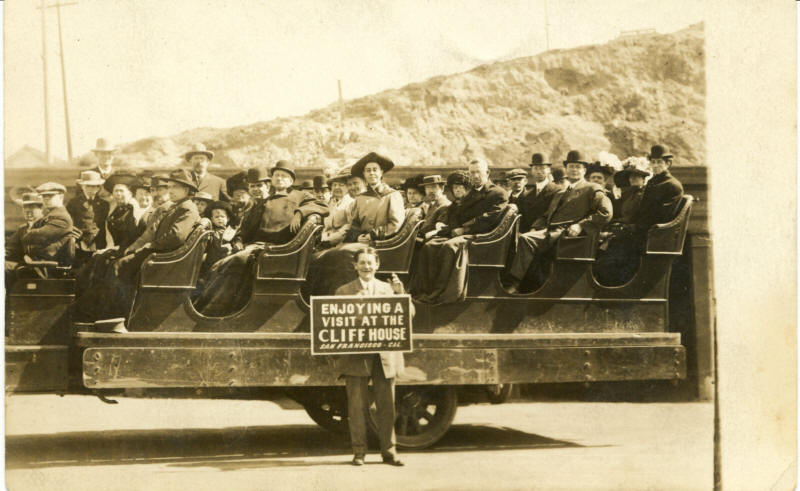 "Everyone is in the third row -- standing are Jim Kirchen and his son Ben wearing a light colored hat, and John Francis Kirchen next to Ben wearing a dark hat. Seated are Susan Kirchen (wife of Jim - wearing dark hat and glasses) and next to Susan is Uncle John Kirchen, wearing a stiff hat (not sure who the man is on the end of the 3rd row, closest to the camera -- not part of the Kirchen family as far as I know.)"
(click here for reverse)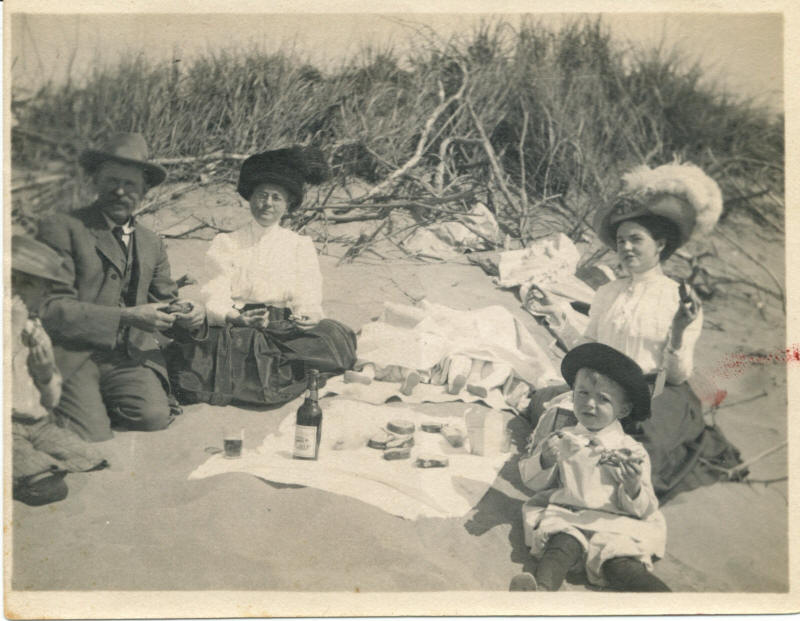 "In the photo of the picnic, John Francis Kirchen is in front on the right, next to his mother, Kate Kirchen (Kate wearing a big white hat). The twins are on a blanket in the middle. My granddad, young Ben Kirchen is on the far left, partially cut off - sitting next to his parents Jim and Susan Kirchen." - Diana Kelly (click here for reverse)
"We also went to the ocean and walked in the sand, took our lunch along and sat on the beach to eat. We went to the Golden Gate Park on another occasion. I remember taking the twins along when we went to the beach. I have a picture taken at the beach, the twins are on a blanket enjoying themselves while the rest of us are enjoying a good lunch. We also went on a sightseeing tour in a big open air bus, and I have a picture of it." -- Ben Kirchen Autobiography, 1995

These were taken in October 1911, but I don't have the exact date.
My great-grandfather, John Peter "Jim" Kirchen was a farmer in Juniata, Adams County, Nebraska. He had a younger half-brother living in San Francisco, John Joseph Kirchen. I'll refer to him as "Uncle John" -- he was my granddad's uncle. Uncle John had moved to San Francisco as a young single man around 1904. He worked as a mechanic and engineer on cars and other machines. He was living in San Francisco at the time of the 1906 earthquake, and ended up in a tent city. This is where he met his future wife - Catherine "Kate" Lyng. They married in San Francisco on July 11, 1906, just a few months after the earthquake in April. They had four children, three of whom are in the photo of the picnic (the youngest wasn't born yet).
Jim Kirchen was close to his younger half-brother, John, and after the harvest in October 1911 he decided to take his wife and young son, Ben Kirchen, on a trip to San Francisco to visit John and his family. My granddad Ben Kirchen was born in 1904, so he was seven years old in 1911. He skipped a few weeks of school to make this trip. When Ben wrote his autobiography at age 90, he remembered everything about his trip to California. He passed away in 2005 at the age of 101.
Diana Kelly, Nov 13 2016

This view was likely taken within a few years of the 'new' Cliff House opening. The clues are the absence of buildings on the Terrace, the "Admission to Terrace 10 cents" sign, the light globes, and the rustic wood benches. All these features changed in the late 1910's when buildings began to appear on the terrace. BTW, 10 cents for the pleasure of visiting the Terrace was a lot of money for the time. In today's dollars it translates to about $2.00. -- J Martini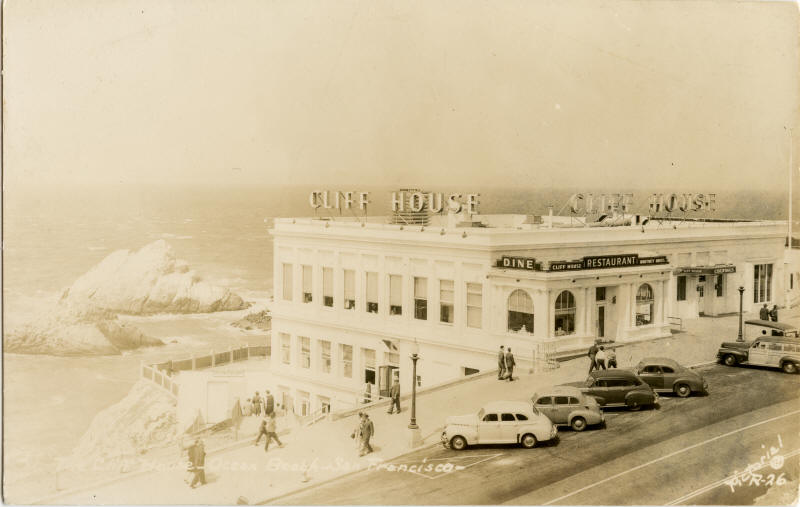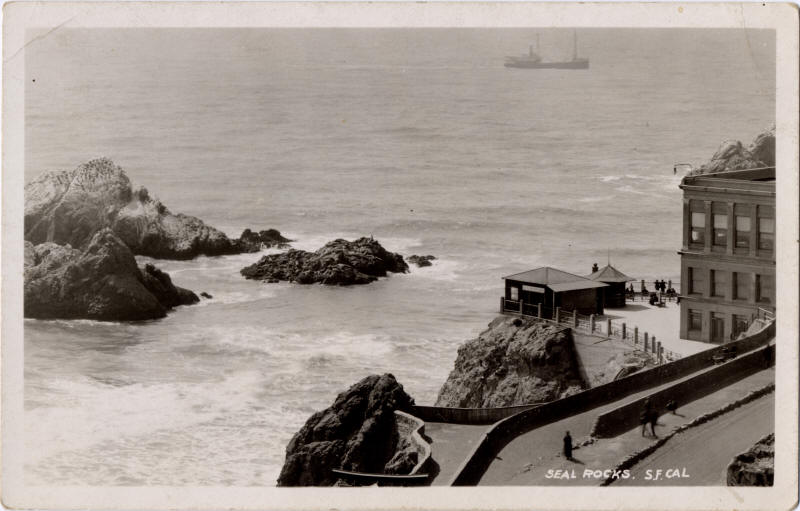 1915 (dated by previous owner)

Image courtesy of Dennis O'Rorke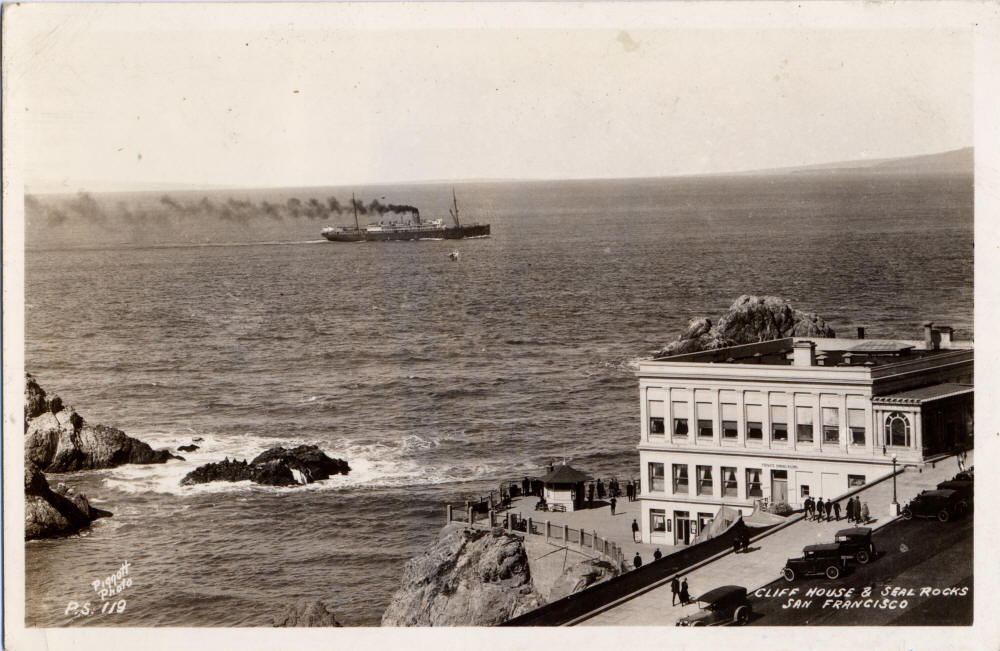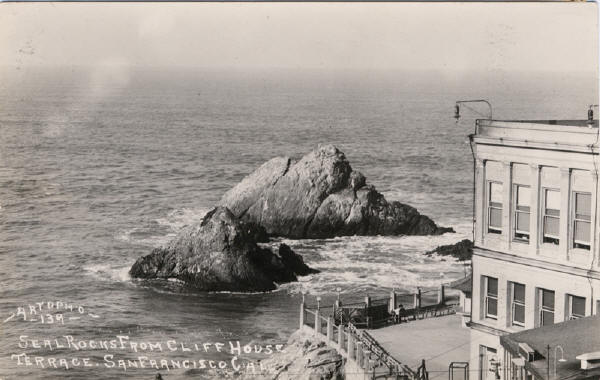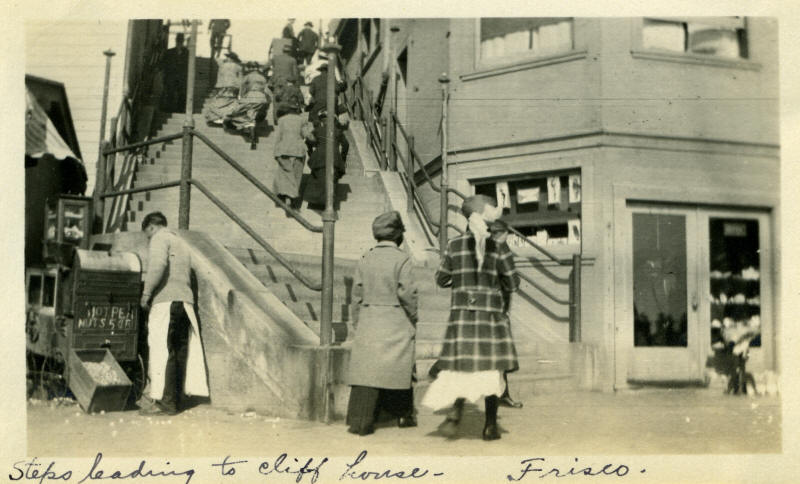 "Steps leading to Cliff House, Frisco"
Courtesy of the John Martini Collection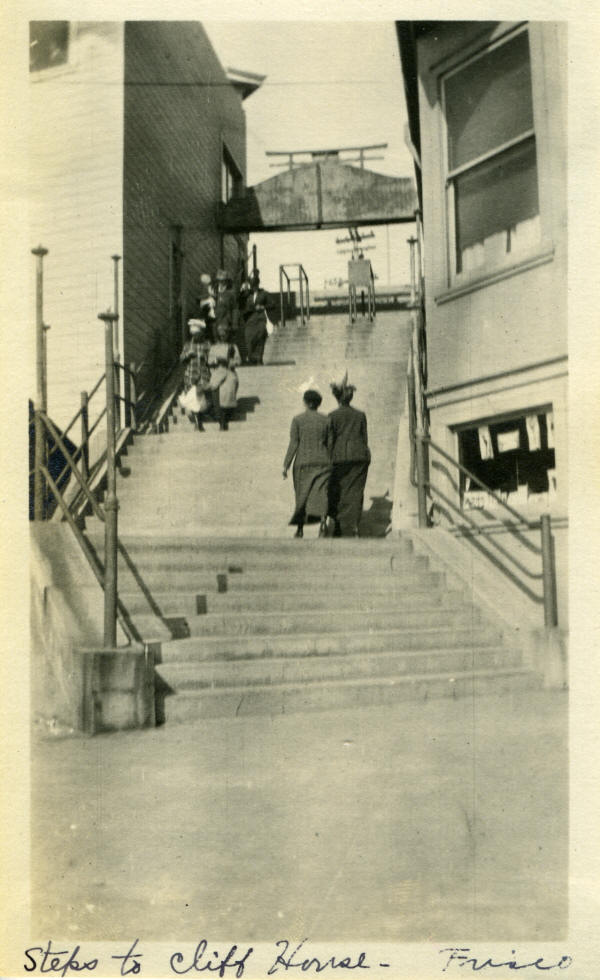 "Steps to Cliff House, Frisco"
Courtesy of the John Martini Collection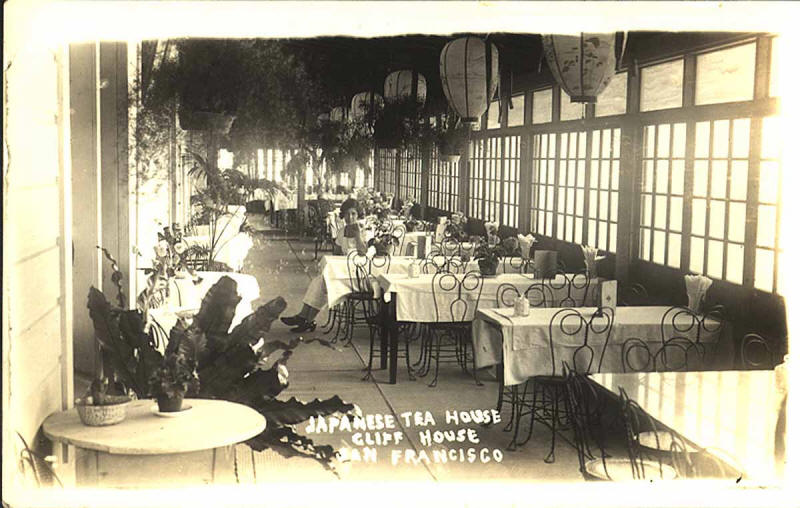 Japanese Tea House
(click here for more)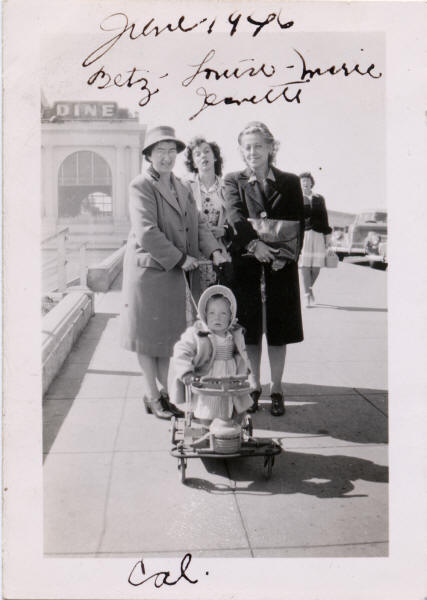 Cliff House, July 1946 (reverse corrects the month to July)
Betz - Louise - Marie
Jeanette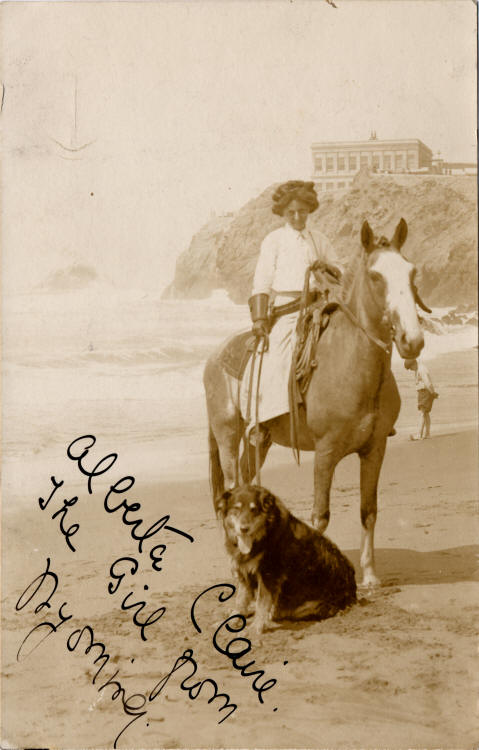 "Alberta Claire, the girl from Wyoming"
WNPCHP WNP136.30
For more information on Alberta, visit The Long Riders' Guild

Click here for a 2/12/1911 SF Call article.
Click here for a 3/29/1911 SF Chronicle article.
Click here for a 6/29/1912 NYT article.




The Long Riders' Guild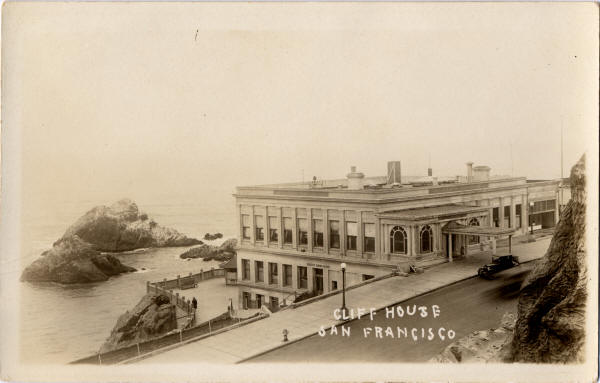 click image for full resolution

Busy day at the beach
"MAC'S", "THIS IS WHITNEY BROS"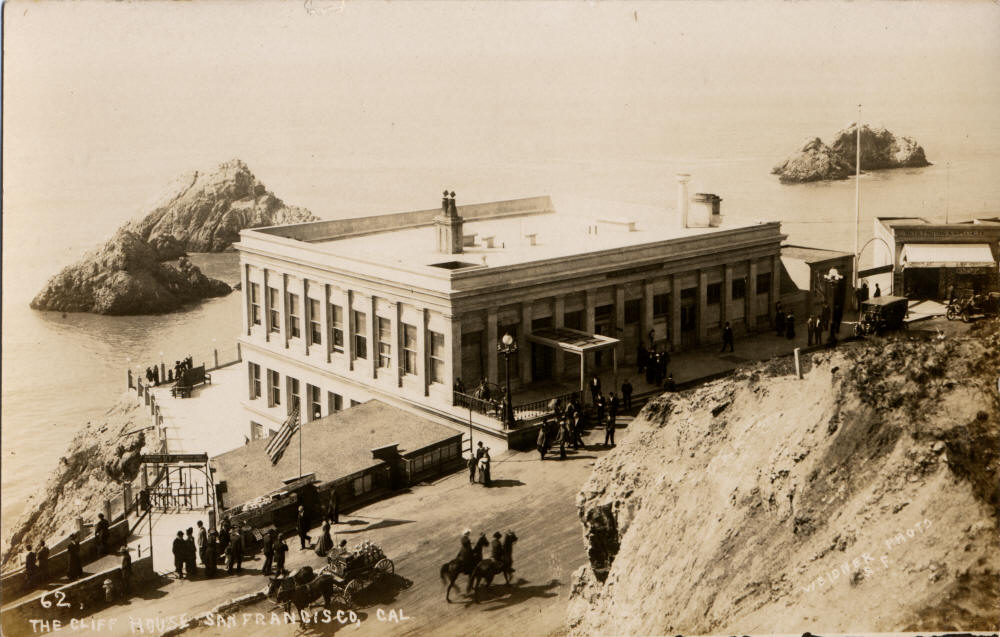 "9/16/22" on reverse
WNPCHP

"This is Joe Housel, who married my mother's cousin, Margaret. Joe managed the Cliff House and the
St. Francis Hotel in San Francisco and later managed a hotel in Hawaii. He was a very nice person."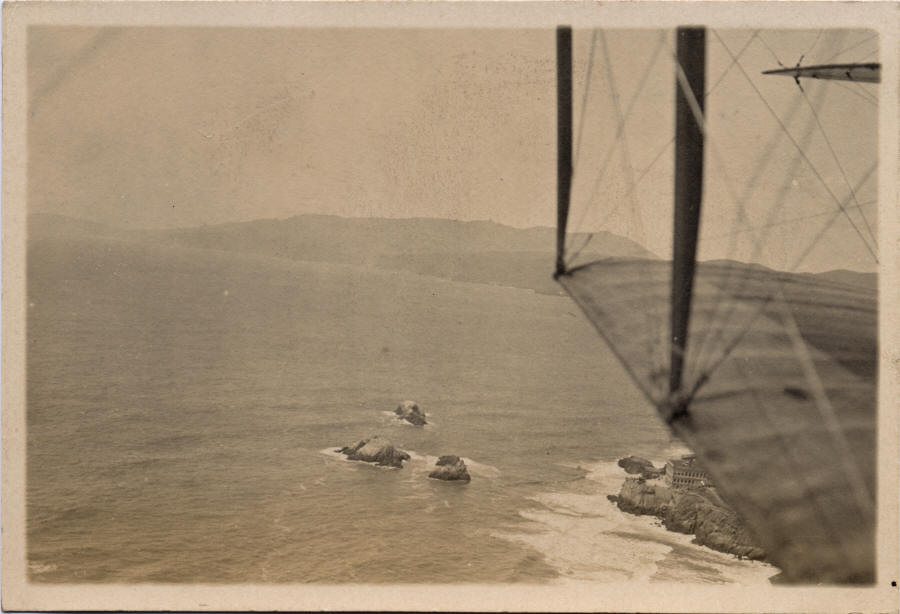 Possibly the earliest aerial photo of the Cliff House in existence!
WNPCHP WNP136.29

(reverse)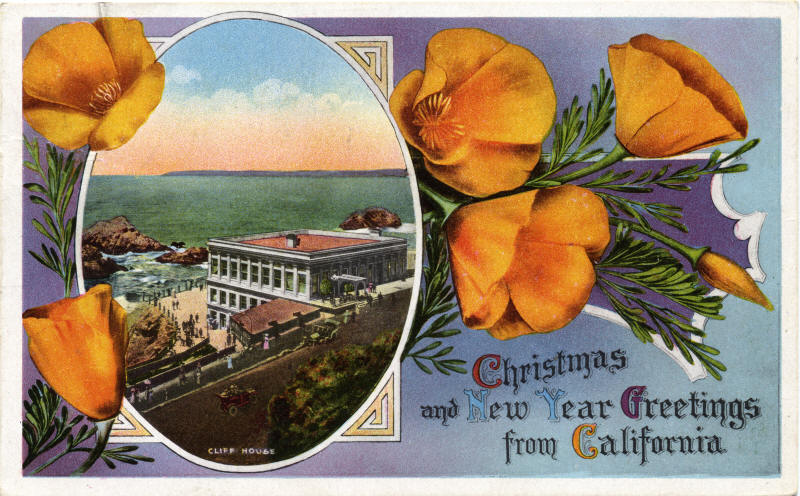 Image courtesy of Dennis O'Rorke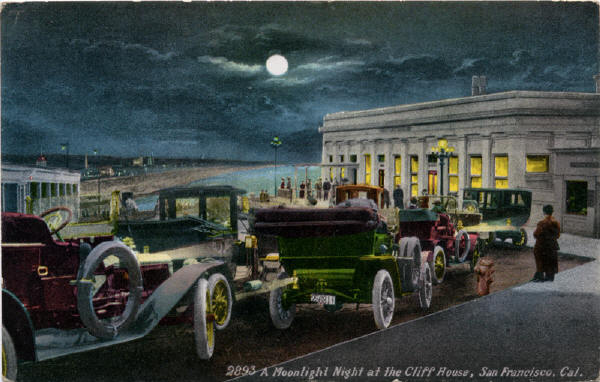 "A Moonlight Night at the Cliff House, San Francisco, Cal."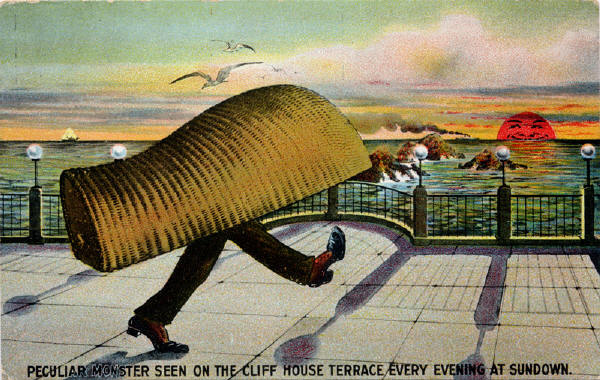 "PECULIAR MONSTER SEEN ON THE CLIFF HOUSE TERRACE EVERY EVENING AT SUNDOWN"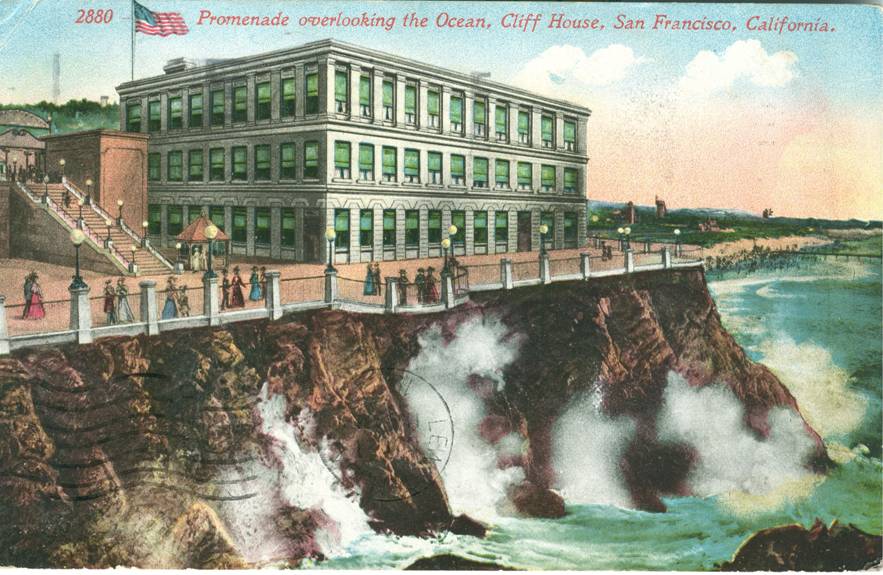 "Promenade overlooking the Ocean, Cliff House, San Francisco, California.", postmarked 1912
Image courtesy of Phil Schnabel
(reverse)

San Francisco Call - 30 June 1909

Oakland Tribune - Jul 1, 1909

San Francisco Call - 2 July 1909

San Francisco Call - 4 July 1909

Oakland Tribune, July 18, 1909
(click above image for full page pdf)



Home movie, circa 1930
16mm B/W movie film
Courtesy of John Meyer